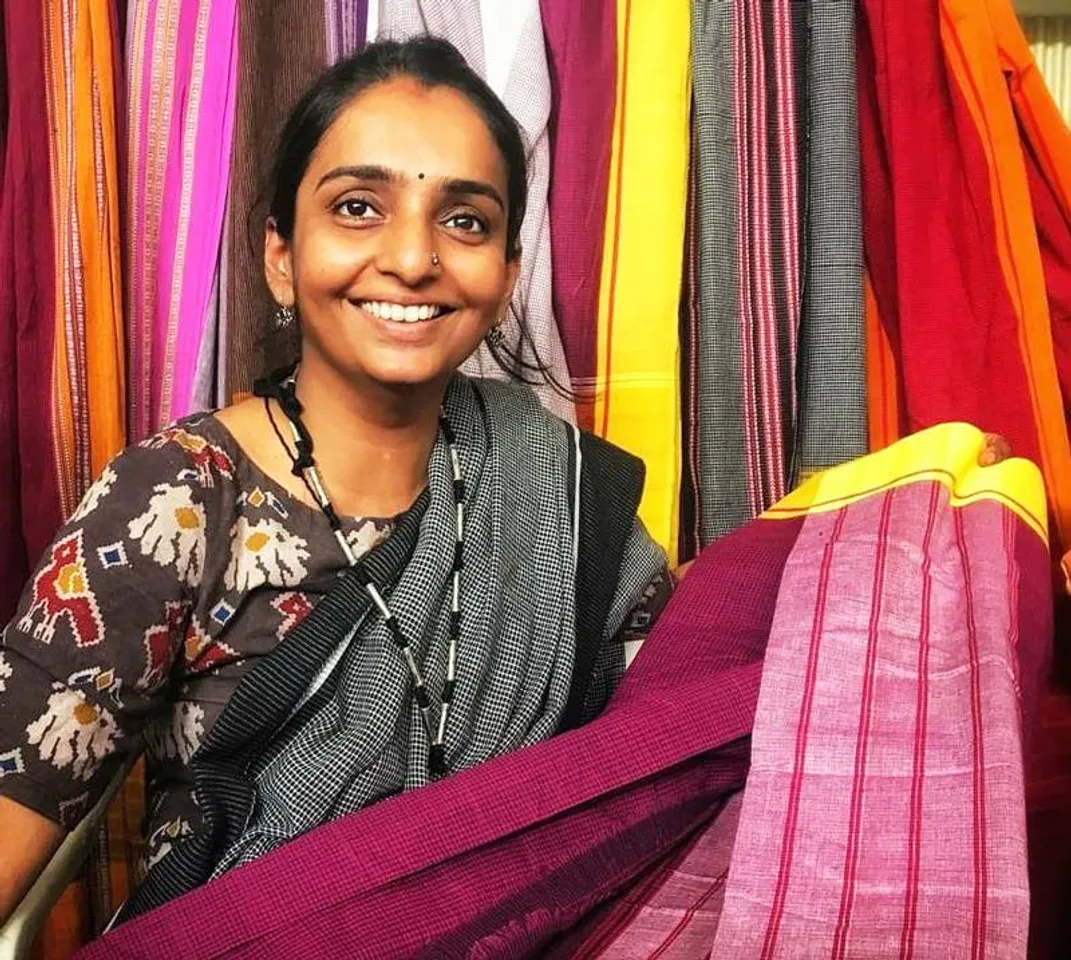 The year was 2014 and Hemalatha Jain, a textile expert, had just returned to India after working as a research assistant at the Kansas State University, USA. She was living a nomad's life, travelling through remote villages and hamlets of Karnataka. Passionate about India's handloom traditions, Hemalatha had always wanted to work in the sector and this nomadic life brought her closer to her goal. She would stay with villagers and weavers to learn about their local weaving traditions, most of which were languishing or had become extinct.
"Each region of Karnataka has a rich and distinctive weaving heritage and I discovered that weavers had given up the traditional weaves. The loss of heritage was huge," says the 42-year-old designer, educator and textile revivalist.
Weaving a revival
On one such visit, Hemalatha met an 85-year-old devadasi (woman dedicated to the worship and service of a deity or a temple for life), who had an old piece of saree woven using the Patteda Anchu technique. Patteda Anchu weaving goes back to the 10th century when these sarees were woven in and around the villages of Gajendragarh (Gadag district), Belgaum, Raichur, Kodal, Bedar, Bellary, Gulbarga and Dharwad in Karnataka.
Also Read: Himachal: Married at 15, how Lalita Vakil revived the dying art of Chamba Rumal embroidery
Hemalatha tested the piece of cloth and found it to be around 200 years old. And it heralded her journey towards the revival of the forgotten Patteda Anchu sarees, which were offered to the local deity of Gajendragarh village, Goddess Yellamma Saundatti.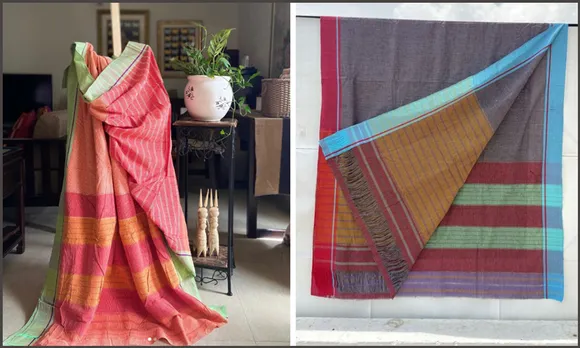 Back then, the sarees were worn by women working on farms. Only 38 inches wide and 6 yards in length, the sarees in coarse cotton were woven in mustard, maroon, pink and green colours. Black wasn't used as they were offered to the Goddess.
"I started working with one weaver to create a prototype and enrolled for PhD with NIFT to document the revival and sustenance of Patteda Anchu," says Hemalatha, who has also authored a book -- Techniques of Dyeing and Printing -- besides many research papers.
Also Read: How this Bengal family is reviving traditional muslin weaving using organic cotton
She took a sample of the Patteda Anchu saree and some dupattas to an exhibition in Pune just to understand the market.
Politician and handloom patron Jaya Jaitly saw the saree there and placed an order for 100 pieces. "She gave the advance for raw materials and we started working on them. These sarees were made with two pallus (loose end of the saree) and were ready to wear," Hemalatha says.
Adding innovation to tradition
The textile revivalist introduced a yarn twist, due to which the fabric doesn't crease very easily. "And then we started doing a thicker and heavier border so that the saree did not require the stitching of fall or beading on the edges," she says.
Also Read: Maharashtra's Paithani Sarees continue to weave magic after 2,000 years
Hemalatha achieved this by using a combination of coarser and finer yarns in warp and weft while weaving. "The orders became 200 from 100, and in one year, four weavers were working with me," she recollects.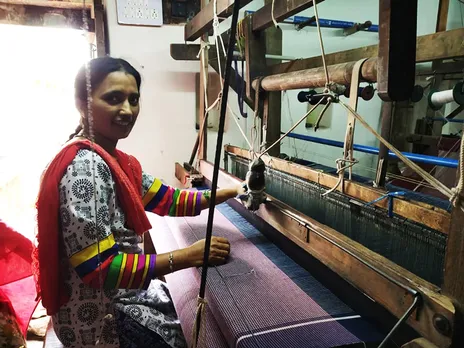 Six years on, the trust works with 55 weavers besides spinners and dyers. Overall, the Punarjeevana saree cluster in Gajendragarh provides livelihoods to around 90 people, all working towards the revival of sarees handmade using eco-friendly dyes.
"The traditional weaves were lost with the introduction of power looms and synthetic yarns. The quality didn't matter and in Gajendragarh itself, low-quality sarees had taken over the market. I figured out about 45 to 50 types of sarees which were languishing and began work on their revival," she says.
So far, Hemalatha has revived 14 forgotten saree-weaving traditions of Karnataka including Gomi Teni, Hubli, Annehejje, Sada Pata, Sudha Kadi, Lakundi, Gajju and Dhotra.
After Patteda Anchu, Hemalatha revived the Gomi Teni saree, introducing it at the Bangalore Craft Council store Kamalini in March 2018. 
Also Read: Born through an inter-caste marriage 700 years back, how Gujarat's Tangaliya weaving turned trendy
The motifs on the Gomi Teni saree borders are inspired by millet jowar (sorghum), which is extensively cultivated in North Karnataka and considered auspicious. These sarees were not in use for almost half a century before Hemalatha revived the weaving.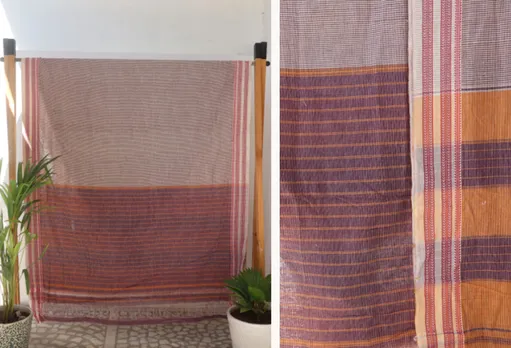 Subsequently, she brought back the Hubli saree, which was worn mostly by married countrywomen. It has bright borders and the traditional colours were purple-red, maroon-green, and yellow-red. In the olden days, weavers travelled to Hubli to sell them, and the saree came to be known after the city.
Her latest revival is Aane Hejje or Annehejje saree also known as the Anekal sarees. This cotton saree was woven in and around Anekal in the Bangalore rural district in the last century. "We have figured out the design and 40 colours for this saree," Hemalatha says.
Also Read: How Exotic Echo is reviving Nagaland's centuries-old loin loom weaving
The business of handmade sarees
However, she has not commercially launched many of these weaves because production in large numbers is a huge challenge. "We have done collections for many people on an order basis. I focus on the sustenance of looms and the continuous flow of work. Like the Patteda Anchu and Hubli collections reach masses and give sustainable work to artisans," she says, adding that all the sarees are priced under Rs3,000.
For purchases, people place orders directly through Instagram and Punarjeevana website. It also sells through retailers Okhai, Jaypore and Fabindia. "We have a tie-up with them. We are also working with some designers who buy sarees and fabrics from us besides tie-ups with stores across India," Hemalatha says.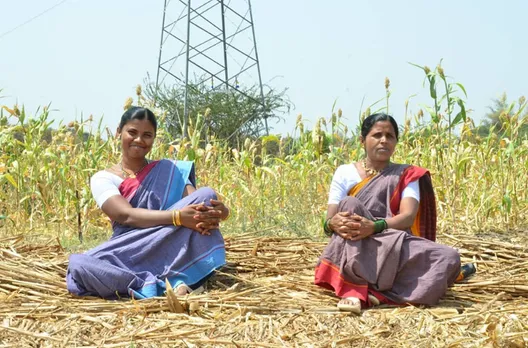 When Hemalatha went to Gajendragarh about eight years back, only four to five looms were functional in what was once a handloom weaving hub. Due to a lack of demand, weavers had become construction workers or taken up other odd jobs for survival. "If they don't get work, they close the loom. It is like a death in the family," she says.
Also Read: Biren Basak: The boy from East Pakistan who became India's handcrafted saree tycoon
"While the local weavers were making only plain weaves earlier, now our designs and colours are widely copied," she says with a laugh. Ten of the Punarjeevana weavers work on looms at their homes and the rest come to the cluster for weaving.
The spinners are paid Rs 200 to Rs 300 per day depending on the work and weavers receive Rs 450 to Rs 500 per saree. The raw material is sourced from the National Handloom Development Corporation (NHDC) while organic cotton is purchased from Madhya Pradesh. "We also source bamboo from Tripura and use it for plain weaving as fabric," she says.
Sustainble and ecofriendly
Punarjeevana is a sustainable business, using only eco-friendly enzyme dyes for its sarees and dupattas. "We filter the effluents (after the dyeing process) here (in Gajendragadh) and then transport them to Bengaluru for treatment. In about three to four months, we will set up a treatment plant here at the cluster itself," she says.
Also Read: The Ethicus Story: How a Pollachi-based couple made sustainable farm-to-fashion viable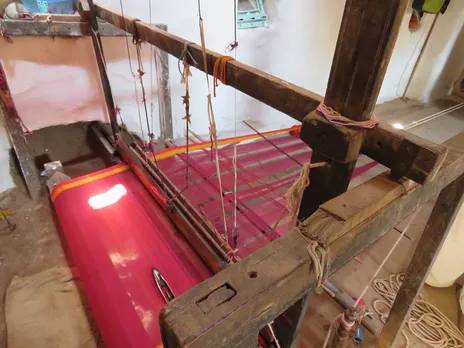 The handlooms do not require any electric energy and upcycled material is used for packaging the sarees, reducing carbon footprint.
"A new loom costs Rs 45,000 to Rs 50,000, but I bought them from people who wanted to discard them. We refurbish old looms by adding the missing parts or frames," she says.
Hemalatha has her own definition of growth beyond the revenue and profit numbers. "Punarjeevana is fully self-funded. We are growing in our own way. If the looms are running continuously, it is growth for me," she says.
(Rashmi Pratap is a Mumbai-based journalist specialising in business, financial and socio-economic reporting)
Also Read: How Chennai's Tüla has made organic farm-to-fashion viable by reviving desi cotton cultivation & weaving