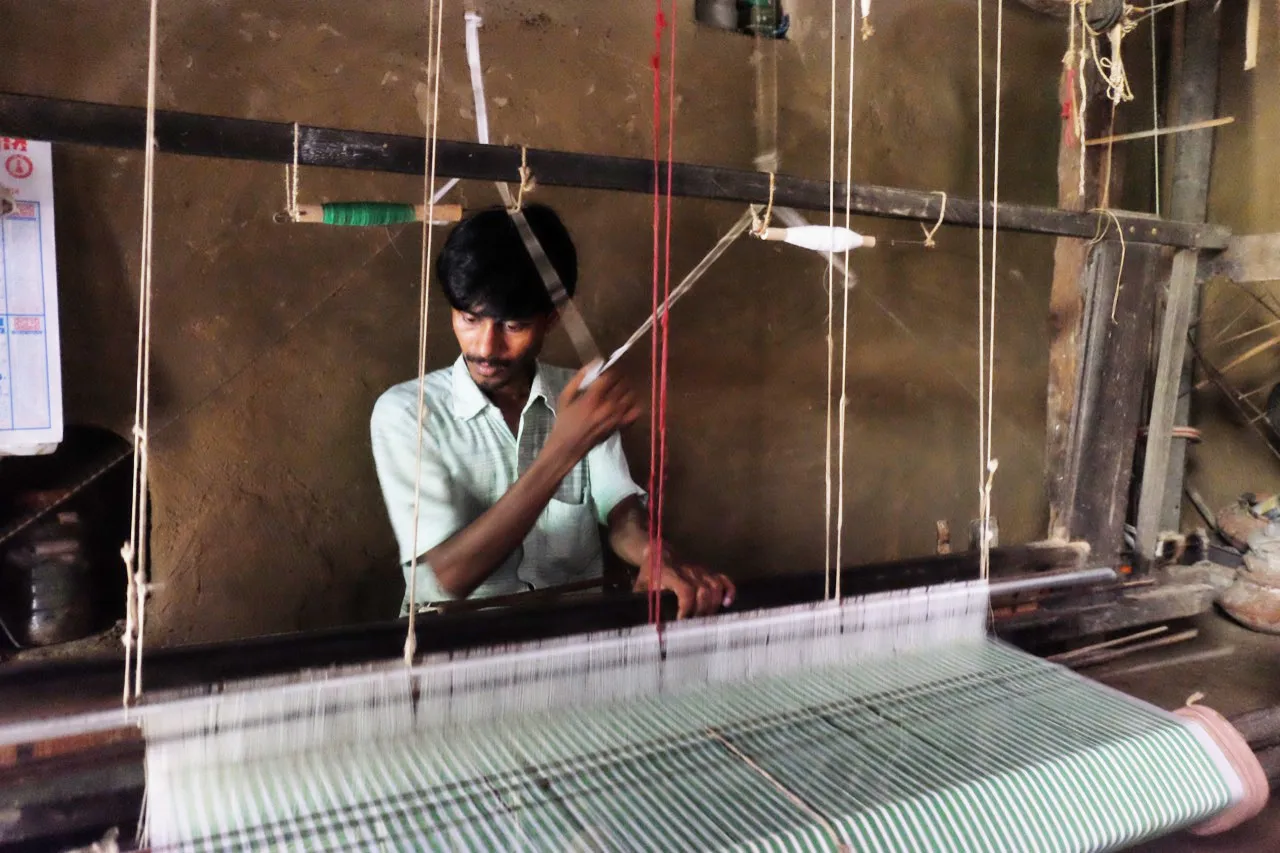 "One could fold a whole piece of this cloth inside one's nail yet it was large enough to cover the world when unfolded." Amir Khusrau, the 12th-century classical poet, said this about muslin – handspun, handwoven fabric that has fascinated the royalty, poets and commoners alike throughout history.
"Muslin is not just a cloth. It is an adjective for a fabric that can be hand woven as fine as possible using handspun yarn. The 1800 thread count muslin that was produced here earlier has vanished from the world," says 23-year-old Prerona Rakshit, who is working with her parents, Rubi and Arup Rakshit for reviving the art of muslin weaving. 
From the Mughals to the British, all have admired the softness of gossamer muslin. But the original weaving technique is all lost and whatever remains may also not survive if it is not duly preserved.
Also Read: Born through an inter-caste marriage 700 years back, how Gujarat's Tangaliya weaving turned trendy
Thread count is the number of threads woven together in a square inch where both lengthwise (warp) and widthwise (weft) threads are counted. So 100 lengthwise threads woven with 100 widthwise threads produce a thread count of 200. As of now, the maximum count that can be woven is 500. Higher thread counts make materials softer and wear better over time.
Also Read: Peoli: NID grads' slow fashion brand hand spins success story with natural yarns; empowers Uttarakhand women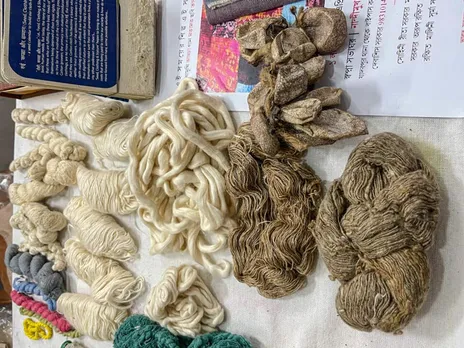 The trio's passion for sustainability
Prerona has inherited her passion for sustainable living and planet-friendly weaving from her parents. Her mother Rubi co-founded the non-profit MG Gram Udyog Seva Sansthan (MGGSS) in 2010 to work with the weavers in Memari and other villages of East Burdwan district in West Bengal. 
And her father, Arup, an MSc in Medicinal Plantation, has been working to improve health and nutrition among weavers and spinners as they need sharp eyesight and good physical health to be able to work well. 
The family of three has created a complete chain of sustainability. 
Also Read: Biren Basak: The boy from East Pakistan who became India's handcrafted saree tycoon
Arup says a factory can only employ 200 people with an investment in crores. However, charkha requires an investment of only Rs2000 to Rs12,000 and a loom needs only Rs20,000 to Rs30,000. They can make a family self-reliant forever.
When Rubi began work in 2010, the idea was to make weavers independent, preserve their craft, and help them find a market for their products. Her non-profit MGGSS procures short-staple organic cotton from 95 marginal farmers in Murtijapur in Akola, Maharashtra. 
Also Read: Himalayan Weavers: Hand-woven woollens by tribes in the Himalayas find a global market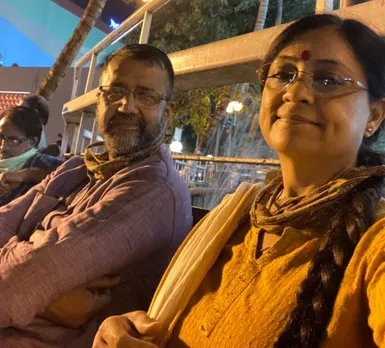 The cotton is provided as raw material to spinners and weavers who work from their homes.
For fine fabric, MGGSS uses Suvin cotton that grows in Madurai. Suvin is fine quality cotton mostly used for exquisite fabrics. "We procure around 20 quintals of Suvin cotton annually," Arup points out.
Also Read: How Nomadic Woollen Mills is taking 'Made in Ladakh' Pashmina to the world
"This cotton from Madurai is processed at the Gandhigram Weavers Society in Dindigul, Tamil Nadu. The craftspeople prepare cotton slivers by separating fibrous cotton into parallel strands," he adds.
This sliver from Dindigul is handspun into yarn and then handwoven into a fabric. "Overall, through our work, MGGSS provides sustainable employment to more than 250 families," says Rubi, who also holds workshops on charkha spinning in schools and institutions across the country.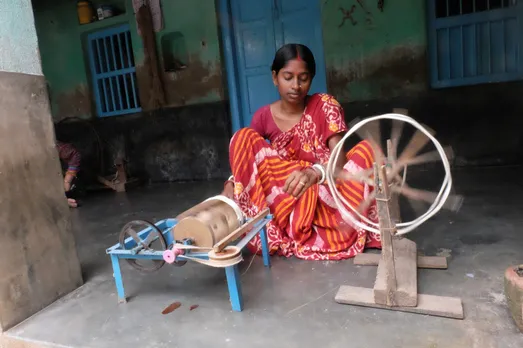 From Hyderabad and Bangalore to Chennai, Mumbai, Chandigarh and Jaipur, Rubi and Arup create awareness among young minds through the charka about organic farming, spinning, weaving and the hands behind them. They use the peti charka, a foldable wooden spinning device used by Mahatama Gandhi in jail.
The process of muslin weaving & its revival
Prerona says the number of spinners using hand charkha is decreasing rapidly, which is worrisome because only young women with sharp eyesight to see the threads can spin. "I believe the art of spinning finer counts of muslin will also be gone soon if not revived and passed on to the next generation," she says.
Also Read: Bhujodi: Gujarat village that turned a nomadic tribe's shawl into a global fashion statement
Rubi is working to ensure its survival through her charkha workshops and by training younger people.
The process of weaving is an intricate one, done mostly in pit looms, made of bamboo and ropes, as has been the tradition for the last thousands of years. They are called pit looms as the weaver sits with the feet in a pit to operate the treadles. 
Weavers working with MGGSS weave this plain muslin, also called mulmul, besides muslin Jamdani, muslin dobby and muslin woven on the four-pedal loom. 
Also Read: Waguv weaving: Kashmir's ecofriendly grass mats made from Dal Lake reed struggle for survival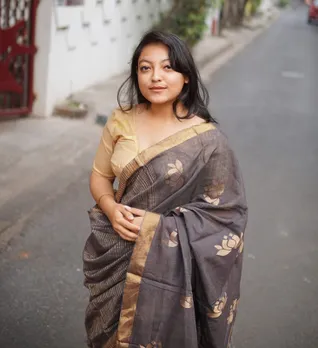 Jamdani muslin is woven using the discontinuous weft technique in which the weaver works with two layers of weft – one to hold the cloth together and the other to form the pattern. Each motif is made individually using bamboo sticks to interlace the pattern threads with the warp threads while weaving. Mostly flowers in geometric shapes are made.
"Weaving is a labour-intensive process. Anything made in the loom is at least 6 to 10 metres in length because the labour required is the same and weavers prefer to make longer pieces," she says.
Tirtho Das, a 35-year-old weaver working with MGGSS, says the non-profit has helped them in marketing products, which is the biggest challenge for weavers, who are mostly village bound. He is the eighth generation weaver in his family where everyone is involved in the process.
Also Read: Aquatic weed water hyacinth gives rise to ecofriendly handicrafts industry in the North-East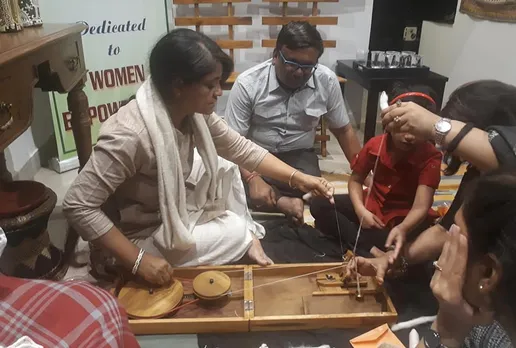 "With the jobs in the formal economy drying out and MGGSS helping us to get fair remuneration for work, I think it is wise to continue the family tradition. Even during the pandemic, they helped us with ration," Das says.
Selling sustainably, living sustainably
Arup says they don't sell their products to retailers, who add their margin, making handwoven products even more expensive. Instead, they participate in exhibitions across the country and also sell in the farmers' markets in Mumbai's Bandra, Bengaluru, Chennai, Hyderabad, Jaipur, Delhi and other cities. "Some international designers procure directly from us. They understand sustainability," Arup adds. 
Also Read: GreenKraft: taking banana bark baskets made in Madurai to Sweden's IKEA & beyond
Now Prerona is all set to launch her online venture Label Prerona, aimed at not just connecting the weavers with the market but also creating awareness about the work involved in weaving. 
"My brand will focus on sales to double the remuneration of weavers. I want to create a chain of transparency. Even if people go directly to weavers, they can do it just once a year. From Label Prerona, you can buy any time," she adds.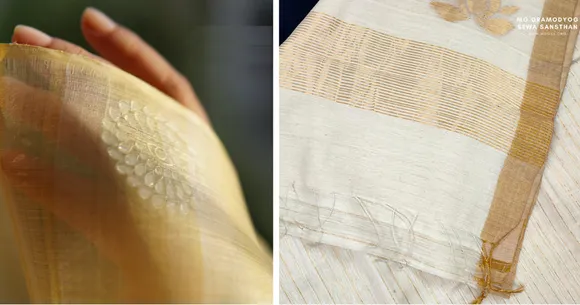 This is not all that the family is doing for helping the weavers. About six years back, Rubi realised that most weavers and spinners were suffering from joint pains and eyesight issues. She asked Arup to intervene, given his vast experience of having worked as a medicinal consultant for various organisations.
"I found that the artisans were mostly eating vegetables made in mustard oil, which was adulterated with cottonseed oil. High consumption of this oil created joint problems and then they were using a pit loom. So the moisture and humidity are higher, causing cough and cold," Arup recalls.
Also Read: Bihar's Sikki grass craft finds global market amid rising demand for eco-friendly artifacts
Initially, only four people started kitchen gardens and now 27 families grow their food. "We particularly focus on those involved in fine weaving as they require good quality food and good muscle strength," Arup says.
"We are happy that we can show to people how we can practice sustainability in daily life. With local resources, our weavers, spinners and dyers can continue to practice their crafts forever," he adds.
(Rashmi Pratap is a Mumbai-based journalist specialising in business, financial and socio-economic reporting)
Also Read: How Exotic Echo is reviving Nagaland's centuries-old loin loom weaving