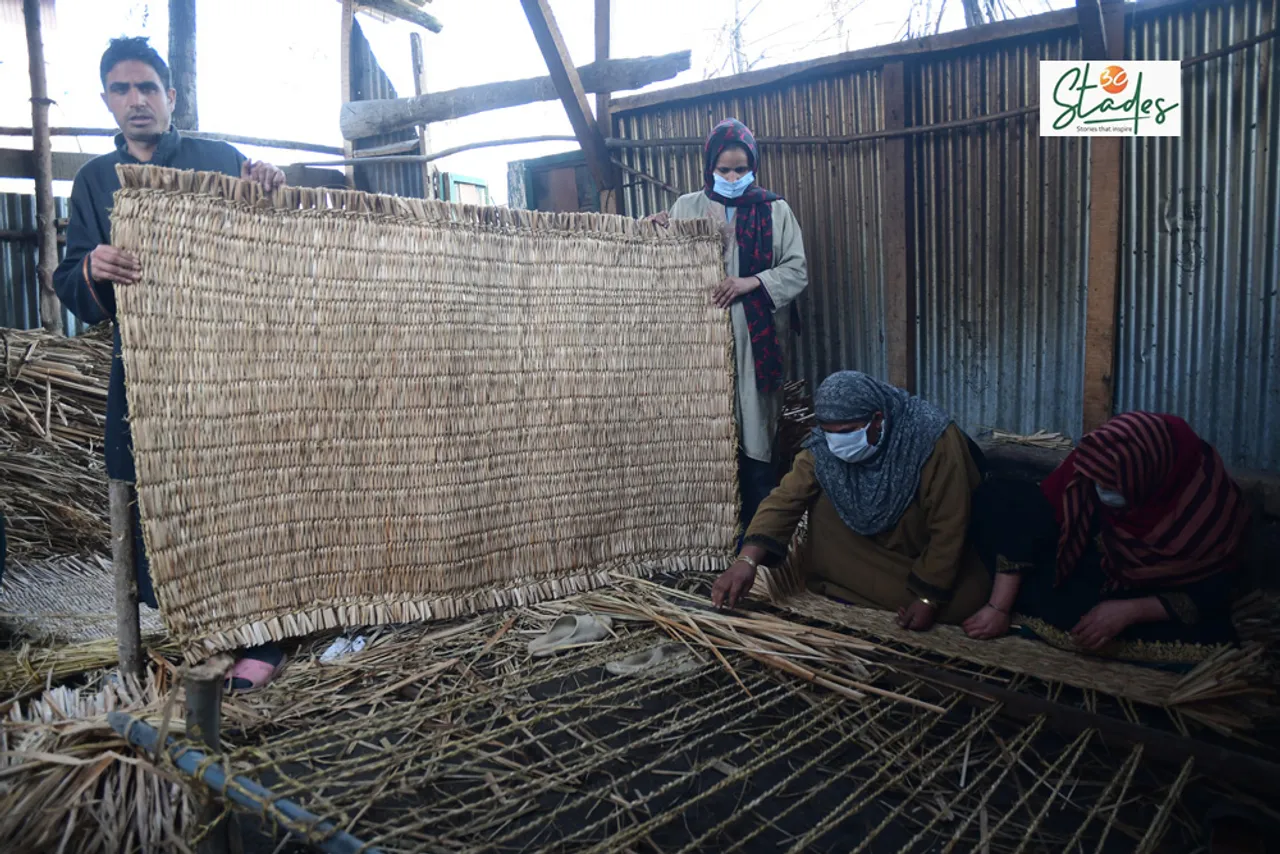 On a warm April morning, Zameer Hussain Bhat leaves his house in Malik Mohalla and rows his shikara on the picturesque Dal Lake in Srinagar. No, he is not out for fishing or taking tourists around Dal, which is almost synonymous with Kashmir. He is rowing to a nearby wetland for collecting peichz or pech – a plant that provides livelihood to Bhat and a handful of other families in his mohalla (residential locality).
He collects the plants, which are not cultivated but grow naturally in the marshy area, loads them on his boat and heads back home where his wife cleans the reed and spreads it out for drying. 
Also Read: Bihar's Sikki grass craft finds global market amid rising demand for eco-friendly artifacts
History woven with the grass & paddy straw
Bhat's Malik Mohalla has been making these grass mats for almost 300 years now. "Our ancestors have been practising this craft since the 18th century. I joined the family profession of weaving about 15 years back. Our family and some others in the area are dependent on this mat making for livelihood even today," says the 35-year-old. 
These families are among the last custodians of waguv grass mat weaving, the Kashmiri craft which almost stands defeated by modern machines.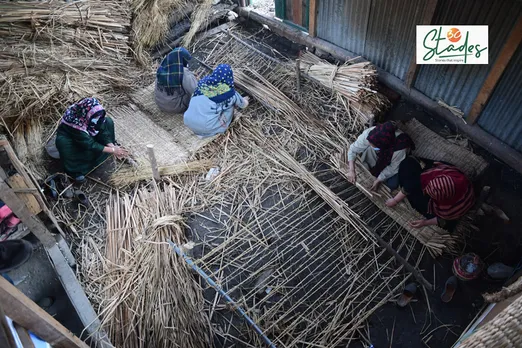 Until about three decades back, wooden flooring and cheap synthetic carpets were not commonly available in the valley. Back then, there were many weaver colonies in and around Dal's wetlands like the Aakhoon Mohalla, Chak Bagh, Ganderbal and Aanchar and there were over 500 families engaged in the sustainable craft.
Also Read: GreenKraft: taking banana bark baskets made in Madurai to Sweden's IKEA & beyond
At that time, every Kashmiri house had waguv mats, which are eco-friendly as they don't use any synthetic materials and are biodegradable. Because of the use of natural materials – reed and paddy straw -- waguv mats are also said to be good for health and especially beneficial in relieving body ache, improving blood flow and relaxing the muscles, says Bhat.
"There is no health hazard associated with the weaving or use of these mats while we know the ill effects of synthetic materials. But due to the popularity of modern flooring, this craft is dying a slow death," he says. 
"Until about a decade back, we could sell 50 to 60 mats of various sizes on a given day, but now it is difficult to sell even a single piece per day," Bhat adds.
Also Read: Sholapith: Bengal's eco-friendly ivory craft intrinsic to life and death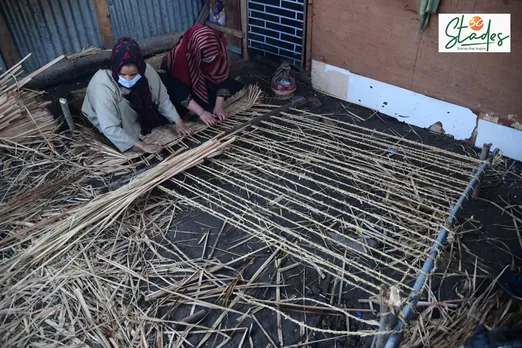 As a result, this Kashmiri handicraft is on the verge of extinction. Most weavers from Malik Mohalla and others involved with waguv weaving have taken up work as daily labourers, started fishing for livelihood or are working in shops around the Dal Lake. 
The process of making waguv grass mats
Both men and women are involved in waguv weaving. Children learn the craft by watching their parents at work and don't receive any formal training. 
These ropes are tied on two wooden poles put parallel to each other and placed 10 to 12 inches above the ground, Khatija, another weaver in Malik Mohalla, explains.
Both the poles have holes and reed rope is passed through two adjacent holes and then inserted into the parallel hole on the other pole to complete a round. This creates the vertical frame or base for weaving the mat.
Also Read: A quaint village in Hooghly becomes manufacturing hub for string instruments
Khatija, 48, is another witness to the slow death of the craft. "I have been weaving mats since childhood but I am disappointed why I chose this craft. How is it even possible to survive using this craft leave aside living decently? Earlier, every house in Srinagar town as well as in villages was using waguv for flooring. But now, nor more," she says.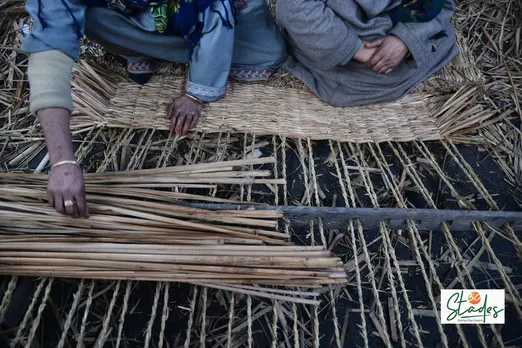 In the absence of demand, stores also don't keep these grass mats. "We sell on the roadside in local markets or carry the mats to residential colonies for sale," says Bhat, adding that only poor people who can't afford anything else buy the mats now.
It was the urban households that first gave up the use of waguv mats and they were followed by rural homes. "Frankly, we use waguv as wall decoration pieces now and not on the floor. Wooden flooring lasts for decades while waguv have to be replaced in five-six years or sooner," says Sana Mukhtar, who lives in Srinagar.
Efforts for revival
The only ray of hope now for weavers like Bhat and Khatija is support from the Jammu and Kashmir government, which has launched the Karkhandar Scheme to revive the ailing crafts industry. 
Also Read: Visuals of paper maché: Kashmir's 700-year-old 'chewed paper' craft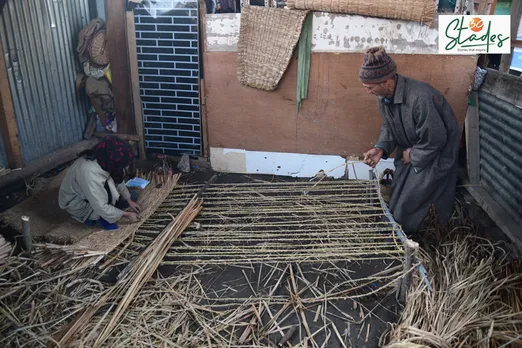 "The Handicrafts Department is taking the initiative to revive this centuries-old craft by holding workshops and seminars for the weavers regarding schemes and loans to familiarize them with the various incentives now available for craftspeople," Bhatt says, who is among the weavers selected to conduct a workshop on the craft.
"Seven people from this area, including me, are working in this workshop to create awareness and help in waguv's revival," he says.
While Bhat sees a ray of hope, the long-term survival of the craft requires strong market linkages and an assured customer base. A push through online sales and re-branding the mats as an eco-friendly item of home décor may help it survive. 
(Wasim Nabi is a Srinagar-based freelance multimedia journalist)
Also Read: Aquatic weed water hyacinth gives rise to ecofriendly handicrafts industry in the North-East