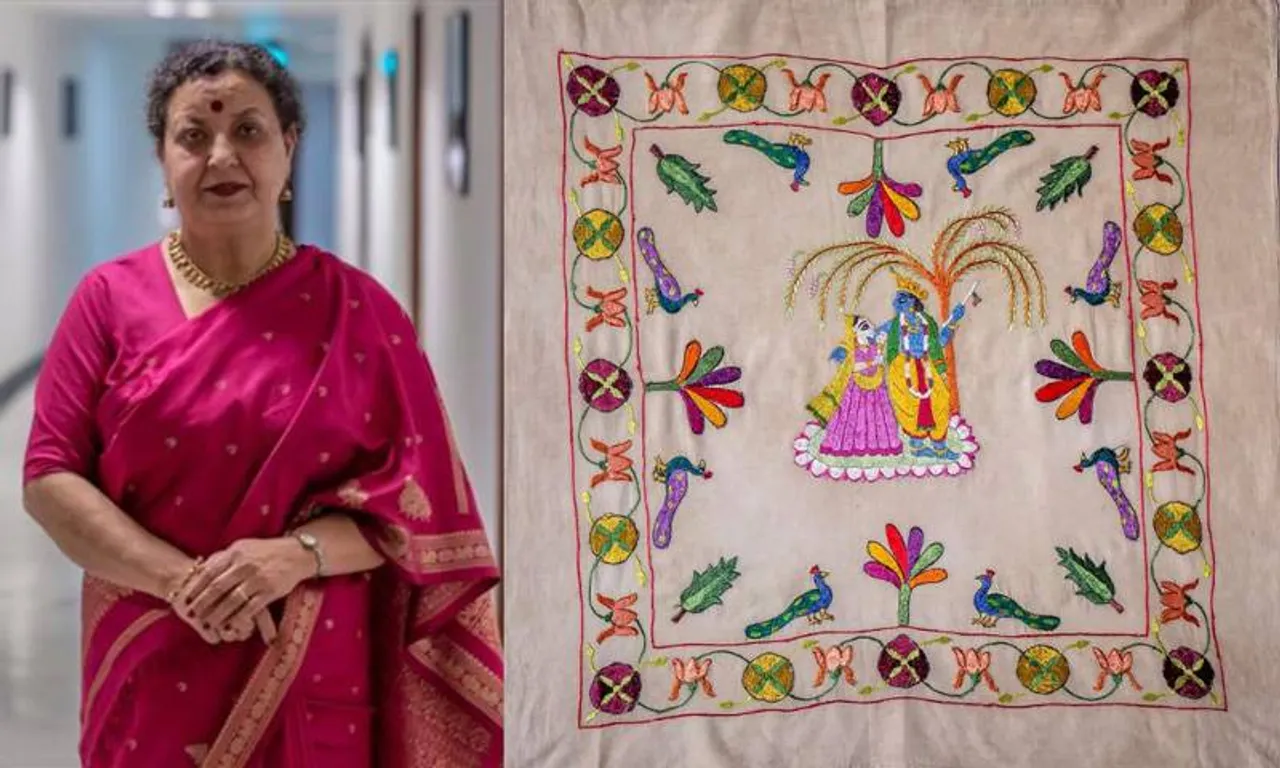 Lalita Vakil grew up in an impoverished household in Chamba, Himachal Pradesh. Her mother passed away at a young age, leaving behind Lalita and her four siblings. Her father remarried, which did not make things any better for the little girl.
"I reached higher secondary with a lot of hard work. The only thing that kept me going was learning. I observed others while embroidering, knitting and sewing and learnt these crafts through observation," she recollects.
New family, new beginnings
The year was 1971 and before Lalita's class 10 results were out, she was married, aged just 15. But her life took a turn for the better as there were many artists in her new family. Her husband, Manmohan Singh Vakil, was a topper of the Mumbai-based JJ School of Arts and his cousins were also artists.
Also Read: Toda embroidery: Preserving tribal craft from the Nilgiris stitch by stitch
Lalita's mother-in-law encouraged her to make use of her craft skills. "I had learned Chamba Rumal or Rumaal embroidery at school. I then did a one-year diploma in cutting (in 1977) and another one-year diploma in embroidery (in 1978) to hone my skills," says Lalita, who received the Shilp Guru award in 2009, Nari Shakti Puruskar in 2017 and Padma Shri in 2022 for reviving the Chamba Rumal embroidery. Chamba Rumal received the Geographical Indication or GI tag in 2008.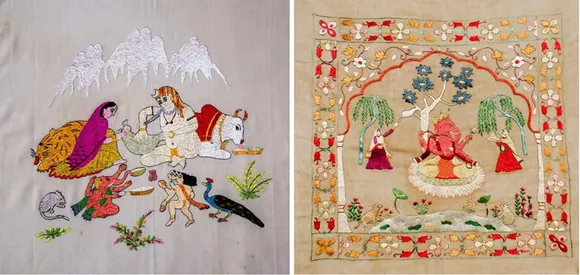 The craft is named after its place of origination, Chamba, the small but picturesque hill station in Himachal Pradesh. Rumal is the Persian word for a handkerchief and Chamba Rumal is a square embroidered handkerchief that was patronised by the rulers of the Chamba kingdom during the 17th and 18th centuries.
With bright embroideries on white or off-white fabric and based on themes from the Mahabharata, Ramayana, Krishna Leela and other epics, it was an essential part of a girl's wedding trousseau.
Some women embroiders even drew the designs themselves.
But by the 20th century, the craft was almost dead and most people had forgotten about it. "My father-in-law, the late Dr Gyanchand Vakil, suggested that I train local girls and women in this embroidery as it would empower them with a skill and also keep alive a dying craft," Lalita recollects.
Also Read: Lambani: How bold Banjara embroidery with cowrie & coins travelled from Bellary to the world
Leading a revival through innovation
Back then, in the late 1970s, people were reluctant to let women step out of the house. But the Vakil family encouraged them to allow women and girls to learn. "I would go to the houses of these girls and tell them to come for training. The then Chamba Deputy Commissioner allowed incentives of Rs 10 to 15 per month for these students to revive the craft as nobody else was taking such an initiative," says Lalita.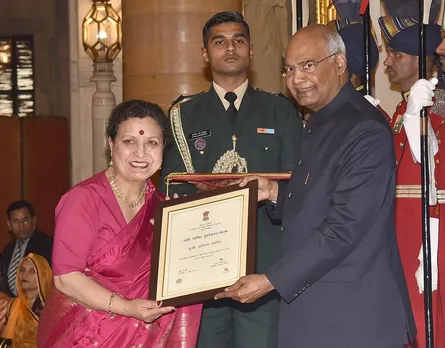 Those free-for-all training sessions, where Lalita herself gives thread, needle and cloth to students, continue at her home in Chamba even today.
Apart from creating a new generation of Chamba Rumal embroiders and patrons, Lalita's contribution lies in modernizing the craft to make it contemporary and global. Traditionally, Chamba Rumal embroidery was done only on muslin or khaddar.
Also Read: How Rangsutra has tapped the skills of rural artisans and turned them into entrepreneurs
Secondly, she expanded the Chamba Rumal canvas from handkerchiefs and caps to sarees, dupattas, shawls, stoles and multi-panel pieces. Thirdly, she did not restrict herself to the epics and brought in floral and other contemporary patterns in her designs.
Most importantly, she brought refinement to the craft. "I observed the old handkerchiefs to understand the embroidery better but realised that the features and figures were not intricately detailed. They often lacked finesse. My work focuses on clear lines and minute details," says Lalita, who has participated in hundreds of exhibitions in India and internationally to promote the art form.
A saree will cost upwards of Rs one lakh, depending on the quantum of work. "The craft is now globally renowned and there are buyers across the world," Lalita says.
Also Read: Maharashtra's Paithani Sarees continue to weave magic after 2,000 years
History and process of making Chamba Rumal
Back in the 17th and 18th centuries, the Pahari School of Painting was at its zenith and Chamba Rumal became an offshoot of that art. The craft took root during the reign of Raja Umed Singh of Chamba (1748-68), who was a patron of miniature artists. It continued to grow under Raj Singh (1764-1794) and Chatar Singh (1794-1880).
A piece, depicting the Battle of Kurukshetra, was gifted by Chamba's Raja Gopal Singh to the British in 1883 and is now in the Victoria and Albert Museum in London.
To make the Chamba Rumal, the outlines were traditionally drawn with charcoal and a brush by a painter specialising in Pahari painting. "Today, we ourselves draw the sketches using a pencil and then embroider them," says Lalita.
So both sides of the cloth are embroidered simultaneously and look identical. Occasionally, other stitches like the cross stitch, the herring-bone stitch and button-hole stitch are also used.
Also Read: Samoolam: How Usha Varia's social business crocheted a success story while empowering rural women in Bihar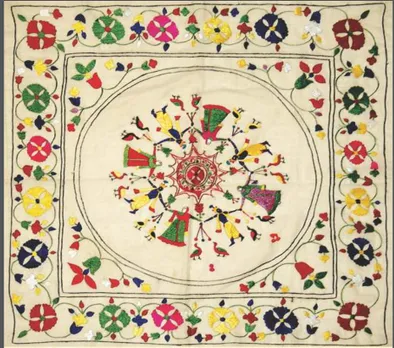 The figures and patterns of the Chamba Rumals are filled with embroidery using untwisted silk floss, also known as 'pat'. They are finally enclosed with an outline in a black thread using stem stitch, locally called 'dandi tanka'. This black line lends an effect similar to the miniature paintings. The colours used are vibrant including purple, carmine, deep red-brown, lemon, yellow, dark green, pink, and orange among others.
Apart from the figurative forms, animal and bird motifs are also used in Chamba Rumal. The Rasamandala, the round dance of Krishna with the gopis (cowherd girls), remains a popular subject in the craft.
It was Lalita who brought the craft from the Himalayas to the world. "Despite all the awards, what makes me the happiest is that now there is a whole new generation willing to take forward Chamba Rumal," she says.
(Rashmi Pratap is a Mumbai-based journalist specialising in business, financial and socio-economic reporting)
Also Read: Lajwanti Chabra: The woman who took Punjab's folk embroidery Phulkari to the nooks & corners of India