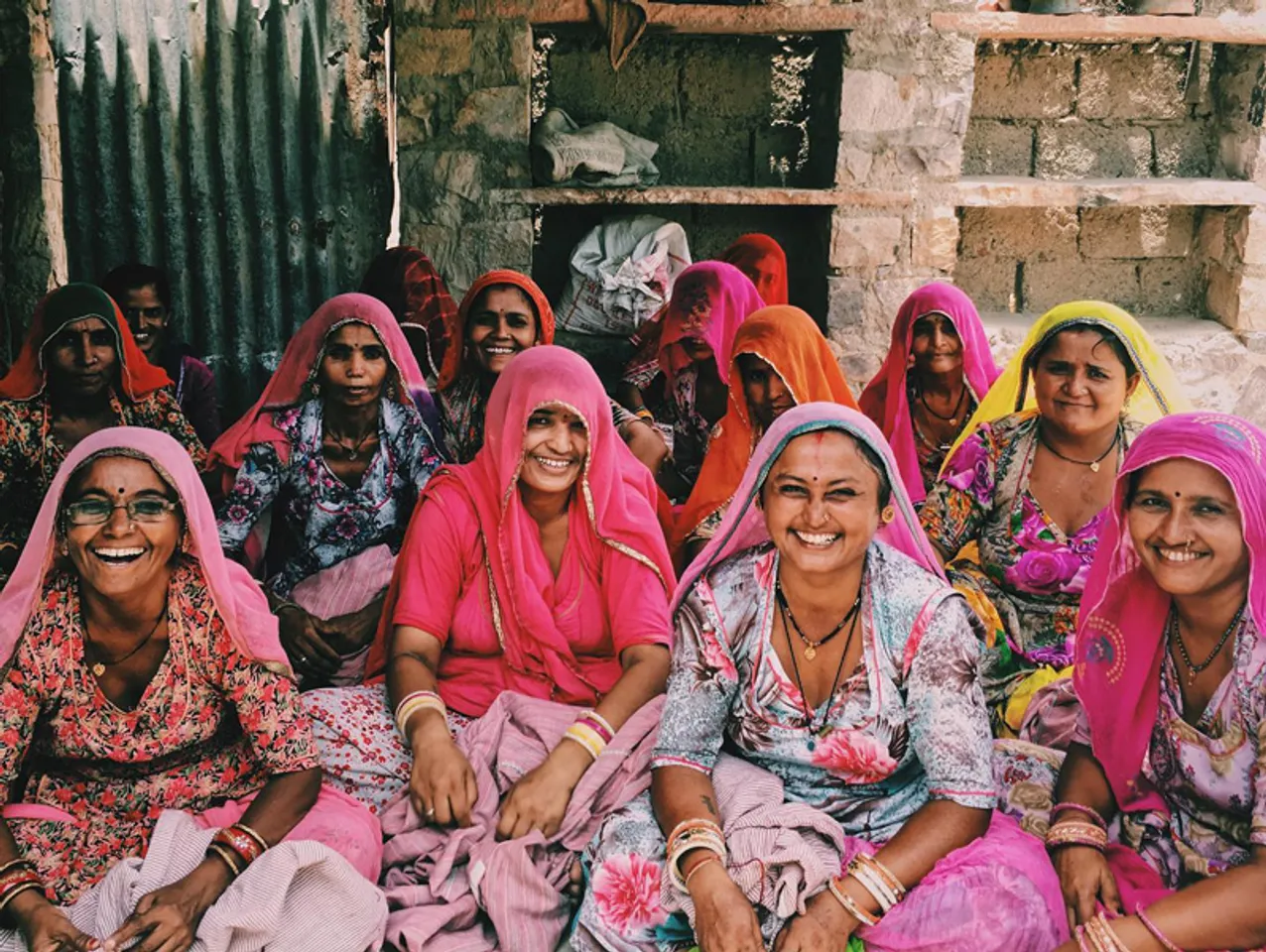 "I walked into the small home of Dhanni Bai, one of our artisans, in a village in Rajasthan. I saw something that moved me greatly. She had framed her Rangsutra share certificate and put it up on the wall next to the pictures of elders. When I asked her why she had done this, she said that the house was in her husband's name and their farm in her father-in-law's name. This was the only thing in her name."  
These words from Rangsutra founder Sumita Ghose are indeed touching. They encapsulate what the social enterprise means to its 2,000 rural artisan shareholders. It is not just a constant source of livelihood, but also empowerment.
Rangsutra, founded in 2006, is an artisan-owned public limited company whose 80 percent of employees are women. It aims to provide regular work and market linkages to rural artisans in Rajasthan, Uttar Pradesh, Maharashtra, and Jammu and Kashmir. It also worked in Manipur for a while.
Also Read: Dehradun: How Purkal Stree Shakti is quilting joys & empowering women in the foothills of the Himalayas
Unique ownership model
"This ownership model developed out of necessity. It was not a strategic plan," says Sumita. "I am an economics student and my husband was a student of rural management. We naturally gravitated towards working in the rural sector. I had worked for over 15 years for the not-for-profit development sector in rural Rajasthan before setting up Rangsutra," she says. 
In 2001-2002, Sumita went on a Fulbright fellowship to the US and wrote a paper exploring the inequalities in India post-globalisation. "There was very little development in rural areas. Handicrafts were a good non-farm livelihood option. But rural artisans were paid poorly and received no support despite having amazing skills and there being a market for their products." 
She spoke to former colleagues and people in the field. "The idea of social impact investment was still new and it was difficult to raise funds. Also, I was looking at the enterprise from the empowerment angle rather than one of charity," she says.
Also Read: Made in Chandrapur slum, sold in Switzerland: How this woman from Maharashtra handcrafted a successful home business with bamboo 
Sumita asked the artisans to contribute what they could.
She invested another Rs 10 lakh borrowed from family and friends and that's how the enterprise started, she explains.
Village-based centres
Today, Rangsutra has 2,000 artisan shareholders from Rajasthan and eastern Uttar Pradesh, the two big hubs of the enterprise. There are another 1,000 artisans, who are not shareholders, from Jammu and Kashmir, and Maharashtra. Workshops are conducted regularly to provide training to rural artisans.  
Initially, Rangsutra worked as a supplier to a bigger player. "That helped us get into a business mode. Back then, the artisans would work from home. But we realised that this was not practical if we wanted standardisation. Cutting and stitching required people to work together. We also needed centralised weaving and dyeing units," she says. 
Also Read: Abira: Pune's all-women enterprise where slum dwellers handcraft ecofriendly products for global brands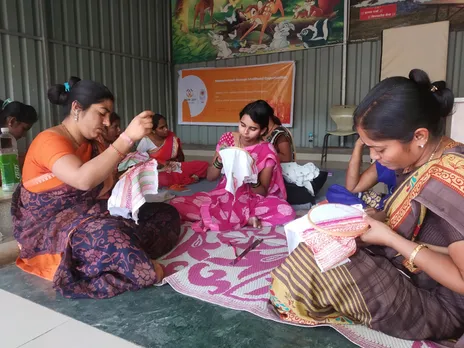 Now, all the artisans come to a centre in their village. "In the beginning, it was difficult to find space. Now, villages give community space for this purpose. A majority of our artisans do embroidery and don't require equipment. These centres have become places where they learn, make friends and have fun." 
Apart from marketing support, the artisans are provided with design support. They are shown videos on how the accessories and some other products are used. Sumita recollects the reaction of one of her artisans, Keli Bai, after a visit to an outlet in Delhi where Rangsutra garments were on display. She said: "The garments I embroider go to such a beautiful place and people are paying so much money to buy them. I want to strive to improve my skills and do better work."  
Also Read: Samoolam: How Usha Varia's social business crocheted a success story while empowering rural women in Bihar
Types of craft
The Rangsutra artisans practice a variety of crafts. Artisans in Bikaner and Churu specialise in tie and dye techniques like 'bandhej', 'shibori' (Japanese style), and 'leheriya'. The styles of embroidery include 'bachda' (cross stitch), 'choon' (small decorative triangles) and 'dantiya' (feather stitch). They also do chikankari work – the ancient shadow work style that originated around Lucknow. Desert embroideries like the delicate 'soof' and 'kharek' (named after the texture of the date tree) are also practised.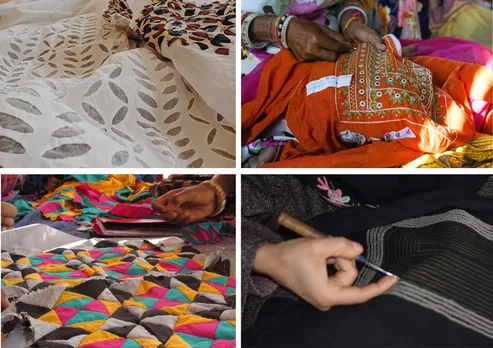 Kashmiri artisans have learnt embroidery styles such as 'aari' from their mothers and grandmothers. The applique artisans in Barmer belong to a community that migrated from Pakistan during the war of 1971 and settled in Rajasthan and Gujarat. 'Ralli' is a craft that involves connecting small pieces of leftover fabric to prevent waste. Some artisans learn embroidery to add to their skills in block printing or weaving. 
Green practices
Interestingly, Rangsutra has a range of 'zero-waste' products made from leftover fabric which is showcased on their website. Since the enterprise gets bulk B2B orders, leftover fabric inevitably piles up. Not wanting to waste any fabric, the artisans started making bags, quilts, coasters, oven mitts, aprons, cushion covers, napkins, and garments from leftover fabric.   
Also Read: Indian Yards: Bengaluru couple quits top MNCs for the love of hinterland; empowers indigenous women of the Nilgiris through Macramé craft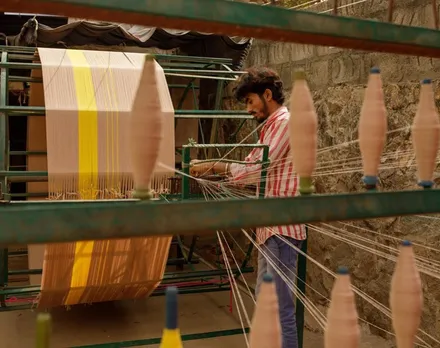 "Moreover, we are very conscious that both cotton cultivation and the textiles industry are highly polluting, especially the dyeing part. We have helped set up effluent treatment plants to address this issue. Secondly, through one of our global buyers, we are a part of an initiative called the 'Better Cotton Initiative' where superior processes using less water and pesticides are adopted while growing cotton. We are also trying to work with natural dyes. We have put up solar panels on a majority of our offices and centres and also use solar-powered looms," says Sumita.  
Getting empowered
Rangsutra was planned to be a different kind of organisation – where everyone has a voice. People would come with different skills but all would be respected. The artisan shareholders are producers as well as decision-makers who participate actively in the supply chain as well as in governance.  
Eighty per cent of the artisan shareholders are women. They feel they have a 'right to work' on account of having a stake in the ownership of the company. They do not hesitate to ask for work. They use their income primarily to cater to the nutritional and educational needs of their children.
Also Read: Gujarat's Rajiben Vankar: From living in a tent to weaving upcycled plastic, how this housewife set up a successful business from waste
"If you bring in income, you have a voice and status. So, these women have a powerful voice in both their families and the village community. Also, we have a dispersed supply chain which cannot be monitored centrally. That's why we train artisans who have basic education to take up leadership roles as craft managers. They check the quality, interact with the other artisans, and make production plans. They work on a commission basis as managers and also earn by practising their craft. Being craft managers increase the confidence of the women."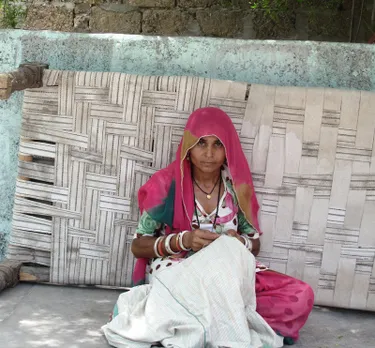 Taggu Devi, who has been working as a craft manager at the Barmer centre for four years, says she enjoys her work very much. She specialises in embroidery work. "I earn around Rs 6,000 a month after working for eight hours a day. I come to the centre to work. There are 60 artisans at my centre. I was trained by Rangsutra and now I teach younger members. I wish to learn more and develop new skills."   
According to Kamala Devi, the best thing about working for Rangsutra is getting the right price for her work.
She says many women dream of building their own houses with their earnings. 
Rural supply chain
Rangsutra produces high-quality products on time though it has a predominantly rural supply chain. Explains Sumita: "The main challenge in rural production is quality and standardisation. We have to explain to our artisans why a medium-sized garment should have certain specific dimensions. Or say, on the design front, why a flower has to be embroidered in a particular place. We have finishing units to ensure the product is in good shape despite being transported from rural areas. We strive for both quality and timely delivery. On the latter front, since handwork takes time, we ask our buyers for sufficient time."
Also Read: Gujarat's Pabiben Rabari: from a daily wager to a millionaire entrepreneur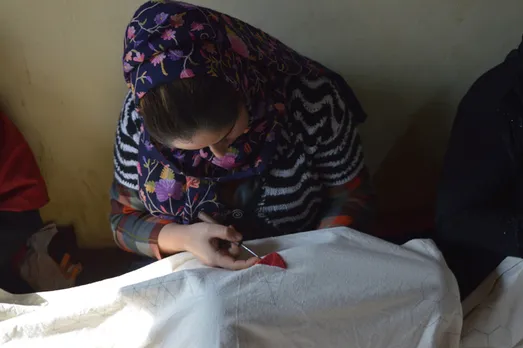 According to Sumita, COVID impacted them less because they were operating in rural areas. "We became digitally savvy to keep in touch with each other and the artisans. We also kept connecting with artisans on phone. The district collectors asked us to make large quantities of masks. So, that kept us busy. The B2B orders were not cancelled but deferred. Our major global buyer also gave us the grant to help support the artisans."
This year, the enterprise had an annual sales turnover of Rs 26 crore and is aiming for Rs 30 crore next year. On the road ahead, Sumita says: "We are moving eastwards. We have started working in Jharkhand with bamboo artisans. That is a new and different kind of initiative. We want to work in Chhattisgarh and Jharkhand on crafting garments made of Kosa and Tussar silk. We want to revive the work we were doing in Manipur."  
(Aruna Raghuram is a freelance journalist based in Ahmedabad. She writes on parenting, personalities, women's issues, environment, and other social causes.)
Also Read: Udaipur's Sadhna: Where hundreds of disadvantaged women handcraft a secure future