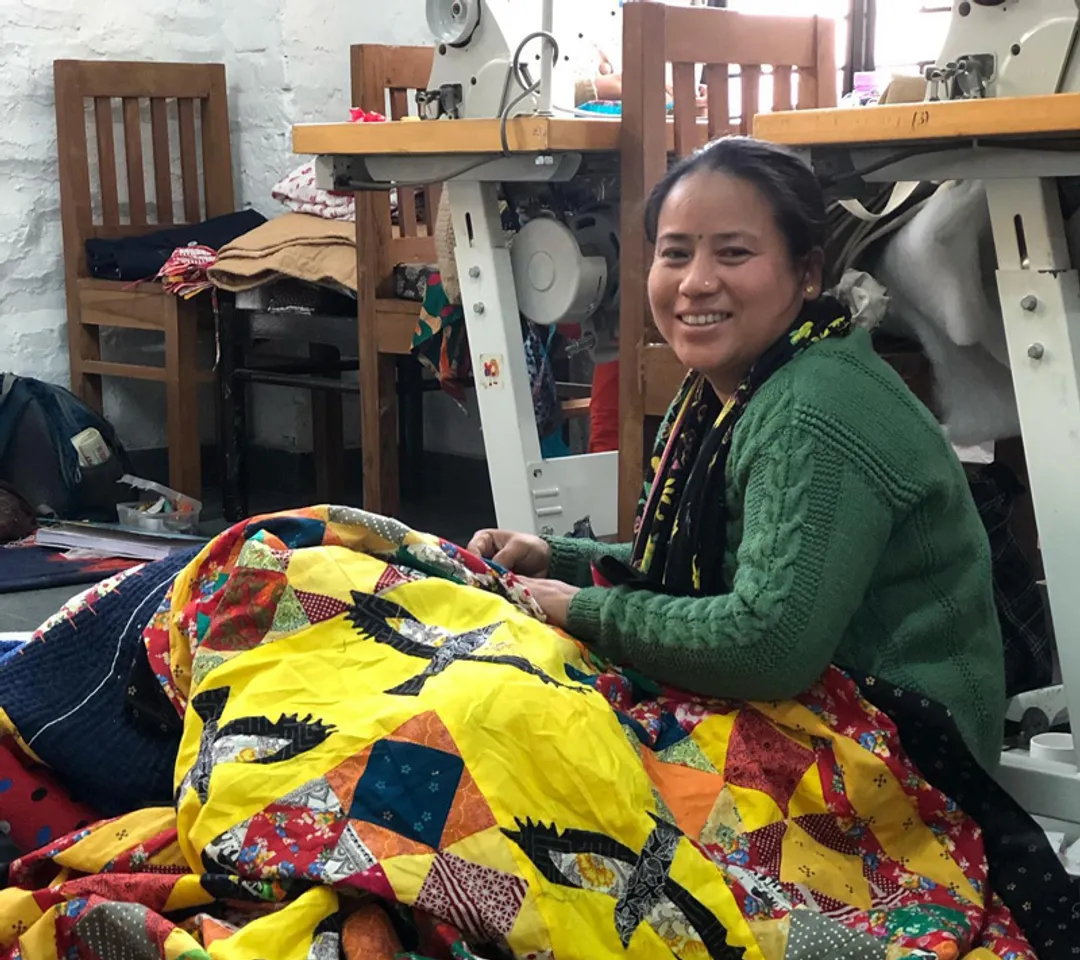 In Uttarkhand's picturesque capital Dehradun, women sew small pieces of fabrics of different colours and patterns to form beautiful quilts, cushion covers, aprons, oven gloves and other products. Even the smallest piece of fabric is accommodated in a quilt or other handmade items, leaving zero waste at Purkal Stree Shakti - a social enterprise that provides financial independence to hundreds of women in the Himalayan village.
"About 70 percent of our artisans are the sole breadwinners of their families. All of them ensure to educate their children, especially the girl child, and to invest in improving their houses, communities, and lives," says Aiswarya Enolla Patri, one of the three co-founders of Purkal Stree Shakti.
The other two co-founders are Bannee Batta and Astha Giri. The trio worked in Purkal as designers and marketing managers before its founder Chinni Swamy handed over the reins to them in 2021.
"We brought about the change realising fully well that our women artisans did not need grants and were skilled enough to earn well on their own as members of a social enterprise. We aspire to preserve the legacy and take it to new heights," says Bannee. 
Also Read: Udaipur's Sadhna: Where hundreds of disadvantaged women handcraft a secure future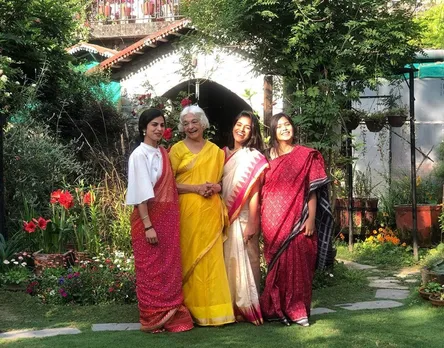 In the last almost two decades, many women have learned and grown in Purkal to hold responsible positions like trainers, design assistants, supervisors and quality controllers. 
Stree Shakti – the power of Purkal's women
Chinni, who would make patchwork quilts as a hobby, had founded Purkal Stree Shakti after moving to the Purkal village in Dehradun in 2003. 
Since the area did not have any native craft, Chinni decided to teach them patchwork and quilting as a means of generating income. Some of them began working in her house and as the number of women grew, they set up a unit nearby.
Also Read: Made in Chandrapur slum, sold in Switzerland: How this woman from Maharashtra handcrafted a successful home business with bamboo 
Chinni taught the work to these women, sold the products and gave them the money. When COVID19 struck, the unit was shut down. "We revived Purkal Stree Shakti four months after it was disbanded due to the lockdown and COVID," says Bannee. 
The social enterprise sources raw materials like fabrics, and insulating inner materials from across the country, including from small craftspeople. Women use patchwork and applique techniques to create various products. Patchwork gives artisans the freedom to piece together fabrics of various shapes, colours and sizes to create a large colourful mosaic. 
Also Read: Abira: Pune's all-women enterprise where slum dwellers handcraft ecofriendly products for global brands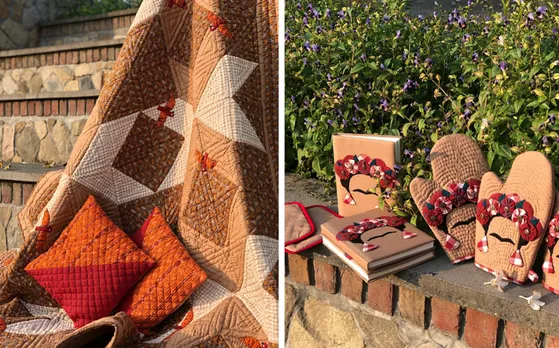 Zero-waste & upcycling
Though predominantly used in quilting, patchwork is also used to make bags, notebooks, file folders, and other handicraft items.
The artisans also use applique art where the small fabric pieces are sewed onto a large fabric. 
All the products at Purkal are handmade. "The patches have to be stitched with a machine but quilting and finishing work is done with hands. It takes over two weeks to handcraft a quilt," she says.
Each quilt is unique as it is handmade and reflects the artisan's style. "Our artisans embroider their names on the back of the quilt," Astha says.
While Purkal Stree Shakti's applique notebooks are priced upwards of Rs650, pencil pouches come for Rs450 and above, table runners for Rs2490 and cushion covers are priced over Rs800 a piece.
Also Read: Abira: Pune's all-women enterprise where slum dwellers handcraft ecofriendly products for global brands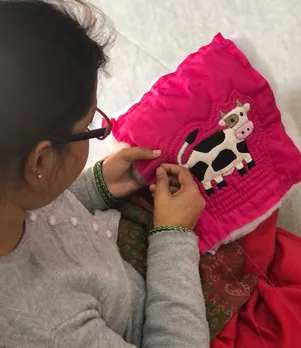 Apart from being zero-waste, Purkal Stree Shakti also upcycles old clothes to create quilts. 
Purkal also upcycles baby garments after the children outgrow them to make memory quilts for mothers. In collaboration with American clothing and accessories retailer GAP Inc, Purkal Stree Shakti recently upcycled fabric scarps to make journals for Women's Day gifting.
Also Read: LifeCraft: empowering Jharkhand's Kuiani women through fabric hand dyeing
Corporate gifting is a big business segment for Purkal, which couriers its products all over the world. Some of its other corporate clients include Lufthansa Airlines and AT Kearney among others. 
Empowering women, changing lives
Before the pandemic, about 250 staff members from 42 villages worked with Purkal Stree Shakti. Now, the social enterprise has changed the model, with most women working from home. "Fewer women come to work. We send a lot more work to their home. About 50 to 70 people are called on the basis of the weekly roster," Bannee says.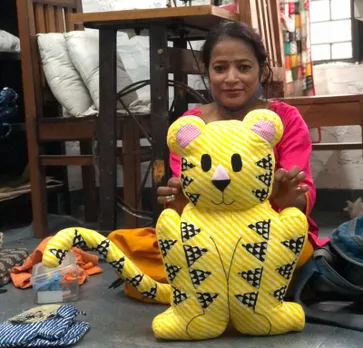 Purkal Stree Shakti has a centre in Sevla Kala village and an outreach centre in Salan Gaon next to Purkal village. Women save time on commuting and can make more products at home. "The raw materials and designs are sent to the artisans at their homes. They are paid a fixed plus variable pay," says Astha, adding that Purkal follows a Fairtrade wage policy.
Not only does regular income provide financial stability to women, but they are also taught about savings and managing finances. Smart saving habits and financial literacy allows them to make the most of their incomes and become empowered in the true sense of the term. 
Also Read: Kerala: How this 12th-pass woman turned her organic food processing home business into a successful start-up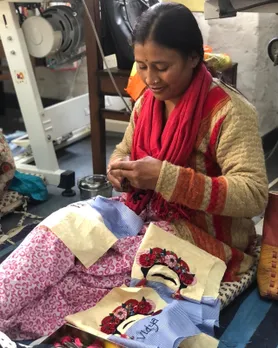 Deepa, who has been working at Purkal for 12 years, is a case in point. She lost her husband to COVID. "It is this Purkal Stree Shakti that has stood beside me always. I am an independent woman today; running my household and educating my children. I did not know how to even count when my husband was alive. Now I have learned everything at Purkal," she says.
Deepa also manages her bank accounts and finances independently. "I can also write and sign a cheque now," she says. 
The NGO started by Chinni which is now the social enterprise run by Bannee, Astha and Aiswarya, has definitely achieved far more than it imagined in 2003. "We are going to expand and impact more lives positively going forward," Bannee says. 
(Rashmi Pratap is a Mumbai-based journalist specialising in business, financial and socio-economic reporting)
Also Read: Haryana couple quit corporate jobs to set up handmade kids' apparel business; clock Rs 3 crore revenues while empowering rural women