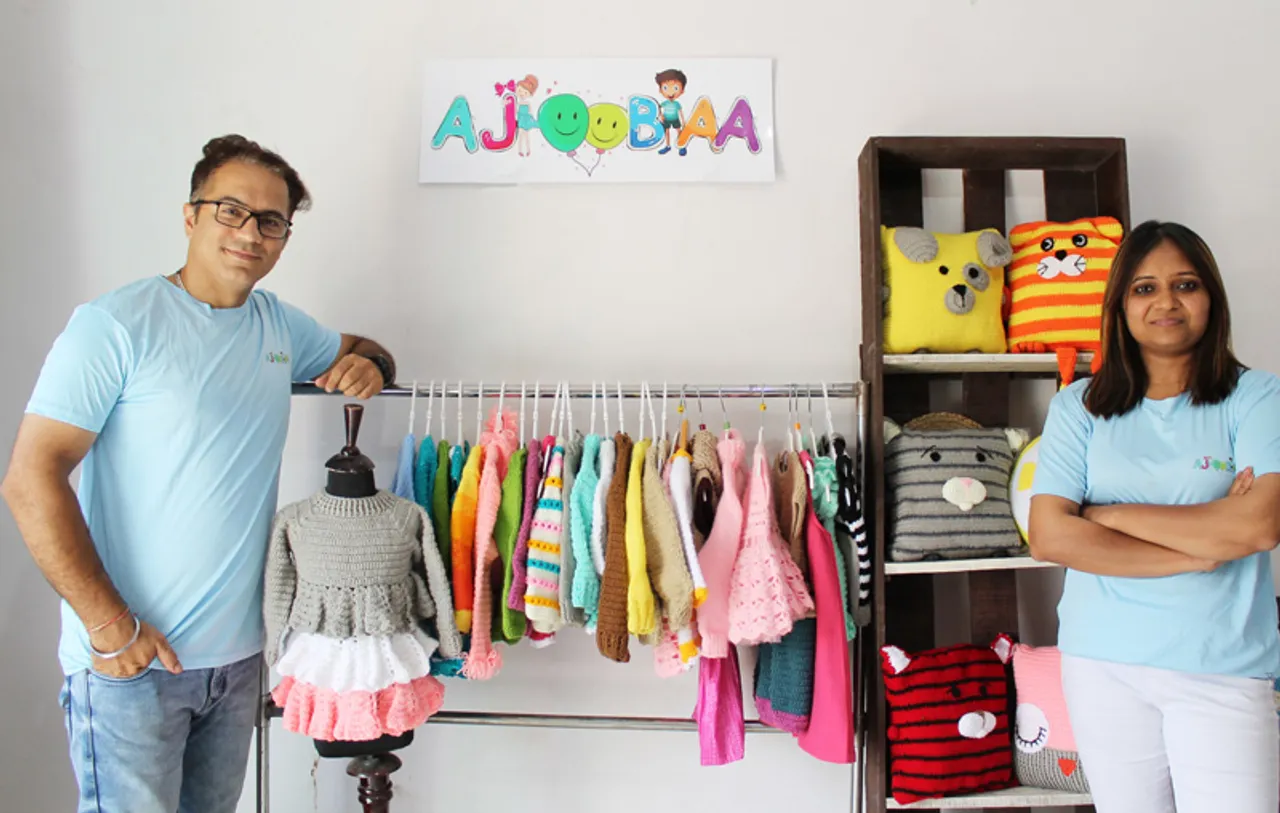 When Tarishi Jain had a baby daughter in July 2015, the doting mother made a crochet dress for her. She posted its picture on her social media accounts and received many requests from friends for similar handmade kids' wear. From making little dresses as a hobby to setting up a children's apparel company that retails in India and abroad, Tarishi has come a long way in just a few years.
"I wanted to make something cute for my daughter. I did not like the products available in the market. So I made a crochet dress and my friends liked it so much that they requested me to make dresses for their children too," says Tarishi who is an architect by qualification.
Soon she was making dresses for the children of her friends and relatives. And it was then that she conceived the idea of her own venture, Ajoobaa, with an in-house brand Woonie.  
Ajoobaa sells handmade crochet and knitted children's wear made by women artisans from rural Haryana, Uttar Pradesh, Punjab, Delhi and Tamil Nadu.  
Also Read: Manjappai: Madurai couple quits Amazon & IBM to make ecofriendly cloth bags; clocks Rs 3 crore turnover while empowering Mathichiyam slum women
With 37.5 crore people below 15 years of age in India right now, children's clothing is a big market, which augurs well for new brands like Ajoobaa that are focused on customer needs.
Knitting & crocheting to fix the gaps
Tarishi, 36, says that based on her research, she found six gaps in demand and supply of good handmade clothing for children – lack of easy availability, quality issues, high costs, outdated designs and production in small lots as they were handmade.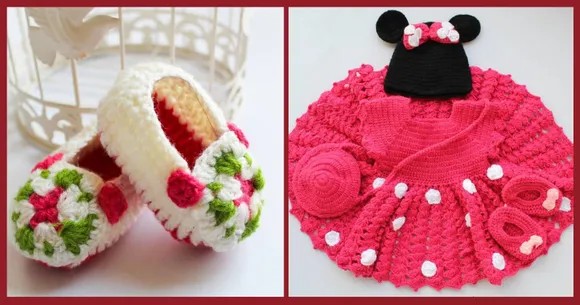 She started Ajoobaa in 2018 with the aim to address these gaps. However, to increase production, she needed artisans well versed in knitting and crocheting. Tarishi asked her maid to help.
Also Read: How Coimbatore's doctor Uma Deavi empowers underprivileged women through Kannamma dolls
Ajoobaa now has 20 master artisans directly connected with Tarishi and around 1,000 artisans work with these head artisans.
In 2019, Tarishi's husband Nivesh quit his job at Amazon India and joined her business. He looks after production and marketing while Tarishi takes care of designing and coordinating with artisans.
Initially, it was difficult to convince artisans to make the products. "They did not believe that we would pay them as soon as they supplied the products to us. They had bitter experiences in the past and were sometimes paid partially or not at all," she says.
Also Read: Peoli: NID grads' slow fashion brand hand spins success story with natural yarns; empowers Uttarakhand women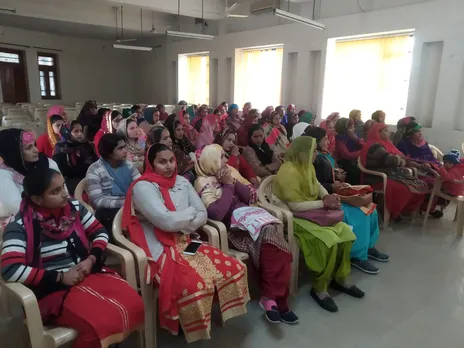 "But now they trust us and encourage other artisans to join us."
The other challenge was training. "Although the women had been making crochet and knitted products for years, their products lacked finesse. We spent several days training them to make good quality products. The head artisans, in turn, trained others under them," says Tarishi.
Ajoobaa provides the raw materials and designs to the head artisans who supply them to other artisans to make the products. They use quality yarn and wool from top manufacturers.
Also Read: Abira: Pune's all-women enterprise where slum dwellers handcraft ecofriendly products for global brands
"The head artisans are our collection agents who collect the ready products from the artisans under them. We procure the products from the head artisans," says Nivesh.
Ajoobaa has a 2,000 sq ft warehouse in Sonipat. "The products undergo quality checks at the warehouse and are then packed and dispatched," says Nivesh. Ajoobaa also sells through e-commerce platforms like Amazon, Flipkart, Ajio, and Myntra.
Also Read: Gulmeher: Delhi's social enterprise turns women ragpickers into artisans; sells ecofriendly products globally
Creating clothes and employment
Sanjida Malik, 39, lives in Sonipat, Haryana with her husband, three children and mother-in-law. "My husband is a tailor and earns about Rs18,000 per month. It was difficult to run a household and educate our children with this limited income," says Sanjida who is illiterate.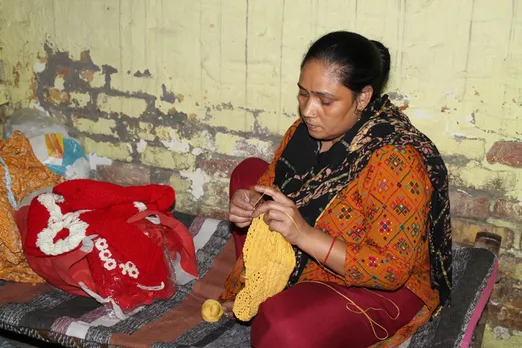 She used her knitting and crochet skills to earn some money by working for local boutiques. "But the orders were irregular and there was no steady flow of income. I was earning around Rs 4000 a month which did not suffice," she says.
Three years back, Sanjida learnt about Ajoobaa through a friend. After getting on board with the company, her earnings have increased.
Also Read: 5 women entrepreneurs with successful startups that combine innovation with tradition 
After finishing the household work, she makes products for Ajooba, she adds.
Working with Ajoobaa has helped in funding her children's education. Her son works in Pune and her elder daughter works in Gurugram. The youngest daughter is pursuing B.Tech.
Neha Mehta, 32, Sonipat has been working for Ajoobaa for about two years. A postgraduate in home science, she knows knitting and crochet very well. She wanted to work after marriage but family responsibilities prevented her. Her husband works as a salesman and earns Rs. 15000 a month.
Also Read:  One knot at a time: Chennai's Vidya Sam sets up successful home business using age-old macramé art in household décor
"With Ajooba, I earn Rs 5000-6000 per month. I feel like I am doing something in my life. The best part is I can work from home," says Neha. She has enrolled her two children in a private school with her income.
Sudesh Sharma, 68, has been working with the enterprise for three years. "My children are busy with their lives. They support me financially. But loneliness does creep in with old age. Working for Ajoobaa keeps me busy and I also earn for myself. It makes me feel good that people wear clothes made by me," she says.
Also Read: Käse Cheese: Chennai's all-women artisan cheese startup empowers people with hearing impairment; expands operations to Gujarat & Rajasthan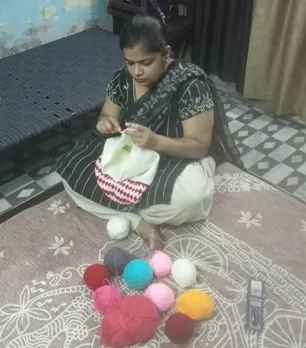 Ajoobaa is financially helping about 1,000 women artisans across Uttar Pradesh, Haryana, Punjab, Delhi and Tamil Nadu who are associated with the company and supply crochet and knitted products from their homes.
The growth chart
Nivesh says average monthly sales for the first six months were around Rs6 to 7 lakhs spread over about 900-1000 orders. Now, they receive 3000 orders every month from across India. They also get orders from Canada, Australia and South Africa.
In the first year, the brand managed to cross Rs 1 crore turnover. In the second year, it was Rs 2.5 crore.
The brand uses courier services to make deliveries. "The business initially grew through word of mouth and then we used social media such as Facebook and Instagram. Now we don't have to put in much effort on promotion," says Nivesh.
(Bilal Khan is a Mumbai-based independent journalist. He covers grassroot issues, LGBTQ community and loves to write positive and inspiring stories.)
Also Read: Pune: Mitti Ke Rang connects rural women entrepreneurs with customers across India; triples their incomes