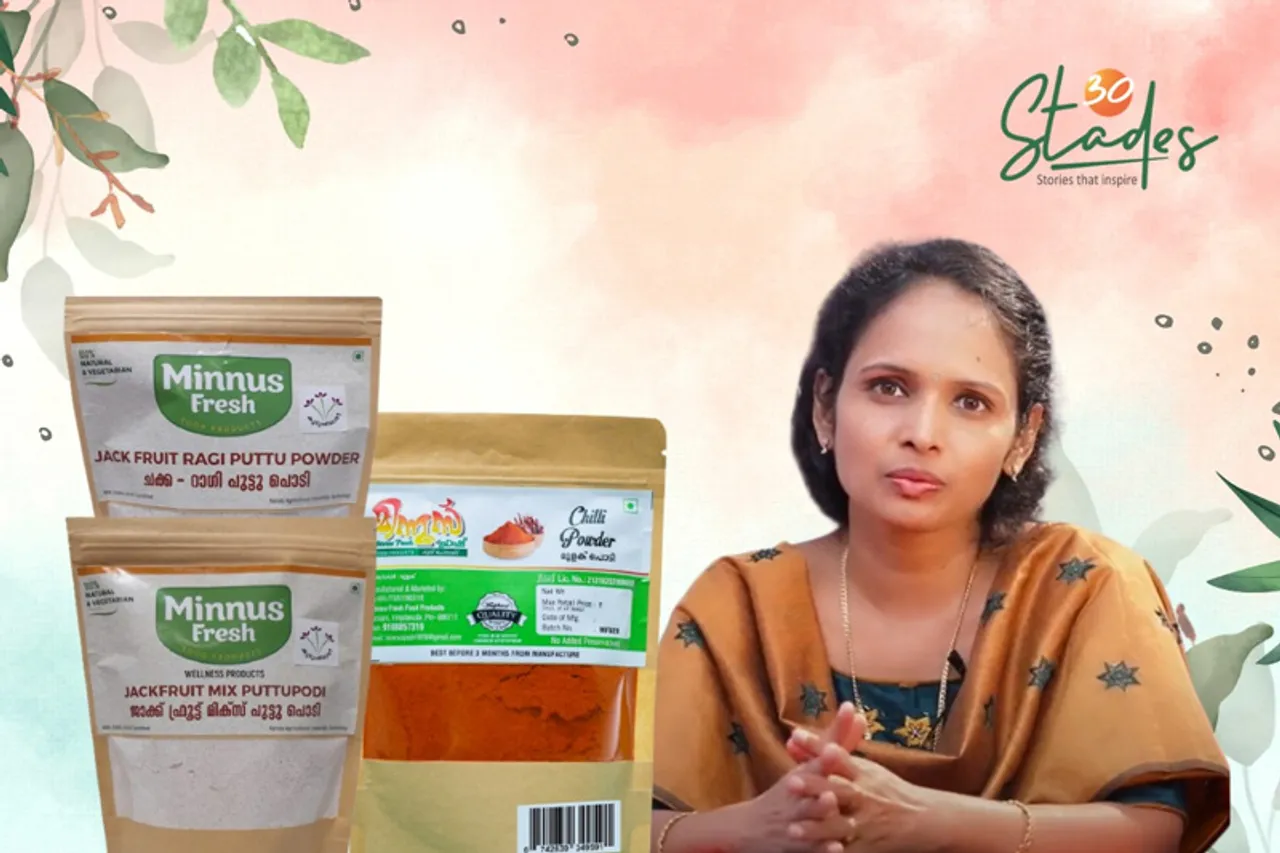 Sometime in 2018, Francy Joshimon's father was diagnosed with cancer. Despite leading an active and healthy life, he was afflicted by the disease, and her family began to look for the possible reasons behind it. 
"The conclusion we arrived at was that the food he ate had impurities like pesticides, insecticides, chemicals and preservatives. That eventually caused cancer. It wasn't easy to find preservative-free foods that could boost his immunity even when he was fighting cancer," says Francy Joshimon, founder of Minnus Fresh Food Products which offers chemical-free organic food products.
She studied only till class 12 but her desire to bring about a change helped Francy set up and grow her organic food business.
Also Read: Kashmir's Sabira Mattoo: Pickling her way to success through home business
From home to enterprise
The all-women enterprise, based in the Karalam village of Thrissur district in Kerala, is named after Francy's daughter. Minnus Fresh Food started as a home business selling jackfruit puttu powder and some other products to friends, acquaintances and other local customers. 
"Since the organic products received good feedback from customers, we decided to set up a processing unit to improve scale," she says. Francy and her husband have invested personal savings besides taking a loan of Rs 30 lakh for machinery and other processing equipment at the plant including a dryer, roaster, pulveriser, and blender. The unit was inaugurated by the then Kerala Agriculture Minister V S Sunil Kumar in 2019. 
Also Read: Tamil Nadu: How Deepika Velmurugan set up a successful home business by taking Kolam from doorstep to drawing room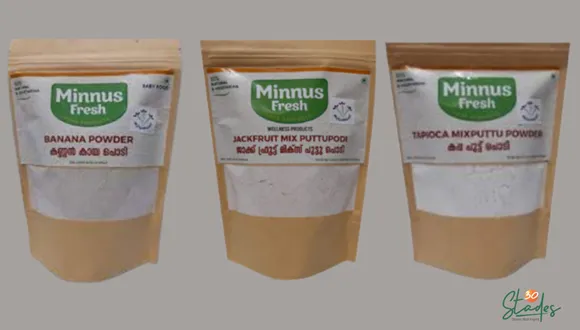 Minnus offers six varieties of puttu powders including jackfruit mix, tapioca mix, raw banana mix and jackfruit ragi mix. Puttu, a log of steamed rice flour and coconut, is a popular breakfast item in Kerala and Tamil Nadu. It is also prepared with other flours like tapioca, jackfruit, ragi (finger millet) and their combinations, which are also offered by Minnus.
"We have purchased a technology from the Kerala Agricultural University that ensures that puttus made from our flours are soft and tasty," she says.
The start-up also offers three types of wheat powders including jackfruit mix wheat powder, baby foods made from sprouted ragi and raw bananas and immunity boosters. "We also have kitchen essentials like chilly powder, turmeric powder, coriander powder, garam masala etc," says Francy. 
Also Read: One knot at a time: Chennai's Vidya Sam sets up successful home business using age-old macramé art in household décor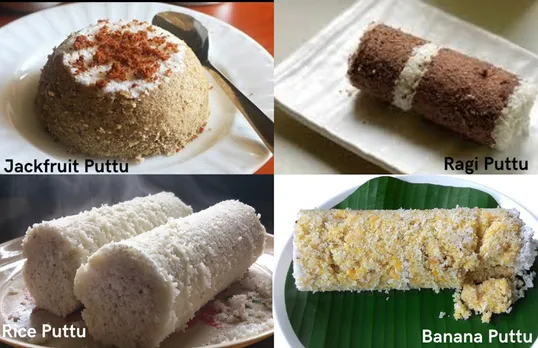 Yet, the most popular products from Minnus are jackfruit-based items. Rich in protein and antioxidants, jackfruit helps regulate blood sugar levels due to its low glycemic index and boosts immunity as it is rich in vitamins and essential minerals.
In 2018, Kerala declared the jackfruit to be the state fruit. Since then, there has been an increased focus on the cultivation and processing of jackfruit, which has benefitted healthy food start-ups like Minnus Fresh. "Health is a big focus area for us. Our products are organic and healthy," she says.
Also Read: Haryana couple quit corporate jobs to set up handmade kids' apparel business; clock Rs 3 crore revenues while empowering rural women 
Sourcing & processing it right
Francy sources all the raw materials from local farmers. "We are extremely careful regarding quality throughout the process – from sourcing to processing and packaging. We uphold the strictest standards for our inputs," she says. The raw materials like jackfruit, wheat, ragi and all other items are thoroughly cleaned, washed and dried before being processed.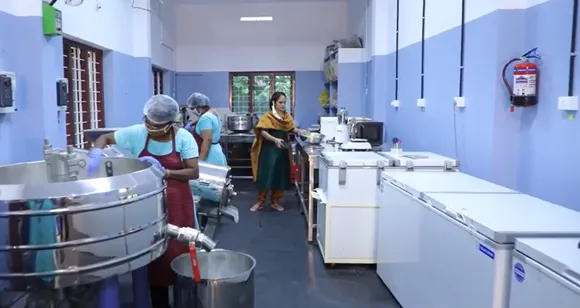 "When we started, our biggest challenge was marketing and limited shelf life of the products," she says.
"We are evaluating vacuum packaging for implementation soon," she adds.
Minnus currently has a staff of 16 people and more are hired depending on the workload.
Women working at Minnus are members of Kudumbashree, a community organisation of Neighbourhood Groups (NHGs) of women in Kerala. Kudumbashree has been effective in the empowerment of women in both urban and rural areas of the state by providing them livelihood opportunities and allowing them to fight for their rights.
Also Read: Triguni Eze Eats: How 79-year-old Radha Daga's ready-to-eat meals travelled the world with Indigo airline
"Our employees have found financial stability and can save money from the regular incomes they receive. They are now empowered and confident and live their lives as proud members of our community," Francy says.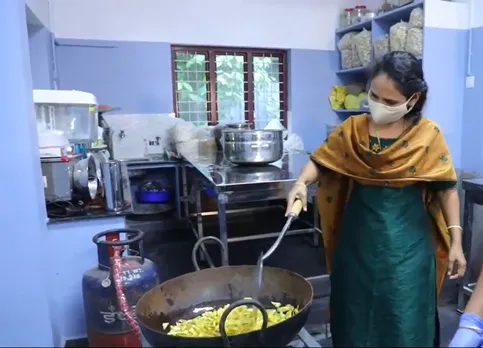 Currently, Minnus Fresh Food sells products mostly offline through government or government-allied outlets like Agro Hyper Bazaars, Kudumbashree outlets and Supplyco (Kerala State Civil Supplies Corporation) outlets. "We also sell our products in nearby districts through local supermarkets and hypermarket chains like Elite supermarkets and Kalyan Hypermarkets," Francy says.
Also Read: Manjappai: Madurai couple quits Amazon & IBM to make ecofriendly cloth bags; clocks Rs 3 crore turnover while empowering Mathichiyam slum women
"We are selling with the help of an exporting business and own the manufacturing rights," she says.
The demand, she says, is growing steadily and Francy is confident of breaking even in the next few years. "We have been progressing as per our estimates," she says.
Minnus Fresh Food has also submitted a product for innovation excellence to the government of India. "We will be working on developing that product," Francy says.
(Mona Singh is a Rajasthan-based writer and wanderer)
Also Read: Made in Chandrapur slum, sold in Switzerland: How this woman from Maharashtra handcrafted a successful home business with bamboo