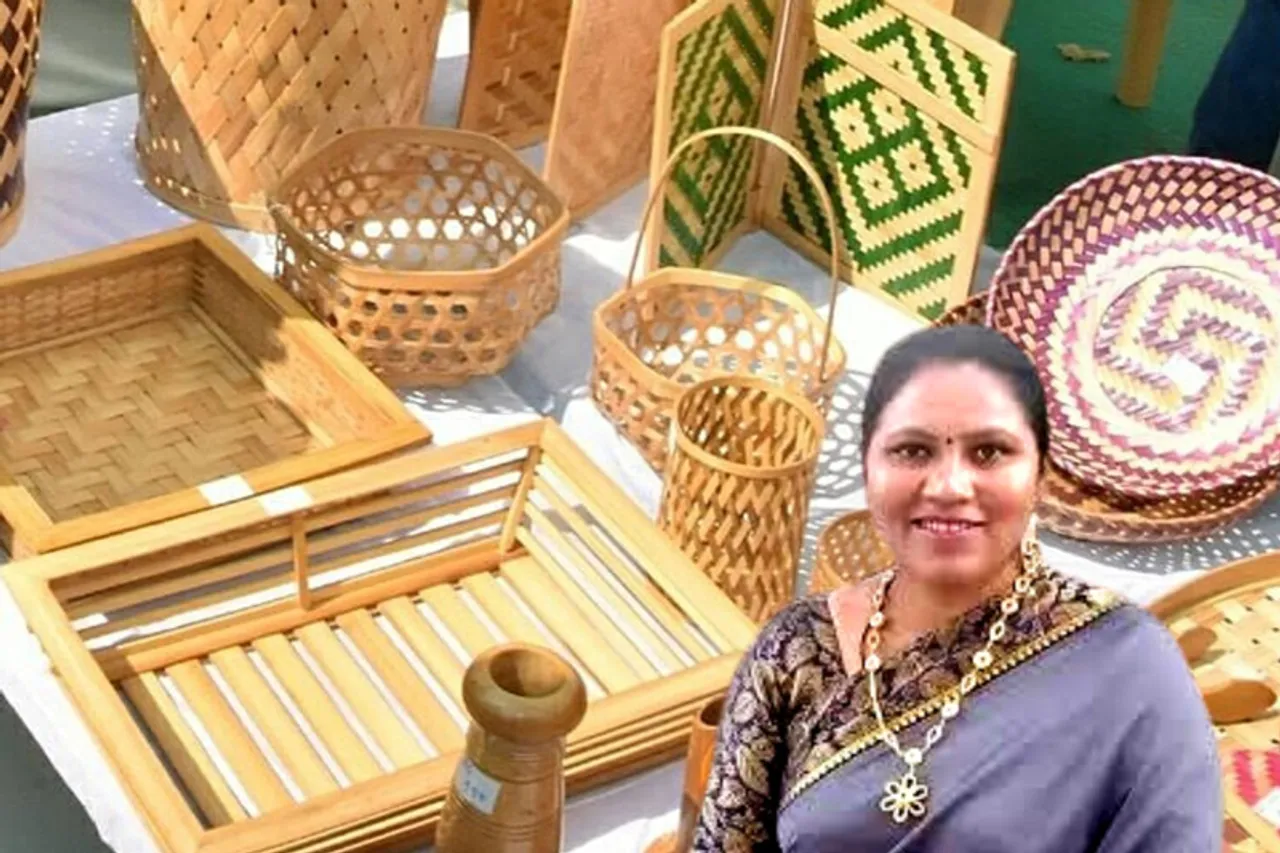 When Minakshi Walke lost her baby following a miscarriage during the seventh month of her pregnancy, she was distraught. With no interest in the mundane life, she would spend days and nights lamenting her loss at her home in the Bengali Camp slum area of Chandrapur district in Maharashtra. And though Minakshi had been making thread jewellery and some plywood items before the miscarriage, she discontinued the work due to grief. 
"It was at that lowest point of my life in 2018 that some friends suggested I resume handcrafting items to keep myself busy. They suggested that I learn wood carving. Just as we were discussing the possibilities of learning something new to come out of the sadness, we heard about a government training programme in bamboo handicrafts," recalls Minakshi, now 30.
The Bamboo Research & Training Centre in Chandrapur, a tribal area in Maharashtra, was offering a 70-day training programme in making bamboo handicrafts and Minakshi just about managed to fill the form on the last day of the submission. 
On the bamboo trail
"The training was free. The next over two months were all about learning to work with a new medium," she says.
"We were taught about harvesting bamboo, chemical treatment, uses of dry and wet bamboo, cutting, slicing, and making baskets, trays and other items," says Minakshi, who was born into a farmers' family in Sawargaon village of Chandrapur. She studied in the village school till class 10th and then completed her 12th from another school about 4km from home. Two years later, she got married.
Also Read: Lajwanti Chabra: The woman who took Punjab's folk embroidery Phulkari to the nooks & corners of India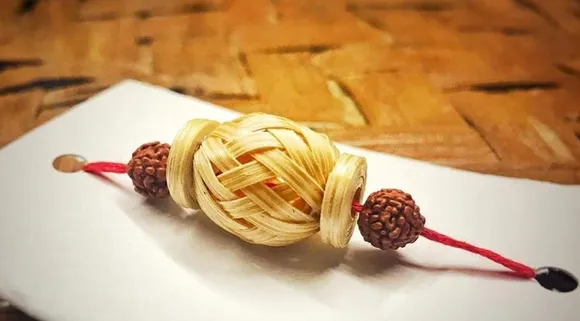 "I was just another housewife making some thread jewellery in my free time. My son was born in 2015 and I lost the second kid in 2018," she says. 
Soon after the completion of that training, Minakshi had the opportunity to participate in an exhibition called the Mahalakshmi Saras Pradarshini. "I decided to participate; but instead of taking only my thread jewellery and plywood items, I also took a handful of bamboo handicrafts." These included lamps, trays, baskets, bowls and other items.
Also Read: Lambani: How bold Banjara embroidery with cowrie & coins travelled from Bellary to the world
The reaction of visitors to bamboo handicrafts gave Minakshi a fair idea about their potential. 
She decided to continue working in the space. Around Diwali that year, Minakshi bought a bamboo pole for Rs 50 and started her own work. "I made lamps of various shapes and sizes and put them on Facebook and also shared them through WhatsApp groups. People began inquiring about them and I sold those lamps quickly," she says.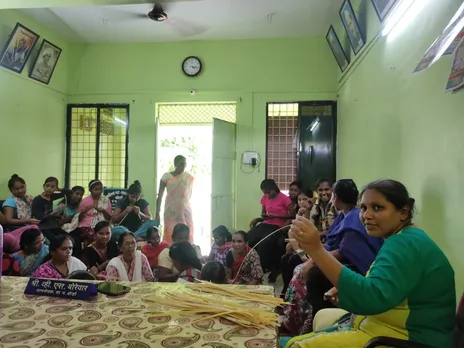 The business of bamboo handicrafts
This became her working model – designing new products, sharing them through social media, receiving orders and delivering the products. As work increased, Minakshi began training other women to work with her. 
Also Read: Abira: Pune's all-women enterprise where slum dwellers handcraft ecofriendly products for global brands
She provides them with the raw materials and designs and they work at their home. They supply the finished products to her. Each of these women ends up earning about Rs 8,000 to Rs10,000 per month depending on their output.
Today, she has buyers across India. "I get bulk orders over WhatsApp and Facebook and the products are couriered through speed post," she says. 
Minakshi sells her products under the Abhisaar Innovatives brand and has expanded beyond household items to make bamboo jewellery including earrings, neckpieces, bindis, bangles and hairpins, friendship bands, and table calendars etc. In 2020, she also began making bamboo rakhis, which have found a robust market both within India and abroad. 
Also Read: Kashmir's Sabira Mattoo: Pickling her way to success through home business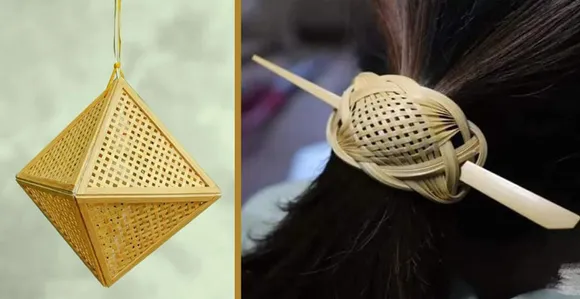 Apart from bamboo, the other raw materials she uses include threads, rudraksha beads, tulsi beads, etc. "We use only ecofriendly and biodegradable materials. There is no use of plastic or any other harmful product," she says.
For her work, she has won the National Nari Shakti Award-2018, Indo-Canadian Art & Culture Society's Woman Hero Award and Yashwantrao Chavan Yuva Puraskar 2022.
Sourcing and processing bamboo
Minakshi sources bamboo from local growers. Moreover, the Chandrapur district is naturally rich in bamboo resources as these forests occupy an area of 4,258.5 square km. Good quality bamboos are found in the remote areas of the east Chandrapur division and also in Allapalli, Bhamragarh and West and Central Chandrapur divisions.
Also Read: Tamil Nadu: How Deepika Velmurugan set up a successful home business by taking Kolam from doorstep to drawing room
However, working with bamboo requires some hard work. Being hardy and pest resistant, the bamboo used in basketry does not require any treatment. "But for craft, furniture and making jewellery, we need to treat bamboo with chemicals like boric acid and borax to make it more durable and sturdy. It also reduces its starch content," Minakshi explains. 
Another way of treating bamboo is the smoking method where bamboo culms are exposed to heat and smoke. This destroys the starch in bamboo, making it resistant to attacks by fungi and insects.
Also Read: How a Manipur mother's hand-knitted shoes found global market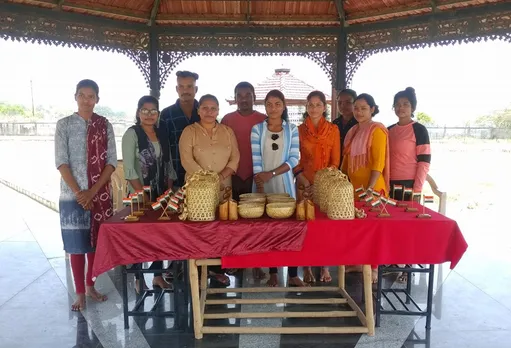 For making jewellery, bamboo is sliced into small pieces which are then cut into thin slices. If the design requires colour, these slices are put in coloured boiling water and dyed. The strips are again sun-dried before being shaped into a design. "Bamboo jewellery is loved for being lightweight and biodegradable," Minakshi says. While simple bamboo earrings start at Rs 50, the price can go up to Rs 1500 for a set with earrings, neckpieces and bangles.
But her biggest innovation so far has not been in the jewellery segment.  
Also Read: GreenKraft: taking banana bark baskets made in Madurai to Sweden's IKEA & beyond
"It is a good alternative to QR codes made using plastics which harm the environment," says Minakshi, who created the first model on request from a businessman and has so far sold 150 pieces for Rs 350 each.
In 2019, she also got an opportunity to make eco-friendly crowns for a beauty pageant. "I submitted two designs for crowns at the Miss Climate Show in 2019 in Delhi. They selected one crown and I made 16 of them on order. It was the first time that bamboo crowns were used," Minakshi says.
Minakshi, however, has not confined the craft to herself or her co-workers. 
She spent 40 days in Gadchiroli, training tribal people in making bamboo handicrafts. Bamboo is found in abundance in the region. 
"I aim to now start a workshop where I can employ as many women as possible, at least 30 to begin with. Empowering women is the only way to empower society," she says.
(Rashmi Pratap is a Mumbai-based journalist specialising in business, financial and socio-economic reporting)
Also Read: Married at 16, how this Arunachal woman fought poverty to become bamboo millionaire