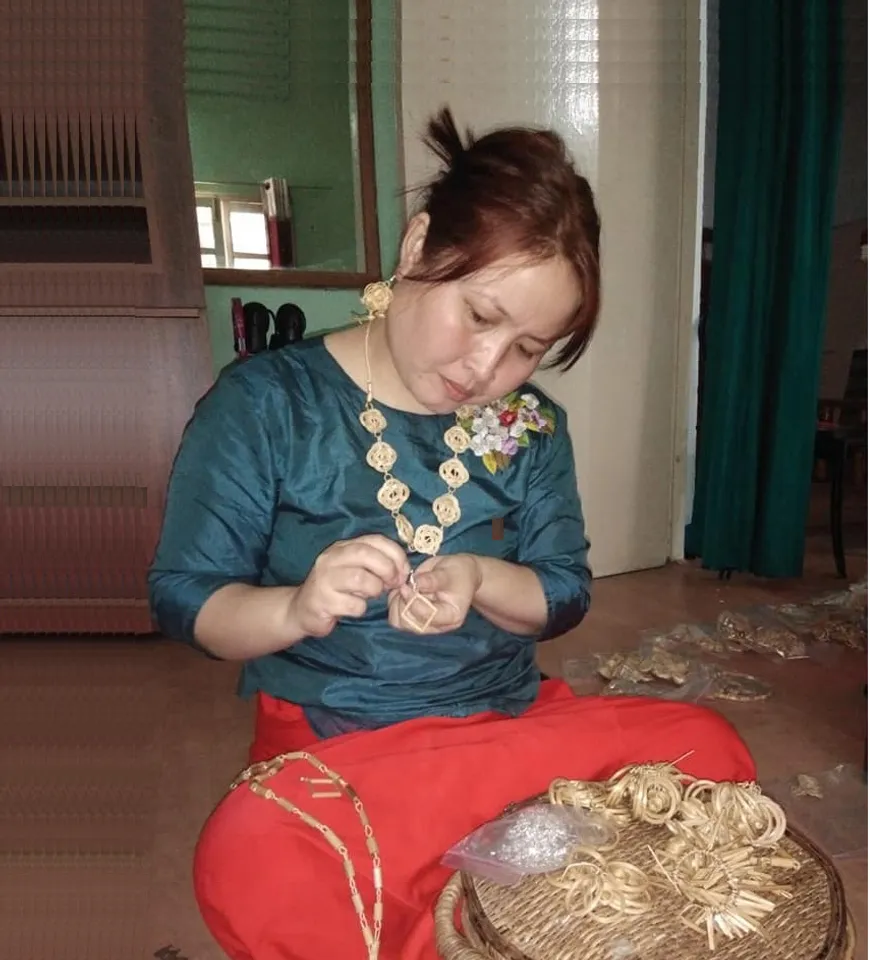 By the time Techi Anna had turned 21, she was already the mother of three children. The first one, her daughter, was born when she was just 17. Unable to afford education after class 8, Techi's parents thought it was best to marry her off to reduce their financial burden.
Techi's husband was 10 years elder than her and unemployed when she moved into his house at Poma village in Sangdupota Tehsil of Papum Pare district in Arunachal Pradesh.
"I began to sell clothes for a living but the earnings were not enough to meet the needs of my family, which also included my mother-in-law," she recalls.
To bolster her income, she also began selling imitation jewellery. "But the margins were very low. I realised it was impossible to make ends meet by being a reseller," says Techi, now 42.
Also Read: Abira: Pune's all-women enterprise where slum dwellers handcraft ecofriendly products for global brands
Opportunity in adversity
Even as she struggled to earn every penny, she had two advantages – one, her love for bamboo handicrafts though she had never made any item; and two, her educational qualification (8th class pass).
She participated in the Panchayat elections in 2009 and was elected as a member. "That was the turning point as I began to meet a lot of people, interacted with them and learned new ideas and concepts," she says.
Also Read: Tage Rita: Arunachal woman entrepreneur making India's first organic kiwi wine Naara Aaba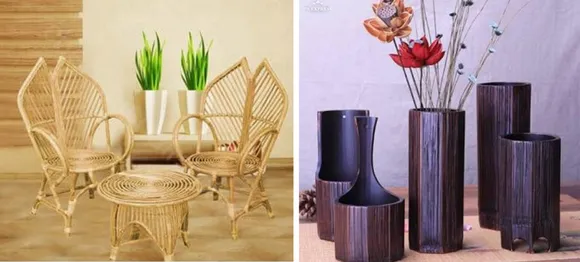 The same year, J J Singh, the then Governor of Arunachal Pradesh, visited Poma village. "He came to our village and I started interacting with the Governor as there was no other member educated till class 8. He suggested the setting up of bamboo cottage industry to create livelihood opportunities," says Techi.
The young mother was anyways looking to start something of her own and the Governor's idea appealed to her.
"Many varieties of bamboo can be found in the state and we use it for everything – from making our houses to burying the dead," she says.
Arunachal Pradesh is home to 57 bamboo species, according to the State Forest Research Institute. Being hardy and pest-resistant, bamboo is used for building suspension bridges, house construction, furniture, agricultural equipment, transportation, storing water and grains besides being used as fuel and fodder.
Also Read: Kashmir's Sabira Mattoo: Pickling her way to success through home business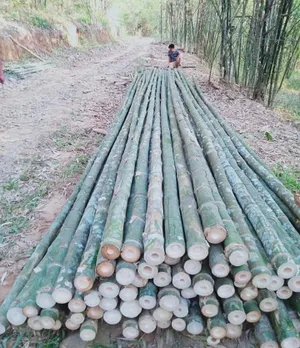 Of the 26 major tribes in the state, each has its unique way of working with bamboo to create various products. Techi realised that the raw material is abundantly available and the tools used to cut and slice bamboo, like light saws and indigenous cutting knives called takal and dao are found in every household.
"The only other requirements are some training in designs, weaving and creativity to make products that appeal to customers," she adds.
Also Read: Tamil Nadu: How Deepika Velmurugan set up a successful home business by taking Kolam from doorstep to drawing room
The entrepreneurial journey
Techi began to make some basic products that are always in demand – bamboo hats, bamboo baskets, storage boxes and bins. "I would handcraft them through the week and sell them in the local market. Since the quality was good, there was hardly any unsold inventory," she says.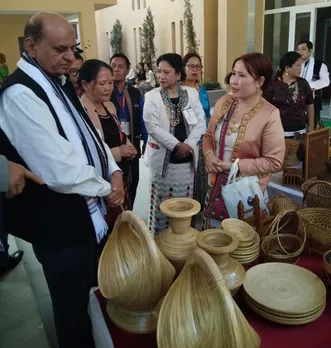 After about a year-and-a-half, the demand for her products began to increase so much that she could not handle the production alone. "I started engaging others by 2011 when I began to get orders from places beyond the local market," she says.
Today, her venture, Poma Bamboo Processing Industry employs 26 full-time artisans besides working with small entrepreneurs who operate from homes to make bamboo handicrafts, furniture and jewellery. Her product range includes sofa sets, chandeliers, cutlery, artefacts, home décor items, lamps, baskets, storage containers, wall pieces and other items.
Also Read: How a Manipur mother's hand-knitted shoes found global market
Her bamboo earrings are priced upwards of Rs50 while a full jewellery set costs Rs3500. The price for as set of chairs starts at Rs12,000.
The workers are paid between Rs 10,000 and Rs18,000 per month depending on their skills and time spent at work. Techi earlier employed 40 artisans but during the COVID lockdown, those from Assam and other nearby states went back home.
"We are, however, able to manage any sudden increase in orders by working with cottage industry entrepreneurs, most of whom have been trained by me," she says.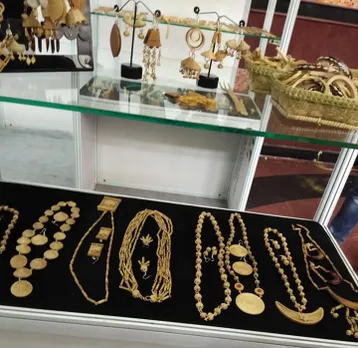 She provides them with product design and the money for raw materials. "They make the goods for us and we pay on a production basis," she says.
An important component of Techi's entrepreneurial journey has been the training provided by her to about 3,000 people so far. "I have trained people from Nepal, Kashmir, Delhi, Mumbai and many other places. The government also organizes training sessions, which are conducted at our factory. Our master craftsmen take classes and we also have a hostel for outstation participants," she says.
Also Read: GreenKraft: taking banana bark baskets made in Madurai to Sweden's IKEA & beyond
The basic course is spread over 14 days and Techi charges Rs 8,000 per person including food and lodging.
Working with bamboo
While bamboo is a hardy plant, it also contains starch and sugar that attract fungi, molds and termites etc.
The traditional treatment methods include curing, smoking and whitewashing bamboo. In curing, freshly-cut bamboo culms and leaves are stored in shade for about 10 to 14 days, leading to loss of starch due to respiration in leaves and tissues.
Also Read: Bengaluru's Kottanz contemporizes traditional gifting with eco-luxury products handcrafted by rural women
Bamboo is also soaked in water for a few weeks to leach out the starch and sugar.  Modern methods, however, treat bamboo with chemicals like borax powder etc.
"Our master craftsmen provide all the details about bamboo handicrafts during the training period," she says.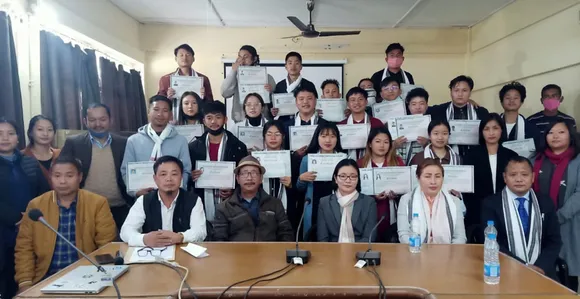 For production, Techi purchases bamboo from local growers. "Then we treat bamboo and cut and slice it according to the products to be made," she says.
For making bamboo baskets, bamboo is cut into strips and they are arranged in a crisscross manner to make the base in a square, circular, oval or other shape. The side walls are either woven directly or made using a frame. Several patterns are developed while weaving a basket, she points out.
Also Read: Waguv weaving: Kashmir's ecofriendly grass mats made from Dal Lake reed struggle for survival
For jewellery, bamboo is sliced into very thin strips. "I learned bamboo jewellery-making from an elderly lady and used my local designs to create earrings, bangles and neckpieces.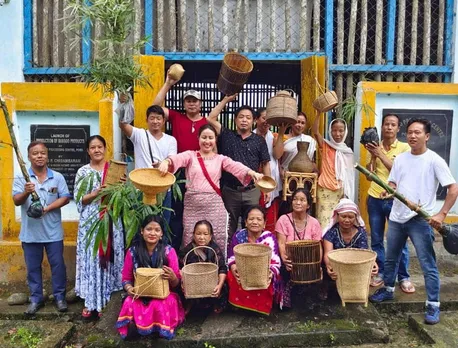 "We sell our products to wholesalers or get orders from the government. We have not started online sales as offline order inflow is already very high," says Techi.
Her husband works with her now and looks after marketing and sales. Her eldest daughter has graduated while other children are also pursuing higher studies. "I now want to diversify into textiles," she says.
(Rashmi Pratap is a Mumbai-based journalist specialising in business, financial and socio-economic reporting)
Also Read: Once a vegetable vendor, how this Manipur woman turned entrepreneur by making silk cocoon ornaments