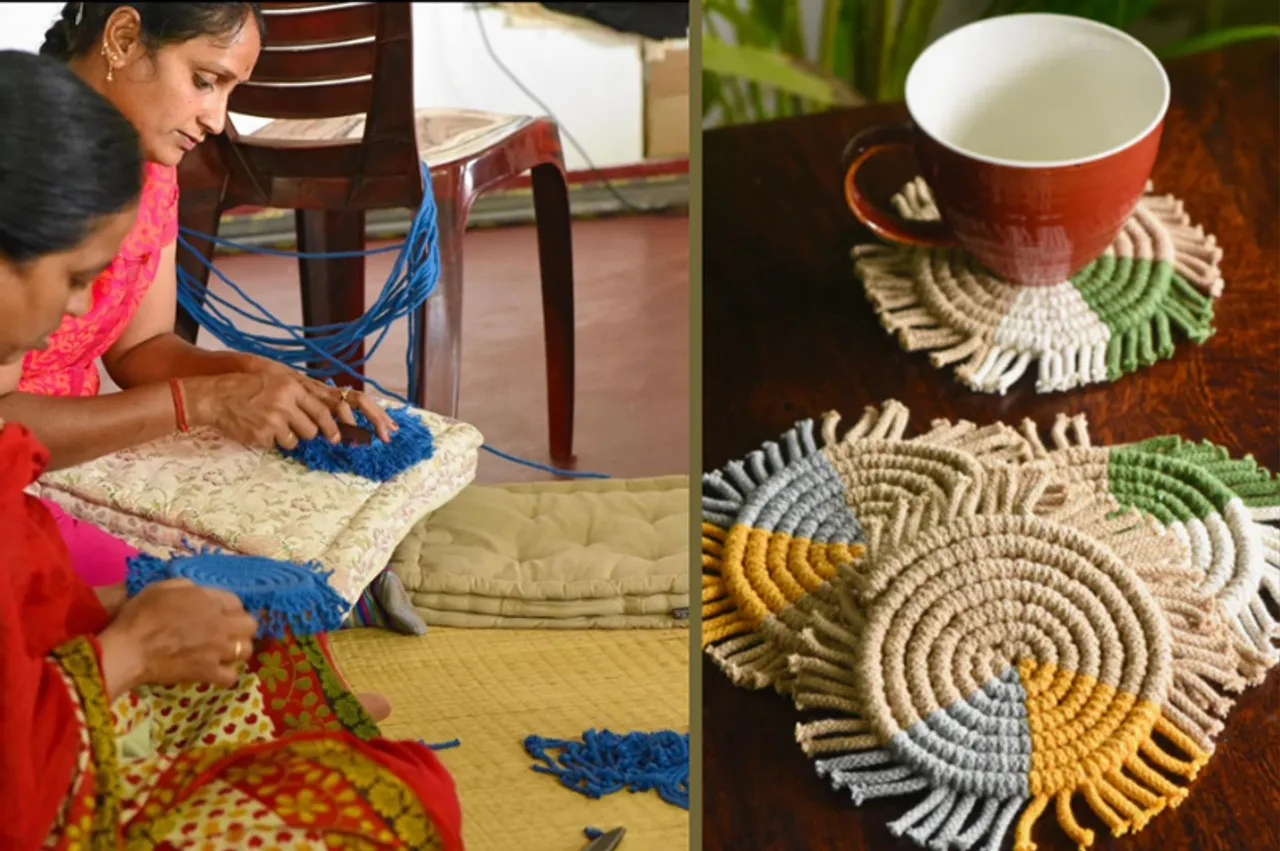 Suhas Ramegowda and his wife Sunita were working with the world's top MNCs in Bengaluru when they realised that they weren't happy living the corporate dream in India's IT capital. The year was 2015 and the duo went after cycling, running, fitness and other distractions to look for happiness. The quest took them to Yoga, which helped them turn inward and strengthened their resolve to quit urban life.
"We got to a point where we had stopped interacting with the city, we were not eating out, not socializing, not buying things unless necessary, not partying and our boy was being unschooled," recalls Suhas who was working with British oil and gas multinational Shell at that time.
By the next year, the couple felt that they didn't need to be in the city anymore. "That's when we decided that we should live off-grid in a rural landscape. I loved the mountains and Sunita loved the beach. Women prevail, so we decided to move to Auroville (in Puducherry)," he says.
A social enterprise in the Nilgiris
But as luck would have it, the couple couldn't find a place to stay in Auroville and they moved to The Nilgiris, mountain ranges at the tri-junction of Tamil Nadu, Kerala and Karnataka, also called the Blue Mountains.
Sunita and Suhas bought a piece of land deep in the interiors of the picturesque hill station Coonoor (Tamil Nadu), cultivated it, built an earth home for themselves and became part of the indigenous community.
Also Read: Last Forest takes honey & beeswax products from Nilgiri forests to global markets
While Sunita and Suhas were happy, members of the indigenous and rural communities were not content with their situation. "We realised there was a problem with livelihood," says Sunita.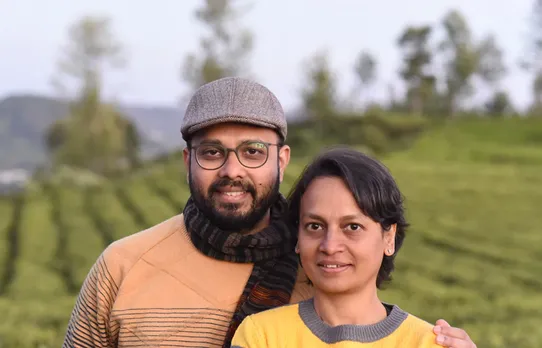 Men stepped out to work as daily wagers in tea estates, construction sites and vegetable farms but the money seldom made its way back to the household. So women had to manage the house and children and they needed help. "Indian Yards was born out of this assessment," Sunita adds.
The couple decided to use their skills to make things better for them. "We figured out that the women of the communities were our best chance to bring about a change. So we chose craft and commerce as means to generate equitable income," says Sunita, who was earlier a professional quilter.
"We decided to start with quilting as a craft but along the way, we realised that we need to build a model where women are enabled to produce from their homes. Considering the social structures and topography, to truly give these women a chance, we had to make this a 'work-from-home' model," says Suhas.
Also Read: Dehradun: How Purkal Stree Shakti is quilting joys & empowering women in the foothills of the Himalayas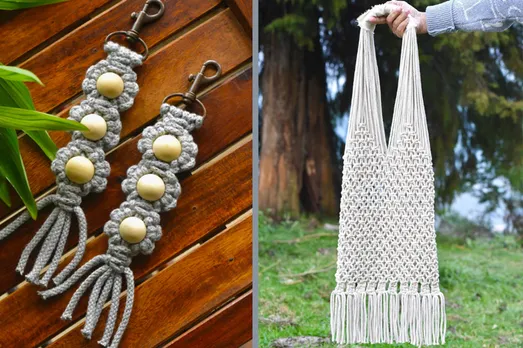 Quilting was a team effort and needed machines and floor space. So after beginning with quilting, they started to look for a craft that did not require much investment and could be done from the comforts of a home. "We adopted Macramé as it is a hand art form and does not require any machinery, tools or huge space. The training time was short too," says Sunita.
Macramé knots also appear in the carvings of Babylonia and Assyria – empires in ancient Mesopotamia that took roots about 4,000 years ago.
Also Read: Samoolam: How Usha Varia's social business crocheted a success story while empowering rural women in Bihar
Zero-waste business empowering indigenous & rural women
Sunita says Indian Yards works with 100 percent cotton ropes made from recycled yarn, which is in turn made from pre-consumer fashion waste. "They are sustainable materials."
The social enterprise has now added crochet to its portfolio given that it too does not require any major investments or space.
Indian Yards is also a zero-waste entity where nothing is thrown out. "Waste from bigger projects gets upcycled into smaller projects. Absolute waste is upcycled into complimentary giveaways. All our products are utility based and long-lasting. Our packaging is plastic free too. Sustainability has been a guiding principle by design," Suhas explains.
Also Read: Abira: Pune's all-women enterprise where slum dwellers handcraft ecofriendly products for global brands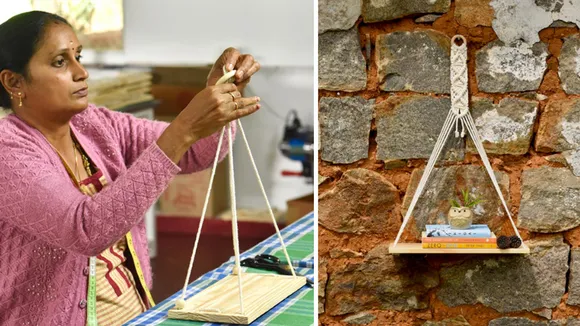 Indian Yards started with five women artisans and is today working with 21 women from communities across the rural landscape.
Indian Yards upskills women from these communities and enables them to produce specific products. They take raw materials from the centre, do production at home and bring the product back to the centre for quality checks. This intervention has helped them on multiple fronts.
"Working with Indian Yards has improved their socio-economic well-being. For their children, it translates into better education and better access to nutrition and healthcare," Suhas says.
Rema, an artisan at Indian Yards, says she first learned tailoring at the centre and was then encouraged to learn Macrame. "I was apprehensive in the beginning but the training was very useful. Now my salary helps me to take good care of my son. I can provide him with a good education. I have also applied for a bank loan based on my income from Indian Yards," she says.
Also Read: Made in Chandrapur slum, sold in Switzerland: How this woman from Maharashtra handcrafted a successful home business with bamboo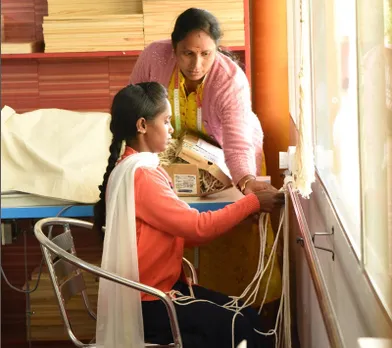 Bagiyalakshmi, an artisan from Hubbathalai village in Coonoor, says the work has boosted her self-confidence. "I have made many friends here and it is mentally satisfying.
We are making things which I had never seen before, and that makes me happy," she says.
There is bonding, sharing and a sense of togetherness among women when they come to the centre. "Indian Yards is a means to providing collective strength to women through handcrafting," Sunita says.
Artisans handcraft items in the categories of home décor, garden décor, lifestyle and table and dining, which are sold both in India and abroad. "We sell on most of India's leading curated marketplaces such as Jaypore, Okhai, Brownliving, Amala Earth, Flourish, Bazaar, etc. We also sell through a few select physical stores," he says.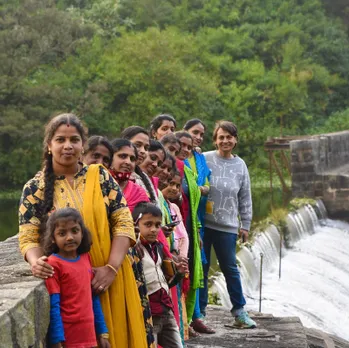 The wide range of home and living products made using Macrame starts from Rs 390 for a set of two key chains to Rs 1175 for a set of two placemats. These products are in the D2C space. "The B2B world has a more diverse range as some of the products we make in that space are larger in size. For example, a statement piece for a patio," Suhas says.
Also Read: Udaipur's Sadhna: Where hundreds of disadvantaged women handcraft a secure future
Indian Yards is currently developing a new range of products focused on gifting. "These products use both Macrame and crochet craft forms. We are quite excited as India hasn't seen something like this so far. These products are perfect for conscious gifting," he says.
Suhas says they intend to take the number of women from 21 to 500 in the coming years.  "We are also working towards organising the artisans into producer-owned entities so they graduate from being workers to being owners," Suhas adds.
(Rashmi Pratap is a Mumbai-based journalist specialising in business, financial and socio-economic reporting)
Also Read: Gujarat's Rajiben Vankar: From living in a tent to weaving upcycled plastic, how this housewife set up a successful business from waste