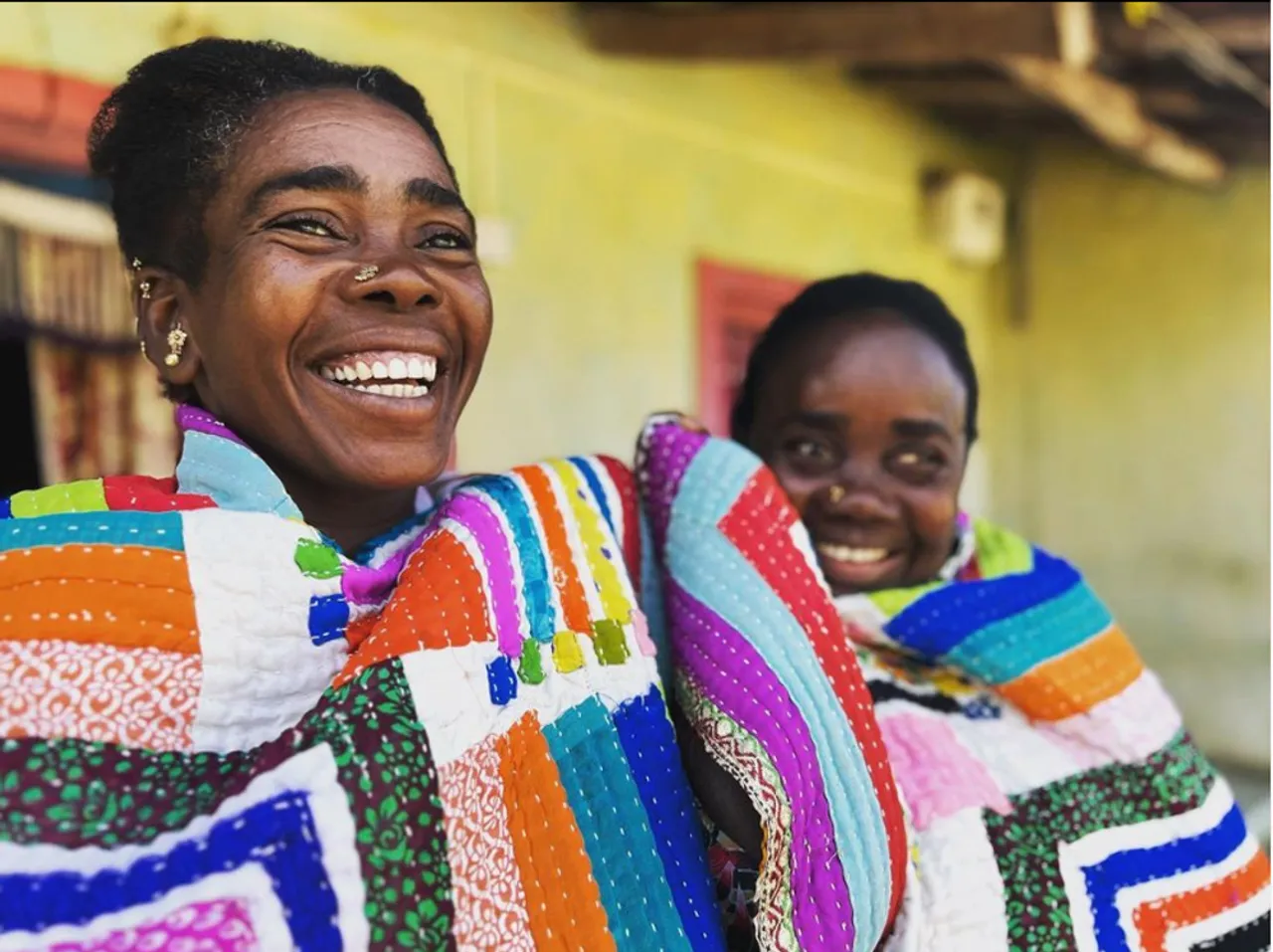 Every summer, during the early 2000s, Anitha N Reddy would visit the Ninasam Theatre Institute in Karnataka's Shimoga district to click photographs and also meet her friends who worked there. One of her classmates had got married into the Siddis of North Karnataka and that brought Anitha, an art historian and researcher, in touch with the community that traces its roots to Africa.
Her friend's wife Girija, a Siddi, took Anitha to her village Analesara in the Uttara Kannada district. There, Anitha saw multi-coloured patchwork quilts hanging in courtyards, being used for sitting, wrapping babies and as covers. Anitha had been seeing these colourful quilts during her travels in Uttar Kannada and Dharwad districts but the visit to Girija's house gave her an opportunity to understand more about the quilts, called kavands in the Konkani-Marathi dialect of Siddis.
Also Read: School dropout woman entrepreneur skills 4,000 Kashmiri women in crewel embroidery
Stitching a revival
In 2010, on one such visit, Anitha saw a quilt with patches of a fabric that she had gifted to Girija a couple of years back. "Girija told me that the Siddis don't waste anything. She had used the fabric and later got it stitched into a quilt by a lady in a nearby village. I developed an interest in meeting this quilter," recollects Anitha.
The Siddis make quilts using fabric pieces from old, worn-out clothing collected from family, and friends or purchased at the local used-clothes markets. 
These quilts are prized possessions and have sentimental value. The bigger the quilt, the more auspicious it is considered because it implies a growing family.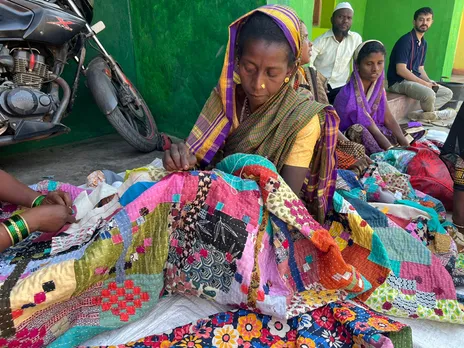 When Anitha went to meet the elderly quilter, Girija accompanied her as the Siddis are shy people and feel more comfortable with their own community members. Anitha learned that kavands or kawandis are made by Siddi women for use in their own homes. Traditionally, Siddi quilts were used as sleeping mattresses in warm weather and as covers during the cool or monsoon season. 
Also Read: How this Bengal family is reviving traditional muslin weaving using organic cotton
However, since the younger generation was not interested, only a handful of elderly women were making the quilts. 
"Quilt-making wasn't seen as an art and they were only seen as items of functional use. I felt that if we could get a wider audience for the craft, the skill could be taught to the younger generation as well," says Anitha.
More importantly, it would keep the craft alive and generate livelihood opportunities for the Siddi women if the quilts were sold in urban markets.
Also Read: Himachal: Married at 15, how Lalita Vakil revived the dying art of Chamba Rumal embroidery
With that aim, Anita started working with five women quilters in Analesara village and then held workshops in other Siddi villages to encourage them to continue the tradition. She began travelling to Siddi villages in Yellapur, Haliyal, Ankola, Joida, Mundgod and Sirsi taluks of Uttara Kannada district and Kalghatgi taluk of Dharwad district.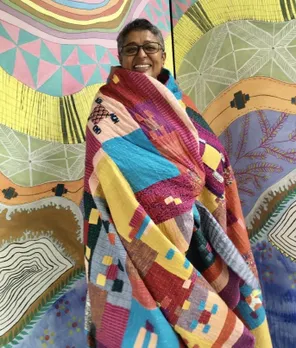 "Many of these villages have just 10 to 15 houses amid thick forests connected to the main roads only through mud paths and sometimes cemented roads. Patches of forests separate these villages," Anitha points out.
"Siddis live in mostly isolated areas. Only some girls pick up the craft. And there is no certainty that everyone who learns will continue making quilts," she adds.
Through her workshops and by selling the quilts in the market, Anitha won the confidence of other women, who joined her to make kavands. Today, Anita works with 50 Siddi women in seven villages of Uttara Kannada and Dharwad – Bilki, Analesara, Tattigere, Sambrani, Baichwad, Domgoli and Chipgeri. 
Also Read: Toda embroidery: Preserving tribal craft from the Nilgiris stitch by stitch
India's Siddis 
The Siddis are descendants of African people who were enslaved and brought to India by the Portuguese, the Deccan Sultanates and through the Arab Slave Trade. Some came as merchants, sailors and indentured servants.
They are now settled in isolated villages in coastal parts of Gujarat, Karnataka and Andhra Pradesh. 
The Siddi population was 25,000 as per the 2011 Census. About 50 percent of the Indian Siddis are descendants of Bantus from Southeast Africa, while others are descendants of Ethiopians.
Over the centuries, the Siddis have adopted many Indian traditions. Anitha says some of them follow Hinduism while others are Christian or Muslim Siddis.
Siddi men in coastal Karnataka earn a living through labour work in farms, fisheries and at construction sites. They also depend on forest produce like honey for livelihood. "Siddis don't own any land as they don't have the rights," Anitha says.
And that's where Anitha's work stands out. She is empowering Siddi women by providing them with consistent work to make kavands, through which they are able to earn around Rs 6000 to Rs 8,000 per month.
Also Read: Lajwanti Chabra: The woman who took Punjab's folk embroidery Phulkari to the nooks & corners of India 
The process of making a Siddi quilt
Kavands or Siddi quilts have simple geometric or abstract patterns created by sewing multiple layers of old clothes and frayed fabrics. These patches are called tikeli in the local dialect. An old cotton sari forms the base of the quilt on which patches of colourful cloth are fixed using the back stitch or running stitch. 
The patchwork starts from one corner of the saree and continues till the entire saree is covered. In the end, one or more folded square patches are sewn on every corner of the kavand to form a multi-layered triangle called the phula (flower).
"I provide the quilters with the materials. They are cotton fabrics sourced from surplus markets, tailors and factories," says Anitha. 
Siddi quilts are a zero-waste sustainable product made using recycled materials. 
"It takes about 15 to 20 days to make a single-size quilt while double-size pieces require anywhere between a month to one-and-a-half months," says Anita. 
Also Read: Indian Yards: Bengaluru couple quits top MNCs for the love of hinterland; empowers indigenous women of the Nilgiris through Macramé craft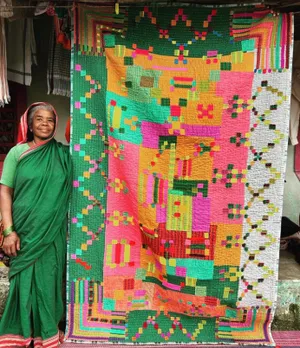 "As for the price to be paid, we sit together while giving the materials and arrive at a per-inch rate depending on the work and the number of hours required. On average, each woman gets paid around Rs 4,000 for a single size quilt and around Rs 10,000 for a double one," she points out.
As the word about their craft has spread, now Siddi women also get work from other local communities who provide them with the materials to get the quilts made.
"They don't work throughout the year and quilting is a seasonal activity when women don't have any work on the farms," Anitha adds. 
She sells the quilts through Instagram, through her friends and at exhibitions and other collaborations. "But what makes me the happiest is the fact that I have been able to revive, nurture and sustain the dying art of Siddi quilts and take them to art connoisseurs around the world," she adds.
(Rashmi Pratap is a Mumbai-based journalist specialising in financial, business and socio-economic reporting)
Also Read: Dr Hemalatha Jain: The professor reviving age-old handloom weaving of sarees in Karnataka