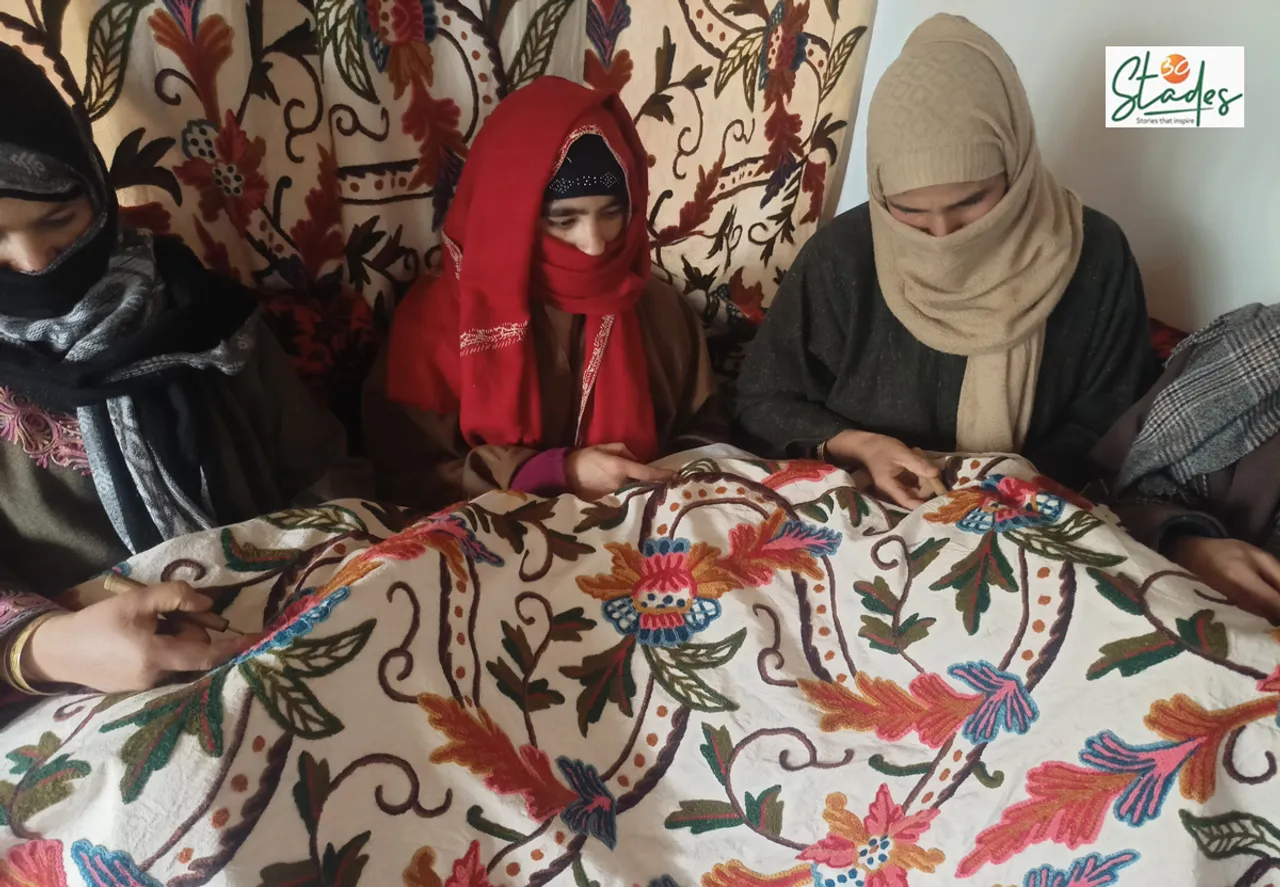 In the last 30 years, Zamrooda Akhtar from Kashmir's Kulgam district has trained around 4,000 women in traditional crewel embroidery, empowering them through financial independence. Zamrooda, who lives in Kund village, about 105 km from Srinagar, was forced to drop out of school after class 5 due to the poor financial condition of her family. But her enterprising nature did not let her sit idle.
As a teenager, she learnt crewel embroidery, traditionally done on shawls using wool thread. Zamrooda began embroidering household products like drapery, upholstery and linen items with crewel, providing much-needed financial support to her family.
Also Read: How Rangsutra has tapped the skills of rural artisans and turned them into entrepreneurs
She continued her work after marriage too. She says proudly, "My husband was a school teacher and retired as a school principal. But I never asked him for money. I wanted to work and be financially independent so I would not have to ask anyone for money."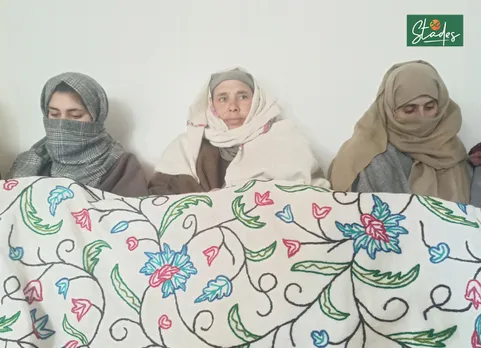 At the same time, she wanted to help women in rural areas to learn some skills and earn a living. When she saw educated girls sitting at home, unemployed, it troubled her and she wanted to do something to help them. "In urban areas, women have opportunities to work outside their homes," she says.
"But in rural areas, people are conservative and women aren't allowed to work outside. So, I thought of opening training centres which would provide them with an avenue to learn and earn," says the 52-year-old.
"There was no objection from families as we have only women staff at the centres to train the students. Once trained, the women can work from home," she says.
Zamrooda used her own funds to set up training centres to teach crewel embroidery to women. Today, she runs 300 centres in the adjoining districts of Anantnag and Kulgam where around 4,000 women have undergone training so far.
"I am happy that I can help women from rural areas earn a livelihood. I also try to help them financially at the time of their marriage," says Zamrooda.
Also Read: Toda embroidery: Preserving tribal craft from the Nilgiris stitch by stitch
Braving odds and militancy
In the 1990s, when the Kashmir valley was in the grip of militancy, it was a herculean task for Zamrooda to reach out to women in different districts and motivate them to join the training centres.
Zamrooda would go from home to home, talk to the women about crewel embroidery, and motivate them to learn and earn income to support their families.
"I started this business in the late 1980s. I established the first training facility in Dialgam village in the Anantnag district which was a hotbed of militancy in those days. Fortunately, my work has never been affected by militancy," says Zamrooda.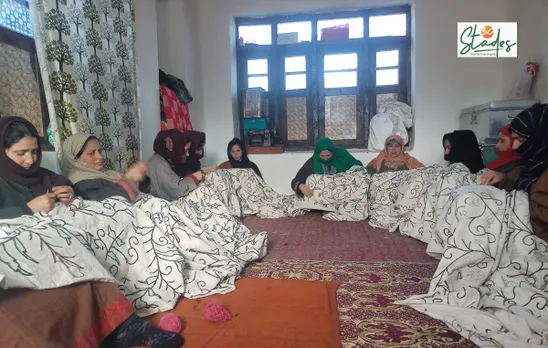 "With time, that one centre grew into a network of centres in the two districts. My students have helped along the way," she says. 
Setting up the centres was a daunting task as Zamrooda did not have the requisite funds. However, her family came to her rescue and sold some land to fund her venture. She also took a bank loan of Rs2 lakh to set up the first centre. "I did not get any support from the state government to promote this craft," she says.
Also Read: Lajwanti Chabra: The woman who took Punjab's folk embroidery Phulkari to the nooks & corners of India 
Zamrooda employs the students who have learnt and worked at the centres as teachers. The senior ones who have worked at a centre for seven to eight years are made the head of that unit. She does not pay the teachers as she says, they earn on their own by selling products.
Process of Crewel embroidery
This hand embroidery has been practiced in Kashmir for many centuries.
Crewel embroidery is done using a hook or aari. It is locally called Aari or Sozni Kaem, which means needlework.
The distinctive feature of Kashmiri crewel embroidery is the use of woollen yarn.
Earlier, only shawls were embroidered, but over time, crewel art has come to be used for creating other products too like drapery, upholstery, shams, duvet covers, wall hangings, rugs, bags and pouches and bedspreads. The embroidery is done on thick fabrics like wool, jute, cotton and their various blends. 
The hook is used to make rows of solid patterns with chain stitches. The patterns usually rotate outwards from the centre to create an embossed effect that gives a rich look to the fabric.
Also Read: Indian Yards: Bengaluru couple quits top MNCs for the love of hinterland; empowers indigenous women of the Nilgiris through Macramé craft
To begin with, the design to be made is selected. The most common designs are the Tree of Life, maple leaf, hunting scenes and flame-shaped and almond-shaped motifs. There are scores of designs available with Naqshband or traditional tracers.
Once the design is selected, the tracer traces the design onto the fabric. The designs are made on perforated translucent sheets. The tracer places the perforated sheet with the selected design on top of the fabric. The tracer then punches holes in the perforations.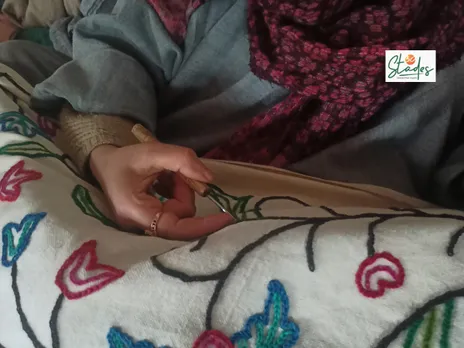 An ink-soaked woollen yarn is rubbed over the design sheet so the ink seeps through the tiny holes onto the fabric underneath to create a clean imprint. The base colour of the fabric is white, cream or other pastel shades.
For the embroidery, either a single-colour yarn can be used or they can be pink, purple, green, blue, crimson, yellow or black. Earlier, the yarns were dyed using natural colours but these days, synthetic colours are used. The threads are made of wool, cotton or silk though artificial silk is increasingly being used now.
The printed fabric is then given to the embroiderer or zalakdoz who brings the pattern to life, using colourful threads. The embroiderer inserts the hook onto the fabric from the right while the thread is held on the underside. The embroidery appears as a chain stitch on the fabric.
The embroidery work takes the most time. Depending on the complexity of the design, it can take a few days to eight to ten weeks to complete a piece.
Also Read: Dehradun: How Purkal Stree Shakti is quilting joys & empowering women in the foothills of the Himalayas
Challenges
Like many other handicrafts, Crewel embroidery faces challenges from newer technologies. Zamrooda says machine embroidery has severely impacted the handmade embroidery business.
The centuries-old craft traditionally employed individuals in rural and urban regions of Kashmir who would make colourful embroidered shawls. "For farmers who were idle in the off-season, it served as a secondary source of income. Unfortunately, the industry has been impacted by the introduction of machines," she says.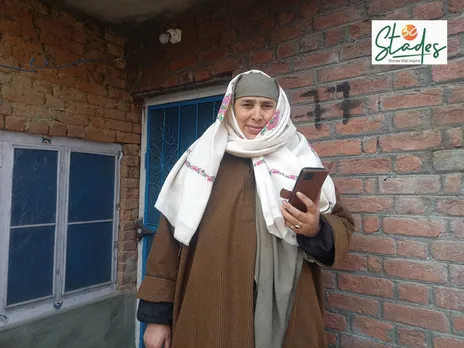 Customers prefer machine-made products over handmade ones because they are cheaper and require less work during production.
A machine-made shawl costs about Rs 500, but a handmade piece will cost around Rs 2,500.
Another downside is that the younger generation is not interested in pursuing a craft that is laborious and requires patience. "Doing crewel embroidery requires a lot of concentration and utmost care. The artisans have to sit in one place for many hours while embroidering. Many artisans have left this work as it is tedious and many experience loss of eyesight over time," Zamrooda says.
Need for government support
Zamrooda says the women in her training centres, once trained, earn Rs4000-5000 per month on average.
"If the handicrafts department makes independent societies or separate centres, the women can triple their incomes and it would attract more women to this industry," she says.
Zamrooda says the government regulation is that joint societies or stitching centres should be provided for every 10 women. "However, these rules and regulations remain on paper. The rural women who work under my supervision are unable to get the benefits of these government schemes," she says.
Also Read: Abira: Pune's all-women enterprise where slum dwellers handcraft ecofriendly products for global brands
Nahida Jan, 29, a student at the Kund centre, says the government should step in to help the Kashmiri handicraft artisans. "Since the government stopped purchasing our products, the prices of the products have gone down. Now traders are approaching us to buy them but they don't pay much," says Nahida.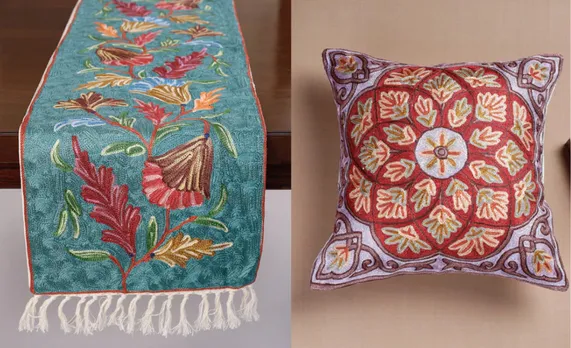 Nighat Akhtar, also from the Kund centre, says that she purchases her own raw materials and makes the crewel embroidery goods which she sells to retail buyers. "We buy our fabric, thread, and other equipment to make curtains, pillows, bedcovers and other items which we sell to shops. The stores and shops pay us but then they sell the goods at much higher prices," says 25-year-old Nighat.
Hilal Ahmed, Director of the Government's Handicrafts Department, claims that steps are being taken to revive this craft. "Over the last two years, we have spent around Rs10 crore to boost this dying industry in Kashmir. We are taking various initiatives to promote handmade items. Exhibitions are organised every month to support the artisans," says Ahmed.
The lack of government support notwithstanding, the thousands of women who have learnt and work at the centres are grateful to Zamrooda for skilling them so they can contribute to their family's finances and live with dignity.
(Irshad Hussain is an independent journalist based in Srinagar)
(Pics featured at the top of this page have been clicked by Irshad Hussain)
Also Read: Samoolam: How Usha Varia's social business crocheted a success story while empowering rural women in Bihar