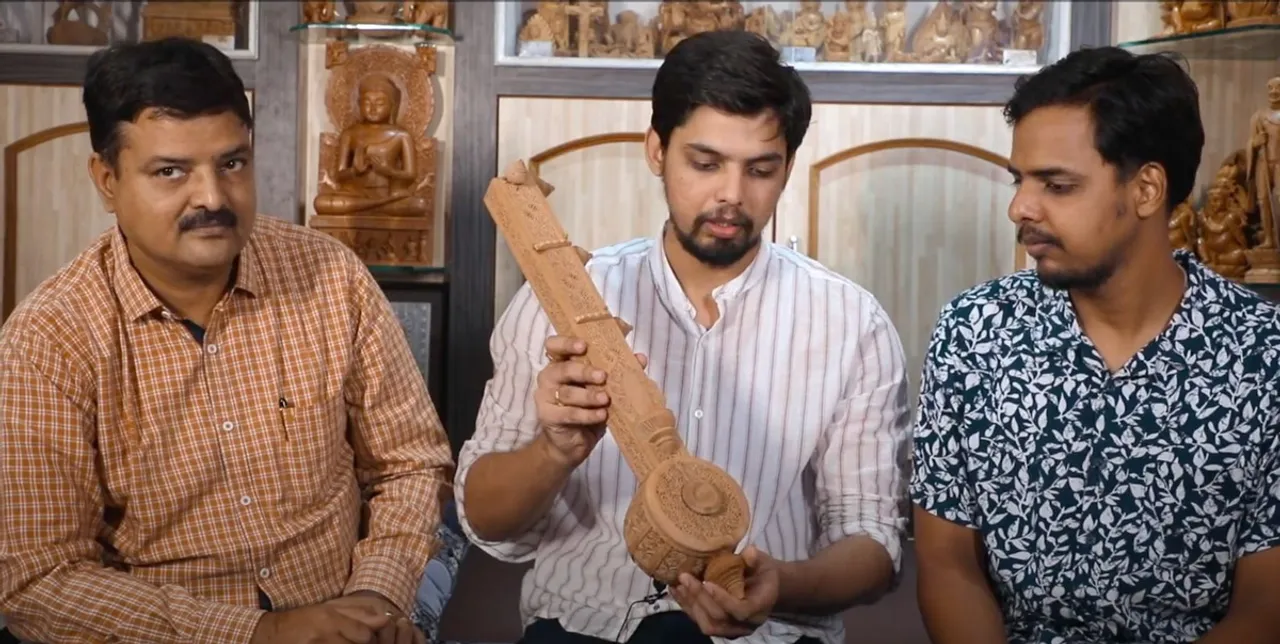 In 2018, an American art collector put a challenge to Mohit Jangid, a sandalwood artist from Jaipur. He asked Mohit to create a replica of a 500-year-old altarpiece that was placed in the British art museum. Mohit, who is ever ready to take up any challenge, agreed.
"Miniature art collector Jorge Flores had travelled around the world seeking out artisans to create a replica of the altarpiece but no one could do it," recounts Mohit.
The altar had intricate and complex carvings with 70 human figures and 30 animal figures. Mohit worked for six months on the 11-inch piece to create its replica. 
"After completion, Flores was so impressed and pleased that he invited my parents and me to his home in Maryland, US, for a month," says Mohit.
When Japanese Prime Minister Fumio Kishida visited India in 2022, Prime Minister Narendra Modi gifted him a 'Krishna Pankhi' made by Mohit. The sandalwood artefact had ornamental work with its windows or jharokhas showing different poses of Lord Krishna.
Mohit, 30, is the fourth-generation miniature sandalwood artist in the Jangid family. Several decades back, his great-grandfather, Malji Jangid started sandalwood carving in Churu town in north Rajasthan. The family is known for the craft and 11 members have won the national award.
He too won the state award in 2008-09 for excellence in sandalwood carving when he was just 14 years old and bagged the Young Artisan award from the Crafts Council of India in 2018-19.
Mohit also holds a world record for creating the smallest playable violin and two national records for the smallest violin. This piece is just 130mm in height and 19mm in width. 
Also Read: Tholu Bommalata: Andhra's leather puppet makers breathe new life into the 2200-year-old craft
Mohit says he was drawn to miniature carving as he saw the craft closely from childhood. "Miniature work is difficult but it makes the artefacts more attractive. We can make all kinds of carved products, but miniature carving is my favourite," he says.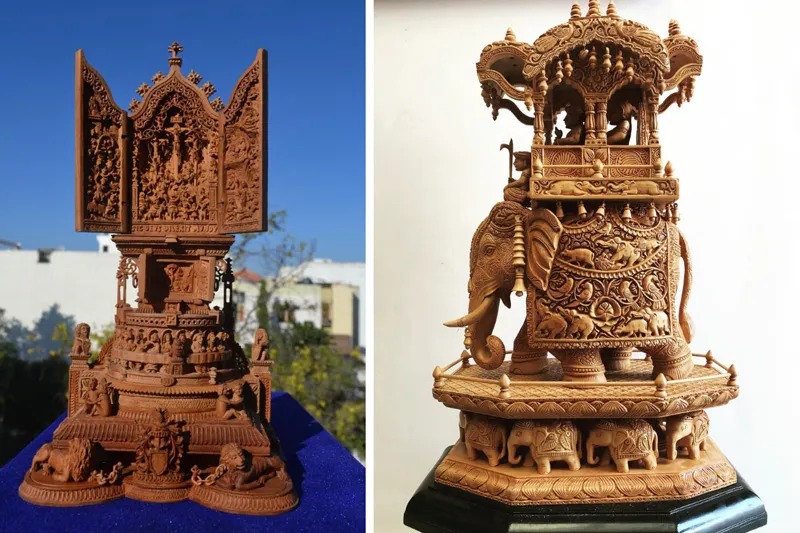 From lifelike statues of gods and goddesses, and legendary kings and queens like Maharana Pratap, Prithviraj Chauhan, Chhatrapati Shivaji Maharaj and Rani Lakshmibai to delicately carved fans, watches, swords, havelis and trains, the Jangid family has fashioned many masterpieces. 
Mohit's inspiration is his great-grandfather and he has named his firm, Malji Arts, after him.
Historical Roots
Rajasthan is well-known for its aesthetically designed grand palaces, forts, temples havelis and step-wells. The traditional architecture features elaborately carved arches, jharokhas and jaalis in stone or wood.
The state has a rich tradition of woodwork, which can be seen in the latticed windows or jaalis, door arches, parapet walls and pillars. The Shekhawati region in north Rajasthan comprising Churu, Sikar and Jhunjhunu districts is especially known for its beautiful havelis with ornate carvings.
Also Read: On a bullock cart to the world: How this Jaipur man set up a successful Blue Pottery business
Malji Jangid hailed from Churu. 
"My great-grandfather was a self-taught sandalwood artist. He came from a poor family and used to work as a carpenter in traditional Havelis made by prominent families and wealthy merchants," says Mohit.
Malji was artistic but liked to work at his own pace. Mohit narrates that once his great-grandfather was working on a frame for a wooden door. He took a break and was smoking a bidi when the supervisor ticked him off and asked him to finish the work quickly.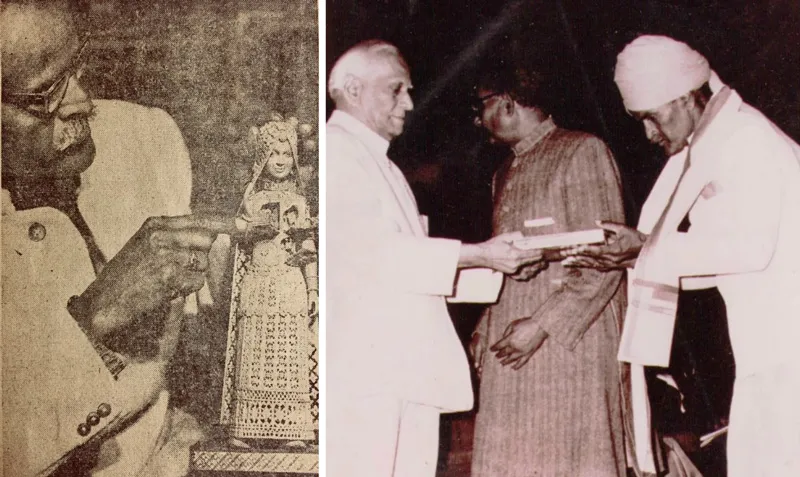 "Malji was offended and walked off from the site. People say the frame was never completed because no one could match his detailed work," says Mohit.
After that Malji began making products from sandalwood. He soon became known for his beautiful wooden artefacts of gods and goddesses, and decorative items and his economic condition improved as orders began coming in.
Malji won the national award for a Rajasthani doll he handmade in 1971. His son, Chothmal got the National Award in 1973 for a sword he made depicting scenes from the life of Maharana Pratap.
Mohit's father, Mahesh Jangid, received the National Award in 1993 for a fan depicting scenes from the life of Lord Krishna.
Today, Malji's great-grandsons, Mohit and Rohit are continuing his legacy. The family has travelled to the US, Europe, China, Dubai and Malaysia to showcase their craftsmanship and have won admirers everywhere.
Also Read: India's 4 little-known pottery traditions 
Mohit recounts an interesting story. Malji was once invited to a gathering in Sardarshahar town in Churu where he met Shubhkaran Nahta, a wealthy businessman. He was impressed by Malji's craftsmanship and asked him to sell all his pieces to him. These and other objet d'arts made by the Jangid family are housed in the Nahta Museum in Sardarshahr.
Process of sandalwood carving
The process of carving begins with cutting the sandalwood block into the desired size. The design is sketched on paper and then traced on the wooden block.
Traditionally sandalwood has been used for wood carving as it is soft and easy to carve. It has an even texture because of its close grains and few knots. The delicate fragrance is an added advantage. The tan colour of the sandalwood grows darker with age after it is cut.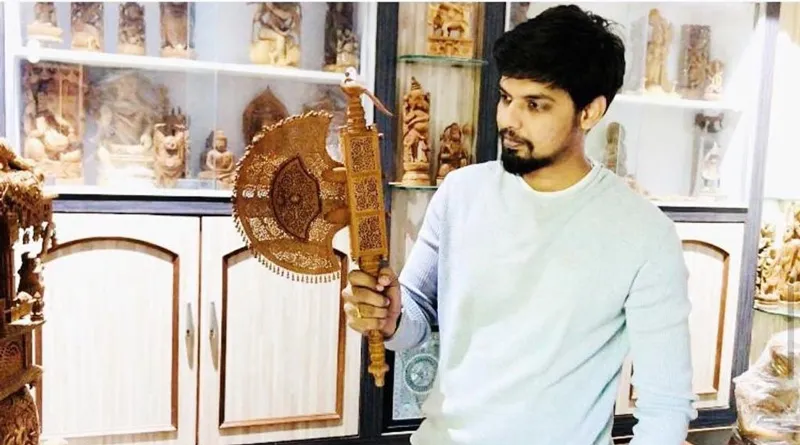 Mohit says now they use white sandalwood or kadam wood as the government banned the logging of red sandalwood in 2000 after the Convention on International Trade in Endangered Species said the tree was at risk of extinction.
The wood cost ranges from Rs7000 to Rs15000 per kg.
The artisans use a chisel to chip away the wood for creating the design. They often work in layers, creating designs within designs. Mohit says the finishing process takes the most time.
The tools used in sandalwood carving include iron sticks, knives and chisels. Carving complex designs requires high concentration and precision. The intricate designs are created through a combination of carving methods, such as deep carving, shallow carving, latticework and fretwork.
The finishing of the statues takes the most time, says Mohit. "Making the face, clothes and jewellery on such small-size statues is a laborious process," he says. The size of the statues is 10-12 inches.
Expanding the business, supporting artisans
As a child, Mohit picked up the techniques of woodwork while watching his father work. He formally began working with his father when he was 13 years old.
As business declined in Churu, Mohit's father moved to Jaipur in 2000 and set up his workshop here. They explored new opportunities, business picked up and they began getting orders from India and abroad. A few years back, they took the business online and that has also helped expand its reach. They have opened another store in Jaipur this month.
Also Read: The enduring magic of Sankheda furniture keeps alive 200-year-old woodcraft in a Gujarat village
Around one or two regular pieces are sold daily online or through their store. Creating an artefact can take from 15 days to three months. The prices range between Rs15000 and 50,000. 
They receive one or two orders for customised pieces every month. These take two to three months to complete and the prices range from Rs60000 to Rs2 lakh.
"About 80 percent of our sales are from the US, UK, Malaysia, and China," he says.
While statues comprise the maximum of the work, Mohit says they create products based on orders placed by clients. The customers send photos of the artefact they want. Mohit quotes the price based on the size and intricacy of the design.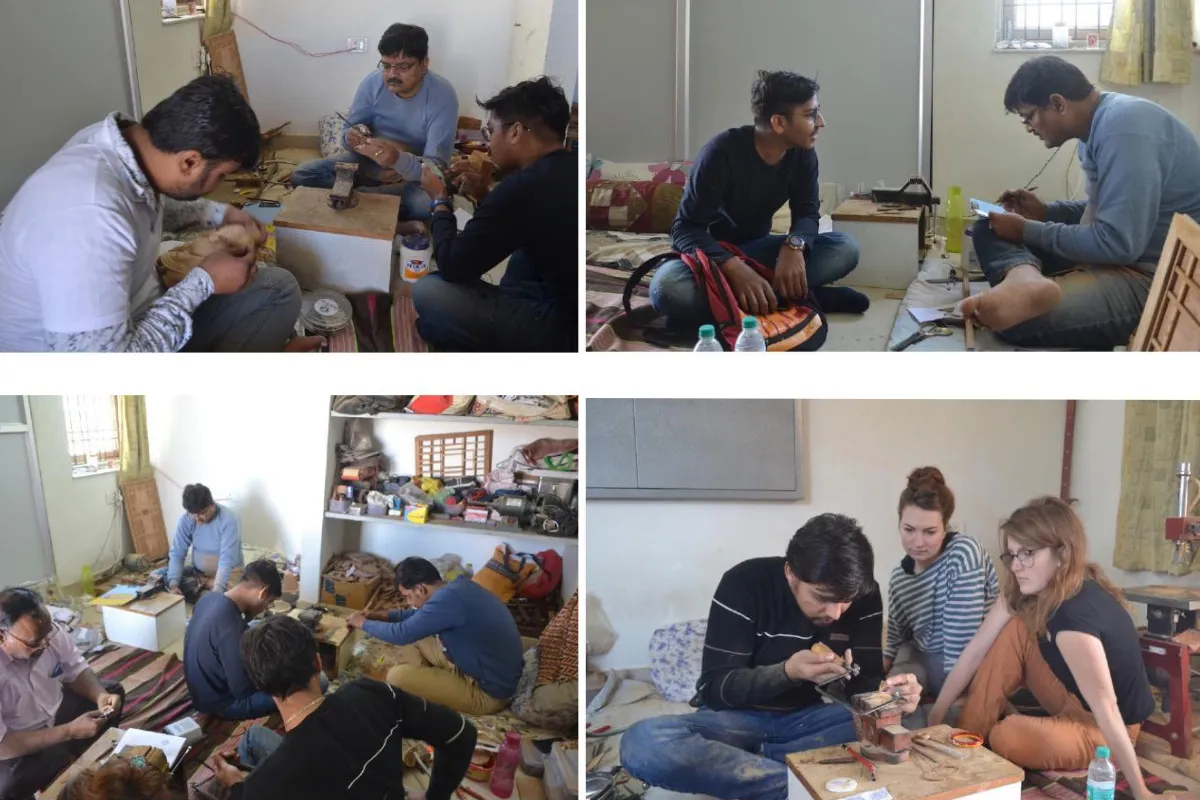 To encourage youngsters to stay connected to this craft, Mohit also offers workshops for students. Students from art and design colleges in Jaipur and other cities like Ahmedabad, Vadodara, Delhi and Mumbai come to their workshop to learn about the craft. Even foreign students or visitors who visit Jaipur and are interested in woodwork classes come to us to learn," he says.
Like many other handicrafts, woodcarving too is seeing declining interest among youngsters.
"I am not worried about customers. For me the worry is finding skilled artisans," says Mohit. 
"Younger people want corporate jobs. They don't want to carry on their family trades."
Also Read: Tribal youth handcraft livelihood opportunities with bamboo toys in Odisha's Lamtaput
To take forward the craft and support artisans, Mohit says his family has hired several artisans. "Most artisans now do odd jobs or work in showrooms. During Covid, many were fired. We earlier had three artisans. But to support others, we hired more and now have 12 artisans," says Mohit.
The family gives the artisans regular work and an assured income. "We pay them on a per-piece basis. They work from home and we provide them the wood and other raw material and tools. We also arrange for the pick-up of the finished pieces from their homes. So, they don't have to spend from their own pockets. I am happy we can support these artisans," he says.
Mohit says he enjoys his work and would never trade it for a regular job. "I feel I can do better in life with woodcarving, than in a job which offers limited salary, limited time and limited work. Woodcarving allows me limitless scope and creativity."
(Urvashi Dev Rawal is a Jaipur-based journalist specialising in development, gender, and political reporting)
Also Read: Siblings take Manipur's Kauna craft to the world, help triple artisans' incomes