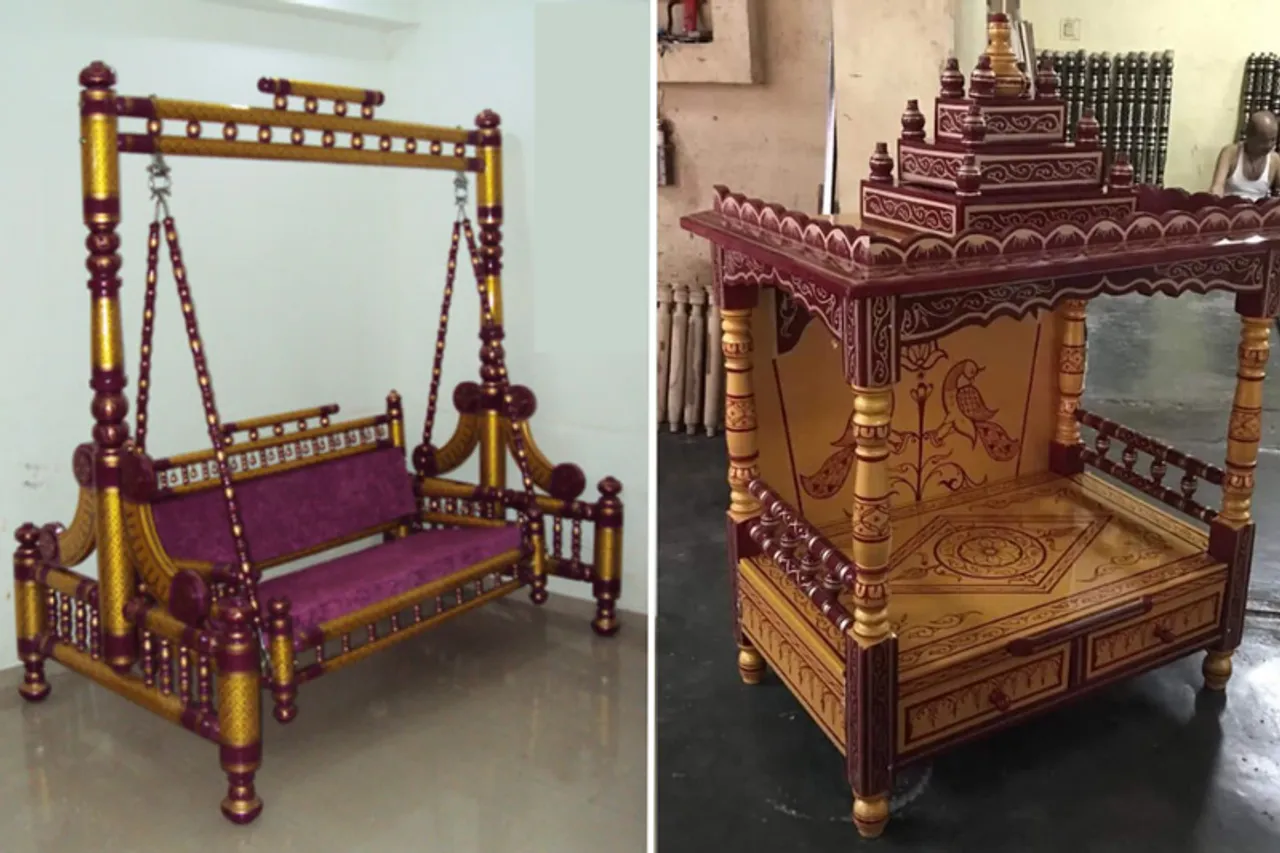 Nestled among thick foliage in the Chhota Udaipur (also Chhota Udepur) district of Gujarat lies the village of Sankheda. As you enter the village, set on the banks of the Orsang river, you can see cattle sitting in muddy ponds to beat the summer heat and locals chatting at a tea shop. You pass a small quaint station and a striking clock tower before you come to the market area, where the action lies. 
You would scarcely believe that this sleepy-looking village is home to one of the finest examples of India's wood crafts that were the glory of the royal families in Gujarat.
The narrow, meandering streets are lined with shops and workshops making and trading in Sankheda furniture that is not only popular in India but exported to the US, Canada, UK, France, Australia and Dubai. Around 80 families in this village depend on this craft for their livelihood. 
Also Read: Meet Bandana Jain, who uses cardboard to make furniture, sculptures and more
The traditional colours are maroon and gold, which are considered auspicious.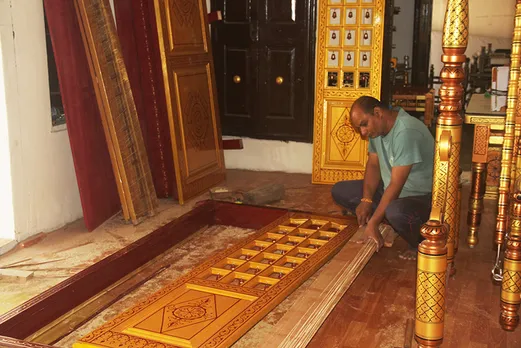 With a GI tag, Sankheda products are protected under the Geographical Indications of Goods (Registration & Protection) Act, 1999.
Interesting legend
A 2015 MS University, Vadodara, study narrates an interesting legend. Around 200 years ago, the carpenters in the village were in a state of destitution when a holy man from the Aravalli Hills visited seeking alms. Realizing that they did not know anything other than carpentry, he taught them how to make and use lacquer to enhance the look of their furniture. That's how the craft of Sankheda is believed to have been born. And, the fortunes of the villagers changed!
Also Read: Bengal's Natungram: Craft village where wooden dolls come alive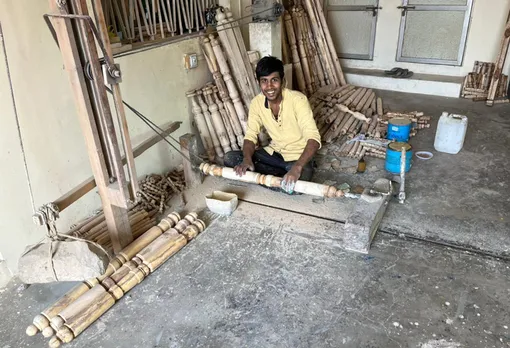 In today's context, it refers to the lathe machine as the turning of wood has been mechanized to speed up the process and increase production.
Community craft
The making and trading of Sankheda products in the village is dominated by the Kharadi-Suthar community. There are 10-15 big players in Sankheda. Dharmesh Kharadi, who manages DMK Sankheda Handicrafts, is one of them. "As for the basic raw materials, we get teak wood from the jungles of Madhya Pradesh and Maharashtra border areas through government auctions. However, today lac is harder to procure and is very expensive," he says.
Also Read: A quaint village in Hooghly becomes manufacturing hub for string instruments
Some small home-based businesses specialize in certain processes such as woodturning or painting. "I have 15 craftspeople working with me. In addition, I outsource job work to another 30-35 people. Annual sales revenue from domestic sales across the country comes to Rs. 30 lakhs. Exports amount to Rs. 25 lakhs or so," he says.
The biggest market for the products is the US, followed by Canada, UK and Australia. "Non-resident Gujaratis are our biggest customers abroad. Some foreigners get attracted to the colourful furniture. Mandaps are popular abroad. Big hotels in Indian cities also pick up Sankheda furniture. ISKCON temples purchase Sankheda products," says Dharmesh.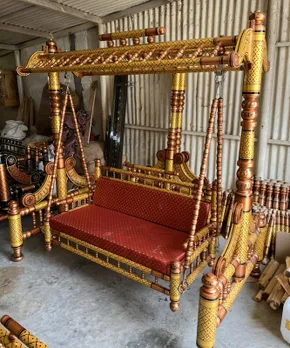 The swing, resplendent in red and gold, that graces Nilesh Kharadi's simple shop, catches your eye. Swings are the most popular among Sankheda products, says Nilesh. He ushers you to a black and gold Sankheda sofa. But he is busy as he is finishing a door and a vehicle is waiting to transport it. But you steal a few moments to speak to him.
Also Read: Bengal: Boat makers of Balagarh struggle to keep afloat the 500-year-old craft
"I have been involved in the craft for the past 25 years. Ours is a family business that started in my grandfather's time. Educated youngsters play an important role in the work by interacting with clients abroad. I handle the marketing aspect. We have six craftspeople working with us and we outsource some job work," says Nilesh.
 The furniture is sent all over India and a substantial portion is exported. The products meant for export are transported by tempo to the ICD (Inland Container Depot) in Ahmedabad. They are then taken to a port and transported by sea. "Customers come to Sankheda to select and purchase furniture. We also get online orders. At times, we customize the product and come up with new designs," he says. 
Traditional process of making Sankheda furniture
The traditional process of making a Sankheda product is tedious but also fascinating for an observer. Wood is chopped to the required size and turned. The cracks in the wood are filled. After that, emery paper is used for sanding to give a glossy finish to the rough wood pieces.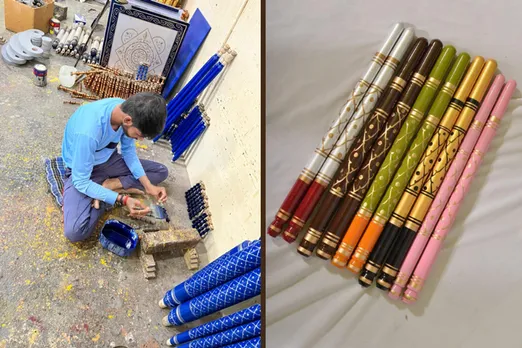 A primer is applied to lighten the colour of the wood. Then, the coconut husk is used to smoothen the wood before applying the tin paint with a brush made from the hair of a squirrel's tail. This process is called 'kallai'. 
Also Read: Married at 16, how this Arunachal woman fought poverty to become bamboo millionaire
According to the MSU study, these days, artisans are opting for cheaper substitutes – synthetic paints in place of tin paint and lacquer. Changing customer tastes (they want a variety of colours to go with their home decor) and difficulty in accessing lac are the two major reasons why synthetic paints are now used. The plus point is that a palette of colours now includes black, blue, green, cherry, burgundy, copper, ivory and silver.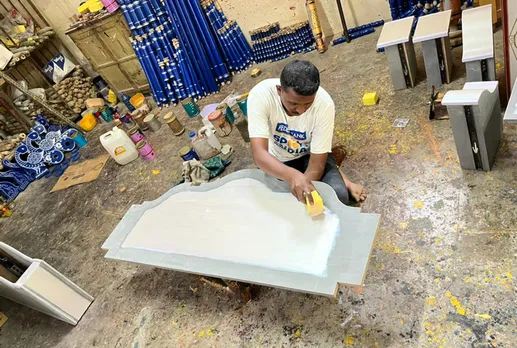 Range of products
Sankheda products include majestic looking swings, sofa sets, dining sets, cots and headboards for cots, doors, cupboards, corner tables, screens, divans, dressing tables and rocking chairs. 
Often, Sankheda furniture is adorned with small bells.
Also Read: Praised by PM Modi in 'Mann ki Baat', Etikoppaka GI-tagged wooden toys awaiting non-toxic certification since 2008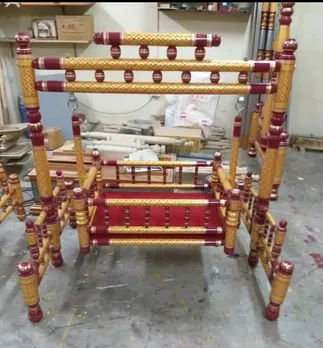 As Sankheda furniture is considered auspicious, it is used on religious and festive occasions. It used to be gifted by Gujarati royalty to state-heads of other countries. The 'mandap' and chairs for the bride and groom in Gujarati weddings are often Sankheda products.
Smaller items like kitchen trolleys, lamps, vases, pen stands, 'belan chakla' (rolling pin and platform to make rotis), dandiyas, low stools called 'bajots' and 'patlas' are also in demand.
Cribs for the God are made in the Sankheda style, especially 'palnus' for Janmashtami. Sankheda toys, however, are being edged out of the market by plastic toys.
These traditional motifs are the beauty of Sankheda furniture. After the painted wooden parts dry, they are prepared for assembly. The last step, in the cases of sofa sets, chairs and swings, is the cushioning. Canvas is used as the skin material as it is strong against tensile stresses. Polyurethane foam rubber sheets are used for cushioning. Block printed cotton fabric covers the cushioning.
Also Read: Sankha Conch Bangles: How Bengal's Sankhari community is fighting all odds to keep the craft alive
NIFT study
A study conducted by the National Institute of Fashion Technology (NIFT), Gandhinagar, shows that there are 10-15 master craftsmen in Sankheda who know the entire process. It identified the following issues related to the Sankheda craft:
The majority of the artisans are in the age group 25-34 years
Though it is a family business, women play a very small role
Literacy is moderate and sometimes the craftspeople get duped by middlemen
The craftspeople do not get bank loans easily
Artisans face occupational hazards like respiratory disorders and skin problems.
Since teakwood is scarce, cheaper varieties of locally available timber, especially 'babool', are used these days for smaller products. For furniture, cheaper varieties of teak wood are used.
Artisans need hand-holding to develop new designs.
Many trained craftspeople are migrating to cities.  To address some of these issues and to promote this craft, a training institute has been set up in Ahmedabad by the state government.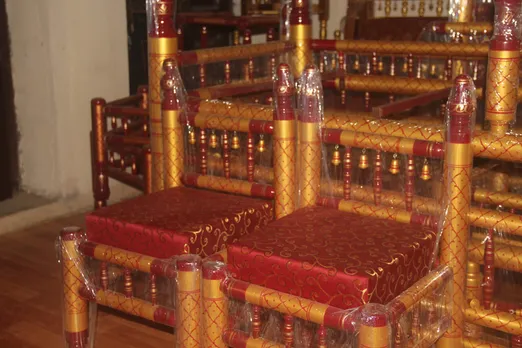 Interior designer Amit Ashara who runs 'Tatvadesign' is seeking to revive and promote the traditional Sankheda craft. "My family was in the timber business but my community's core work was Sankheda craft. Today, there are very few artisans who know the traditional craft."
Apart from Sankheda, it is practised in Mahuva, Bhavnagar and Nirona, Kutch.
Also Read: Blue Tales of Pink City: How Jaipur's GI-tagged Blue Pottery moved from palaces & tombs to living rooms across the world
Products made with synthetic paints are not as durable as those coated with lac, he says.
Sankheda craft survived all these years and is still much in demand today. The reason is that the craftspeople have adapted to changing times and market conditions – the palette of colours they use is wider than those used traditionally, they are using synthetic paints instead of lac and wood other than teak is being used.
But this has scarcely diluted the beauty and purity of traditional Sankheda craft. A craft has to be economically viable for a community to practise it. Aesthetics apart, it has to provide a sustainable livelihood to the practitioners of the craft. And these adaptations are what have kept the craft alive.  
(Aruna Raghuram is a freelance journalist based in Ahmedabad. She writes on parenting, personalities, women's issues, environment, and other social causes.)
Also Read: Women artisans help resurrect Karnataka's Kinnal hand-painted woodcraft