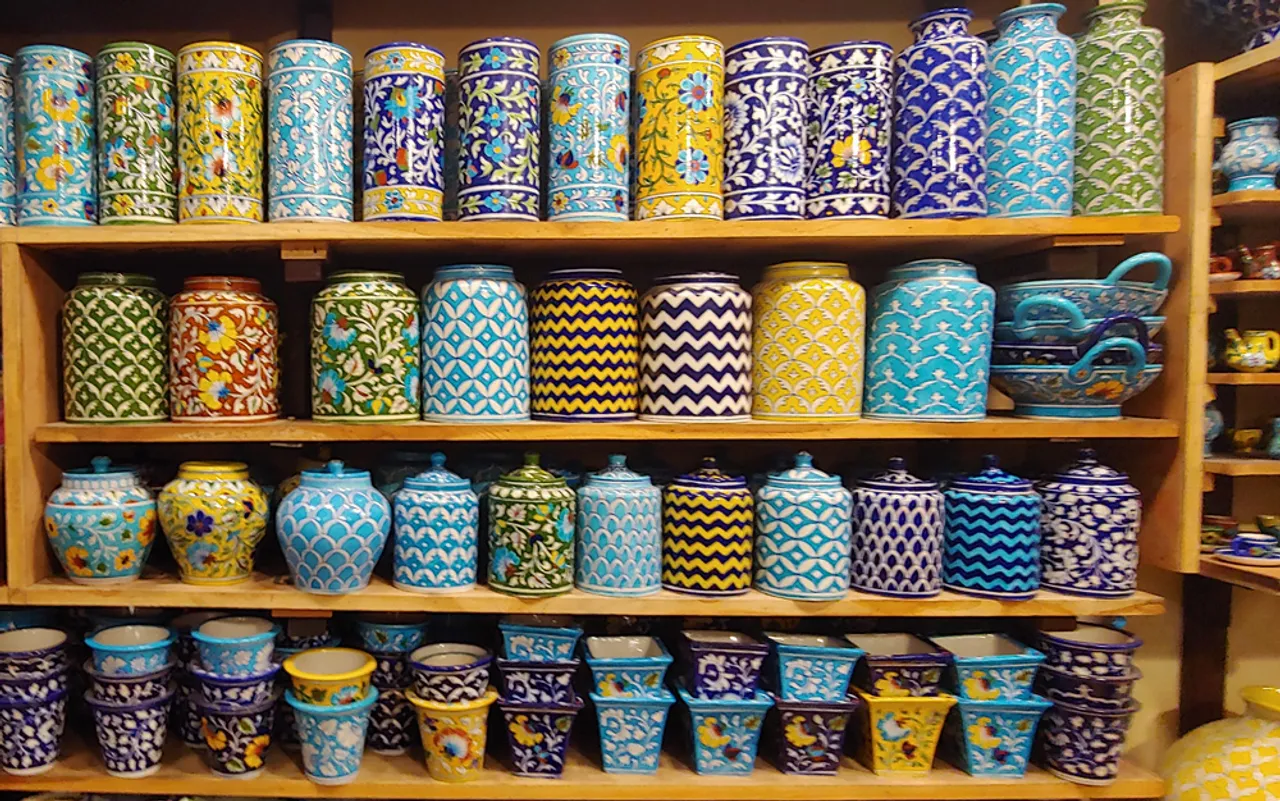 The royal family of Jaipur was not only a formidable ally of the Mughals but also at the forefront in patronising art and culture. Passion was not enough to promote artists and their skill in Thar, the arid region of rolling sandhills. A certain steadfastness of commitment was a prerequisite to such ventures of the heart. 
Legend has it that once Maharaja Sawai Ram Singh II of Jaipur (1830-1885) was flying kites and repeatedly had his kite cut short by two men in the street. The men were summoned by the Maharaja to know the secret of their success.
Ram Singh Ji, a great patron of art and having thus discovered the process behind Blue Pottery by chance, immediately appointed them in the ceramic department of the School of Art that he had founded in Jaipur in 1866 to promote different art forms in the Pink City. 
Also Read: How Nizamabad's 500-year-old black pottery is regaining lost glory
The royalty's love for Blue Pottery 
Three generations of Kaluram and Churaman taught ceramics at the School of Art. The two artisans had learnt pottery at the feet of one of the followers of Atique Shah, a master craftsman in the court of Bahadur Shah Zafar, the last Mughal.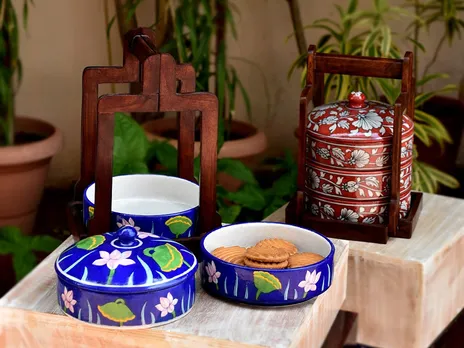 Before that, it is said, Atique Shah had trained only two Indian artisans in the special technique of making fritware, in which ground glass is added to clay to reduce its fusion temperature. This later developed into the distinctive Jaipur Blue Pottery.
Also Read: CtoK: Empowering Kashmiri artisans to turn entrepreneurs
The long British rule had de-industrialised India. Artisans and craftsmen faced abject poverty in the face of modernity and technology both of which had westernised the educated middle classes and the nobility that had once patronised the traditional crafts. William Morris, a committed socialist and an influential voice in the Victorian arts and craft movement wrote: "destruction of weaker societies by economic imperialism is what commercial war comes to mean."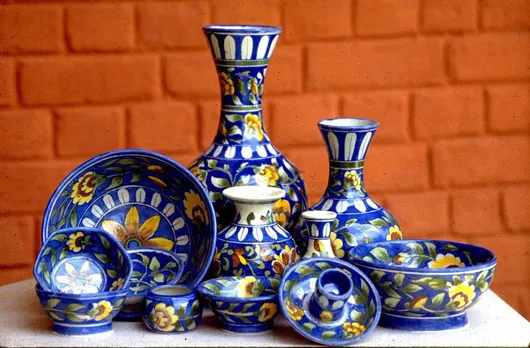 Post-independence, Jaipur's decorative arts were being nurtured at the School of Arts. Ramgopal Vijayvargiya, a former student of the school, became its Principal in 1960. His contemporary Kripal Singh Shekhawat, a muralist and painter from Shantiniketan, took charge of the ceramic department bringing to it his innate refinement and his style of deco fresco art.
Also Read: Bengal's 12th-century Patachitra art moves from paper to metals, wood & ceramics to reach global markets
At the same time, Jaipur was witness to a creative upswing not only in Blue Pottery but also in other heritage crafts. The Sawai Ram Singh Shilp Kala Kendra was founded by Kamaladevi Chattopadhyay and Maharani Gayatri Devi in 1963 to promote and market Blue Pottery and other Jaipur crafts.
Leela Bordia – the philanthropist who resurrected Blue Pottery
In 1974, entrepreneur Leela Bordia relocated from Calcutta (now Kolkata) to Jaipur and wanted to make a difference in the lives of those at the bottom of the pyramid. The unorganised sector then was facing untold hardship due to mechanisation and there was poverty all around.
A chance meeting with struggling Blue Pottery artisans in 1978 convinced Leela that this was Divine intervention. She asked the Blue Pottery artisans to make beads. 
Also Read: Zishta: Taking handcrafted homeware from India's 48 craft clusters across the globe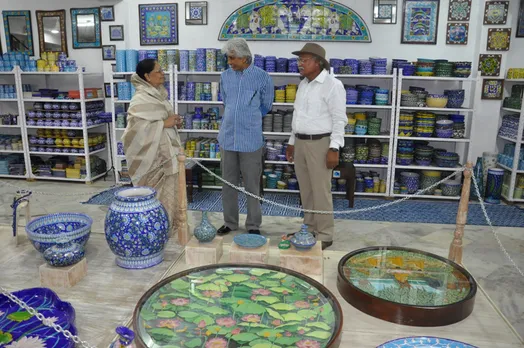 In due course, Leela had more beads than space to store. She put some of them on display at the Anokhi shop in Jaipur. 
And six months later, he returned with a doorknob and insisted that they be made in Blue Pottery.
With sacks of unsold beads, Leela decided to string them and turned them into necklaces and other jewellery items. For the longest time ever they hung in the Anokhi shop unsold and unwanted. 
One day the crew of the movie 'The Far Pavilions', based on M M Kaye's epic novel on the British Raj, was shooting in the city. The film crew members walked into the shop and bought all the Blue Pottery necklaces and within a few hours, the backlog of unsold inventory was cleared.
Also Read: Aranmula Kannadi: How tech-savvy GenNext is preserving Kerala's 500-year-old metal mirror craft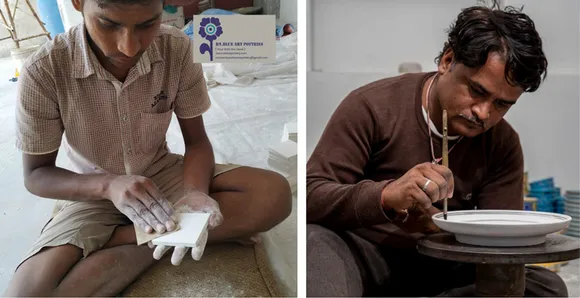 In many ways, it was path-breaking as it lead Leela to an unchartered territory of foreign demand. More importantly, it inspired the innovator in Leela to produce household items like ashtrays, agarbatti stands, soap dishes, mugs, wall pieces, urns, indoor planters, lanterns, napkin holders and other unheard-of items.
With artisans engaged in mass production due to Leela's efforts, the craft was steadily finding placement in private homes and office spaces. 
Also Read: Latticework: How the Persian stone craft moved from Taj Mahal to living rooms for survival
Going places, literally
Soon, Elizabeth Kerkar, an interior designer of the Taj Group of hotels, commissioned Blue Pottery panels based on existing Pietra dura designs in the Palace of Rambag's coffee shop. Before long, Blue Pottery tiles were being used with wood and metal to produce furniture and household items. 
It also caught the fancy of interior designers. Luck then brought Vicki Oberoi of the Oberoi Group of hotels to Leela's doorstep. Curious to know about the frequent visitors going in and out of the building opposite his office, Vicki was informed it is a Blue Pottery hub. He decided to pay her a visit and liked the work so much that he decided to use 1,50,000 tiles for Raj Vilas hotel in Jaipur.
Princess Diana, on seeing the exquisite Blue Pottery items on display at City Palace Bazar curated for her and the Prince of Wales on one of their visits to Jaipur picked up a Blue Pottery elephant but not before she had understood the process in detail by Leela. 
Also Read: Molela: Rajasthan's terracotta plaque art patronised by Bhil, Mina & Garasiya tribal communities
Knowing his penchant for frogs, it had been specially curated for him. The 'Clinton Frog' as it is now called, is a fast-moving item with all age groups.
The process of making Blue Pottery
The breathtaking blue in the pottery comes from cobalt blue dye used to colour the wares. A mix of turquoise and cobalt colour palette forms the dominant colour, also known as Persian blue, which is globally the most in-demand. The green colour is derived from copper oxide while yellow, pink and green are obtained from non-conventional methods.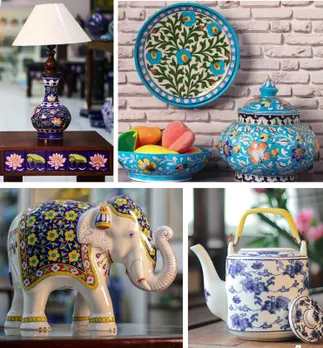 Gum is soaked overnight in water and then dried in the sun while bentonite and fuller's earth are broken into smaller pieces and also ground. The materials are mixed and kneaded into semi-dry dough. It is allowed to stay for 12 hours to mature so that the gum swells up and binds the dough well. 
Also Read: COVID-19: Padma Shri tie and dye craftsman for royals & Bollywood out of work after seven generations
Once the dough is ready, the product is cast in a mould. The mould is allowed to dry in shade for 12 hours, after which it is inverted on the clay to get the product. Rough edges are smoothened manually by rubbing with sandpaper.
Also Read: Chettinad's masons slowly revive centuries-old lime-egg wall plaster technique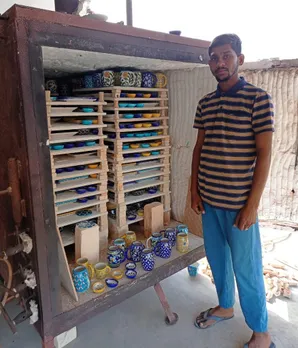 The patterns are drawn by hand and show Persian influence on the craft. Most patterns are very intricate and include floral, animal and human figures besides drawings from mythology. This is then followed by the filling of colours using brushes made from squirrel's tail hair. 
They are left in the kiln for a day to cool down and are then ready to be shipped or shopped locally. 
From the time when Blue Pottery tiles were used only as an architectural accessory to decorate mosques or tombs of Mughals, Blue Pottery today has earned the GI tag. The contemporisation of Blue Pottery together with the production of a new range of goods that gel with the present-day sensibilities has saved this heritage craft from being confined to history or coffee table books.
Jaipur as a city has had a tradition of viewing the creativity of its karigars as an expression of infinity or even divinity. In the collective consciousness of Jaipur, blue indeed is at the centre of the Pink City. 
(Sadhana Garg is a Jaipur-based writer & social entrepreneur. She is the founder of Raasika – a brand promoting handcrafted, hand block printed textiles – and Raghukul Trust, which works to preserve living traditions and the performing arts.)
Also Read: With roots in Indus Valley Civilisation, can Gujarat's Khavda pottery reinvent the wheel?