Meera Ramakrishnan's father was a banker by profession and cultural connoisseur by passion. She would often travel to the hinterland with her father, who would make her note down the art, craft and traditions of each place. Hailing from Tamil Nadu, the family followed traditional cooking and sustainable lifestyle practices and would have long conversations over preservation of cultural heritage.
About 22 years after working in the corporate sector, Meera wanted to do what her family had always believed in – reviving, and putting to use, centuries-old crafts, which are sustainable and environment-friendly.
In July 2016, she teamed up with her former colleague Archish Mathe Madhavan and his cousin Varishta Sampath to start Zishta – an enterprise aimed at reviving and popularising ancient arts, craft, and knowledge before they become history.
Art, environment & enterprise
"While travelling with my father, I saw the misery of artists who actually produced priceless pieces of art. And that inspired me to start Zishta," says Ramakrishnan.
Also Read: Biren Basak: The boy from East Pakistan who became India's handcrafted saree tycoon
"In the last five years, we have associated with 48 artisan clusters spread across 18 states, including Kerala, Tamil Nadu, Gujarat, Telangana, Orissa, West Bengal, Assam and Manipur," says Madhavan.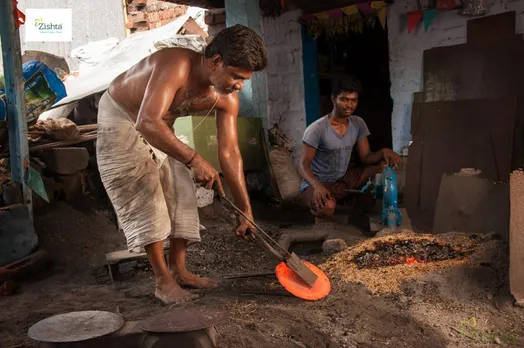 Their product portfolio includes bronze (kansa) cookware from Kerala, neem wood cutlery and accessories from West Bengal, iron and cast iron cookware made by artisans of Tenkasi (Tamil Nadu) , tin vessels from Kumbakonam (Tamil Nadu), copper water pots from Maharashtra, kuthu vilakku (pure brass lamps) made by traditional artisans of Nachiar Kovil and stone and soapstone cookware from the North-East. The prices range between Rs250 and Rs18,000.
Also Read: Tamul's areca nut leaf plates travel from Assam to the world as plastic ban gets stronger
The soapstone products by Zishta are NABL accredited and in accordance with EU standards for Restriction of Hazardous Substances (RoHS).
While cooking in cast-iron adds iron to the food, soapstone retains almost 98 percent of the food nutrients and reduces the cooking time because it retains heat for a long time.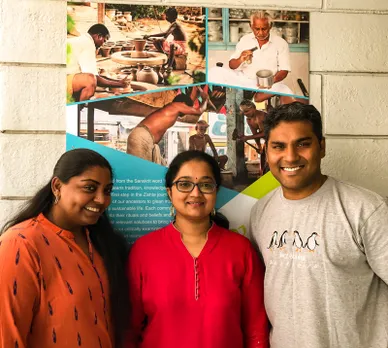 "Brass and bronze products are also gaining popularity," she says, adding that all the products are tested at their home before available for sale.
This, in turn, creates a burden on the environment for minerals, raw materials etc. "Our philosophy has been to look at sustainable solutions. We want to provide long-lasting solutions to people so that they don't have to buy things repeatedly," says Archish.
Also Read: GreenKraft: taking banana bark baskets made in Madurai to Sweden's IKEA & beyond
Zishta: born in Bengaluru, sells around the world
The trio's journey has been arduous and it continues till date. They began Zishta by travelling the length and breadth of Tamil Nadu since it was a familiar territory. On one such visit to the state government's Department of Handicrafts, they met an officer and explained their plan to him.
As luck would have it, he handed over to them a booklet with the list of registered artisans in Tamil Nadu, their craft and contact details.
"But it wasn't easy to gain the confidence of artisans. Most of them were surprised at being directly approached by the 'owners of a company' as they were used to working with middlemen. So they were suspicious," recollects Madhavan.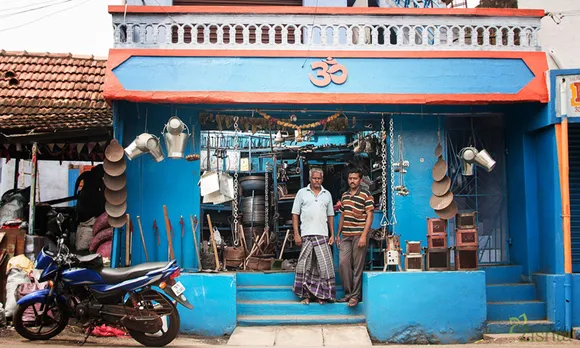 The trio explained to the artisans their purpose and the benefits of an association. "This direct conversation with artisans and our relationship with them are at the core of Zishta's success," he adds.
Also Read: Phool: where women turn temple flowers into incense, bio-thermocol & vegan leather
Apart from a store in Bengaluru, Zishta sells its handcrafted products through its website as well as via marketplaces Amazon and Flipkart.
"We sell across the globe. So far, we have shipped to 21 countries including the USA, the UK and Japan," he says.
Zishta pays a fair price to artisans, adds its own costs and a margin over every product. "We do not squeeze the artisans," Madhavan says. This saves artisans from exploitation through middlemen, who keep the bulk of revenues.
Also Read: Chennai couple's startup Carbon Loops takes urban food waste back to farms
"We have a firm belief in gradual growth by engaging with more artisans and craftspeople in the days to come," he adds.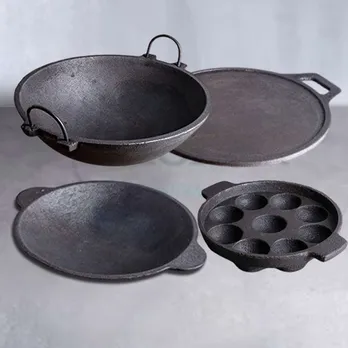 Zishta has, so far, not sought any external funding because the trio does not want any dilution of their core philosophy of sustainability and artisan welfare. "We want to stay away from being dictated terms and conditions that affect our policies," he clarifies.
After the lockdown was announced in March, many craftsmen faced financial difficulties. However, the growing awareness about preserving tradition and marketing efforts by Zishta helped them sail through the period.
"There were a few artisans who required finances and daily essential items during COVID-19. We stepped in with money as well as supplies," says Ramakrishnan.
Also Read: Adavi: organic coffee that brewed a new life for Karnataka's Soliga tribe
During the course of their journey, a major challenge they faced was that of countering middlemen. "We realised that they often prevented artists from forging contact with other people. So we reached out to them through journalists, photographers, art enthusiasts and other such people who were aware of these clusters," says Ramakrishnan.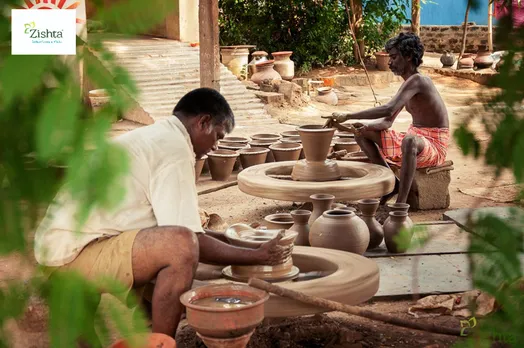 The trio travels and interacts with local communities to gain the necessary leads regarding craft clusters. Alongside, they also do a lot of background research before heading out. Their association with Gujarat's Kansara community took root when Ramakrishnan and Sampath went to Kutch about two-and- a-half-years back.
The other impact
When Zishta began working with craftsmen, there was not a single artisan whose children were willing to continue the family craft. Lack of market and exploitation by middlemen had left them disinterested.
Today, the situation is different.
A few artisans even reached out to Zishta through social media in the hope of finding a market for their craft.
Their association with customers is similar to the one they have with artisans. "It is a gradual process where we educate the customers through videos and articles and guide them to bring about a transformation by opting for sustainable products. The association does not end simply with a purchase," she adds.
Also Read: How Nizamabad's 500-year-old black pottery is regaining lost glory
Customer feedback is provided to artisans, who make any minor changes suggested, if possible. Like the handmade products of iron and cast-iron are rougher than machine-made products. "We try to work with artisans to improve the finish. The artisans can't think about a market-oriented finish as their sole purpose is utility. All that matters to them is the fact that the kadhai should be robust and strong. We give them the feedback of customers and they improvise," Ramakrishnan adds.
(Vedant Sharma is a Gujarat-based freelance writer)
Also Read: How Gwalior's iTokri became international e-tailer of handcrafted fabrics & artworks