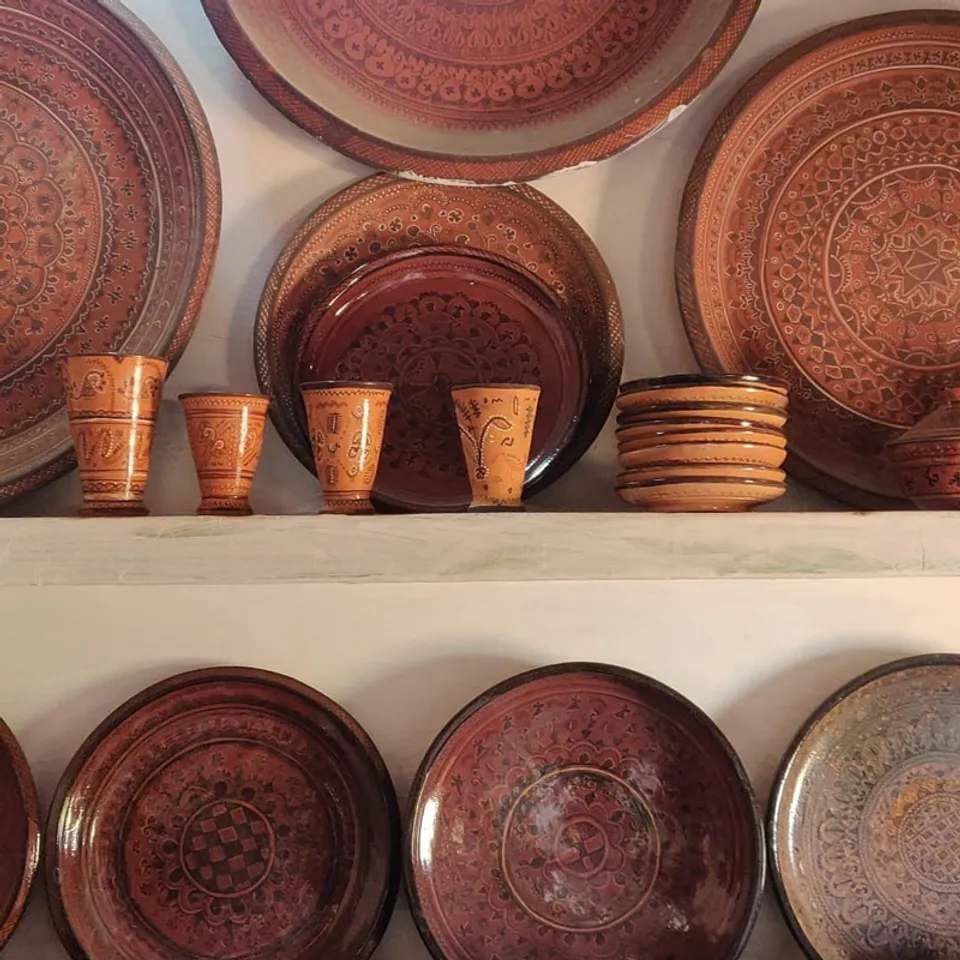 Not long ago, Vogue termed pottery the new yoga. The fashion and lifestyle magazine said the ancient art form was therapeutic and meditative. Overnight, pottery became fashionable with the swish set and pottery artists were much sought after.
The new chic status for pottery did not, however, bring any change in the hand-to-mouth existence of Abdulbhai. Tucked away in Khavda village of Gujarat's Kutch region, Abdulbhai belongs to a family of kumhars or potters who has been practising the craft for generations.
The earthen pots made in Khavda are similar in process and design to those found during excavation at Indus Valley sites.
Also: Watch Saima Shafi: Kashmir's engineer-cum-potter reviving the clay craft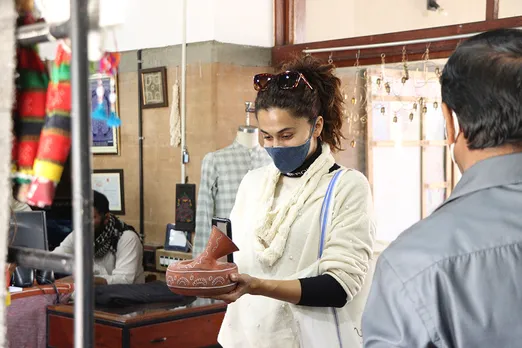 Once several villages in the Rann of Kutch such as Khavda, Lodai, Tuna were hubs of pottery-making. Potters crafted beautiful items such as pots for water storage, plates, glasses, bowls, lamps, boxes that were coloured in the trademark geru (red) colour and embellished with black paint. But today Khavda pottery, as it is known, is in dire straits.
Abdulbhai, 51, says matter-of-factly, "Yes, this craft will die out. Our children are not doing pottery. There is little demand for our products. The government has turned a blind eye. So how will we or our craft survive?"
While Abdulbhai learnt pottery at a young age from his father and grandfather, his three sons have not taken to the family occupation.
Also See: Ode to potters this Diwali: video and pictures of making earthen diyas
"They ask me what have you achieved from all this hard work. Have you managed a steady income? Have you got any savings? I have no reply," he says softly.
Abdulbhai is not keen on talking about his craft to the media. "I have turned down some requests for interviews. What's the use? Those who are in a position to do something are not taking any interest," he says.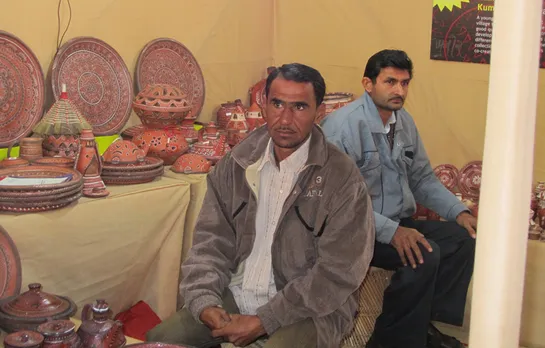 Low incomes and the hard work involved in making earthenware have driven away most potters. The COVID pandemic has only added to their misery, says Abdulbhai who himself has been forced to turn daily wager to earn a living.
Also See: Visuals of paper maché: Kashmir's 700-year-old 'chewed paper' craft
Ismailbhai Husain, 60, echoes Abdulbhai.
His three sons work as labourers to run the household.
He also worked in Dubai for over 15 years to earn a stable income but he returned to his roots and family vocation. "How long could I work for others? I got fed up. My pottery business will last me a lifetime. This is what I know best," says Ismailbhai who has been making pottery since childhood.
Creating a piece of art
The process of making Khavda pottery requires both patience and hard work.
The clay is pounded and sifted to obtain very fine clay. It is mixed with water, kneaded and left for 12 hours. The amount of water has to be just right. If it is too much, the clay will not harden and too little will make it dry.
Also Read: Aranmula Kannadi: How tech-savvy GenNext is preserving Kerala's 500-year-old metal mirror craft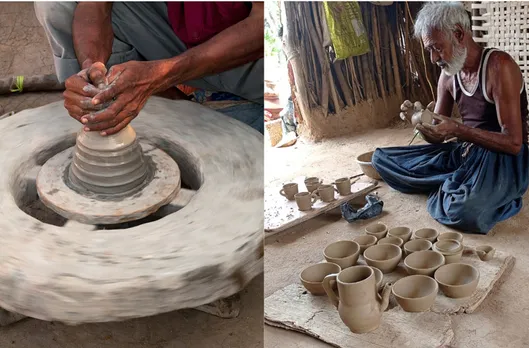 After 12 hours, the clay is again kneaded and pounded to get the right consistency and remove any air pockets. Abdulbhai then throws the soft clay onto the wheel and with his nimble fingers shapes the lump into diverse artefacts.
They are dried in the sun and buffed with sandpaper to give a smooth finish. It is then given a wash with geru, which gives the objects a reddish hue.
A black stone is ground to make black colour which is applied in geometrical patterns on the artefacts. White is obtained from kari mitti or fine soil while yellow and red clay-based paints are also used.
Abdulbhai's wife Rahimaben and mother Saraben paint the wares. Traditionally, women are not allowed to work on the wheel which was the preserve of men. However, Saraben has broken from tradition. Though she does not work on the wheel, she makes artefacts moulding the clay with her bare hands.
Also Read: Zishta: Taking handcrafted homeware from India's 48 craft clusters across the globe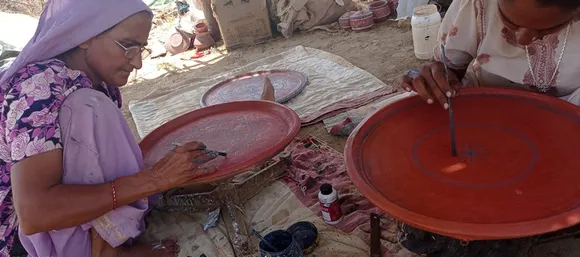 "She learnt to make the earthenware herself, looking at my father and grandfather," says Abdulbhai proudly. Saraben was awarded the Devi Ahilya national award by the Madhya Pradesh government in 2001-02 for her work.
Ismailbhai says before Covid the business was good. "Tourists would visit our villages and buy our wares. We participated in exhibitions and fairs," he says.
Before the Covid pandemic, visitors and tourists were driving sales in the villages. Exhibitions and workshops too were held regularly and provided additional income. But the pandemic put an end to that. Abdulbhai also used to teach pottery at the National Institute of Design, Ahmedabad. That too shut down during the pandemic.
A new beginning
Khamir, an organisation set up in the aftermath of the 2001 earthquake to help revive the shattered local arts and crafts, has provided a platform for the diverse craft traditions of Kutch.
Khamir's crafts facility in Kukma village on the outskirts of Bhuj is open to artists for workshops and exhibitions. Khamir means intrinsic pride in the Kutchi language.
Also Read: Bengal's 12th-century Patachitra art moves from paper to metals, wood & ceramics to reach global markets
Ghatit Laheru, Director of Khamir, says with the advent of metal and plastic, pottery has taken a big hit. In villages where there used to be 30-40 potters, now there are three or four.
Earlier, people used utensils made of mud. Now they only use pots and tawa (skillet).
Moreover, industrialisation and agriculture are depriving potters of the land from where they source the clay. "We are talking to the Kutch collector to reserve some land for potters," says Laheru.
"The situation is tough. We realise that but it would be hasty to say Khavda pottery is a dying craft. We are hopeful that as the Covid situation improves, things will pick up," he says.
Also Read: Maharashtra's Chitrakathi painting: keeping alive the legacy of Chhatrapati Shivaji's spies
Laheru says Khamir has initiated pottery craft programmes with artisans and has organised workshops and exhibitions for the local craftspersons to provide new skills and give a wider platform for their crafts.
They have invited experts and artisans from other institutes who have taught the local potters to modernise and create new artefacts that would appeal to an urban audience.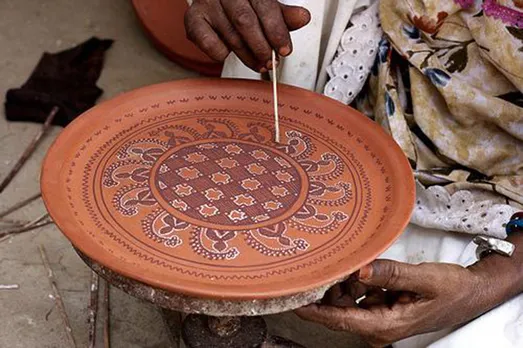 Today, many pottery artisans are coming forward to learn and experiment with various clays, firing and glazing techniques, designs and product ranges. For instance, at one of the workshops, Abdulbhai learnt to make speakers that amplify sound and an aeroplane. Both the products received good responses from people.
Some potters have ventured into ceramics and Khamir has joined hands with Ceramic Center, Baroda, to work together on the various issues of the pottery clusters in Kutch.
However, he has not graduated to online sales. "Connectivity problems, fragile artefacts that could break during transportation and poor transportation and logistics are a hurdle," he says.
Also Read: CtoK: Empowering Kashmiri artisans to turn entrepreneurs
While thankful to organisations such as Khamir, he says the support is irregular. "They are able to help us when they get a project. But we need a regular source of income to survive," he says dejectedly.
Laheru says government intervention to facilitate transportation and logistics will help potters and other artisans shift to e-commerce platforms. Khamir is also trying to promote marketing through catalogue sales. "We have identified 20 crafts. We will send catalogues with pictures of handcrafts to corporates, institutions and government offices. We hope they will place bulk orders that will help artisans," he says.
(Urvashi Dev Rawal is a Jaipur-based journalist specialising in development, gender, and political reporting)
Also Read: How Nizamabad's 500-year-old black pottery is regaining lost glory