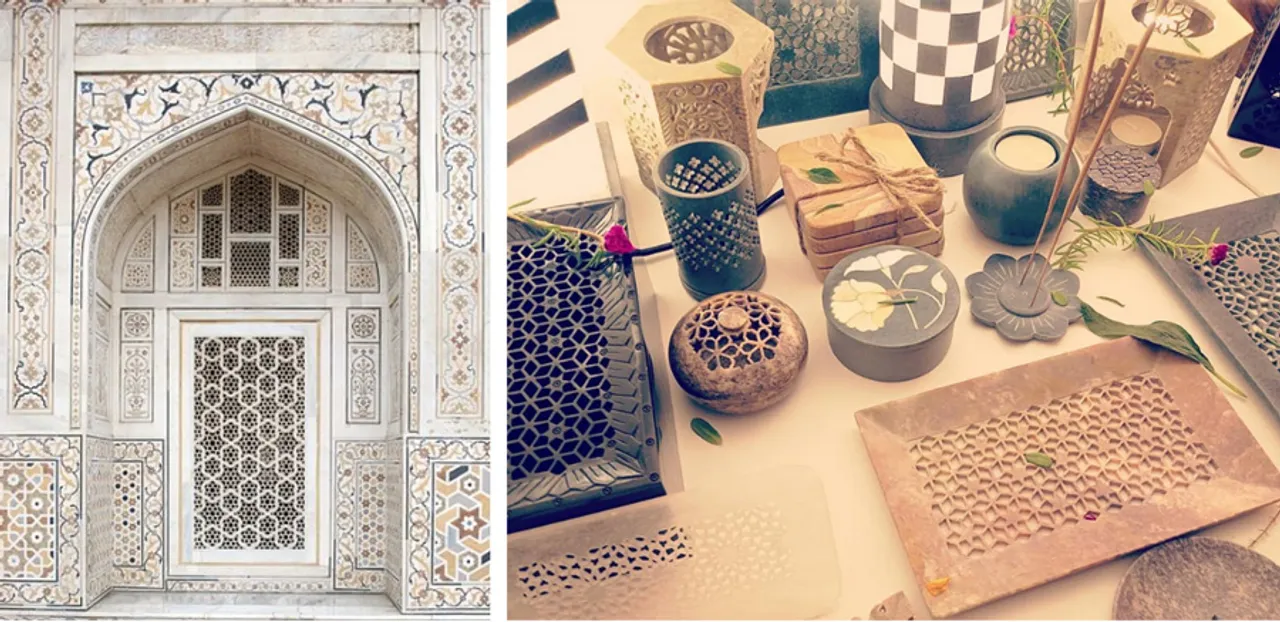 wp:html /
When Mughal Emperor Shah Jahan decided to build the Taj Mahal in the memory of his wife Mumtaz, he called artisans from Persia to construct the monument of love at his capital Agra. Thousands of masons, designers and stone workers came to India to work under Persian (Iranian) architect Ustad Ahmad Lahori. The Mughal administration established colonies to house these workers in areas now known as Tajganj and Belanganj in Agra. 
The skilled artisans went on to create historical monuments, which epitomize Indo-Islamic architecture like Taj Mahal, Fatehpur Sikri Fort, Jama Masjid at Fatehpur Sikri, Red Fort and Deeg Palace at Agra and many others. 
Among those who came from Persia were also skilled stone craftsmen who worked with sandstone and marble. 
Also Read: A walk through Jaipur's Walled City: the UNESCO world heritage site where kings lived
Today, descendants of these stone craftsmen continue to practice latticework in Agra long after the grand public buildings stopped using the intricate jali architecture.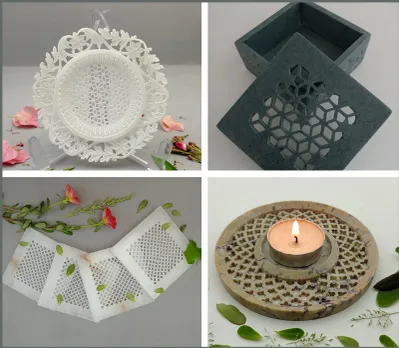 Architecture, art & history of latticework
"Our ancestors were master craftsmen in Islamic art and culture. They were brought by the Mughals to build magnificent monuments in India," says Imtiaz Ali, President and CEO of Agra-based firm Al Maun – a small group of artisans keeping alive the historic stone craft that has been practised in Agra for many generations now. 
Also Read: How one family has taken India's 1,000-year-old temple architecture to the world
The jalis served multiple purposes. "One, women of royal households following 'purdah' could see outside through the carvings. Two, the latticework kept the air cool and provided ventilation and three, they added artistic beauty to the structure," he says. 
Also Read: How Nizamabad's 500-year-old black pottery is regaining lost glory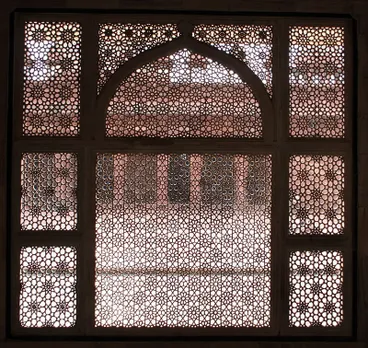 The artisans mostly carved jalis from sandstone and marble in zigzag patterns of interlocking rosettes and crosses. The basic jalis followed a pentagonal, hexagonal or octagonal pattern.
Plant and floral motifs gained strength during Shah Jahan's rule and they can be widely seen in monuments of the 17th century. However, with the advent of British rule, grand buildings made way for havelis, bungalows and kothis, which did not require the intricate jali or latticework.
Also Read: With roots in Indus Valley Civilisation, can Gujarat's Khavda pottery reinvent the wheel?
Transformation for survival
Since there was no appetite for big items like hand-carved doors or windows, and iron replaced sandstone, the artisan families of Agra were left unemployed. As a result, most of them opted out of the stone craft to work in shops, turn tourist guides and do daily wage work etc.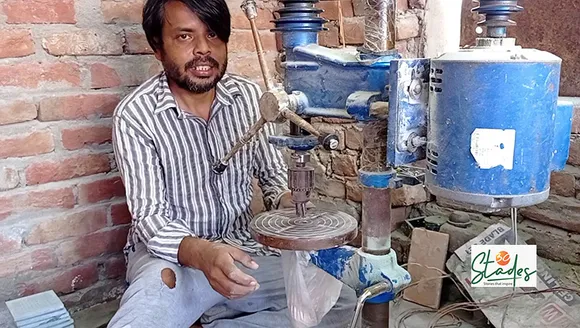 "Out of hundreds of families that once practised latticework, only four continue the craft in Agra today. Only seven or eight master craftsmen for jali work remain now. To ensure that the art survives, a handful of us artisans now make stone handicraft items that are used in almost every household," Imtiaz says.
The reason for the decline in interest in latticework is not difficult to fathom. A latticework artisan earns only about Rs400 to Rs450 per day after eight hours of cutting and carving stone. But a mason working in building construction, doing a less labour intensive job, earns over Rs 700 per day. 
Also Read: How P-TAL is reviving the thathera craft of handmade brass & copper utensils
"So most people stopped this work but we are trying to preserve the heritage of our ancestors," Imtiaz says. He works with 12 artisans, who create handicrafts like storage boxes, aroma lamps, photo frames, jewellery, pen holders, vases, LED lights, coasters etc. 
Along with the shift in the craft, the stone and tools used have also undergone a change. While sandstone was used earlier, artisans today use soapstone from Jhansi (Uttar Pradesh) and Jaipur in Rajasthan.
The names of stones are based on the area of their origin, which also determines their colour and shade, like sange-rathek – a dark brown stone with yellow lines is found on the outskirts of Jhansi.
Also Read: Aranmula Kannadi: How tech-savvy GenNext is preserving Kerala's 500-year-old metal mirror craft

The stones used in jali work have no defined colour and can even be multi-coloured. Their rate depends on softness, lack of cracks and mineral content. The lower the content of minerals like iron, the higher is its price," Imtiaz explains.
Since the stones are softer than sandstone, so artisans don't use hammers that their ancestors used. While machines are used for cutting and polishing, only chisels are used for carving the stones now. "Soapstone is softer and easier to work with…the tools used in wood carving can be used on it as well," he says.
The process of latticework
Once stone arrives, the craftsmen begin the process by cutting large slabs into smaller pieces depending on the products to be made. Machines are used to give stones the desired shape, size and evenness.
Also Read: Chettinad's masons slowly revive centuries-old lime-egg wall plaster technique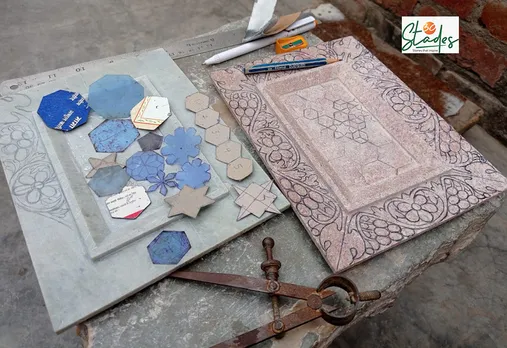 The designs or patterns are first hand-drawn on the cut stone using a pencil. Depending on the design, drills and various chisels and needle files are used to attain the desired shape. The amount of pressure applied is crucial because too much pressure can break the stone. Buffing is later done using a machine to give gloss to the product.
"Earlier, we could get needle files (used to improve the finish and remove extra stone) locally because they were also used by goldsmiths for designing ornaments. However, as jewellery designs have been mostly standardized, needle files are not needed and, hence, not made in Agra anymore," says Imtiaz.
Also Read: COVID-19: Padma Shri tie and dye craftsman for royals & Bollywood out of work after seven generations
Among the most-selling items at Al Maun are tea lights and aroma lamps. "Tea light of around two inches diameter and 3.5-inch height requires 2.5 kg stone as a lot of it is wasted in shaping, cutting and chiselling. And an aroma lamp with 5-inch height requires 4.5 kg to 5 kg stone," he explains.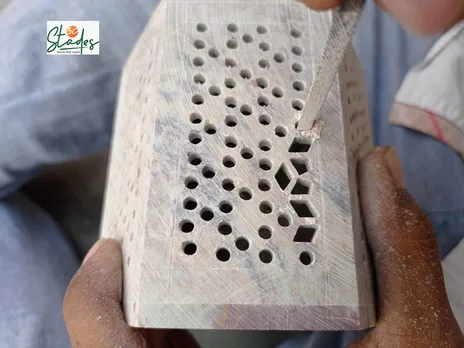 Also Read: Zishta: Taking handcrafted homeware from India's 48 craft clusters across the globe
Al Maun sells a tea light for Rs165 to local retailers, online marketplaces like Tata Cliq, Amazon, craft organisations and other buyers, who add their own margin before the sale. "This year we received the first overseas order. It is from the US," Imtiaz says.
Like most other crafts, COVID19 has impacted the latticework artisans as well. "Our pre-COVID sales were about Rs 17-18 lakh annually, which has now been reduced to Rs 6 lakh," he points out.
Al Maun had to borrow money for executing orders in the recent past and while the tourist and the festive season is currently on, the artisans are struggling financially. "We hope and pray that sales normalise soon. And there is the bigger challenge of preserving the craft which may be lost forever as the younger generation is not interested in it. Popularising our ancestors' craft is the only way to keep it alive," Imtiaz says.
(Rashmi Pratap is a Mumbai-based journalist specialising in business, financial and socio-economic reporting)
Also Read: Molela: Rajasthan's terracotta plaque art patronised by Bhil, Mina & Garasiya tribal communities