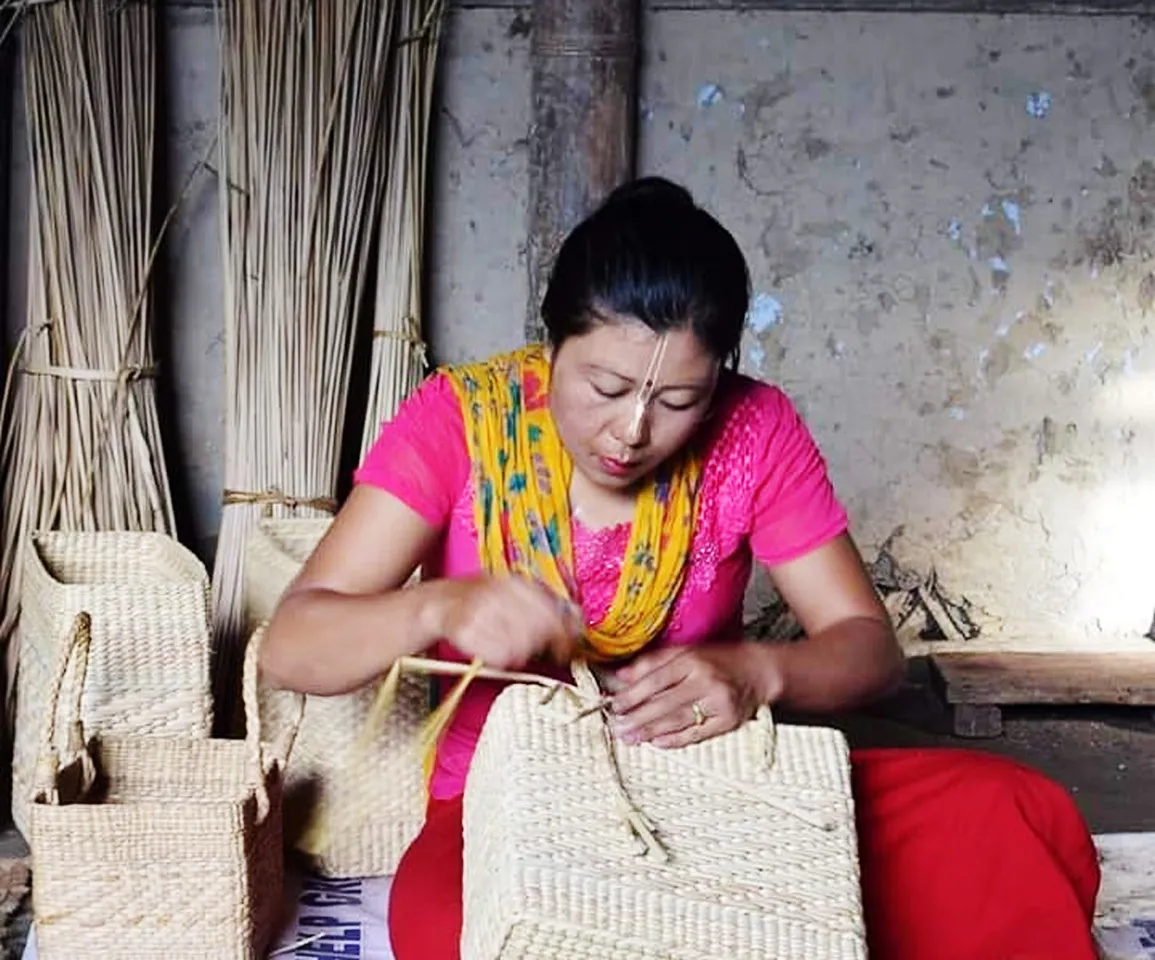 It was the Eureka moment for Bengaluru-based Tanvi Saraiya when she met some Kauna artisans in Manipur in 2013. Seeing the wide range of products made by the people of the Meitei (Manipuri) tribe using the local Kauna weed, Tanvi zeroed in on a business idea that could help the artisans and also promote the traditional craft.
Tanvi's brother Kehaan Saraiya met a few Kauna artisans in Manipur as part of a project while pursuing his bachelor's in design from a college in Bengaluru in 2013. He mentioned the artisans to his sister and they both travelled to Manipur to meet them.
"I have always been interested in handicrafts. My grandmother does crochet and I have picked up a love for handwork from her. When I met the Kauna artisans, I wanted to help them earn more and revive the craft," says 36-year-old Tanvi.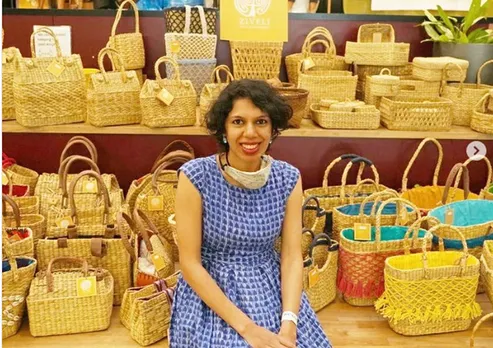 That was how Ziveli, her for-profit enterprise, was born in February 2016. Tanvi says through Ziveli, which means 'cheers to life', she is trying to build a sustainable and profitable business around the rich heritage of Indian crafts. 
Ziveli is today working with over 350 women artisans in craft clusters in Manipur, Telangana and Nagaland and upskilling them to earn three to four times more than before.
But her work began with 50 artisans from Manipur in 2016. Kauna is a reed or bulrush that grows in marshy lands in the state. The plant is also cultivated over the wetlands, often alongside paddy. The Meities traditionally make hats, nets, mats and baskets from these reeds. 
Kauna products are sustainable, biodegradable and durable. Apart from empowering the rural artisans, they help the environment by replacing plastic. 
Weaving products using Kauna grass is called the Kauna craft.
Also Read: Bihar's Sikki grass craft finds global market amid rising demand for ecofriendly artefacts
Modernising traditional wares 
Kauna reed grows about 3 meters high. Farmers harvest it thrice a year by cutting near the base of the plant. It is then dried in the sun. Once fully dry, the weeds are soaked in water before being woven into various products.
"If the weeds are not soaked in water, they become stiff and break when bent while weaving. Water makes them pliable," says Tanvi.
The grass can be used either in its original golden brown colour or dyed with natural colours. Ziveli makes products with the original colour.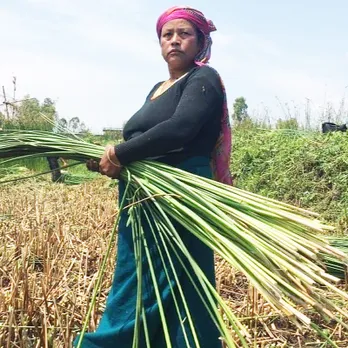 The grass is first woven into a circular or oval shape to make the base of the products. Then the grass strands are moved upwards to form the warp and interwoven with horizontal strands that are called the weft. The products made from Kauna are very hardy and last for generations.
Tanvi says in Manipur, farmers also made these products to supplement their income. They would make floor mats, table mats, nets and hats, and other items, which were used at home or sold locally.
Also Read: Waguv weaving: Kashmir's ecofriendly grass mats made from Dal Lake reed struggle for survival
While the traditional products were beautiful, the quality and designs were poor. Tanvi and Kehaan realised that to have a wider appeal to an urban audience, they would have to introduce new designs. The duo worked on multiple product designs and trained 50 artisans to make the new products.
"We received a grant from the JRD Tata trust which helped us to give training to the artisans and produce new products such as handbags, baskets, and boxes with newer patterns," says Tanvi.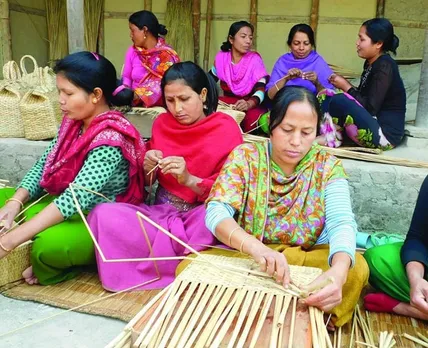 Ziveli gets the artisans trained through various government schemes. "In the training, the artisans are paid Rs 300 per day and master artisans get Rs 2000 per day. This is also one of the sources of income for them," says Tanvi.
Impacting lives
Ziveli's intervention has helped the artisans increase their incomes substantially. 
"The artisans were earning around Rs 4000 per month. But now they earn up to Rs 18000 per month," says Tanvi.
Though most artisans work from home, there are two warehouses, one in Manipur and one in Telangana, where artisans can go and work. "The warehouses are not owned by Ziveli but provided by the local governments for training and work for artisans," says Tanvi.
Sharmila Devi, 34, used to make Kauna nets and mats and sell them in the local market to supplement the family income. She has four children and lives with her in-laws. "My husband is a farmer. I used to sell the mats and nets for around Rs5000 per month in the local bazaar," says Sharmila.
Also Read: This IITian quit job to revive ecofriendly handwoven dhurries; brings artisans back to the 2000-year-old craft
However, in 2015 she underwent training with Ziveli and began making not only mats but bags and other products as well. 
"Now, I earn Rs 10,000 to Rs 15,000 per month depending upon the time I put in. Life is better," she says.
She goes to the Manipur warehouse and works there from 10 am to 4 pm. She stays in Khangabok village, which is near the warehouse.
Another artisan Lbechaobi Devi, 37 also from Khangabok village, was a housewife looking for some work to supplement her family income. Her husband is a labourer earning about Rs 4000 per month.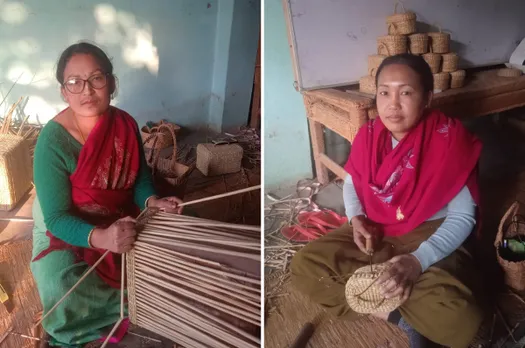 "My husband's income was irregular. We were always struggling to make ends meet. When my daughter was born, I was worried if I could provide for her," says Lbechaobi.
She participated in Ziveli's training programme and is one of the best artisans in the team. "Now, I earn Rs 12,000 per month by selling various products. My daughter is studying in a private school," says Lbechaobi.
Expanding beyond Manipur
Over the years, Ziveli has expanded its product range as well as craft clusters. "Apart from Kauna items we also have products made from banana fibre, palm leaves and bamboo. Our aim is to help artisans who are making sustainable items earn better and encourage consumers to use such sustainable and biodegradable products," she says.
"The artisans earn between Rs 7000 and Rs 15000 per month," she adds. Ziveli has created multiple groups of artisans that are managed by master artisans. "We have 20 master artisans and 15 artisans under each master craftsperson. As and when we receive orders, the master artisans help us get the products ready," says Tanvi.
Also Read: Peoli: NID grads' slow fashion brand hand spins success story with natural yarns; empowers Uttarakhand women
Reaching new markets
Initially, they were selling the products in the local markets in Imphal. Tanvi also began selling the products in Bengaluru to understand customer response. Meanwhile, the siblings began talking to boutiques to showcase the products.
Tanvi puts up the products on the Ziveli website and they are also listed on various e-commerce platforms such as Kuto, Tata CLiQ, LLB, Amazon and Flipkart.
The products are not available on Flipkart and Amazon because their terms and conditions were very rigorous and she could not manage the inventory online, she says.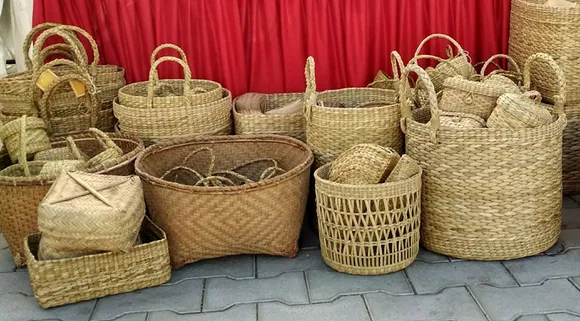 Tanvi also spoke to export offices to explore foreign markets. Through her efforts, she managed to get bulk orders from Europe, the UK, the USA and Japan. 
They export only Kauna bags and no other items. In a year, they were exporting around 2000 bags before the pandemic. That stopped during COVID-19 and they are planning to restart exports soon.   
"We observed that people in foreign countries love handcrafted products. They give much importance to the products which are sustainable and do not harm the environment," says Tanvi.
The siblings also approached corporates for bulk orders. Much to their delight, Ziveli received its first bulk order on Diwali in 2016. It was a corporate which ordered 3,000 lunch baskets for its employees. "This really helped us move ahead," says Tanvi. 
Their products are priced between Rs 350 and Rs 2000 and the orders are delivered through India Post. Tanvi's brother Kehaan looks after design and her husband Yadu Krishna, 35, manages the finances. "We aim to provide regular employment to all the artisans in rural India who are making sustainable and biodegradable products," says Tanvi.
(Bilal Khan is a Mumbai-based independent journalist. He covers grassroot issues, LGBTQ community and loves to write positive and inspiring stories.)
Also Read: Kashmir's willow wicker craft goes global as it moves beyond baskets to furniture & home décor