wp:html /
Dhurries or durries – the thick, handwoven flat-weave rugs used as a floor-covering -- feature in the second-century Buddhist paintings of Ajanta caves. Weavers from Rajasthan's Prajapati community, Madhya Pradesh's Kol tribals and the Ansari community are among those who have kept alive this art of weaving colourful threads into beautiful rugs. 
Master weaver Jan Mohammed from Hatwa village in Sidhi district, Madhya Pradesh, was 12 when he began to learn the craft from his father. "There was reasonably good demand back then. But over the years, as machines started churning out cheap dhurries, there were hardly any buyers for our handwoven rugs," says the 53-year-old. 
With no consistent work, Jan often struggled to put food on the table for his family. In 2012, he joined Kalavilasa, founded in April 2011 by IITian Vivek Shrivastava to revive eco-friendly handmade rugs. 
"Now we get regular work. Even throughout the pandemic, we were never out of work or money. I can provide good education to my children due to consistent income," he says.
Also Read: Peoli: NID grads' slow fashion brand hand spins success story with natural yarns; empowers Uttarakhand women
Kalavilasa – reviving the rugs
Kalavilasa is the brand name for the non-profit Forum for Rural Weavers. "It was formed to provide a respectable livelihood to artisans in their native villages while protecting India's cultural heritage," says Vivek, an electrical engineer from IIT Kanpur who quit the corporate world after 20 years in the telecom and IT industry to work with dhurrie weavers.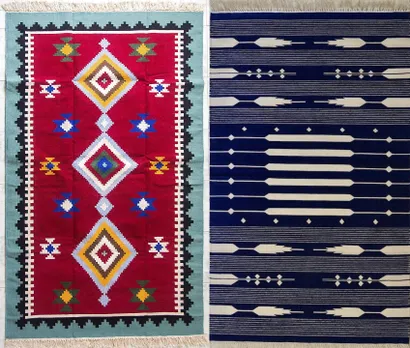 He first decided to make carpets but then zeroed in on dhurries because hand-knotted carpets are an expensive product with limited demand and high investment. 
Today, Kalavilasa specialises in eco-friendly Punja or Panja dhurries, famous for their exquisite styles, high quality and sturdiness. 
Also Read: How COVID-19 and India-China tensions have changed India's 900-year-old Patan Patola weaving
Vivek says there is little awareness regarding India's rich textile traditions. "Dhurries are decorative, robust and long-lasting (a piece lasts for about twenty years) and are indigenous to India. It is valued across the world; almost all dhurries are exported," he points out.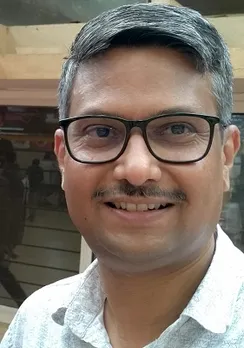 Kalavilasa employs a master weaver and artisans who work in Madhya Pradesh and Rajasthan. These artisans are paid fair wages and have been able to continue their family tradition after they associated with the non-profit.
"We tell our buyers that when they purchase a Panja dhurrie, they not only get a piece of floor art but also support an artisan," he says.
Kalavilasa's Panja dhurries have been compared by customers with products from the late designer and art enthusiast Shyam Ahuja who revived interest in dhurries in India when the craft, earlier patronised by the royalty and the British, was fading away. 
Also Read: Biren Basak: The boy from East Pakistan who became India's handcrafted saree tycoon
"It is a badge of honour for us. At the same time, Panja dhurries face massive competition from machine-made carpets made of synthetic material. I think we Indians need to value our textile heritage and adopt it more in our lives," Vivek says. Kalavilasa also has a range of dhurrie cushion covers. 
"Arati Kumar Rao, noted photographer and environmentalist, designed a dhurrie with hornbills and fig trees, showing the birds dispersing seeds and sprouting new trees. Our weavers have exactly replicated the design and created a beautiful dhurrie," Vivek points out. 
Overcoming challenges, helping weavers
Vivek's journey in the last 11 years has been about learning along the way while encountering ups and downs. "I was initially selling on third-party online stores. Once these stores became popular, they started onboarding more and more sellers, causing a race to the bottom among the sellers. Products didn't sell; prices were reduced. It was lose-lose for everyone," he says.
Also Read: Himalayan Weavers: Hand-woven woollens by tribes in the Himalayas find a global market
Then he found a small niche in the expat population of Bengaluru. "They liked our products and wanted the dhurries to be customised for their homes. That's how we discovered a market for custom-made dhurries."
Parallelly, there were production issues. Vivek had started working with weavers in Rajasthan for cotton dhurries and weavers in Uttar Pradesh for wool dhurries.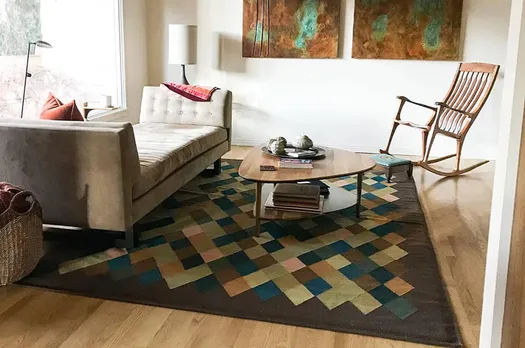 "I worked with two artisan groups in Rajasthan. But one said they could not produce according to my requirements. With the other group, there were quality issues." Now he works with only one weaver family in Rajasthan.
Also Read: How Exotic Echo is reviving Nagaland's centuries-old loin loom weaving
"It has worked out well. The weavers are conscious of delivering a quality product on time. We provide the designs, raw material, and they make the product as per the designs and specifications. Providing them raw material is essential to maintain the quality," he says.
Kalavilasa's work has helped the weavers sustain themselves. 
"I met one dhurrie weaver in Mirzapur who had left weaving and he was pulling a rickshaw. Our initiative has in a small way helped a few artisans continue practising their profession," he says.
Regular wages have a positive impact on the quality of life of weavers. They can educate their children and provide them with better nutrition.
Also Read: Bihar's Sikki grass craft finds global market amid rising demand for eco-friendly artifacts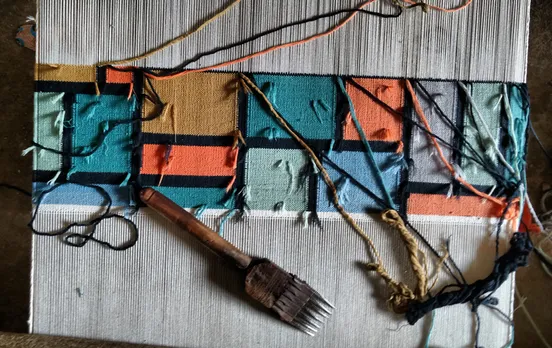 The multi-purpose floor art
Panja dhurries come in several designs, some inspired by the state of origin. The most common patterns are multi-colour stripes and geometric shapes. Sometimes floral, animal and bird motifs are also used. The colours are bold and striking and the prices 
Dhurries do not have knots and are without any pile, thus making them reversible. They are easily portable being lightweight and foldable. 
Also Read: Aquatic weed water hyacinth gives rise to ecofriendly handicrafts industry in the North-East
Due to their versatility, dhurries have multiple uses. Dhurries are today used not only as floor-coverings but as wall hangings, bedding, packing material and table covers.
The process of making dhurries
There are two techniques of making dhurries - the Panja technique and the traditional pit loom with the fly shuttle. Panja looms have a simpler set-up than pit looms. Traditionally, cotton is spun by women, and the yarn is dyed by men.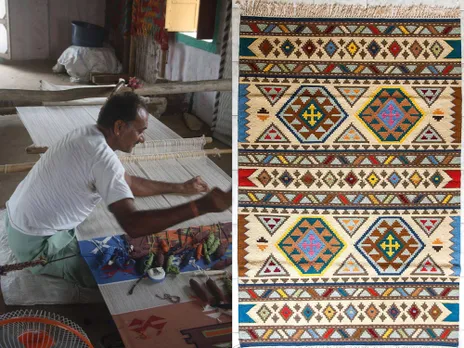 Kalavilasa artisans use the tapestry weaving technique to make dhurries. It is a plain weft-faced weave having weft threads of different colours worked over portions of the warp to form the design. Thus, a reversible design is produced.
Also Read: Born through an inter-caste marriage 700 years back, how Gujarat's Tangaliya weaving turned trendy
After this process, the finishing touches to a fresh-off-the-loom dhurrie include cutting extra yarn from the knots and then thoroughly washing it. As per the customer's preference, either both the ends of the dhurrie are tied together to make tassels or the fringes are cut and the sides are folded and stitched. In a wool dhurrie, the extra fibres are singed with flame and then washed.
Going online
Kalavilasa has added Gond paintings in its catalogue to provide a platform to tribal artisans. 
"Around two years ago I also started working with a Gond artist from Dindori district in Madhya Pradesh. During the pandemic, I was able to find buyers for his paintings and it was these paintings that kept the fires burning in his house," says Vivek.
Also Check: Watch: Spinning, dyeing, weaving…the making of dhabla shawl in Gujarat's Bhujodi village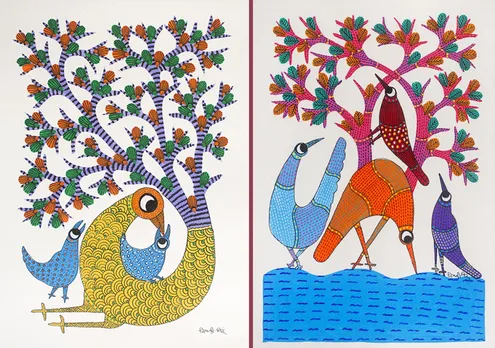 Vivek says they have received a lot of traction on social media, which led to them getting several orders online. Kalavilasa's online store is expected to go live soon.
As a non-profit, all the surpluses generated are ploughed back into the organisation. "It cannot be taken as a dividend for the shareholders of the company. After all the expenses, our surpluses are about 20 per cent of the sales. We are at a point where our production processes are quite well laid out. We are focusing on marketing efforts currently," he adds.
(Sravasti Datta is a Bengaluru-based independent journalist, who writes art, culture and human interest stories)
Also Read: Waguv weaving: Kashmir's ecofriendly grass mats made from Dal Lake reed struggle for survival