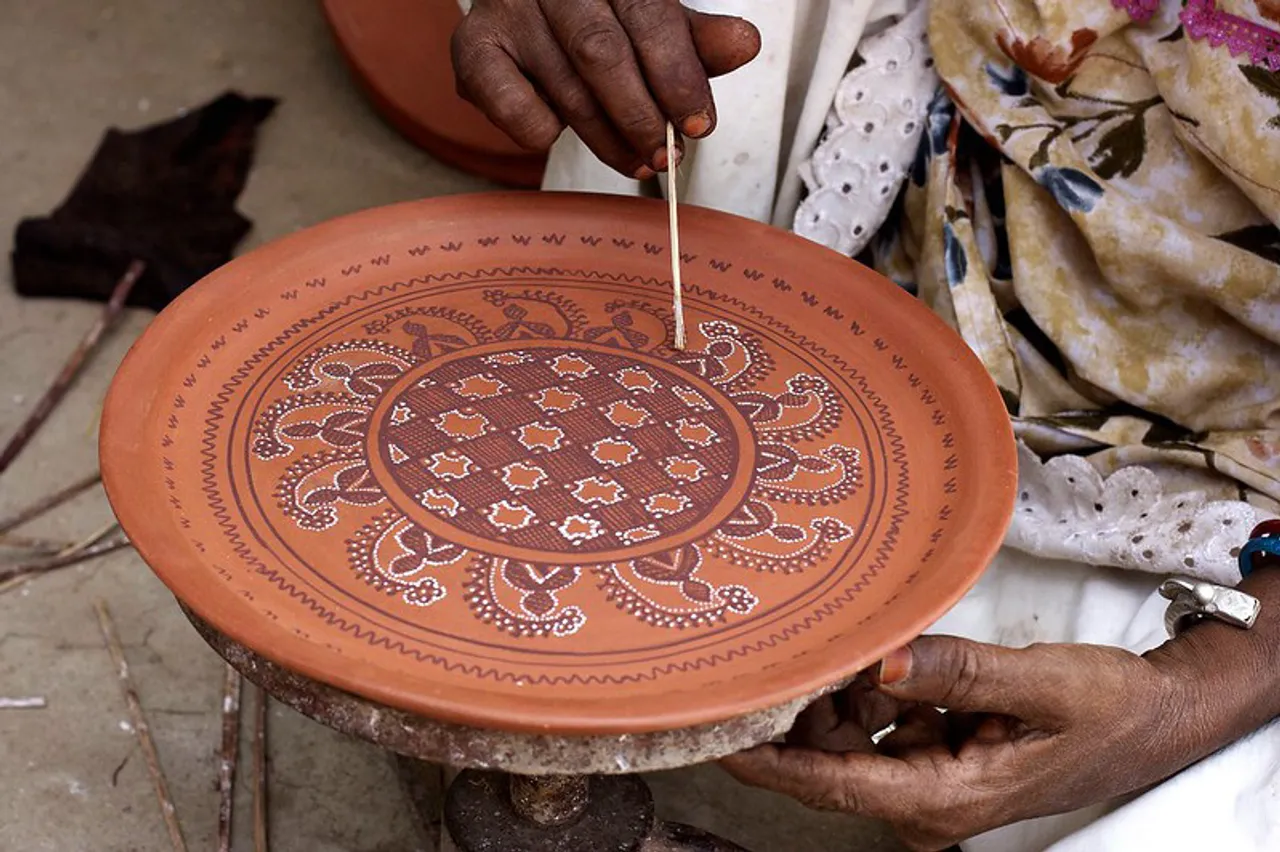 India is home to a variety of pottery-making traditions. Blue pottery, black pottery, terracotta plaque art and glazed pottery are all variations of the magic created by potters using clay on the wheel. 
Pottery or clayware found from various sites of the Indus Valley civilization (3300BCE to 1300 BCE) show that this exquisite craftsmanship existed even thousands of years ago. Very fine pottery made on wheels at that time included bowls, vases, dishes, storage jars, pots, drinking vessels, cups, basins, caskets and other household items.
The pottery was plain, coloured and also glazed and baked in a controlled heat environment. That tradition, which began thousands of years ago, continues in India to date. Potter communities from various regions of India have continued to improvise on that pottery, resulting in colourful variations which are loved not only within the country but also abroad. Four such traditions are here:
1. Azamgarh's Black Pottery: This world-famous pottery tradition is practised in Nizamabad village of Uttar Pradesh's Azamgarh district. The shiny pottery is engraved with silver floral and geometrical patterns. 
The ancestors of Prajapatis came from Gujarat about 500 years back and settled in what is now Uttar Pradesh. But now, people from other castes are also learning and making black pottery.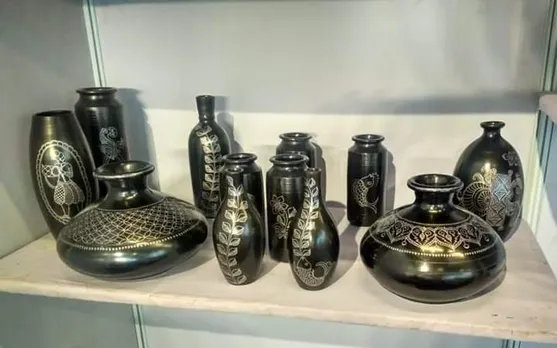 The pottery is sun-dried and a fine iron needle is then used to draw the patterns. It then goes inside the bhatti (kiln), which is fully covered with cow dung cakes. When the pottery is inside the oven, it is important to ensure that there is no scope for oxygen to enter and the heat level remains high. The presence of oxygen can turn the pottery red and it won't get the black colour, which is the hallmark of Azamgarh. 
Read more here: How Nizamabad's 500-year-old black pottery is regaining lost glory
2. Jaipur's Blue Pottery: Maharaja Sawai Ram Singh II of Jaipur (1830-1885) is credited with promoting Blue Pottery in the Pink City. He appointed Churamani and Kaluram, two potters from Achnera, a suburb of Agra in the ceramic department of the School of Art that he had founded in Jaipur in 1866 to promote different art forms.
The blue in the pottery comes from cobalt blue dye used to colour the wares. A mix of turquoise and cobalt colour palette forms the dominant colour, also known as Persian blue, which is globally the most in-demand. The green colour is derived from copper oxide while yellow, pink and green are obtained from non-conventional methods.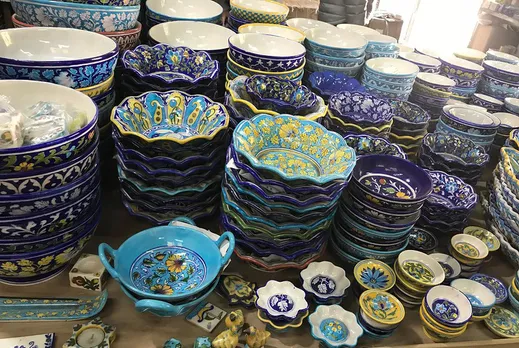 To make the dough or base of the pottery, quartz is sieved and ground into a flour-like consistency in a chakki or grinder. Once the products are glazed, they are ready for firing at very high temperatures going up to 850 degrees Celsius.
They are left in the kiln for a day to cool down and are then ready to be shipped or shopped locally.
Read more here: Blue Tales of Pink City: How Jaipur's GI-tagged Blue Pottery moved from palaces & tombs to living rooms across the world
3. Gujarat's Khavda Pottery: Khavda in Gujarat's Kutch is home to a pottery tradition that goes back thousands of years to the Indus Valley Civilisation that once thrived in the area.
The earthen pots made in Khavda are similar in process and design to those found during excavation at Indus Valley sites. Once several villages in the Rann of Kutch such as Khavda, Lodai, and Tuna were hubs of pottery-making. 
Potters crafted beautiful items such as pots for water storage, plates, glasses, bowls, lamps, and boxes that were coloured in the trademark geru (red) colour and embellished with black paint. But today declining demand has pushed potters to other odd jobs such as scrap dealing. Barely a handful of families are practising the craft.
To create the earthenware, potters source the clay, called Rann ki Mitti, from a lake in Khavda. The clay is pounded and sifted to obtain very fine clay. It is mixed with water, kneaded and left for 12 hours.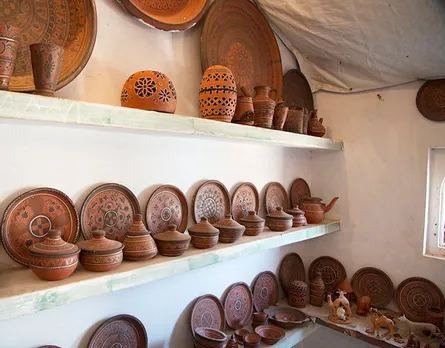 Pottery made on the wheel is dried in the sun and buffed with sandpaper to give a smooth finish. It is then given a wash with geru, which gives the objects a reddish hue. The earthenware is then put in a kiln, which is fired with wood and cow dung. The process takes three days. After that, the women paint the artefacts using bamboo twigs.
Read more here: With roots in Indus Valley Civilisation, can Gujarat's Khavda pottery reinvent the wheel?
4. Rajasthan's terracotta plaque art Molela: Molela Murtikala or clay craft revolves around making colourful votive terracotta plaques of deities bought twice a year by Bhil, Mina and Garasiya tribal communities from Gujarat, Madhya Pradesh and Rajasthan.
The most in-demand are terracotta plaques with idols of Devanarayan, Kaldeva, Gordeva and Nagaraj (serpent God), with each having a specific colour. The tribal communities replace the idols in their shrines for two reasons – when an idol develops a crack or when a wish is fulfilled.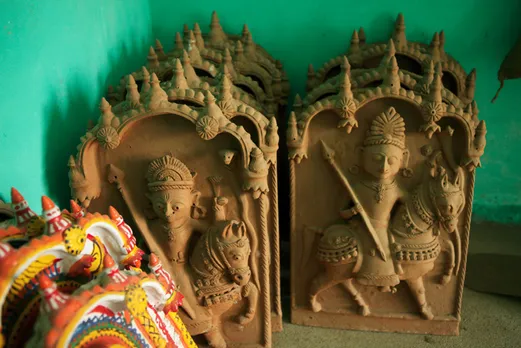 After sieving and soaking the clay, rice husk and donkey or horse dung are added to provide strength. The clay is kneaded and the tiles are made using a pindi (rounded stone with a groove for grip). Then the scene or the idol is made on the tile without using any moulds. The designs are made using a badli — a flat chisel-shaped metal tool.
The plaques are dried in the sun. If the final plaque has to have the terracotta colour, then red geru is mixed with glue and applied before firing them in the kiln covered with pieces of broken pottery. Otherwise, the plaques are first fired and then painted with colours.
Read more here: Molela: Rajasthan's terracotta plaque art patronised by Bhil, Mina & Garasiya tribal communities