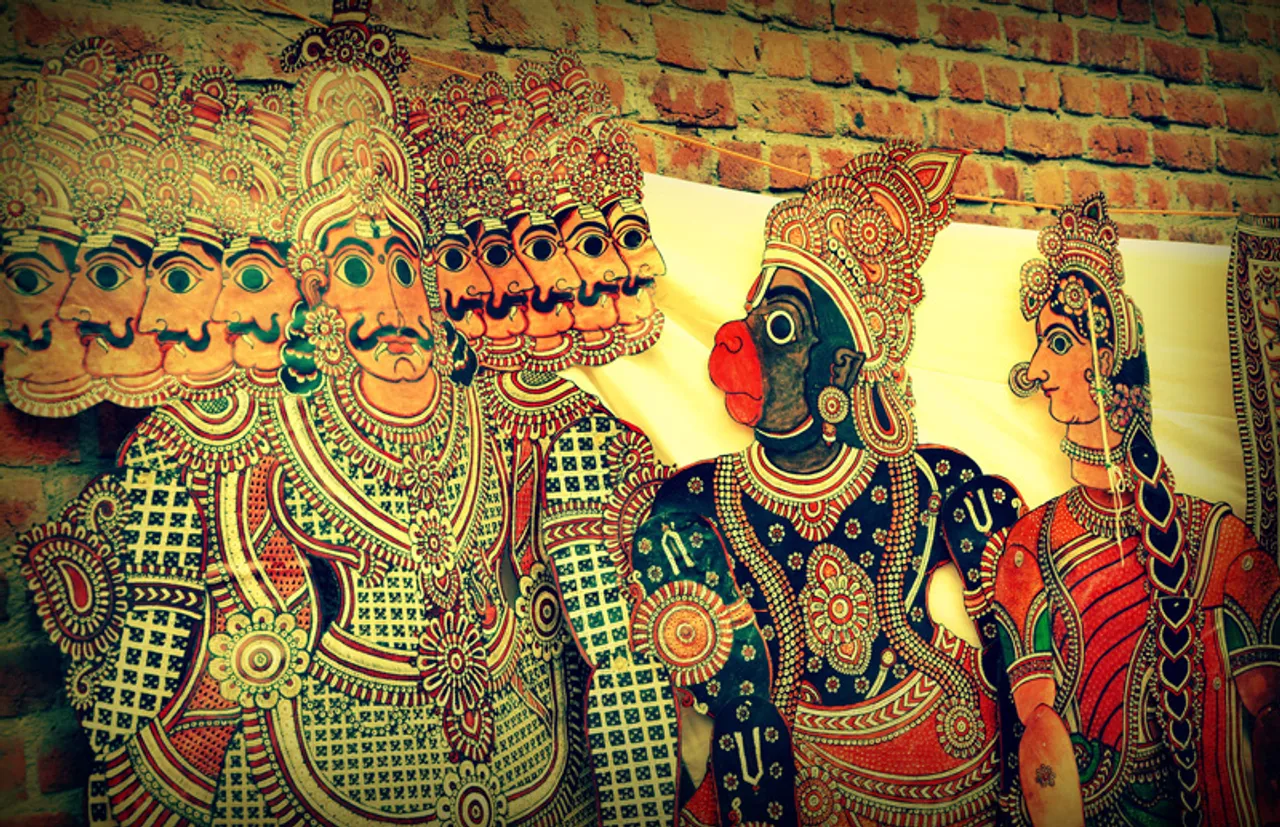 At the Dharmavaram village in Andhra Pradesh's East Godavari district, a leather puppetry performance is going on outside the local Shiva temple. Coloured and translucent leather puppets are projected on a screen as an expert puppeteer manipulates them from behind. Lord Hanuman's colourful puppet comes alive when Sinde Sriramulu deftly moves it with strings and sticks while other members of his troupe play the mridangam, and harmonium and sing verses from Ramayana's Sundar Kand.
Lamps are arranged around the screen such that the size and position of the puppets changes with the distance from light. Audiences are enthralled as dramatic effects are achieved by colours, lights and music, with puppets conversing with each other in various scenes.
Sriramulu is the fourth-generation leather puppeteer from Andhra Pradesh's Nimmalakunta village, which received the Geographical Indication tag for Tholu Bommalata in 2008.
Also Read: Bengal's Natungram: Craft village where wooden dolls come alive
Nimmalakunta village in the Anantpur district is home to about 60 families involved in making leather puppets. "We belong to the Chitrakara community. Shadow puppetry has been a medium to educate people about social and moral values through stories from Ramayana and Mahabharata for centuries," says Sriramulu, a master craftsman and National Award recipient for leather puppet making.
Leather puppets & the epics
This folk art traces its roots to 200 BCE during the rule of the Satavahana dynasty. The Satavahana kingdom comprised the present-day Andhra Pradesh, Telangana, and Maharashtra and the rulers patronised the puppeteers.
Also Read: Meet India's ancient board game hunters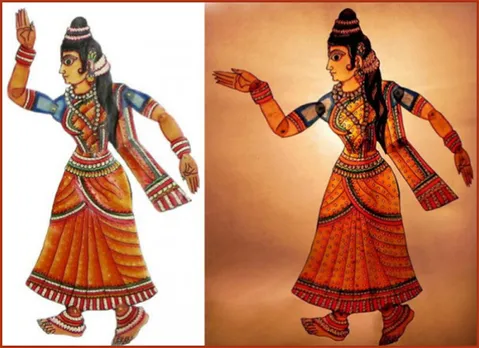 Legend has it that until about 200 years back, these puppet makers lived in the Sahyadri Hills of Maharashtra.
Most of them travelled to South India and settled in parts of Andhra Pradesh (Nimmalakunta), Kerala and Tamil Nadu. Many of these puppet makers in Nimmalakunta speak Marathi even now.
"Earlier, during the time of my father and grandfather, the puppet show was the only livelihood option for us. The whole family would make leather puppets while male members would travel from one village to another for conducting puppet shows," says Sriramulu.
Also See: Visuals of paper maché: Kashmir's 700-year-old 'chewed paper' craft
"We accepted whatever was given to us in return – rice, coconut, vegetables, pulses etc," says 52-year-old leather puppet craftsman D Ramana. He is the son of D Chalapathi Rao, a leather puppeteer who won the Padma Shri in 2020 for his contributions to the craft. Rao is the maternal uncle of Sriramulu.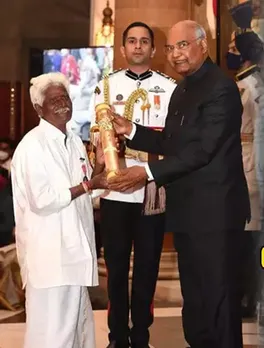 Ramana says back then, the artisans made only puppets, which ranged from 15 inches to 6 feet in height. "Through shows, we narrated the stories of the epics. Themes from these epics continue to dominate the designs even today with huge puppets of Hanuman, Ravana with ten heads, and Lord Rama being depicted in bright colours," he says.
Also Read: Etikoppaka GI-tagged wooden toys awaiting non-toxic certification since 2008
Most of the performances were held around Shivratri and other religious festivals.
Winds of change sweeping the leather puppets
But the craft has undergone many changes in the last few decades. "Now the number of shows at villages has gone down. We perform at the Sangeet Natak Akademy, at private functions and also at government events to raise awareness around family planning, water conservation, vaccination, tree plantation etc," Ramana says.
And the mode of payment has also changed from kind to cash. A troupe travelling to Delhi for a performance charges at least Rs one lakh while for shows in nearby towns and villages, the rate can be anywhere between Rs 20,000 and Rs 50,000 depending on the duration of the performance and occasion.
Today, the artisans have diversified into making leather lamp shades, wall hangings, partitions, jewellery, household items and other products.
"The government sent designers to help us make new products like lampshades and wall art pieces," says Ramana, who sells his products to LePakshi Handicrafts, the Andhra Pradesh government arm promoting the state's arts and crafts, Central Cottage Emporium and to private retailers.
Also Read: Bobbili Veena: Andhra's artisans overcome challenges to keep 17th-century musical legacy alive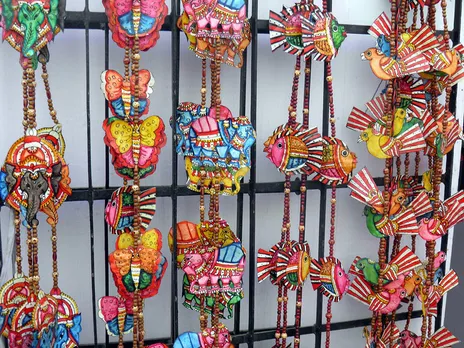 Artisans like Sriramulu, however, sell through exhibitions and also work on orders received through WhatsApp. "Some people still buy puppets but the most-selling items are lampshades and wall hangings," he says.
"I also provide training in making puppets, and leather jewellery items and take lectures and sessions at various schools, colleges and other institutions," says Sriramulu. People from across the world visit India to attend his workshops on the leather craft.
The price of a small lampshade starts at Rs 600 and can go up to Rs 20,000 for a 5-feet piece.
Also Read: Yakshagana: Karnataka's ancient theatrical dance art adapts to reach global audience
The process of making shadow leather puppets
The process of making leather puppets requires patience and an eye for detail. Craftsmen procure goat or sheep leather from local butchers and then process it as per the item they are making. Goat or sheep leather is easily pliable and lasts many decades.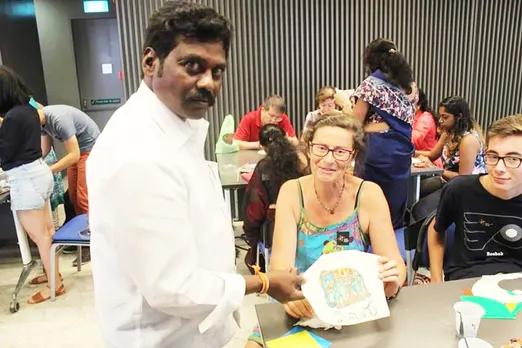 For lampshades, the leather should be as white as possible to permit the play of light. But wall-hanging puppets can be coloured too.
In some cases, the skins are put in a Myrobalam solution to impart a light burnish tone and then dried in the sun.
The artisan first draws the design on paper freehand and then copies it on the leather without tracing it. The outline of the figures and motifs are done in black colour. The piece is allowed to dry after which grooving is done with small tools.
Also Read: A quaint village in Hooghly becomes manufacturing hub for string instruments
"Earlier, natural colours were made by artisans for paintings. But now, ready-made colours are used as they save time and effort. But each item is unique as it is handcrafted and no two designs are the same," says Sriramulu. Finally, the leather is cut using a knife to get the shape of the puppet.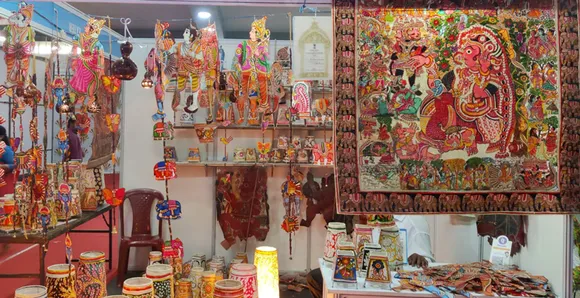 For lampshades, first, the iron frame is made and then leather is stitched on it to give the shape. Then the drawing is done and the lampshades are made more attractive by chiselling small holes in a decorative pattern. The perforation gives a bright and rich appearance in the backdrop of light. Many artisans now use machine-finished leather for lampshades as it is whiter.
Offices, government institutions and collectors are regular buyers of these items. "Government now also gives loans to artisans for making puppets besides helping us participate in exhibitions," says Ramana, whose son is continuing the family craft. Sriramulu's son has also joined the family's leather puppetry business. And as long as the younger generation continues to practice the craft, there is no threat to it. Innovation is all that is required to continue the legacy.
(Lead pic sourced from Wikimedia Commons)
(Rashmi Pratap is a Mumbai-based journalist specialising in financial, business and socio-economic reporting)
Also Read: Women artisans help resurrect Karnataka's Kinnal hand-painted woodcraft