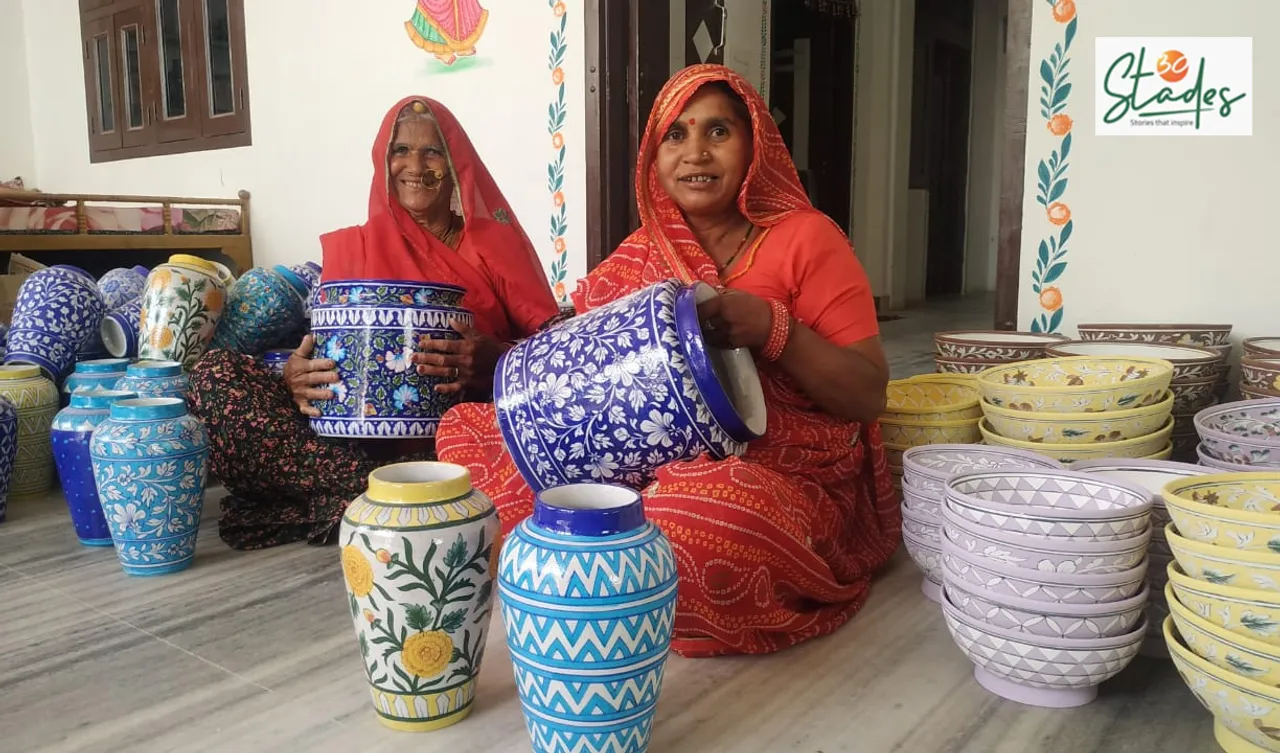 When Ramnarayan Prajapati began making Blue Pottery artefacts in the mid-1980s, he had to carry the items on a bullock cart and bus from Kot Jewar to Jaipur, a distance of about 40 km.
Prajapati turned to pottery to make ends meet. His father did some farming on their 6 bighas (0.275 acres) of land in Kot Jewar but that was only in the monsoon.
"The water in our area was saline. We could do farming only in the monsoon. We grew wheat for our own consumption. We were barely able to make ends meet," says Prajapati, now 53.
He had to drop out of school after class 8 to help his family financially, but by the dint of his hard work and determination, Prajapati created a successful business.
This first-generation businessman formed his company, RN Blue Art Pottery, in 1990. Today, it sells artefacts in India, the US, the UK, Dubai and Canada and has an annual turnover of Rs30 lakh.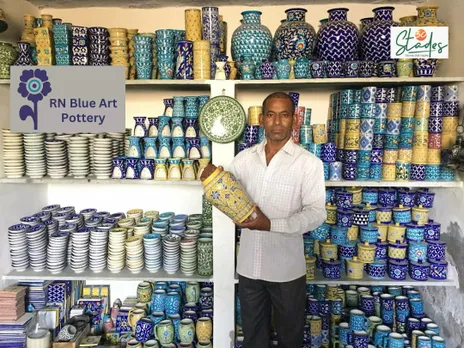 Prajapati has not flourished alone. He has taught Blue Pottery to around 300 people from his village, lifting them from a life of penury to a life of dignity. 
Blue Pottery is said to be of Turko-Persian origin but it is historically linked to Jaipur and even got the Geographical Indication or GI tag in 2006. Jaipur ruler Maharaja Sawai Ram Singh II was a great patron of the arts. He founded a school of art where different art forms were taught and flourished. He sent artisans to Delhi to learn from the masters there.
Also Read: Molela: Rajasthan's terracotta plaque art patronised by Bhil, Mina & Garasiya tribal communities
Determined to succeed
Prajapati recalls that in the early 1980s, his elder brother had joined some gemstone units as a child in Jaipur to earn money. He later learnt Blue Pottery and worked in some units.
Prajapati got two jobs as an office help in government organisations in Jaipur but he did not want to do the monotonous work. 
"I wanted to do something different. I wanted to learn Blue Pottery but my elder brother was against it. I worked for some time but left the jobs and started learning the craft I loved," says Prajapati.
He worked in different units and learnt from Kripal Singh Shekhawat, a renowned craftsman who revived Blue Pottery and was conferred with the Padma Shri in 1974. He is also called the father of Blue Pottery for his contribution to the craft.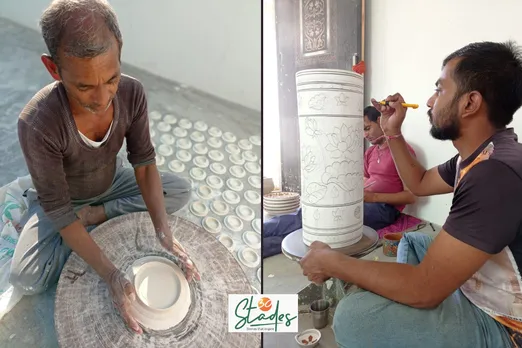 "When I was working with Kripal ji, Leela Bordia, a businesswoman, came to visit once. I met her and got her address. Later I told my brother we could start a Blue Pottery business but he was doubtful how we would market it," he says.
The brothers approached Leela, who was sceptical. 
"She gave us some designs and told us to create samples. After she saw our work, she was pleased and gave us our first order."
Luckily, for Prajapati, an NGO came to work with the artisans and supported them in setting up a gas furnace in place of a wooden one and helped them with marketing by taking them to exhibitions and trade fairs to sell their handicrafts.
Also Read: India's 4 little-known pottery traditions 
Initially, Prajapati supplied the wares to Leela who sold them through her outlets in Jaipur. But he slowly developed his own contacts and customers.
Empowering the villagers
For a couple of years initially, Prajapati and his brother worked alone but the orders kept increasing and they were not able to cope. "There was a lot of demand. We earned about Rs30,000 per month which was a lot back then," recalls Prajapati.
To meet the rising demand, Prajapati approached other people in his village. "There were bastis where Kalbeliyas, Saperas and other communities lived. They used to sing, dance or beg to earn money. The men would drink and fritter the earnings. I asked them to join me and learn a new skill that would make them self-reliant," he says.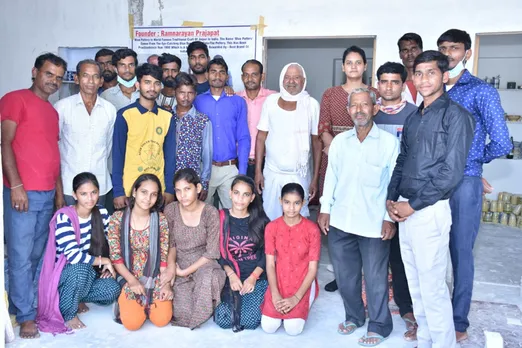 Initially, the people were hesitant but Prajapati offered them a small stipend too during the training and they agreed to work with him. Over the next few years, Prajapati trained several people in the craft and in the heydays, 300 artisans were engaged in the Blue Pottery business in Kot Jewar.
Many of them later set up separate units and earned well, thanks to Prajapati. There are still around 100 artisans who work with the Prajapati family. 
The artisans get Rs300 per day while the designers get Rs800 and master artisans are paid Rs1000 per day.
Ganesh Sapera 27 who works with Prajapati says his father was a beggar and the family had a hand-to-mouth existence. "My father learnt from Ramnarayan ji and he taught my mother and me too. He gave us a skill and made us self-reliant so we don't have to migrate to the city in search of work or beg. We earn and live with dignity," he says.
Also Read: How Nizamabad's 500-year-old black pottery is regaining lost glory
Losing its sheen
Prajapati says Kot Jewar was once a hub of Blue Pottery. There were other centres like Jaipur, Mahla, and Nevta but with time the units shut down.
"When the boom in land prices came, many people sold their land and closed their businesses in these areas. Kot Jewar once had 11 units producing Blue Pottery. But today there are just three," he says.
The new generation is also not coming forward to learn the trade which puts a question mark on its survival.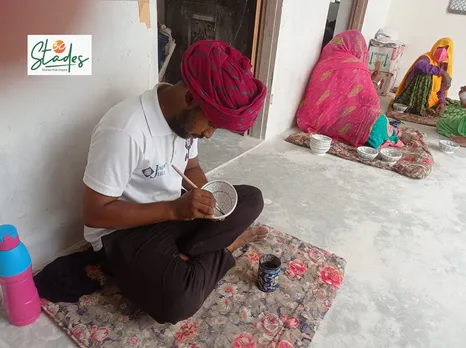 "Pottery requires hard work. You have to work for 10-12 hours daily to sustain yourself. I don't see that commitment now. If the new generation does not learn a craft, it will not survive long. The young people today are happy to work as labour, do odd jobs but aren't ready to put in hard work to learn this skill," says Prajapati.
Also Read: Kartik Gaggar: The CA taking Indian arts and artisans to the world through experiential tourism
His son Nandkishore says screen printing has hit the business hard. "The designs can now be made with machines at low rates. People don't know the difference between handcrafted and machine-made. They prefer to buy cheap items. Blue Pottery has historical value but others are selling fakes as Blue Pottery," he says.
Process of creating a Blue Pottery masterpiece
Making an artefact is no doubt a laborious endeavour which is driving away youngsters. Prajapati's 22-year-old son Vimal, however, joined the family business in 2019.
Vimal says he and his brother picked up the craft as children. "We would see him work every day and learnt the skill. But our father would teach us systematically during the holidays."
He says the distinctive feature of Blue Pottery is that it is not made with clay. 
The raw materials required are Multani mitti or Fuller's earth, Katira gum, Khar or alkali soil, borax, quartz powder and glass powder.
Explaining the process, he says first the raw material is finely ground and then water is added and kneaded into a dough-like mixture. The dough is then put into POP (Plaster of Paris) moulds to shape them into plates, bowls, vases or other items.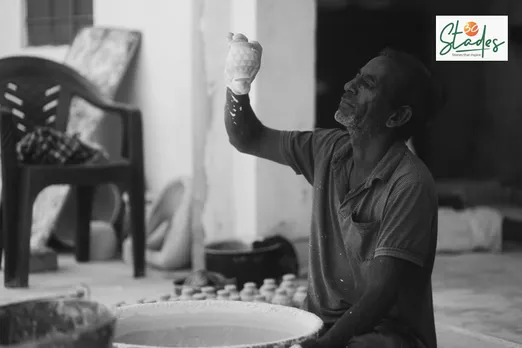 These are then dried in the sun and ash is sprinkled on them to keep them in shape. After drying for a day, the ash is removed and objects are cleaned and polished on a stone to smoothen them. They are then rubbed with sandpaper. Next, the base is joined using the dough mixture.
Also Read: With roots in Indus Valley Civilisation, can Gujarat's Khavda pottery reinvent the wheel?
Once ready, a liquid mixture made using flour, milk and glass powder is applied to the objects and gives a white coating. Once this is dry, the design is etched with a pencil. This is outlined with a fine brush and cobalt colour and then the colours are filled in. The Prajapatis use ecofriendly oxide colours in their products.
The final step is to glaze the artefact using a mixture of sindoor, borax and glass powder. This mixture is melted in the furnace at 1200 degrees Celsius, then cooled in water and ground into a fine powder.
A liquid mixture of maida and water is made and glaze is added to it. The item is dipped in it and left to dry. It is then placed in the furnace and baked at 750 to 850 degrees Celsius.
"It takes about two hours to set all the pieces in the furnace. They are then fired for about five hours and left to cool the next day. The furnace is opened only on the third day," says Vimal.
The manufacturing ratio is 50:50, meaning that only half of the items remain fit for sale after being baked in the furnace. For bigger pieces, the ratio can go up to 70:30.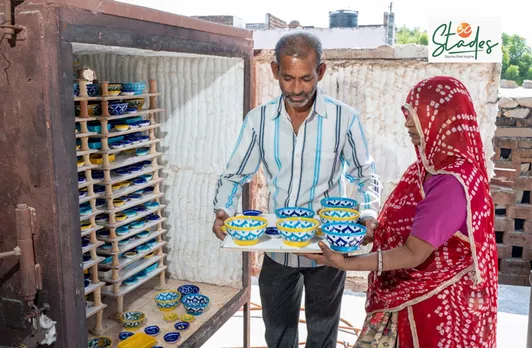 "When the pieces are put in the furnace to dry and harden, some develop cracks and break. If we have an order for 50 items, we make 150 to get the required quantity," he explains.
Also Read: How Bangalore's Earthen Browns is bringing grandma's clay cooking pots back into Indian kitchens
"It takes around 15 days to make one item from start to finish and finishing is done by hand about 20 to 25 times," he says.
Using technology to create a market
Vimal has harnessed the power of technology and social media to grow the business.
He took the business online to reach out to customers around the world. He set up the company's website and created accounts on Instagram and Facebook.
They have around 3,000 customers, mostly in India. The main demand is from Jaipur where a large number of shops and outlets source from the Prajapatis. The other major demand centres are Delhi, Mumbai, Bengaluru, Pune and Kolkata. 
Their products have also found their way to the US, the UK, the Netherlands, Dubai and Canada. "Customers can directly place orders on social media and we ship the items to them," he says.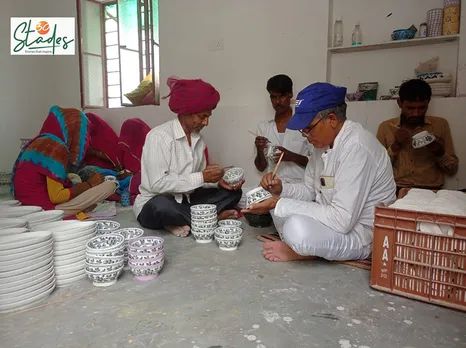 With a fairly high demand for brightly-coloured Blue Pottery items, the average annual earning is about Rs30 lakh. The items include cutlery, dinner sets, trays, bathroom sets, vases, mirrors, door knobs, bells, wine stoppers, and jewellery which is very popular.
Vimal proudly narrates that in 2021 they got the largest-ever order of 45,000 Blue Pottery pieces from a Jaipur-based export house which sold them in the US and the UK.
"That order was for Rs35 lakh and we completed it in four-and-a-half months. Our entire team of artisans in Kot Jewar worked day and night to finish the order," he says.
(Urvashi Dev Rawal is a Jaipur-based journalist specialising in development, gender, and political reporting)
Also Read: Andro: Manipur's ancient village where only married women make pottery