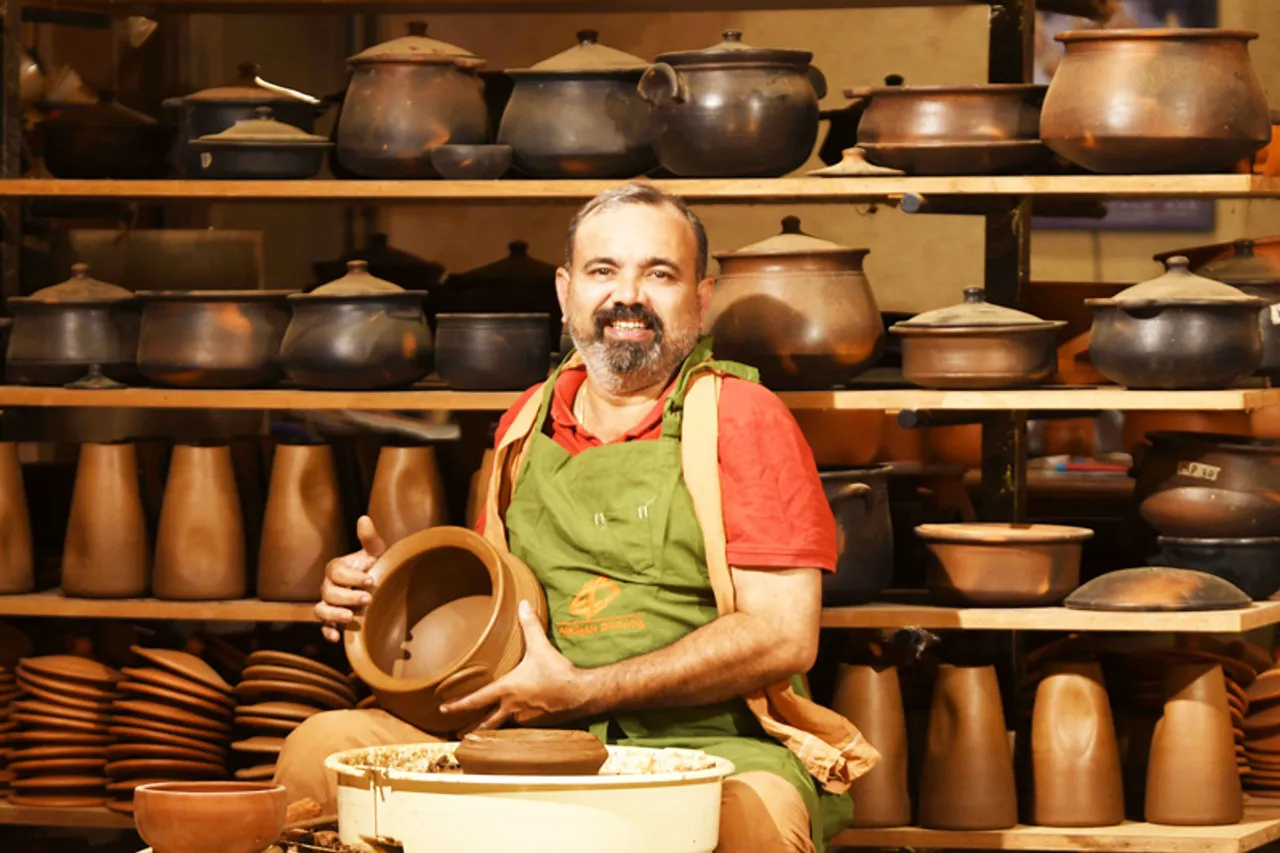 wp:html /
Over four decades back, in the Pookala household in the picturesque Dharmathadka village, about 50km from Mangalore, mornings would begin with the aroma of milk boiling in an earthen pot over a wood-fired chulha (stove). Shrikrishna Bhat Pookala's grandmother prepared all the meals in earthen utensils as they not only added a distinct flavour to the food but also retained nutrients because the dishes were prepared over low heat.
So from setting the curd to preparing curry, Bhat's family used only terracotta utensils in the kitchen. The 'slow movement' of today was a way of life back then in the 1970s and 80s when he was growing up in an agriculturist family.
He went on to graduate in the Fine Arts from the Chitrakala Parishath, Bangalore, in 1994 and then took advanced training in ceramics at the Regional Design and Technical Development Centre.
Also Read: How Nizamabad's 500-year-old black pottery is regaining lost glory
Longing for the slow life
Decades later, after Bhat had established himself as a sought-after muralist, he wanted to return to the life of terracotta pots and slow cooking. But by then, the potters had discontinued making utensils his grandmother used because people had shifted to aluminium and steel. Metals had edged out clay from the kitchens.
"I realised that making terracotta utensils is a dying art as nobody was using them as utensils," he says.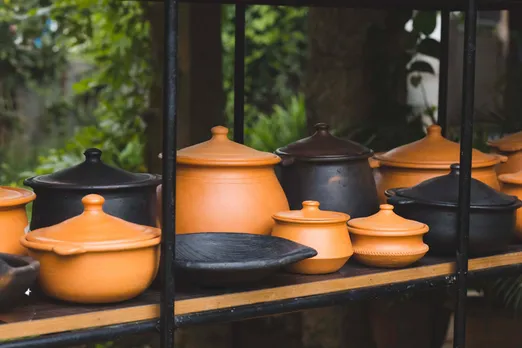 From 1996 to 2015, Bhat had created more than a thousand murals for architects and commercial projects under Bhats Murals, which he continues to make even today. He is among the handful of artists in India who use porcelain as a medium for murals.
But he did not want to restrict his art to a certain section of society. So he started Earthen Browns in 2016. "My idea was to come up with a product that could take art to the common man as well. Reviving the use of clay pots in Indian kitchens is my way of doing it," he says.
Also Read: Zishta: Taking handcrafted homeware from India's 48 craft clusters across the globe
Challenges on the clay route
Earthen Browns' sales are growing at 35 percent annually. But the journey has been fraught with challenges. In the last 20-25 years, most potters have moved away from their family craft following zero demand for terracotta pots. "Only a handful of traditional potters were making kitchen utensils. Most of them had shifted to ceramic and porcelain pots," he says.
This meant that Bhat had to do research on his own before setting up a unit to make eco-friendly and natural pots. "I travelled most of South India to meet old artisans who are a treasure trove of ancient knowledge. I spent time with them to learn from their practical experience, which is more valuable than reading a thousand books," says Bhat.
Also Read: Latticework: How the Persian stone craft moved from Taj Mahal to living rooms for survival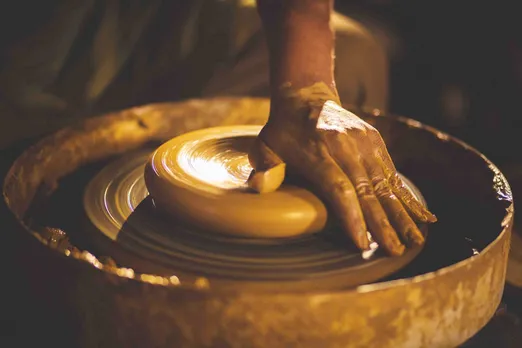 The other challenge was that the pots in the earlier days were designed for use on the firewood chulha. The flame would heat the pot depending on the wind movement but on an LPG gas stove, heat is range bound and is stronger. "Moreover, clay is a bad conductor of heat compared to metals. So ensuring uniform cooking in earthen pots was a challenge," he says.
He overcame these drawbacks by using a combination of black clay and red clay.
Mostly used in the manufacture of ceramics, fire clay withstands more heat compared to red and black clay. "Ultimately, you should create a palette suitable for your requirements," Bhat explains.
Mixing the traditional with the modern
Alongside, he uses an old pottery technique called 'beating the pots' where the bottom portion is beaten by hand and wooden tools to strengthen the clay. "The bottom becomes stronger and thinner than the rest of the pot and helps in faster and more even conduction of heat," he adds.
Also Read: Molela: Rajasthan's terracotta plaque art patronised by Bhil, Mina & Garasiya tribal communities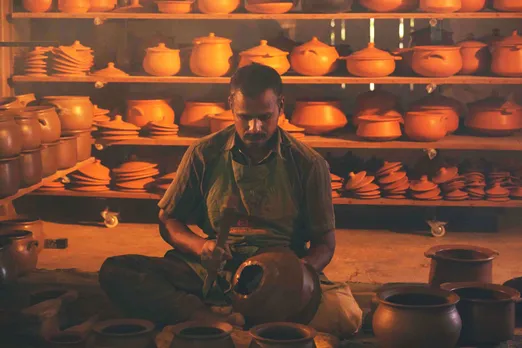 Besides Bhat, the Earthen Browns production team comprises two senior potters and 15 other people who work at the studio-cum-factory. "Some of them are from potter families while others are not. I have trained them in the various processes from selecting clay to packaging the final product," he says.
Firing is a crucial part of pottery. "I am using an electric kiln and LPG for firing to bring accuracy in the process. All our products are fired at 900 degrees Celsius, which is higher than the heat generated in brick or traditional kilns. At this temperature, the pots become stronger and their life is prolonged," he says.
Also Read: Chettinad's masons slowly revive centuries-old lime-egg wall plaster technique
However, poor handling like leaving an empty pot on fire for long can adversely affect its life. "In 99 percent of cases, the utensils don't get damaged while cooking," he points out. 
The business of clay pots
After testing his handmade clay pots with family and friends, Bhat began selling them in the market in 2018. He participates in exhibitions and also sells in shops and hotel chains. The products are available at his studio in Bangalore as well.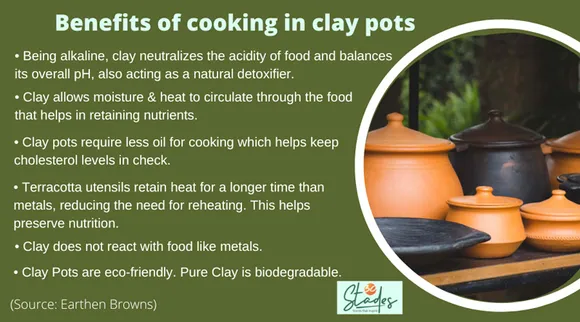 Online, the sales are done through the Earthen Browns portal and also via Etsy – the global marketplace for handcrafted goods. "The most selling are 3 litre and 4-litre pots. We have 100 plus designs on offer in various shapes and sizes," he points out.
From the clay to the pre-sales stage, Earthen Browns' pots undergo multiple tests to ensure that the raw materials, as well as the final products, are free of toxins. "There is a lead and cadmium leaching test. Our products are certified for it for the US and UK," Bhat says.
Also Read: With roots in Indus Valley Civilisation, can Gujarat's Khavda pottery reinvent the wheel?
Earthen Browns offers utensils of two types - red and black. While typical firing results in red pots, another round of firing is done using firewood to make them black. "The smoke is arrested in the furnace at a particular temperature for 48 hours continuously to turn the pots black. The areas which are missed by the smoke accidentally create a blend of red and black shades," he adds.
The process of making clay utensils
The process of making natural clay cookware is a tedious one. It begins with collecting mineral-rich clay from non-contaminated areas. "We mostly source clay from parts of Maharashtra, Mangalore and very little from the outskirts of Bangalore. Some companies also sell clay but we do the lab tests for lead content, contaminants etc. and discard it if we find any traces," he says.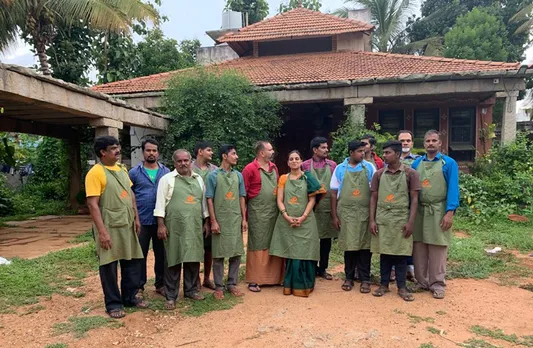 The clay is then dried in sun, powdered, and soaked in water. The slurry is filtered and if more than one variety of clay is used, they are combined at this stage. The slurry is then sundried. "So far, we have not been using any major machines. Handcrafting pottery is laborious and I am considering mechanization of some processes," Bhat says.
The sundried clay is then mixed by feet and hands and kneaded before production starts.
"The next day beating starts and the process continues over three to four days when the pots are at different stages of drying," he says.
Also See: Watch Saima Shafi: Kashmir's engineer-cum-potter reviving the clay craft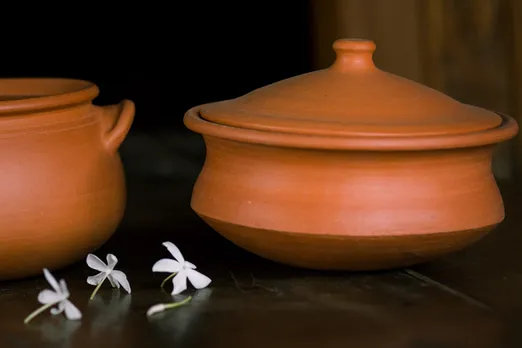 Once the pot gets the final shape, it is dried for five to six days in summers and up to 15 days during the monsoons. After again being put in the sunlight, the pot goes into the kiln where it stays for 48 hours.
But wastage is no deterrent for him. As of now, Bhat's goal is to create more pots, popularize them and help the shift to clay utensils. "I want to create jobs for 500 artisans to continue the traditional art form," he says.
(Rashmi Pratap is a Mumbai-based journalist specialising in business, financial and socio-economic reporting)
Also Read: Blue Tales of Pink City: How Jaipur's GI-tagged Blue Pottery moved from palaces & tombs to living rooms across the world