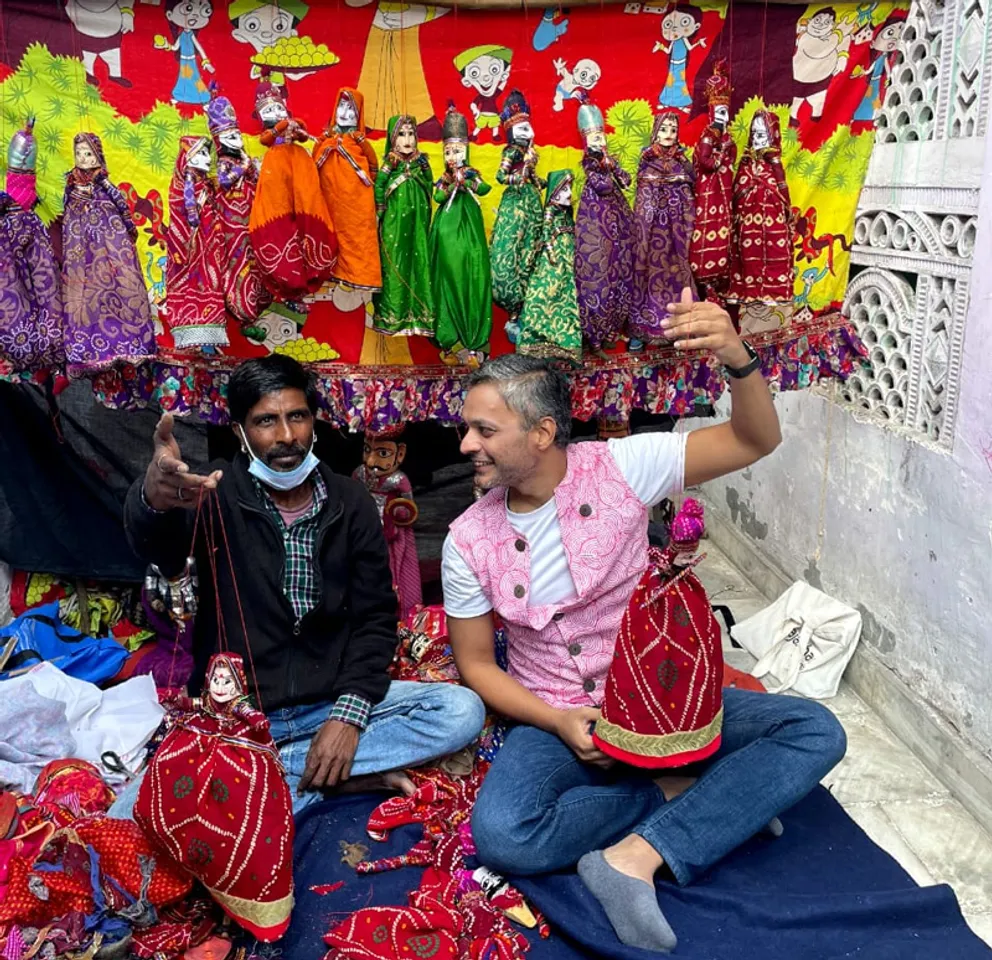 Imagine travelling to Rajasthan, not just to visit the grand forts, palaces, the food trails and shop for colourful outfits and curios but to meet an award-winning artist, visit his workshop, learn his craft and co-create an art piece that you could carry home.
That's what Nisha Hegde did when she travelled from Bengaluru to Jaipur. Apart from the site-seeing and the shopping, she signed up for a Taarkashi masterclass with award-winning artisan Mohan Lal Sharma.
Taar means wire and the technique of inlaying fine flattened wire of brass, copper or silver in wood is called Taarkashi. The geometric or floral patterns to be inlaid are transferred from a paper onto a block of wood. The artisan then carves deep, thin grooves along the trace. Fine wires of brass are placed in the grooves and hammered into position. Buffing is done to give a shine and good finish to the product.
Also Read: Chhapa: How this Gujarat family contemporized hand block printing to revive the dying art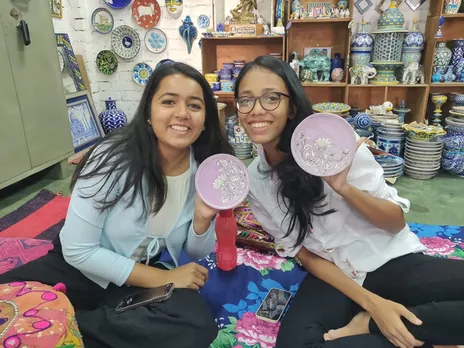 Taarkashi work is done on hand-carved carved boxes, door panels, trays, lamps, chests, decorative elephants, tables, and flower pots. The technique dates back more than 500 years and there are a few families in Jaipur who still practise this art.
For Nisha, the masterclass with Mohan Lal Sharma was an opportunity to partake in an art form that is hundreds of years old.
Experience matters
Increasingly, more and more travellers are going in for such unique experiences rather than the clichéd tourist circuits. Travellers are now big on immersive experiences – dining with locals, trying local dishes, cooking classes, locals-led tours, street art safaris, and wine tasting. And experiential tourism offers all this and more.
"More and more travellers, especially the younger generation, are excited about such experiences," says Kartik Gaggar, the co-founder of Rooftop and Rajasthan Studio - two start-ups that are tapping into this fast-emerging experience economy.
Also Read: Gujarat's Rajiben Vankar: From living in a tent to weaving upcycled plastic, how this housewife set up a successful business from waste
"India with its amazing diversity of flora, fauna, landscapes, ancient culture, architecture, cuisine, visual and performing arts, rich folk art, music, and theatre has a lot to offer in this space," says 32-year-old Kartik who is based in Mumbai.
Rooftop is an online learning platform that offers live art workshops and professionally curated art courses. Rajasthan Studio is an online market platform offering a range of art-based travel experiences with award-winning artisans.
At a time when many of India's ancient arts and crafts are on the verge of extinction, start-ups like Rooftop and Rajasthan Studio could perhaps give them a new lease of life by bringing art lovers from around the world face-to-face with master artisans and an opportunity to learn from them.
Putting it together
Kartik's interest in the experience economy began in 2012 when he and a friend started concept-based walks called Padyatra in Mumbai. It was essentially a learning, leisure and networking opportunity for the participants and it got a good response.
Also Read: India's Mona Lisa: Bani Thani, the high point of Kishangarh School of Art
Kartik, a chartered accountant by training, worked in global consultancies including PricewaterhouseCoopers (PwC) for a few years but he and his wife Swati wanted to invest in the experience economy.
The couple travelled to various countries and immersed themselves in wide-ranging tourism experiences. They met the founders and learned about curating and packaging travel experiences.
"We took 250 experiences around the world and 50 in India. India has so much to offer but there was no platform to bring people from various fields together for different experiences," he says.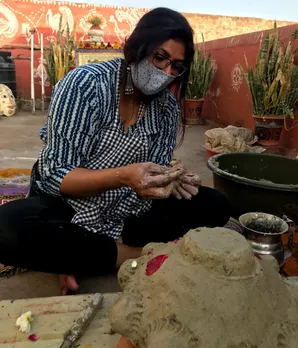 Kartik spent long hours researching the subject. "I found that art was perceived organically on my social media. I think because Indian art is so authentic, yet unexplored … no one has attempted to understand it or take it to a larger scale," he says.
The Rajasthan connection
After travelling across the country, Kartik decided in 2018 to start his entrepreneurial venture in Rajasthan "because it offers so much".
"The hospitality and the variety that Rajasthan offers in terms of topography, landscape, tourist destinations, art and culture is unmatched," he says.
Kartik and his team members in Jaipur created a database of 100 artisans whom they could onboard for offering classes to tourists signing up for the experience.
Rajasthan Studio, launched in March 2019, offers 15 art experiences in three cities of Jaipur, Jodhpur and Udaipur in art forms such as Phad painting, miniature painting, Taarkashi, Meenakari work, Lac work, puppet making, rice writing, Jutti making, metal art ware, blue pottery and paper mache.
A Rajasthan Studio team member assists the participant and accompanies them to the artist's studio where the visitor spends several hours interacting with and learning from the artist.
Read: Rajasthan's Badshah Miyan takes 700-year-old leheriya craft & natural dyes to the world
Rooftop and the online push
Rajasthan Studio was picking up and getting enquiries from travellers keen on curated art experiences when the Covid pandemic hit the world at the beginning of 2020 and brought all activity to a standstill.
As the world adjusted to a new reality, tweaked their lifestyles and took to remote working, Kartik too shifted the focus online. He and his team members buttressed their online presence and created the Rooftop, a platform dedicated to online learning. Rooftop is now the parent company under which Rajasthan Studio operates.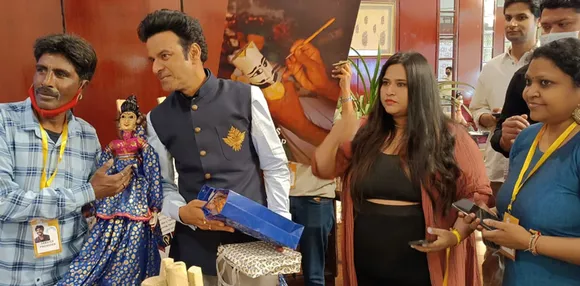 The Rooftop team culled a database of over 3000 artisans across India. "We began conducting interviews of these artists on Instagram and did over 400 interviews. We then did an online festival where artists took workshops in 15 genres like cooking, art, acting, RJ, Mehendi application etc," he says.
Analysis and feedback from the workshops underlined the interest in art. Those who took the art workshops were keen on accessing good content. But there was no ecosystem for learning folk and traditional art. We realised that the opportunity in art is very high and launched art courses," says Kartik.
The team invited artists to join. They were interviewed and vetted so only the best were selected. In August 2021, Rooftop launched 10 folk and traditional art courses. People can register on the Rooftop app, pay and take the classes. 
Apart from art lovers, the Rooftop team tapped corporates to enrol for the courses which helped recover the costs. The artists were paid a fixed amount for the classes.
Also Read: Bengal's 12th-century Patachitra art moves from paper to metals, wood & ceramics to reach global markets
To deliver the courses, the company has built a studio in Jaipur where the course content has been shot and videos uploaded on Rooftop. Rooftop also offers master classes with prominent, award-winning artists. Their videos too have been put online.
Interpreting art is another novel feature that the Rooftop app has introduced. "We have this feature on the app where we showcase different paintings of master artists and are recording their interpretations of their work. They speak about the thought that went behind the painting, why they chose to make it, why they used the colour scheme in the painting, how long it took them and any other thoughts they have to share," says Nehal Rajvanshi, Manager, Art Research.
Also Read: Latticework: How the Persian stone craft moved from Taj Mahal to living rooms for survival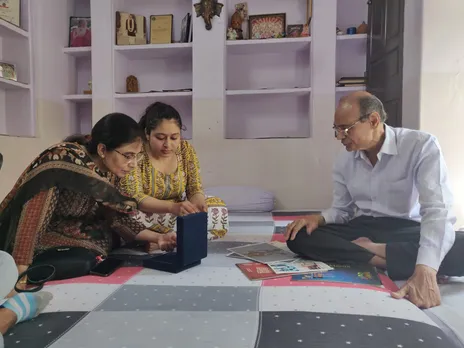 Kartik has been bootstrapping the business so far. "We have invested half a million dollars in the company. The last two quarters we managed to break even," he says.
Kartik won appreciation from Prime Minister Narendra Modi during a live interaction facilitated by Start-Up India, in January 2022 for his recommendations on tourism and travel. The PM liked his recommendations about putting tags on travel experiences so travellers will know that these are must-do experiences in India. He also suggested making India a destination for road trips and easing virtual tourism.
Also Read: Mysuru's Ramsons Bombe Mane: Home to over 10,000 handmade dolls from across India
Another not-for-profit initiative floated under Rajasthan Studio is Athun. "We realised that folk artists need money, No one was doing anything for them. So, we put together this platform Athun, which has curated information about folk artists from Rajasthan and their traditional music instruments many of which are disappearing."
Athun won the Outlook Responsible Tourism for Alternative Livelihoods award for 2020.
Kalyan Joshi, an award winning Phad artist from Bhilwara, has the last word. "Such initiatives are the need of the hour. Folk and traditional arts and crafts are on the decline. We need passionate people like Kartik to come forward with intelligent ideas integrating technology with tradition and to revive, promote and document our ancient arts and crafts," he says.
(Urvashi Dev Rawal is a Jaipur-based journalist specialising in development, gender, and political reporting)
Also Read: How Rangsutra has tapped the skills of rural artisans and turned them into entrepreneurs