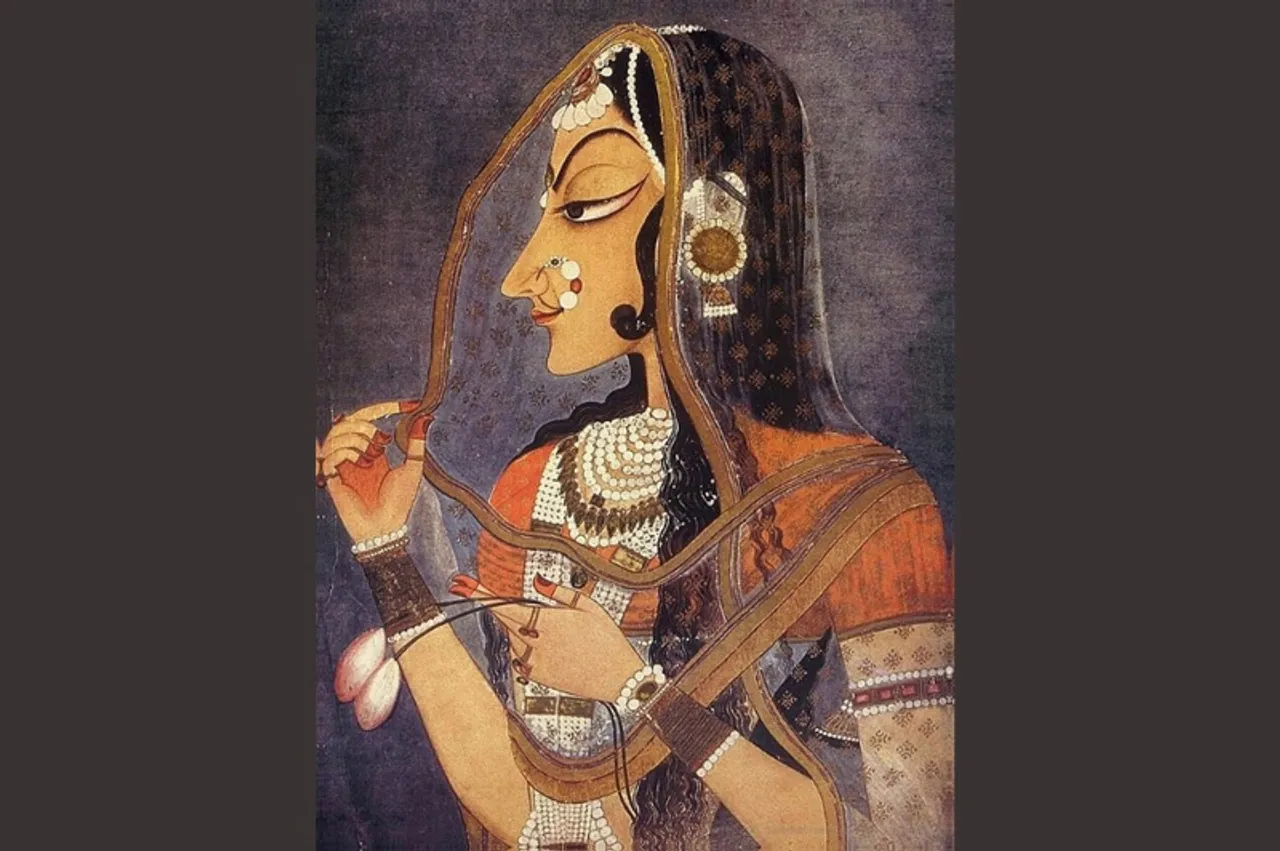 Bani Thani, the iconic beauty and talented consort of King Sawant Singh of Kishangarh, a princely state in central Rajasthan, is considered the epitome of feminine grace and charm and is also referred to as India's Mona Lisa.
Such has been her enduring stature that 200 years after death, the Indian government issued a commemorative postage stamp on Bani Thani. The stamp, released in 1973, refers to the painting as Radha.
It is said the original Bani Thani (which loosely translates as a decked up woman) was sketched by Sawant Singh who handed it over to Nihal Chand, a member of the royal atelier, and asked him to capture her beauty on canvas.
Nihal Chand's face profile of Bani Thani, done on paper, has turned her into an icon of beauty and grace with her arched eyebrows, large, lotus-shaped eyes, sharp nose, and thin lips with a hint of red, pointed chin and long neck. He painstakingly painted details of her dress and adornments, like henna on her palms, nail paint, exquisite jewellery.
Also Read: From Vrindavan to Nathdwara, how an idol's 7-year-journey gave birth to Rajasthan's Pichwai paintings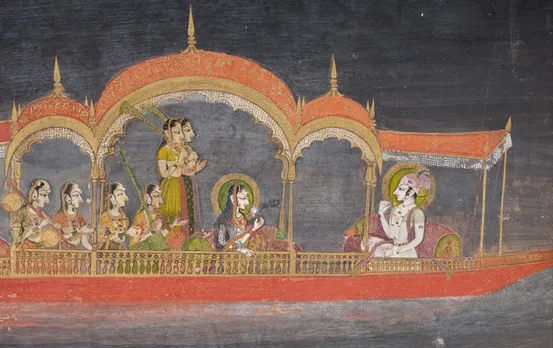 Bani Thani is dressed in a rich orange-coloured choli. Her wispy odhni is bordered with gold. She wears heavy jewellery of gold and pearls and holds a lotus in her left hand. Her lustrous tresses fall over her shoulder with a lock of hair curled over her ear.
More than a love story
But let's start from the beginning.
Sawant Singh was the ruler of Kishangarh from 1748 to 1757. He was known for his bravery as well as his literary prowess. He was a polyglot, wrote poetry under the pen name 'Nagari Das'. He composed many poems in praise of Bani Thani, writes the late artist Dr Sumahendra, a renowned painter of the Kishangarh School.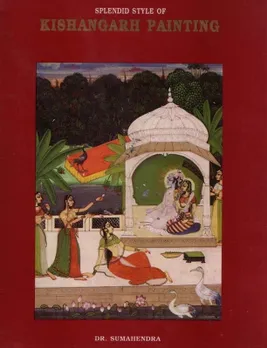 Sumahendra, in his book 'Splendid style of Kishangarh' (published in 1995) has mentioned episodes from Sawant Singh's life. He is said to have killed a cobra that slithered into his clothes with his bare hands. He once engaged in a duel with a man-eater tiger and killed it. He was an expert swordsman and designed his own sword known as the Sawant Shahi sword with a one-inch-thick blade.
But the king was also spiritually inclined and a follower of Saint Vallabhacharya, who founded the Pushti Marg sect of Vaishnavism centered around devotion to Lord Krishna. Many of Sawant Singh's poems reflect his longing to be in Vrindavan.
Bani Thani, whose birth name was Vishnupriya according to some accounts, came to the king's step-mother's retinue from Delhi as a young girl. She was very beautiful and had impeccable taste in clothes and jewellery, notes Sumahendra in his book. She was an accomplished poet and singer and wrote under the pen name Rasik Bihari as she was also a devotee of Krishna. She wrote in Rajasthani and Braj languages.
Also Read: How Kalyan Joshi has made Rajasthan's 1,000-year-old Phad paintings trendy
Observing that she was always well turned out, Nihal Chand is said to have coined the term Bani Thani when Sawant Singh commissioned the painter to make her paintings.  
Nihal Chand was expert in Krishna leela themes. He had done a series of brilliant paintings on Radha and Krishna,  
In their later years, the king gave up his throne and along with Bani Thani, retired to Vrindavan where they lived in solitude and spent time in prayer and meditation. Sawant Singh passed away in 1765 and Bani Thani died the next year. Their cenotaphs were built in Vrindavan.
Kishangarh School of Art
The Kishangarh School of Art flourished in the princely state in the 18th century and reached its peak under painter Nihal Chand, d by Sawant Singh who was himself a literary man, being a poet, painter and polyglot.
Also Read: Cheriyal: How Telangana's centuries-old scroll art continues to educate and entertain even today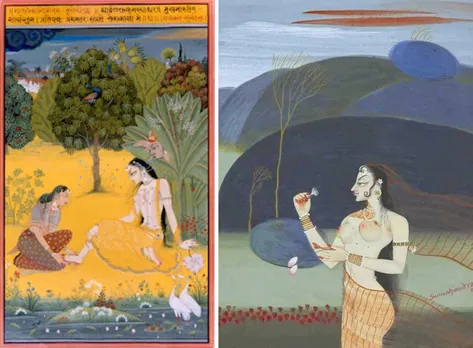 Shringara and Bhakti are two important elements of the Kishangarh style and are especially prominent in Nihal Chand's paintings. Paintings done prior to Nihal Chand were mainly portraits of rulers or panoramic landscapes. They had more influence of the Mughal School of Art.
Nihal Chand's mentor, Bhawani Das, had moved from the Mughal court after its decline to Kishangarh in 1719. This has left a Mughal imprint on the school. Despite that, the Rajput style is distinct from the Mughal one.
The colours are bolder and the treatment of the subjects, dresses landscapes and architecture is more natural. Religious themes are prominent.
Sumahendra writes that the Kishangarh School is marked by elongated stylised features of the figures. Curved eyebrows, lotus shaped eyes half closed with dark fringed lids, thin lips tinged dark red as if from eating betel leaf and black hair in soft waves is left loose on the shoulders.
Kishangarh figures are tall and slim, lean and thin elongated with a slim waist. The males stand erect with chest pushed out. They wear turbans in typical Kishangarh style.
Also See: Holi revelries in traditional Indian paintings
Figures wear heavy embellished jewellery and plush brocades and silk dusted with gold and silver that add to the rich three-dimensional effect of the paintings, says Sumahendra.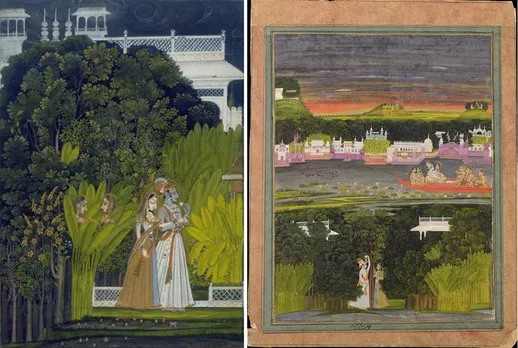 White, yellow and pink are the dominant colours in the paintings though green and red with golden borders are also common.
The paintings depict Krishna leela, stories from the Ramayana and Mahabharata, countryside, forts, lakes, gardens, temples, boat rides, court scenes and hunting scenes. Dense foliage is punctuated with halos of diffused light and contrasting white pavilions. Flowers such as Champa, Chameli, Molsri, Kadamba and Tamala are favoured by the Kishangarh painters, notes Sumahendra.
The landscapes have an air of calmness and wistfulness. Some prominent painters of the Kishangarh school include Nihal Chand's two sons, Sitaram and Badan Singh, Bhawani Das and his son Dalchand, Amar Chand, Meghraj and Kalyan Das.
Reconceptualising Kishangarh
Sumahendra's son Sundip Sumahendra, also an artist, says the traditional Kishangarh School is fast disappearing. However, newer interpretations by younger artists could be the way forward.
"There are several new artists who are working in the Kishangarh style. But only a handful are following the traditional techniques employed by earlier artists of the school," says Sundip.
He says the Bani Thani portrait has been too commercialised. It has been made on all mediums like wood, canvas, marble, cloth, silk, stone and on various items such as mugs, bags, linen but that has not ensured survival for traditional artists.
Also Read: Warli painting: Maharashtra's 10th-century tribal folk art moves from mud walls to modern living rooms
"Unskilled artists have made bad copies or prints of Bani Thani in large quantities. They might be selling but how does that help the artist whose survival depends on art," he says.
Some four-five sheets of paper were stuck together to make it thick. The surface is coated with khadiya or white chalk powder to prepare the base.
The colours were made using natural pigments, flowers, haldi (turmeric) and sindur (vermilion). Neela Thotha or copper sulphate was mixed with the colours to prevent attack from pests. Ground reetha or soap nut was used to give a shine to the painting.
"I feel that if an artist is not following these traditional techniques then they are not being true to the Kishangarh School," says Sundip. His father, Sumahendra, followed the traditional style, working on paper and making his own colours.
He also did a lot of documentation of various Rajasthani schools of painting for the National Museum, Delhi, by making copies of original paintings from the various schools. The artist also designed a course on miniature painting for the Fine Arts department at Punjabi University in Patiala.
Sundip says most fine arts schools today focus on modern art and traditional art is hardly taught anywhere. He feels while the traditional techniques may be dead, the Kishangarh School can survive.
Through his organisation, Kalavritt, he organises miniature painting workshops every year to teach artists the traditional art. "In my miniature workshops, I tell artists to follow the traditional way of drawing the face and figures of the Kishangarh School. After all, Kishangarh is known for the distinctive facial features of the figures," he reasons.
Also Read: Pattachitra: Odisha's Raghurajpur turns hub of recycled art as artisans combine 12th century craft with sustainability
Mukesh Kumawat is an artist of the Kishangarh School. He is largely self-taught, and has learned by watching senior artists, interacting with them, learning the history and techniques of the art form.
The 29-year-old has not stuck entirely to tradition. "I use canvas and oil paints. I have introduced new themes. I keep the background simple unlike the traditional paintings. The faces I make are less stylised," he says.
Apart from canvas, his works can be seen in the Kishangarh town. One painting of Krishna is on display at the Sanwaliya Seth temple in Kishangarh. He has painted wall panels in the town as part of the Smart City project as well as a panel at the Kishangarh Airport.
Also Read: Jharkhand: Saving Khovar and Sohrai arts of 'painted villages'
Mukesh founded the Kishangarh Kala Akademi as an exhibition venue and space for artists and students to attend workshops. "We once did a painting exhibition in a cremation ground as we did not get any venue for the show," says Mukesh, who conducts workshops annually with artists and school students to apprise them of the Kishangarh School of Art.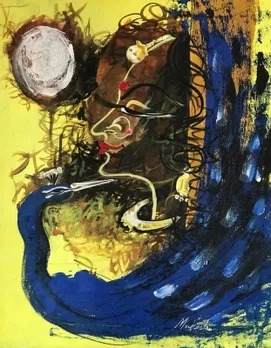 Mukesh feels artists have moved away from the traditional style because that required more effort. Making the paper, the colours, using a fine sable brush meant that the paintings took anywhere between a week to a month to complete.
"Today, the medium, colours are all readily available for a few hundred rupees. The ingredients for the natural colours used to cost Rs800-1500 per kg and from one kg you could obtain only 200 gm of colour," he says.
Why should an artist put in so much effort when the return is only Rs300-400 for a traditional painting," he asks.
"Kings used to patronise artists as they valued their work. Today, people don't value the work. They buy whatever is available at a cheap rate."
The government could have supported artists, he feels, but says the institutions they set up to assist and promote artists are mired in politics and nepotism. Sundip has the last word. "There were 18 schools of Rajasthani art. Many have died out. Kishangarh and other schools of art could survive in a new format," he says hopefully.
(Urvashi Dev Rawal is a Jaipur-based journalist specialising in development, gender, and political reporting)
Also Read: India's 5 tribal painting traditions that go back thousands of years