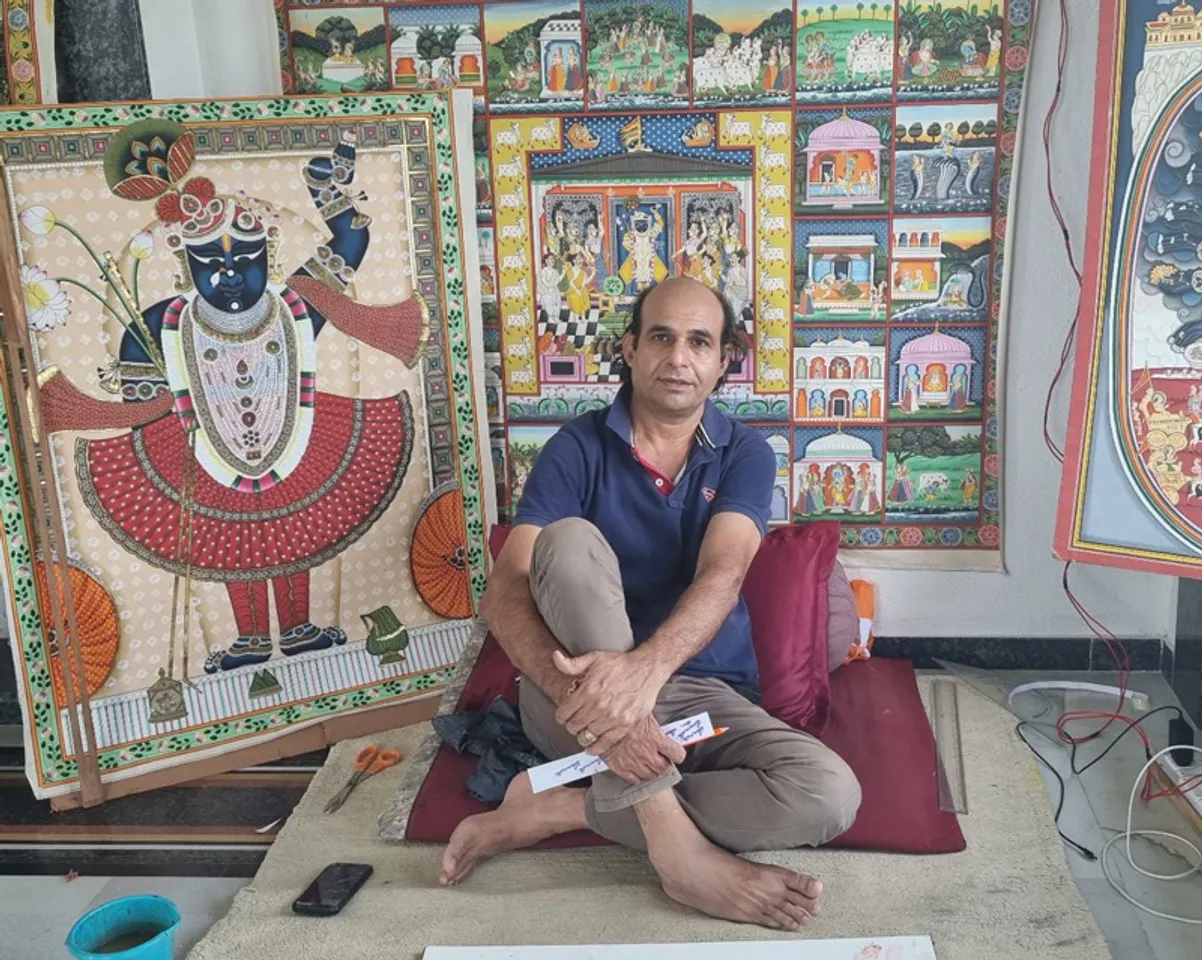 In 1665, an idol of Lord Krishna was brought from Vrindavan, Uttar Pradesh, to Nathdwara in Rajasthan to escape from attacks by the then Mughal emperor Aurangzeb. After seven years of journey and hiding in various places to evade the attack, Lord Shrinathji was placed in a temple in Sihad village, now called Nathdwara, on the banks of river Banas.
This idol of Shrinathji – the child form of Krishna -- ushered in a school of art known as Pichwai paintings that are now highly sought after by connoisseurs across the world.
Pichwai paintings are intricate artworks made on cotton fabric using natural colours. 
These paintings are hung behind the idol of Shrinathji at various festivals like Holi, Teej, Janmashtmi, Nandotsav, Gopashtmi, Govardhan Puja, Rakhi, Annakuta and Diwali.
Also Read: Maharashtra's Chitrakathi painting: keeping alive the legacy of Chhatrapati Shivaji's spies
There are many styles of Pichwai painting that originated in cities from the image of Shrinathji on the journey from Vrindavan to Nathdwara. So there are the Kishangarh, Bundi, Kota, Udaipur, Nathdwara and Deccan styles of painting the Lord. Each differs slightly in the drawing of the figures, the body structure, face cut, shape of eyes, the ornaments and dresses besides the use of motifs. The Deccan style uses gold leaf paste for outlining dresses and ornaments.
Contemporising tradition
Kalyanmal Sahoo is a Pichwai artist from Beawar, about 190 km from Jaipur. Sahoo belongs to a farmers' family but his interest lay in painting. In the 1970s, he learnt the art under a philanthropist. This philanthropist used to get teachers to coach young unemployed men and also paid them to paint.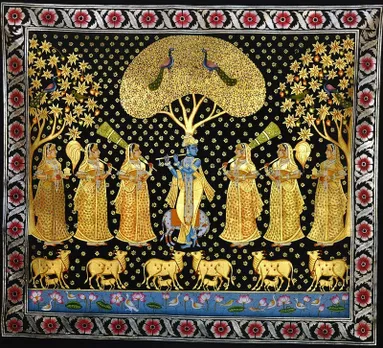 Kalyanmal emerged from a novice to a master, winning the national award for Pichwai in 2011. Three of his paintings adorn the walls of the Rashtrapati Bhawan and he also sold a Pichwai to the brother of the Dalai Lama.
"The Pichwai showed Krishna and Radha on a boat ride. I depicted that this world is like the sea and humans are like a boat. Just like the boat is buffeted by winds and waves in the sea, our life too is full of tribulations. But just like the boat reaches the shore, we too should face difficulties and steer our path towards God. In the painting, Krishna is the playful mind while Radha depicts the steadfast soul who is focused only on Krishna," he says.
Also Read: Pithora art: How Jhabua's Bhuri Bai broke centuries-old taboos with a brush & colours
So, there is spirituality and philosophy too behind the paintings, believes Kalyanmal. "If the painter is not well-versed with the scriptures or the mythology, how will he express these on canvas? How will he be able to explain what he has created?" he asks.
Kalyanmal says Pichwai has gained popularity and is more in demand than Phad or miniatures. He sells through exhibitions and also on order. On average, he earns Rs6-7 lakh annually. He gets orders not only from India but also from the US, UK, Germany and France.
During the Coronavirus pandemic, he made Pichwais that depicted the havoc caused – the suffering of the patients, the healing hands of the doctors and health workers.
"God is someone who protects us. So we made the deity with masks, sprays and sanitisers in his hands to show that he protected us through these aids."
Also Read: Pattachitra: Odisha's Raghurajpur turns hub of recycled art as artisans combine 12th century craft with sustainability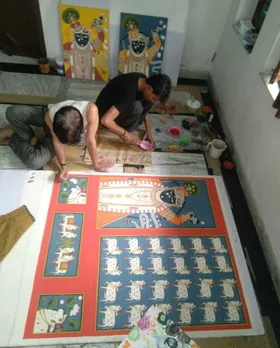 Dinesh Soni is a third-generation Pichwai artist from Bhilwara. He learnt the art from his grandfather, Badrilal Chitrakar and his father Prabhulal, both award-winning artists. Dinesh and his extended family are keeping alive the Pichwai tradition.
Dinesh, 48, says Pichawai has seen a revival in the last 20 years due to awareness and change in the mindset towards art. "With the interest of art curators, collectors and the general public towards buying art, it has seen a revival," he says. However, many artists are now doing Pichwai, which has led to a decline in the quality," says Dinesh who won the national award in traditional Pichwai painting for 2018.
Kuldeepak Soni, Dinesh's cousin, says artists have taken some liberty with the subject matter as all clients do not want traditional subjects such as Krishna with gopis or celebrating festivals.
Also Read: How Kalyan Joshi has made Rajasthan's 1,000-year-old Phad paintings trendy
He says some clients, especially from the south, want images of their own deities or Ganesha instead of Krishna. "We make the paintings as per the demands of the clients, depicting the deity or flora and fauna or landscapes. But we try not to alter it too much so that the essence of a Pichwai remains," says Kuldeepak.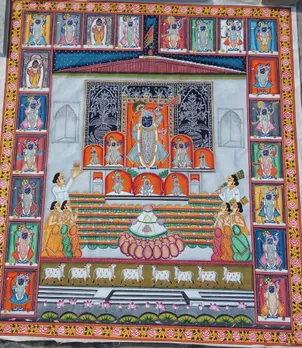 Pichwai paintings are readily available online but Dinesh cautions that buyers often end up being conned. Dealers who sell online get Pichwai made from unqualified artists who make the paintings on canvas, paper, wood and these are passed off as Pichwai.
Dinesh rarely participates in exhibitions and his sales come mainly from word-of-mouth publicity. He creates his own paintings as well as artworks on request.
Also Read: Raza centenary: Celebrating artist Raza's love for art, music & literature
Kuldeepak, on the other hand, showcases his art in various exhibitions across the country. "I participate in five to six exhibitions in a year. If I exhibit 20 paintings, I manage to sell five or six. But I also have tie-ups with architects who commission paintings for their projects. We also get orders from corporates or people who want to gift paintings at festivals or weddings," says Kuldeepak, who earns a tidy Rs12-15 lakh per annum.
Krishna connection
Lord Krishna is one of the most popular gods from the Hindu pantheon. The stories associated with Krishna have long captivated people and artists alike. Krishna's life has found expression in different art forms – Pichwai, Kishangarh, Tanjore and miniature paintings from different states.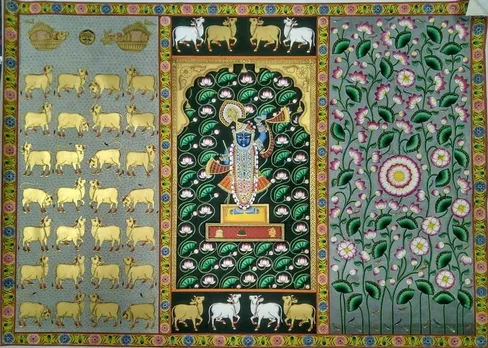 The Pichwai paintings revolve around events from the life of Krishna – the Lord being carried across the Yamuna by his father Vasudev, Krishna protecting the villagers from heavy rains under Govardhan hill, which he lifted on his finger, Krishna playing the flute or enjoying Holi with the gopis.
Apart from the representation of Krishna, images of flora and fauna, different seasons, landscapes, boat rides, festivities in gardens, flowers, cows and peacocks find a place in the paintings.
Sahoo says in the past, Pichwais measured 8 feet or 12 feet so they could be seen from afar. Bright colours such as yellow and gold were used so they could be seen in the light of the lamps.
The process of making Pichwai paintings
Pichwais are made on plain cotton cloth using natural colours. In the past, Pichwais have been made with embroideries like Ari Tari, Kashidakari and Zardozi using silk threads.
Also Read: Cheriyal: How Telangana's centuries-old scroll art continues to educate and entertain even today
But nowadays cotton cloth is used. The cloth is first washed to remove chemicals. Then a paste of wheat flour mixed with water is applied to the cloth to starch it.
The cloth is rubbed with soapstone till it is smooth. Sketching is done on the cloth using a pencil and a fine brush. The background is filled first with colours. After that, the shading work is done. Then the dresses of the figures are coloured followed by their faces.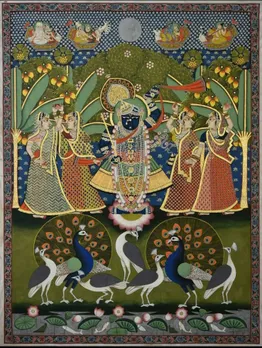 To finish off, ornamentation work is done using gold and silver ink and stones and finishing touches are applied to the faces. The colours used are all-natural and pigment-based.
The blue colour is derived from indigo and white is obtained by mixing zinc oxide powder with water, gum and khadiya or soapstone. Yellow is made from a pigment called piyawadi to which some zinc oxide and gum are added.
Also Read: Blue Tales of Pink City: How Jaipur's GI-tagged Blue Pottery moved from palaces & tombs to living rooms across the world
Silver is derived from a type of metal called katif or from silver warq (extremely fine silver sheets) and gold is derived from warq which is ground finely and mixed with gum. Black is obtained from homemade kajal or kohl mixed with gum for binding.
The Vaishnava tradition
Nathdwara is sacred to followers of the Vaishnava tradition, especially of the Pushti Margi sect that was founded by saint Vallabhacharya. It is believed that Vithalnath, the son of Vallabhacharya, established the worship of Shrinathji.
The idol of Shrinathji is carved out of black stone and depicts Krishna aged seven years, symbolically lifting the Govardhan Parvat (hill) with his left hand while his right hand rests on his waist.
The story of how the idol of Shrinathji got to Nathdwara is interesting. Local legend has it that the idol was originally installed in a temple in Vrindavan.
Vallabhacharya first took shelter in Kishangarh but the local king was afraid of reprisal from Mughal ruler Aurangzeb and sent them away. They travelled to Bundi, Kota, Udaipur and eventually settled in Nathdwara in 1672.
Pichwai styles have developed in all these places with differences in the details such as the shape of the face, eyes, body structure, the drape of garments and the embellishments.
Also Read: Latticework: How the Persian stone craft moved from Taj Mahal to living rooms for survival
The temple was established in a haveli and the town came to be known as Nathdwara (doorway to the lord). Various professionals such as potters, artisans, weavers, carpenters, silversmiths, cooks, settled in the town and it gradually emerged as one of the prominent pilgrim towns.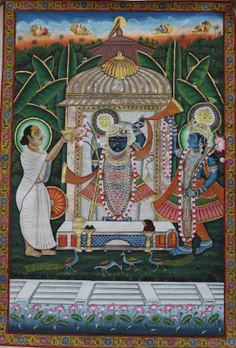 Initially, the Pichwai paintings were made on the walls of houses of the priests or Gosain and walls of the Shrinathji haveli. Slowly the paintings moved out of the temple to the streets and evolved into a school of art that is today much sought after.
Future tense
Despite the revival that Pichwai has seen, the future remains uncertain. Both Kalyanmal and Dinesh feel the government should take an active role in the promotion and preservation of Pichwai.
Their concern is that the younger generation is not taking interest in the art form. They feel youngsters are discouraged by the devotion, diligence and patience required to learn the art.
Kalyanmal has been taking workshops in educational institutions such as IITs and art colleges as well as in museums and for SPIC MACAY to familiarise younger generations with Pichwai.
"The government should introduce Pichwai in schools and colleges to make youngsters aware about it. When they know about Pichwai, those who are interested can promote it and take it forward," he says.
(Urvashi Dev Rawal is a Jaipur-based journalist specialising in development, gender, and political reporting)
Also Read: Warli painting: Maharashtra's 10th-century tribal folk art moves from mud walls to modern living rooms