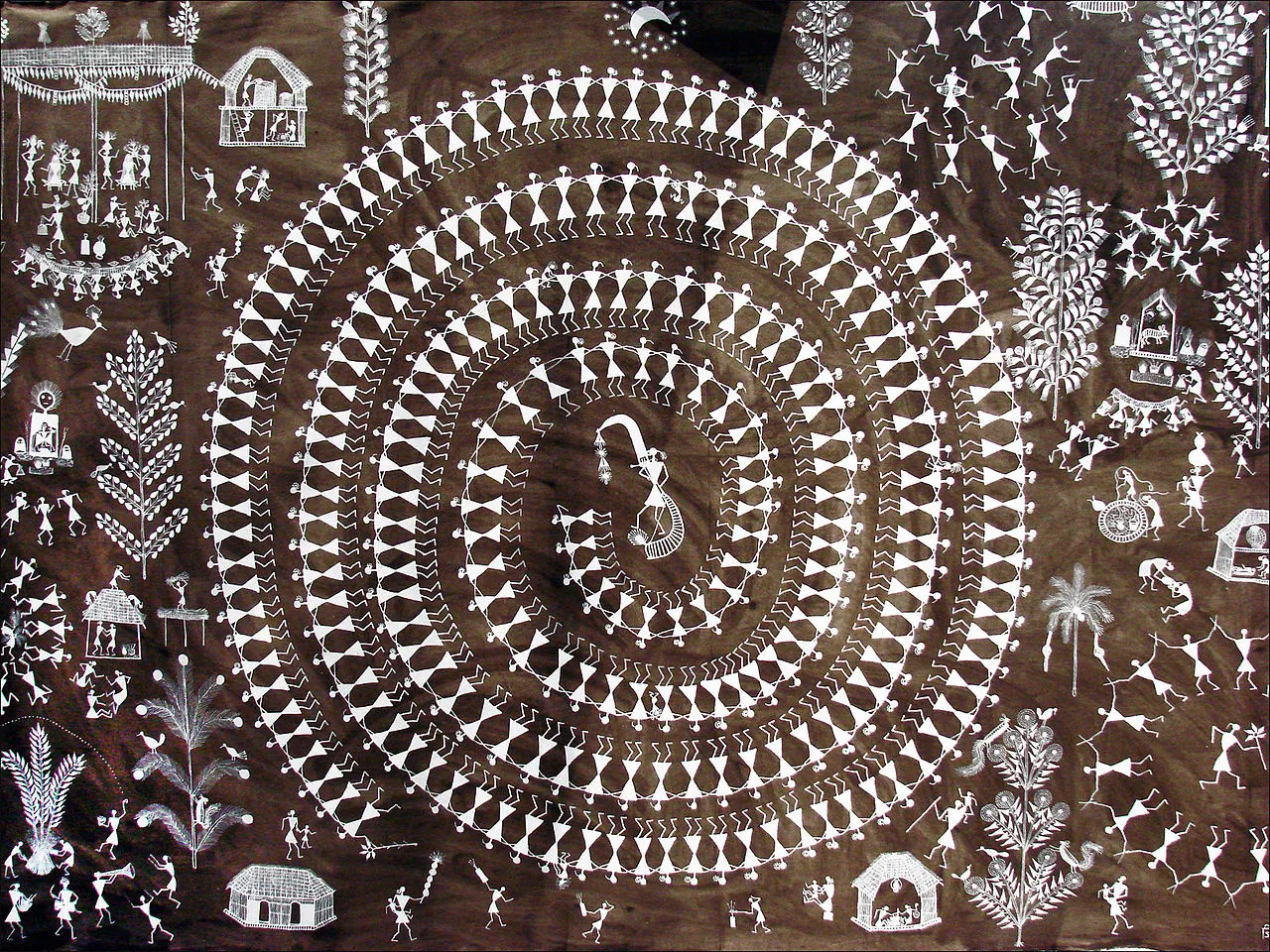 Warli painting is a tribal folk art of Maharashtra characterized by simplicity of design and depiction of the daily life of the Warli Adivasi community. Said to be over a thousand years old, the paintings were traditionally made only by women of the Warli tribe who inhabit the northern Sahyadri Range on the outskirts of Mumbai.
These paintings were earlier done on a mud base using only white colour made from rice flour.
Sometimes, dots in red and yellow were also added to the paintings. With time, however, other colours also began to be used and the canvas moved beyond mud walls to wood, metals, ceramic, terracotta, paper and fabrics. The fabric is prepared by giving it a light wash with dung or red earth and then painting is done.
Also Read: Maharashtra's Chitrakathi painting: keeping alive the legacy of Chhatrapati Shivaji's spies
Warli paintings as well as artefacts painted with the art have become popular both within India and abroad. Many people outside the Warli community are now learning the art due to its growing popularity and demand.
The art & its past
While there is no proof of the origin of Warli paintings, they are said to have been first made in the 10th century on walls of houses of Warli tribe members.
Now, men have also started making Warli paintings. The credit for popularising Warli art outside Maharashtra goes to artist Jivya Soma Mashe, who received the Padma Shri in 2011. He began making Warli paintings daily, not restricting them to occasions and rituals. He also started to paint on canvas, freeing the beautiful art from the restrictions of mud.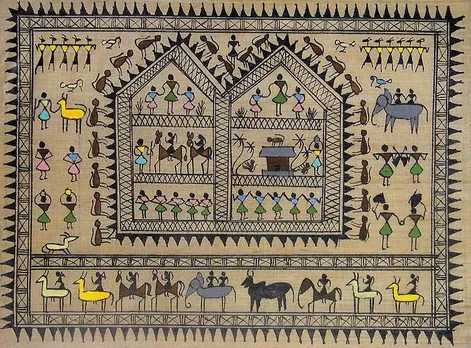 Unlike most other folk paintings of India, which draw heavily from religious texts, epics Mahabharata and Ramayana, and deities, Warli art focuses on the social life of the tribe. So the Warli paintings depict scenes of fishing, farming, harvesting, hunting, the celebration of festivals, dances, trees and animals. 
Also Read: Pithora art: How Jhabua's Bhuri Bai broke centuries-old taboos with a brush & colours
While the circle is symbolic of the sun and the moon, the triangle represents mountains and trees, and the square denotes a piece of land.
Humans and animals are represented by two triangles joined at the tip, and simple lines are used to depict arms and legs. A circle represents the head. Triangles, circles and squares are also used to create other elements of the scenery like huts, well and trees. The paintings resemble pre-historic cave paintings.
Also Read: Pattachitra: Odisha's Raghurajpur turns hub of recycled art as artisans combine 12th century craft with sustainability
It's not surprising that the Warlis have been able to maintain the original cave-style of paintings. Despite living near Mumbai, the tribe has not adopted a modern lifestyle and follows its traditions and rituals. This has helped preserve the originality of the Warli art as well. 
The art has now found global patrons and pieces are sold internationally through online art stores and directly by some artists. Here are some Warli paintings: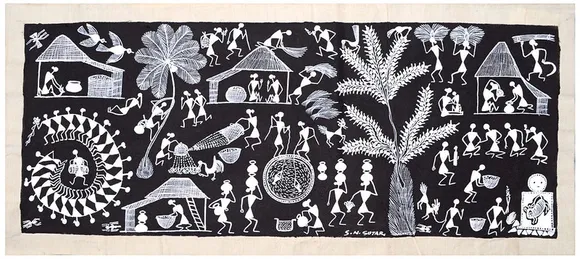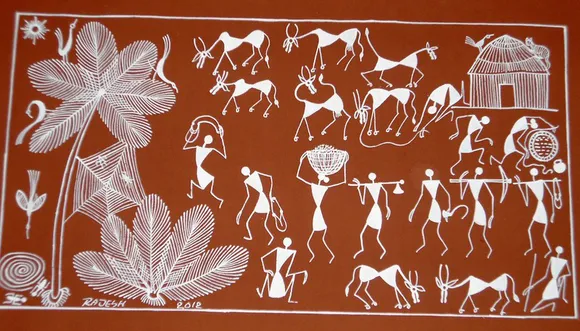 Also Read: How Kalyan Joshi has made Rajasthan's 1,000-year-old Phad paintings trendy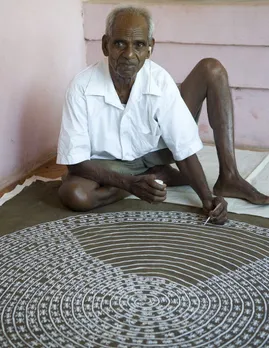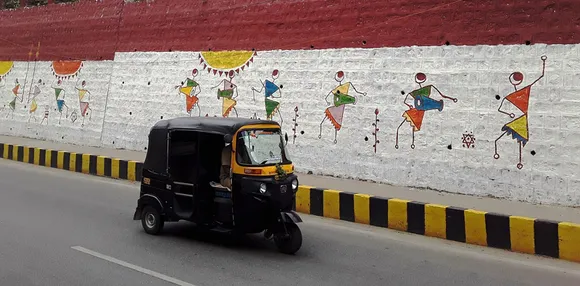 Also Read: Raza centenary: Celebrating artist Raza's love for art, music & literature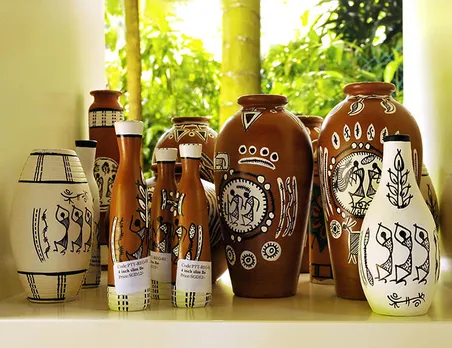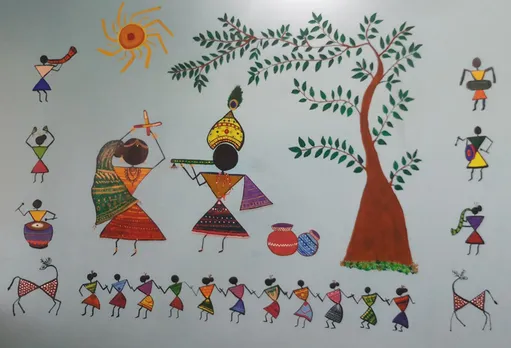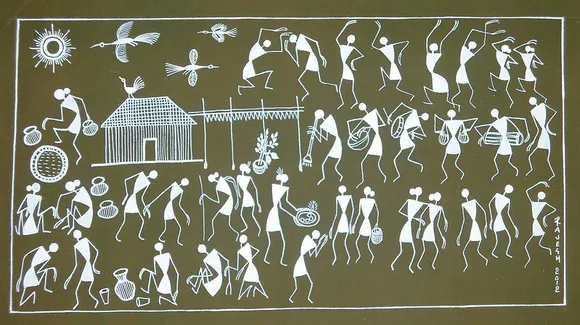 Also Read: Cheriyal: How Telangana's centuries-old scroll art continues to educate and entertain even today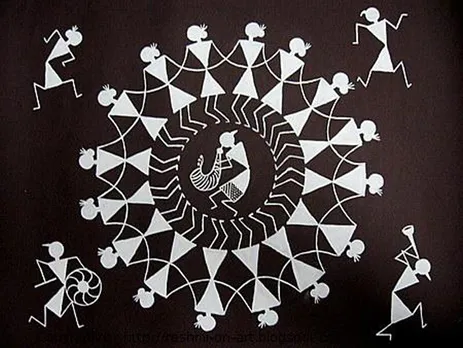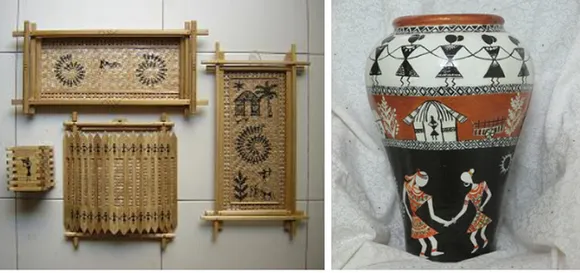 Also See: Images: From Covid to elections & mythology to water conservation, the vast canvas of Phad paintings