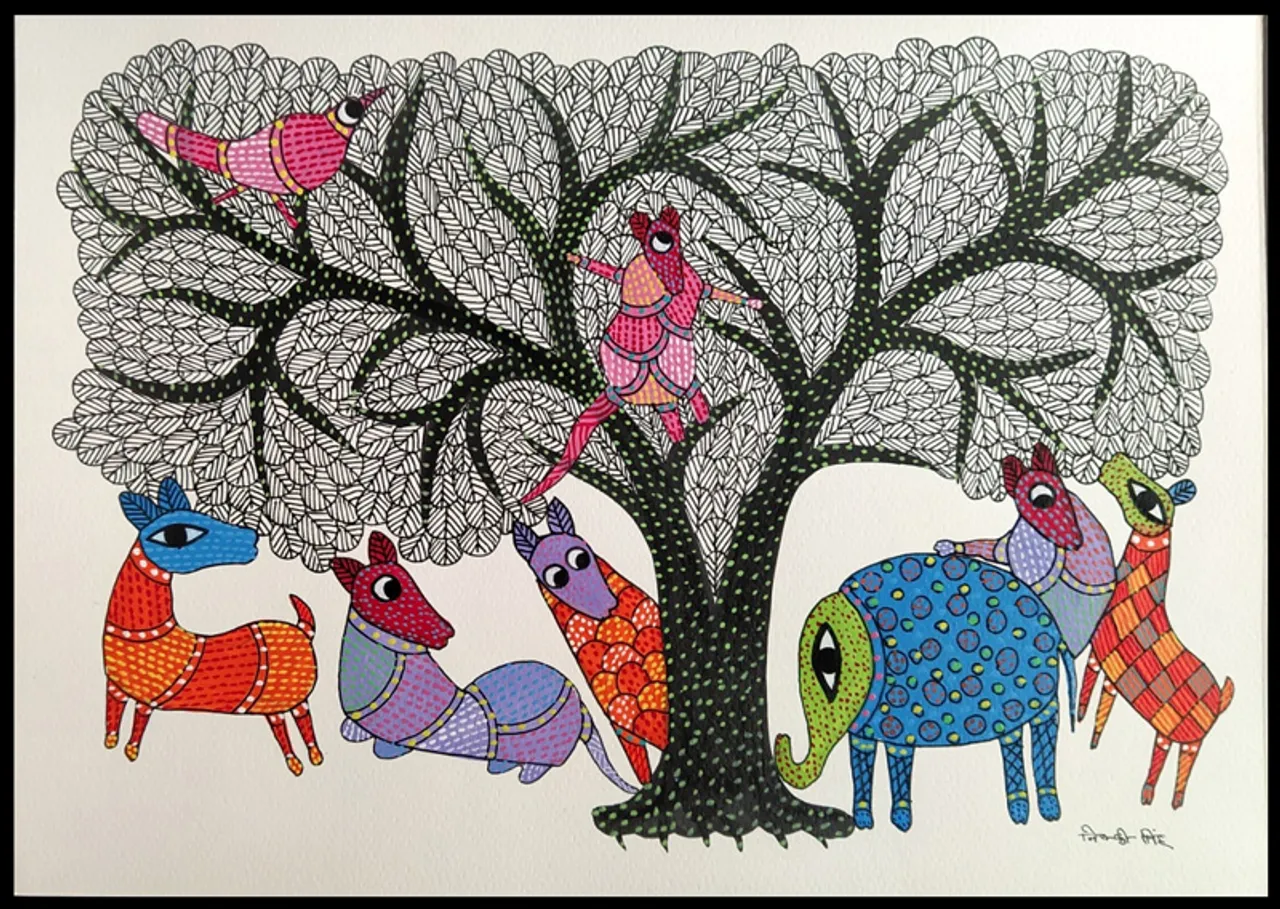 Indian art and culture are enriched by its tribal people who have traditionally inhabited the forests, hills and deserts of this vast country. As per the 2011 Census, there are 10.34 crore tribal people in India and they constitute 8.6 percent of the country's total population.
More than half of them live in the eight states of Madhya Pradesh, Chhattisgarh, Jharkhand, Odisha, Andhra Pradesh, Maharashtra, Rajasthan and Gujarat. The rest of the population is concentrated in the North-Eastern states.
There are about 550 tribes in India. The social, cultural practices and religious beliefs of tribals set them apart from other communities.
Most of their art forms are intrinsically linked with nature as they revere it in every form – as forests, the Sun, the Earth, water bodies, animals and trees. This feature is predominant in tribal paintings as well.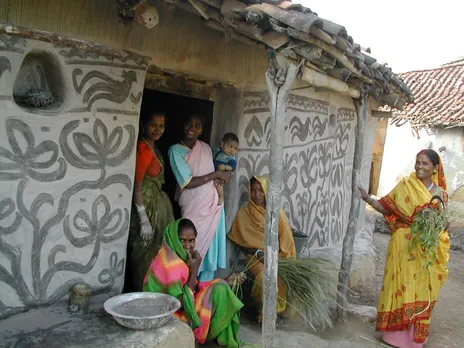 Traditionally, the colours were natural and limited to white on earthen red or brown background. That was another way of drawing upon nature, to celebrate nature and promote its conservation. Today, tribal artists are using vibrant colours that have widened the canvas of tribal paintings.
These paintings are sold globally and have put India's tribal people on the international map. The government is also promoting these artists through national and international exhibitions and awards to preserve Indian heritage. Here are five tribal painting forms that can enliven any space:
1. Warli Paintings of Maharashtra: Warli painting is tribal folk art that stands out for the simplicity of design and depiction of the daily life of the Warli Adivasi community. The art form is believed to be over a thousand years old. The paintings were traditionally made only by women of the Warli tribe who inhabit the northern Sahyadri Range on the outskirts of Mumbai.
They were earlier done on a mud base using only white colour made from rice flour. Mostly the walls were smoothened with cow dung and mud, and rice flour was mixed with water to paint with bamboo sticks.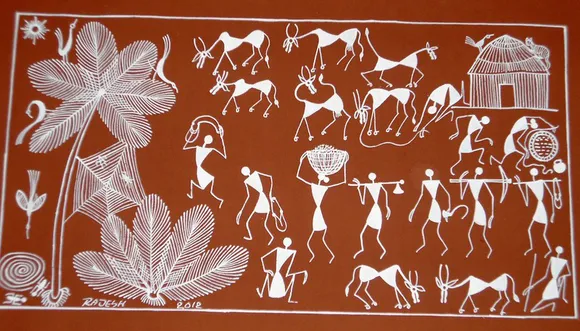 Today other colours are also used and the paintings are done on wood, metals, ceramic, terracotta, paper and fabrics. The fabric is prepared by giving it a light wash with dung or red earth and then the painting is done.
More here: Warli painting: Maharashtra's 10th-century tribal folk art moves from mud walls to modern living rooms
2. Pithora Paintings of Madhya Pradesh & Gujarat: Practiced by the Bhil and Rathwa tribes, Pithora art is dedicated to the tribes' chief deity – Pithora baba.
Decorating the walls with this art, called Pithora paintings, brings good luck to the home. Bhils (also called Bhilalas) and Rathwas worship Pithora Baba to get rid of debt, for a bumper crop, to get cured of a disease and just about anything they want. Once a wish is fulfilled, they organise a small religious ceremony and make another painting on a wall.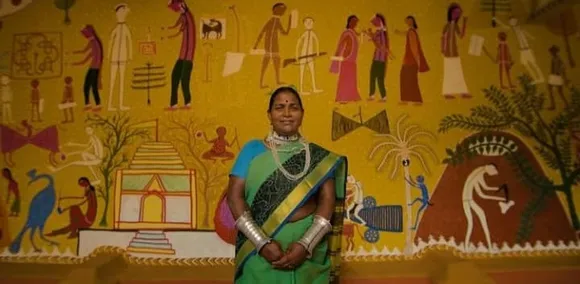 But now, the paintings are done by both men and women. Traditionally, natural colours were made using leaves, flowers, and henna and painting was done on the walls during festivals and celebrations.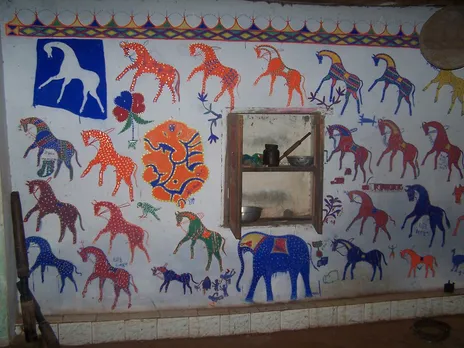 Tribal artists also paint pictures of animals, birds and people in vivid colours as per their imagination. The paintings are unique and no two paintings are ever the same.
Read More: Pithora art: How Jhabua's Bhuri Bai broke centuries-old taboos with a brush & colours
3. Khovar and Sohrai paintings of Jharkhand: The walls of mud houses serve as canvasses for traditional Khovar and Sohrai arts belonging to ethnic communities of the Hazaribagh district. The paintings are similar to the rock art dating back to 10000 BC that was discovered in 1993, in the ancient caves of Isco, a village in the Hazaribagh district.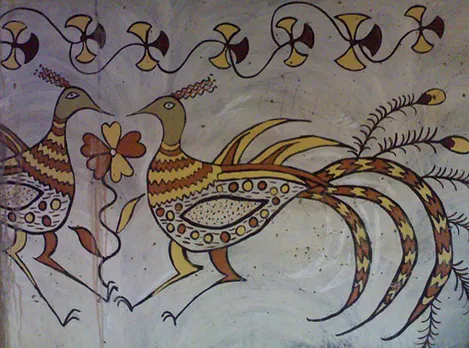 Black signifies a woman's world and white, the ashes of the ancestors, besides recognising the man's role in procreation.
The colourful Sohrai paintings are made when the communities celebrate their harvest season. For them painting Sohrai is a thanks-giving ritual.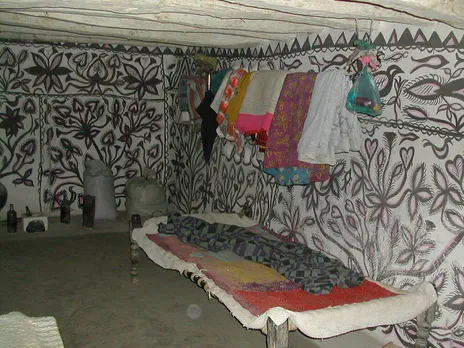 As in all tribal arts, Sohrai and Khovar paintings show peacock and mongoose fighting with a snake, birds feeding their chicks and suckling fawns. There are also birds and animals of Hazaribagh's forests – like nilgai, elephant, hog deer, Bengal florican and wire-tailed swallow. Rivers, trees and fish are other recurring motifs.
Sohrai is done using the chewed twigs of the sal tree or cloth swabs, while Khovar is done with a bamboo comb or fingers.
Read more: Jharkhand: Saving Khovar and Sohrai arts of 'painted villages'
4. Saura tribal paintings of Odisha: As the name suggests, these paintings are made by the Saura tribals who inhabit the Rayagada, Ganjam, Gajapati and Koraput districts of south Odisha. Sauras are among the most ancient tribes in India and are even mentioned in the epics Ramayana and Mahabharata. Lord Rama's devotee Shabari in the Ramayana and Jara, the hunter who mortally wounded Krishna with an arrow, are said to have been members of this tribe.
These paintings depict folklore and have religious importance. Horses, elephants, humans, the sun, the moon and the tree of life are widely used motifs, underlining the importance of nature.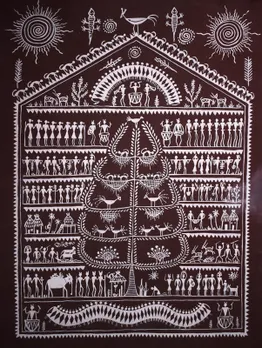 Saura paintings were originally made on the walls of their huts. The background is prepared from red or yellow ochre earth and paintings are done by using tender bamboo shoots as brushes. Natural colours are made using ground white stone, vermilion and mixtures of tamarind seed, flowers and leaves etc.
Ikons are worshipped during special occasions such as childbirth, harvest, marriage and the construction of a new house.
Also Read: How Sarna is showcasing Odisha's best-kept secrets through its artisans & indigenous communities
5. Gond paintings: Gond people are a Dravidian ethnolinguistic group spread over Madhya Pradesh, Uttar Pradesh, Telangana, Maharashtra, Andhra Pradesh, Chhattisgarh, Bihar and Odisha. The word Gond comes from the Dravidian word Kond, meaning 'the green mountain'.
While the history of the Gond people goes back about 1400 years, various cave paintings suggest that their ancestors began practising the art in the Mesolithic Period.
Also Read: This IITian quit job to revive ecofriendly handwoven dhurries; brings artisans back to the 2000-year-old craft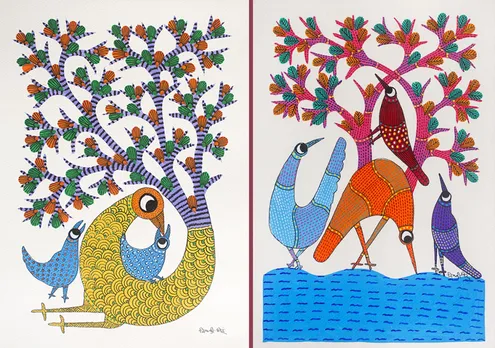 With changing times, the paintings now also showcase the daily lives of the tribal people, mythological tales and other social issues. The paintings are coloured using natural pigments derived from charcoal, soil, leaves and flowers. Reddish-brown is obtained from geru mitti while red is obtained from the hibiscus flower. Gond people have also been using these paintings to record their history.
(Picture featured at the top of this page is courtesy of Kalavilasa, an NGO working with Gond tribal artists and weavers of panja dhurries. Painting by Nikki Singh)
Also See: Images: From Covid to elections & mythology to water conservation, the vast canvas of Phad paintings