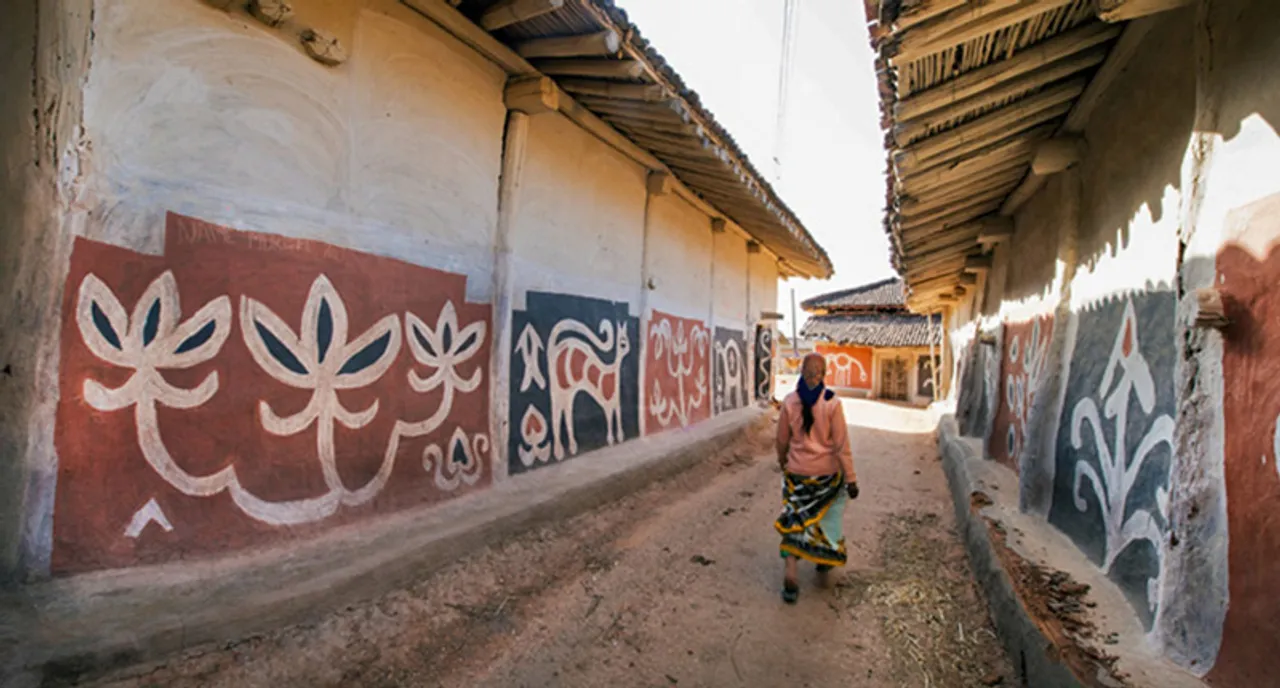 The expression, "If these walls could talk," takes on a new meaning in Jharkhand, where the homes are painted with ancient motifs, attracting hundreds of tourists every year. The walls of mud houses serve as canvasses for traditional Khovar and Sohrai arts belonging to ethnic communities of the Hazaribagh district. The 100 or so "painted villages" attract tourists in droves.
But it was not always so. This art was fading away until a chance finding of a similar ancient cave painting. 
Now the art not only has international recognition, but is being documented and fused with modern design thanks to art conservators Justin and Alka Imam. 
Searching for the lost art and its artists
Accompanying his father to rock shelter sites and helping him in his research on Hazaribagh's folk arts, Justin Imam naturally got interested in heritage. As there were only a few women continuing the Khovar and Sohrai painting tradition, Justin decided to help them revive the art. When he got married, his wife Alka too joined him.
Also Read: From Vrindavan to Nathdwara, how an idol's 7-year-journey gave birth to Rajasthan's Pichwai paintings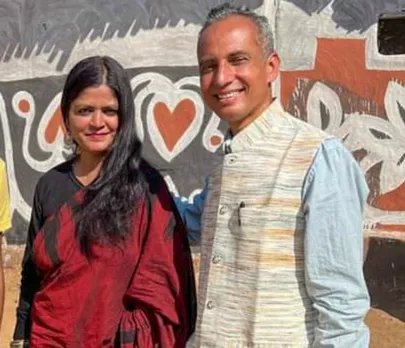 "In the early years we'd load our car with earth colours and scour the villages to identify women still practising the arts. We'd gift them the colours and motivate them to keep their art alive," Alka Imam told Village Square.
Murals adorn mud walls
The women of Munda, Santal, Oraon, Agaria, Birhor, Kurmi, Prajapati, Ghatwal and Ganju communities painted their walls with Khovar art in black and white during the wedding season. 
The art that begins in the bridal room continues through the courtyard and to the external walls. And it's with colourful Sohrai art that the communities celebrate their harvest season. For them painting Sohrai is a thanks-giving ritual. 
Also Read: Maharashtra's Chitrakathi painting: keeping alive the legacy of Chhatrapati Shivaji's spies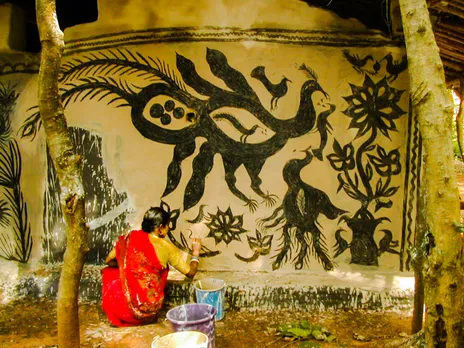 Plastering the walls with clay, the women draw images depicting nature with which they live in harmony. "After the monsoon they repair and re-plaster the walls and rooms with cow dung, husk and earth, readying them for their art," Justin Imam told Village Square.
The colours are also locally-sourced clay – manganese black, red oxide, kaolin white and ochre.  
Also Read: Pithora art: How Jhabua's Bhuri Bai broke centuries-old taboos with a brush & colours
The delightful paintings show peacock and mongoose fighting with a snake, birds feeding their chicks and suckling fawns. There are also birds and animals of Hazaribagh's forests – like nilgai, elephant, hog deer, Bengal florican and wire-tailed swallow. Rivers, trees and fish are other recurring motifs.
And what are the women's painting tools?
Fading tribal mural art 
The women hand down their art through generations.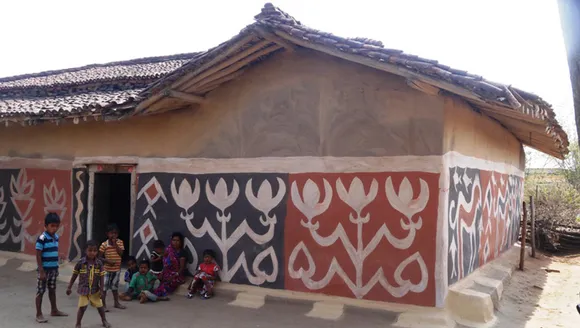 "I picked up the basics by watching my mother. After my marriage, I learnt more from my mother-in-law," said Malo Devi Mahato of Jorakath village.  
However, the number of women painting the Khovar and Sohrai arts had been declining over the years as the tribes switched from mud to cement to build their houses. Plus young girls were reluctant to carry on tribal traditions. Migration for work and displacement of settlements for mining made the art disappear gradually. 
Khovar and Sohrai – Jharkhand's enduring prehistoric art
Rock art dating back to 10000 BC was discovered in 1993, in the ancient caves of Isco, a village in the Hazaribagh district. The caves are believed to have been used as bridal chambers.
Also Read: Pattachitra: Odisha's Raghurajpur turns hub of recycled art as artisans combine 12th century craft with sustainability
Experts saw striking similarities between the ancient Isco art and the Khovar and Sohrai arts of Hazaribagh's ethnic communities.
Even the name indicated the connection as kho means cave and var means newlyweds. And the Sohrai art has its significance too. Soh means to drive away and rai means a stick, denoting the early domestication of animals for agriculture and accumulation of wealth.
Bringing Khovar and Sohrai arts from the brink 
Justin's father Bulu Imam, who discovered the Isco cave, happened to be the convener of Indian National Trust for Art and Cultural Heritage (INTACH), a non-profit organisation for heritage conservation.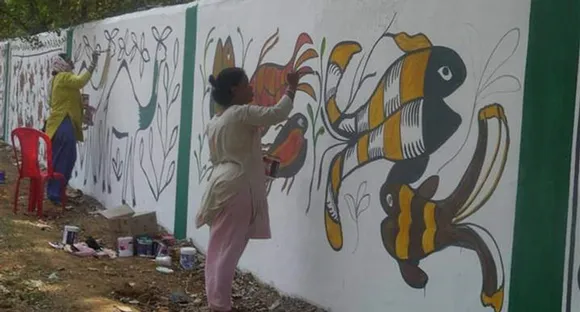 INTACH received a grant for a community service project from the Australian High Commission – in the backdrop of an environmental clearance issue for an Australian mining company working in the area.
Also Read: How Kalyan Joshi has made Rajasthan's 1,000-year-old Phad paintings trendy
It also resulted in the formation of the Tribal Women Artists Cooperative. Under the guidance of Bulu Imam, the cooperative started curating exhibitions. It exhibits the Khovar and Sohrai arts in galleries around the world.
Village murals go to international galleries
The art has been widely exhibited across continents and India since 1995. Some women artists have done live demonstrations in international galleries. Thanks to international designers, the Khovar and Sohrai arts have been used in wall paper and fabric designs.
The Imams have taken the conservation drive further. Over the years, they have created a database of nearly 500 artists to help them receive art commissions. So much so that you can now see the murals in public places such as Ranchi's Birsa Munda Airport.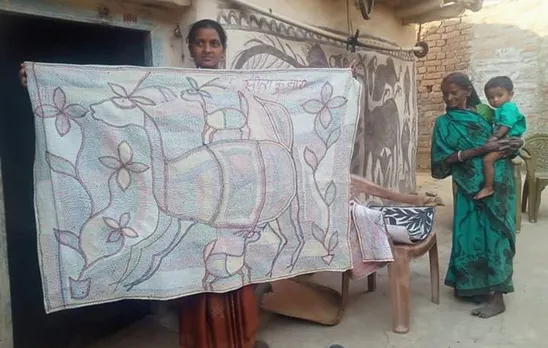 In their revival effort, they founded the Sohrai Kala Mahila Vikas Sahyog Samiti to hold art residencies. It also helps with the documentation of the art, and collaborate with design and architectural students. 
Also Read: Cheriyal: How Telangana's centuries-old scroll art continues to educate and entertain even today
Taking pride in their traditional art
Mahato's art has been exhibited internationally and also adorn India's public walls. "But it's the painting on a large wall which I did with several others that was widely appreciated," she told Village Square.
It's the 17,500 square feet boundary wall at Bhagwan Birsa Biological Park in Ranchi. But the park's wall is not their only big canvas. Jharkhand governor's house and Delhi's Asian Heritage Foundation are some of the places where the women have created murals. 
"When tourists visit our village and wonder at the painted walls it gives me a sense of pride. Some even buy the art pieces done on paper," said Anita Devi of Dand village.
(The lead image at the top of this page shows the walls of Hazaribagh's "painted villages" adorned with traditional arts. Pic by Justin Imam).
(Hiren Kumar Bose is a journalist based in Thane, Maharashtra. He doubles up as a weekend farmer)
This story first appeared in Village Square.
Also Read: Bengal: Kushmandi's centuries-old wooden masks worn by Gomira dancers are now collectors' items for art connoisseurs