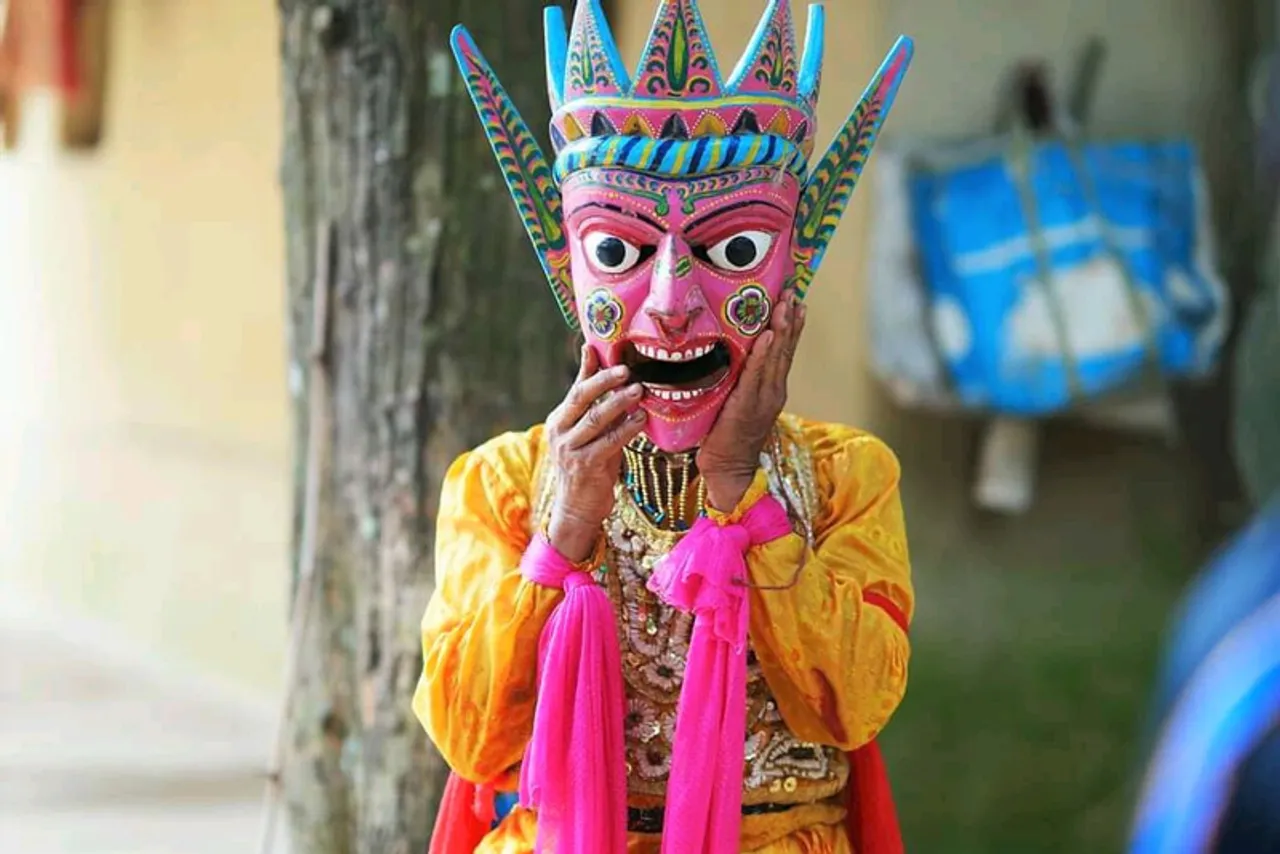 'The Mask', a 1994 Hollywood fantasy comedy starring Jim Carrey, showed how he alters himself and his surroundings after wearing a magical wooden green mask. He uses these powers to fight crime and save lives. In West Bengal too, wooden masks are believed to have powers to protect the wearer. Called Mukha, they are revered and offered to deities to ward off evil.
So they are also called Kushmandi masks. Their other name is Gomira or Gomera masks as they were earlier made only using the wood from the local gamhar (beech wood) tree. 
Today, around 250 craftsmen continue to make these masks in the villages of Mahisbathan, Mangaldaha, Rianagar and Sabdalpur in the Kushmandi Block of West Bengal's Dakshin Dinajpur District, about 400 km from Kolkata.
Also Read: Women artisans help resurrect Karnataka's Kinnal hand-painted woodcraft
How masks moved out of Kushmandi
Mahisbathan Gramin Hastashilpa Samabay Samity Limited, a craftsmen's collective founded in 1990 and incorporated in 1995, is responsible for the sales, marketing and promotion of the Kushmandi masks.
The Samity ensures that craftsmen are not exploited by middlemen and their initiatives have helped take the masks to cities across India. Paresh Sarkar, the Samity's secretary, says they clocked Rs 15 lakh in revenue with the support of the state government in 2020. The wooden masks are now sold in Mumbai, Lucknow, Delhi, Hyderabad and Bangalore as part of collector's items. They are also bought by art connoisseurs in the USA and UK. 
Also Read: Bengal's Natungram: Craft village where wooden dolls come alive
This is in sharp contrast to some years back when masks were confined only to the villages of Kushmandi as they are tied to the religious beliefs of the locals.
In 2013, UNESCO sent a team to Kushmandi to study the art form. 
The same year, the artists' collective organized the first village fair called 'Mukha Mela' under which craftsmen travelled across India to showcase their works in exhibitions and festivals. And that is how the centuries-old art of making Kushmandi wooden masks travelled outside Bengal for the first time.
The masks and mythology
No manuscripts are documenting the origin of this centuries-old art form practised by the Rajbongshi tribe, the largest aboriginal community in northern West Bengal and Assam which claims royal lineage.
Also Read: MP's Jhabua scripts a success story with its traditional tribal dolls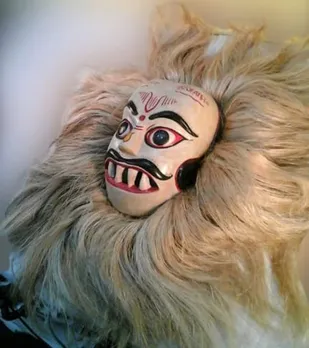 Sarkar, 65, says, "The term Gomira is derived from 'Gram Chandi,' which refers to 'Shakti,'. The masks depict many incarnations of Kali, as well as other gods and goddesses. The Gomira mask dances are performed to draw in the positive energy and drive off the evil."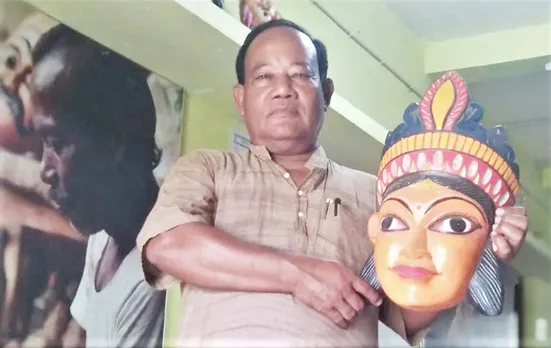 The wood-carved masks represent the characters of two distinct forms of the dance— the traditional Gomira dance and Lord Rama's exile (Ram Vanvas). The masks are also based on Goddess Kali's forms including Masan Kali, Smashana Kali, Shiknidhal, Signi Bishwal, Dakini Bishwal, Bagha - the tiger, demons, Narasingha, and others.
Also Read: Gotipua: Odisha's 16th-century dance that freed devadasis from temples is now struggling for survival
"The Gomira dance begins with the entry of the principal protagonists Buro-Buri, a folk rendition of Shiva-Parvati," says Sarkar. "The other dance form is based on Lord Rama's exile and search for Goddess Sita along with Lord Hanuman."
Wish-fulfilling masks of Gomira dancers
Prosenjit Ghosh, an art enthusiast and manager at Raiganj Central Cooperative Bank, says when villagers make a wish, they vow to offer a particular type and quantity of masks to their revered deity upon wish fulfilment.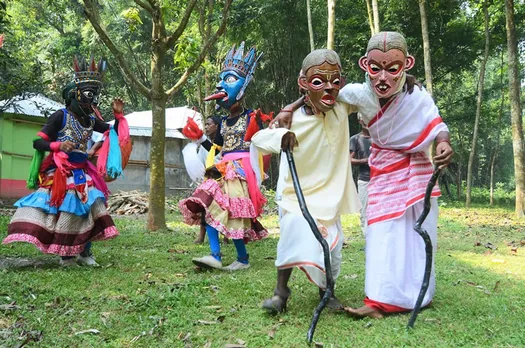 "Notably, only men portray the characters of animals. Women are also not involved in mask making," Ghosh says.
These masks are worn by male dancers who perform in a group of 20 or 25 people. The Gomira dancers are joined by dhakis (drummers), kansar (percussion instrument players) and flute players to add dramatic motions to their performances.
The troupes organise Gomira dance at least once a year during the significant Bengali months of Baisakh, Jyestha and Ashadh (around mid-April to mid-June). 
Each hamlet has a temple devoted to a form of Devi. The masks are kept before the goddess during 'Nishi Puja,' at midnight before the dance is performed the next day.
Also Read: Cheriyal: How Telangana's centuries-old scroll art continues to educate and entertain even today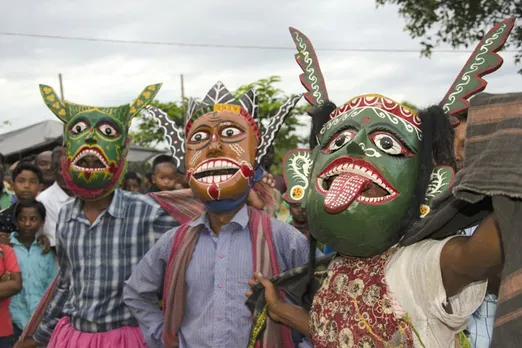 "This mask-dance tradition arose from the animistic rituals of the Rajbanshis' tribal and Poli clans, who make up North Bengal's biggest native community," says journalist Sourav Roy.
Process of making Mukha 
Sankar Das, a 42-year-old Mukha artist who carves South African and Sri Lankan masks out of gamhar wood at his Sabdalpur workshop, says he manufactures 200 pieces of wooden masks per year. He has been handcrafting masks since he was 16 years old. 
He is a pupil of Sankar Sarkar, one of Mahisbathan's internationally renowned craftsmen. Das travelled to France and England in 2015 and 2016, respectively, to promote this art form.
Das says that Gomira masks are made using light woods like gamhar, neem, mango, pakur (white fig), and kadam (burflower). 
Also Read: A quaint village in Hooghly becomes manufacturing hub for string instruments
The raw timber of 18 ft to 20ft length is cut into blocks of 3 to 4 feet. To season the wood, it is soaked in water and then dried to make it crack-resistant and less prone to infestation. After that, the wood is chemically treated by soaking it in a water-based solution of boric acid, borax and copper sulphate. As a result, the wood becomes resistant to termites and insects.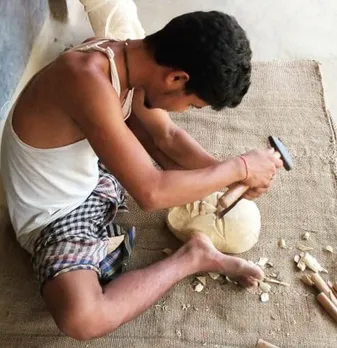 Banshla, a sharp tool, is used to create the basic form of the mask. Hammer and a broad chisel are then used to create the broad structure of the mask. 
"The masks are then smoothed and coloured. Depending on the complexity of the mask, it takes roughly three days to complete a piece. First, the front side of the mask is finished, and then the backside is chiselled to suit the dancer's face. This can take anywhere from 4-5 days depending on the mask's intricacy. Sand sheets of various grades are used to make the masks smooth," Das says.
Also Read: Meet India's ancient board game hunters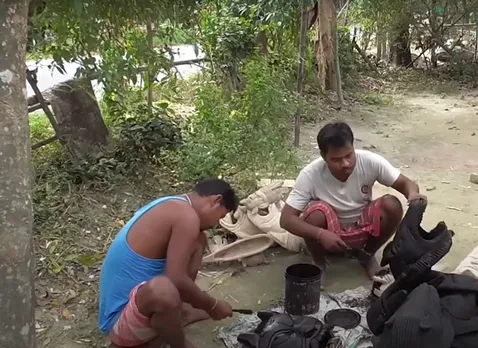 The masks were previously dyed using natural colours. Teak provided red dye, beans provided green dye, blackberry was used violet, and black was obtained from neem. Chemical dyes and paints, on the other hand, are gaining popularity among craftsmen now due to their ease of use.
Customer connect
A total of 20-25 different types of masks are made in Kushmandi. The sizes range from 1.5 inches to 4 feet in length. The 1.5-inch wooden mask costs Rs150 and is mostly used as fridge magnets.
The 4-inch pieces cost Rs400, while the 18-20-inch masks range in price from Rs 2500 to Rs 5000. 
Also Read: Sholapith: Bengal's eco-friendly ivory craft intrinsic to life and death
Ayesha Rani A, District Magistrate of Dakshin Dinajpur, took the initiative for online sales of masks in March 2022. "The craftspeople lacked a digital inventory of their items, which is essential for any advertising endeavour. As a result, we created a digital catalogue for them and first posted it on the Zila Parishad's website, which isn't very popular," she says.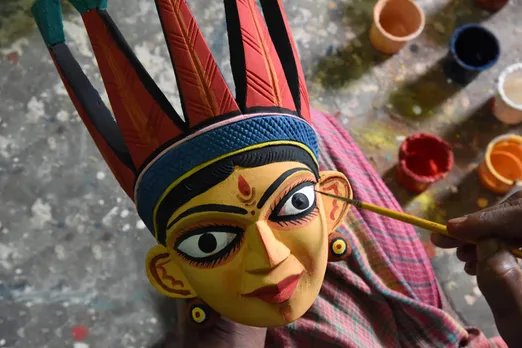 Now, with about 25 types of masks, we're developing links with marketplaces like Amazon and Flipkart, and hoping for a good response," she adds.
The knowledge and skill of making Kushmandi wooden masks are passed on from one generation to another. With initiatives like those taken by Ayesha Rani, future generations can look forward to a global market for the wooden mask made in the villages of Kushmandi.
(Partho Burman is a Kolkata-based award-winning journalist. He writes inspiring human interest and motivational stories.)
Also Read: Praised by PM Modi in 'Mann ki Baat', Etikoppaka GI-tagged wooden toys awaiting non-toxic certification since 2008