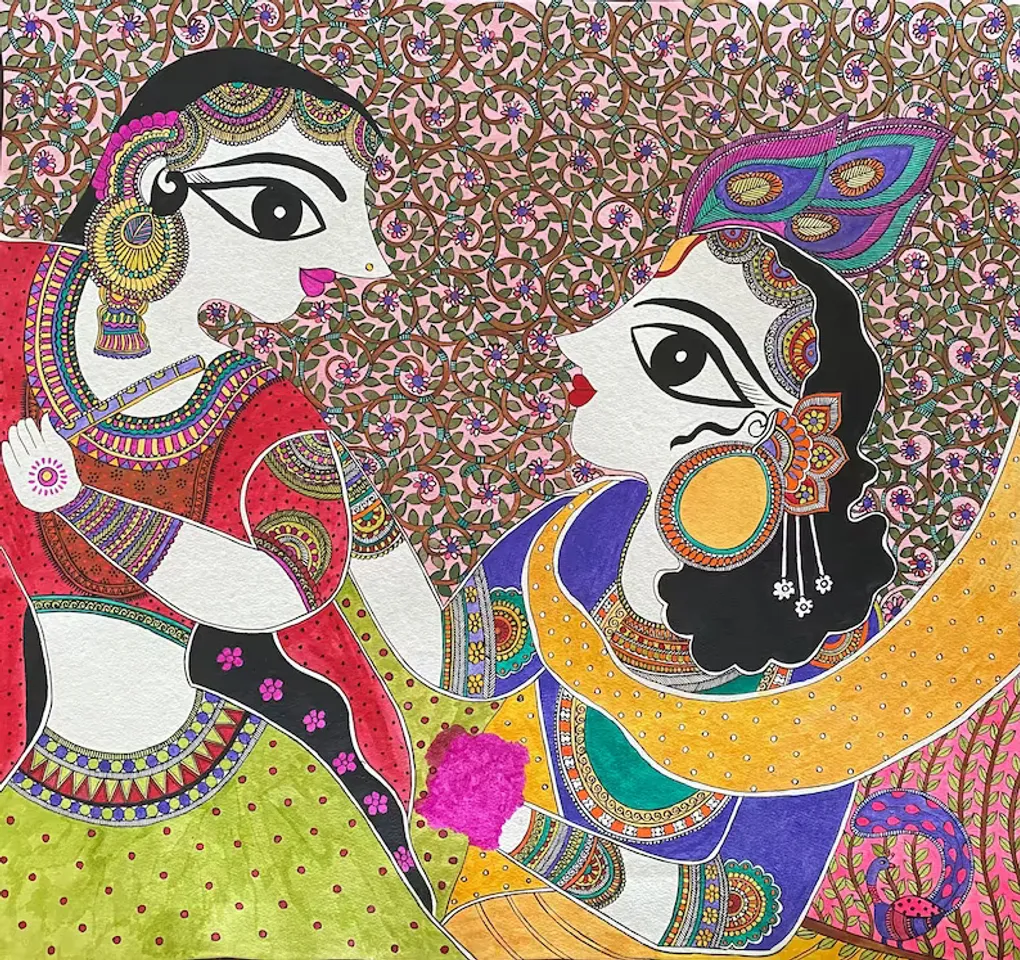 One Indian festival that has seen the richest outpouring in paintings for centuries is Holi. The festival is known by different names in different regions – Vasanotsav in the North, Phag or Phagotsav in Rajasthan and adjoining areas, Rangpanchami in Maharashtra, Dol Yatra in Bengal, Odisha and Assam and Kamadahana in the South.
Be it Bihar's Madhubani art, Odisha's Pattachitra, Himachal Pradesh's Pahari paintings, Rajasthan's Phad and Pichwai, the Mughal art, and the emergence of Company art under the Europeans, all have found exquisite ways to capture and depict the revelry and festivity of the festival of colours.
The festival of colours is an integral part of these tales. While Holi finds a mention in religious scriptures, in literature, references are also found in Kalidasa's plays – Kumarasambhava and Malvikagnimitra.
Also Read: Warli painting: Maharashtra's 10th-century tribal folk art moves from mud walls to modern living rooms
The Holi played in Vrindavan, the area in the Braj Bhoomi region where Lord Krishna is said to have spent most of his childhood, is famous the world over. It is here that Krishna, his consort Radha and gopis (milkmaids) spent days and nights singing and dancing.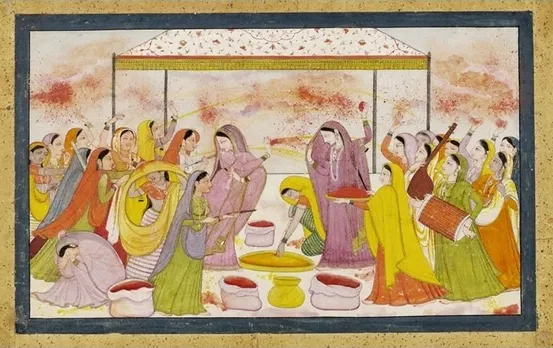 In Vrindavan, Holi is a celebration of the divine love between Radha and Krishna. Painters have been recreating the playfulness of the couple, the cows and the gopis through their paintings for ages.
Rajasthan's Pichwai art is no exception. Pichwai means backdrop and the paintings are used as a backdrop to adorn the wall behind Lord Shrinathji at the temple in Nathdwara, about 350 km south of Jaipur.
"These paintings are hung behind the idol of Shrinathji at various festivals like Holi, Teej, Janmashtmi, Nandotsav, Gopashtmi, Govardhan Puja, Rakhi, Annakuta and Diwali," says artist Dinesh Soni, adding that Holi paintings are among the most in-demand from customers.
National award-winning Phad artist Kalyan Joshi and his family from Bhilwara, Rajasthan, have been the custodians of the art form that dates back some 900 years.
Also See: Images: From Covid to elections & mythology to water conservation, the vast canvas of Phad paintings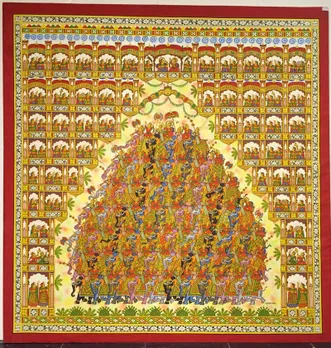 He shared two of his Holi paintings with us. The first painting shows Holi revelries at the court of 19th century Mewar ruler Fateh Singh. It shows the Maharana and his nobles astride elephants, playing Holi. The women are shown behind screens from where they are using pichkaris to throw water and gulal at the menfolk.
"The 6x6 feet painting is hanging at the Exim Bank in Mumbai," Joshi says.
The second painting shows Radha and Krishna along with a gwala (cowboy) and a gopi playing Holi. "The figures and the bright colours are as per the traditional Phad style. The painting measure 8x12 inches," "Joshi says.
We bring you a selection of paintings from various Indian art styles depicting vivid Holi celebrations here: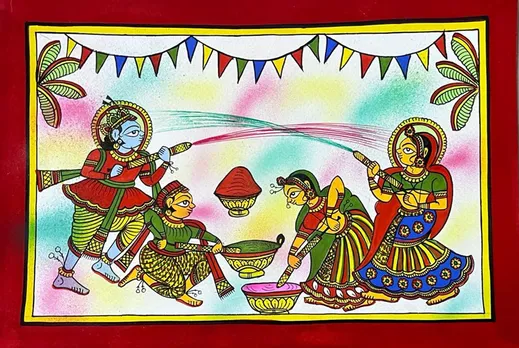 Also Read: Pattachitra: Odisha's Raghurajpur turns hub of recycled art as artisans combine 12th century craft with sustainability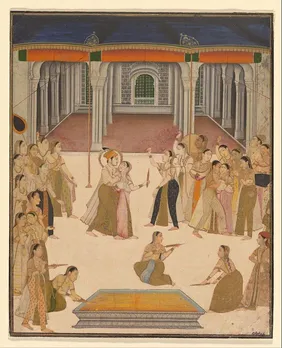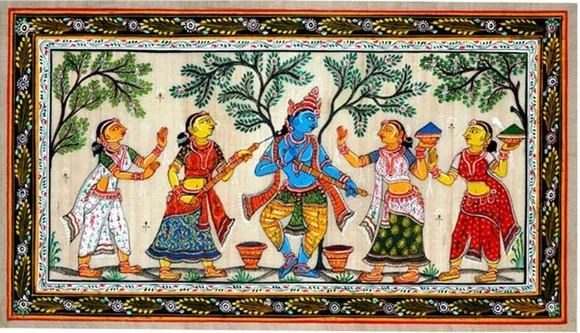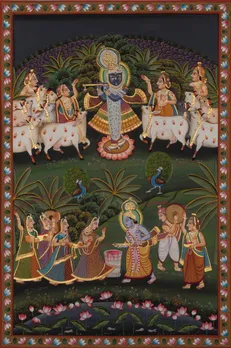 Also Read: Pithora art: How Jhabua's Bhuri Bai broke centuries-old taboos with a brush & colours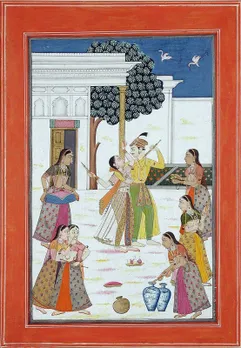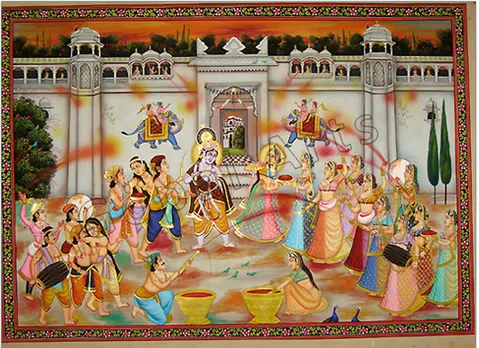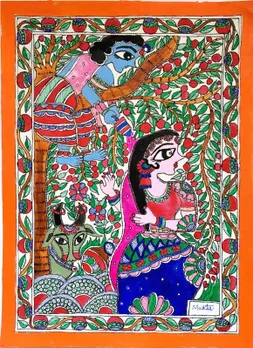 Also Read: Maharashtra's Chitrakathi painting: keeping alive the legacy of Chhatrapati Shivaji's spies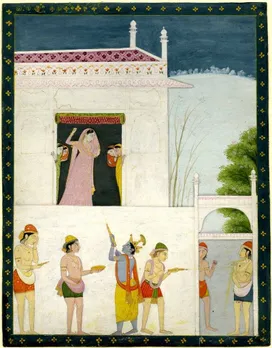 (Lede pic is Bihar's Madhubani or Mithila painting showing Radha and Krishna playing Holi. Pic: Flickr)
Also Read: In pictures: From Sindhi gheeyar to kanji vada & bhabhra, traditional Holi food as colourful as the festival