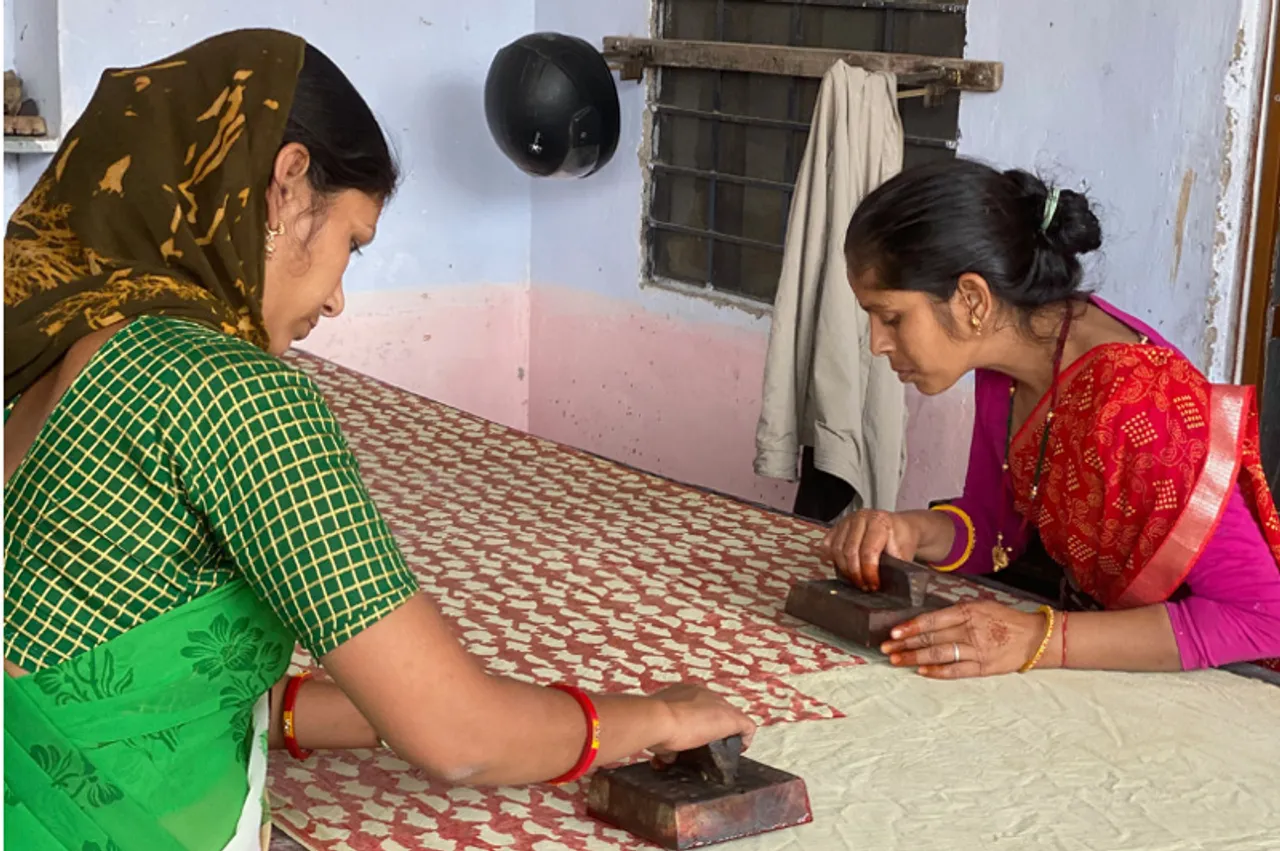 wp:html /
After finishing her graduation from Ahmedabad, the capital city of Gujarat, Shipa Patel was still in a dilemma over what vocation to pursue. A visit to her hometown, Deesa, 150 km north of Ahmedabad, is what it took to find her calling – reviving and rejuvenating the art of hand block printing.
"It all started as a hobby. After completing my graduation in Interior Design, I was still unsure about my career path. At the time, I visited Deesa. There I saw artisans doing hand block printing and was instantly captivated by the entire process," says Shipa, co-founder of Chhapa, a social enterprise promoting hand block printing.
Printing on fabric is the process of applying colour in definite designs and patterns onto the cloth. Fabrics can be printed by hand or using machines. Hand block printing is one such ancient technique that is done using wooden blocks dipped in natural dyes and stamping them forcefully onto the entire length of the fabric to create beautiful designs.
Shipa asked the artisans to print a few samples and after a few visits, they agreed to do it. "As I got more involved in the process, I realised that the artisans and art were going through a bad phase and needed to be revived and preserved," she says. 
Also Read: Bagh Print: How Khatris are keeping the 500-year craft alive along with MP's tribals
The process of hand weaving and natural dying with hand block printing is like beautiful poetry which begins from a small but mighty thought, is shaped by it and finally results in a magical creation, says Shipa, 32.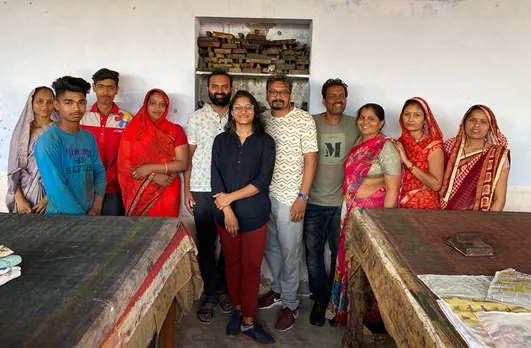 Determined to take measures to save the dying art form and the artisans, she planned to launch a start-up. Shipa discussed her plans with her husband Hardik, brother Bimal and sister-in-law Shital.
All of them were excited about the idea and so using their savings of Rs50,000, Shipa and her team launched Chhapa in June 2013.
Tradition with a modern twist
"Chhapa means to leave a chhap (an imprint). When a design gets stamped on any material using a wooden block, it is called the chhap. Since I wanted to rejuvenate the block print art and decided that all the products will revolve around this technique, I couldn't find a better brand name than Chhapa," says Shipa.
Shipa and Hardik Patel are based in Australia while Bimal and Shital live in Ahmedabad and take care of the operations here.
Also Read: COVID-19: Padma Shri tie and dye craftsman for royals & Bollywood out of work after seven generations
The four co-founders say they are on a quest to bring back the profound art of block printing. They have made a neat division of work - Shipa takes care of all the designing, right from conceptualising the designs, the styles, and the sampling to the final version of fabrics. She coordinates with the artisans online, showing them the designs and approving the finished products.
Bimal takes care of all the production and logistics. Hardik is in charge of social media and IT/Customer Support while Shital oversees the retail store in Ahmedabad.
Chhapa sells Indian ethnic wear for women such as kurtas, sarees, dupattas, tops, dresses, and stoles. They also have menswear and kids' wear as well as accessories such as bags, belts and pouches. Among home furnishings, they sell quilts and cushion covers. The prices range from Rs500 to Rs5,000.
The uniqueness of Chhapa is mainly the prints, which are contemporary. 
Also Read: Rajasthan's Badshah Miyan takes 700-year-old leheriya craft & natural dyes to the world
She is very particular about sustainability and only uses fabrics like pure cotton and Khadi. They also recycle waste fabric, making accessories such as bags and pouches.
"We always wanted to connect with a younger audience and make them not only fashion savvy but also conscious consumers which is better for people and the environment in the long run," she adds. 
In 2017, Chhapa launched its online store and in 2018, the first flagship retail store opened in Ahmedabad.
"We can map 20-25 jobs which include the families of artisans, tailors, office staff and retail staff," says Bimal, Shipa's brother, who takes care of the operation in India.
Saving tradition and the artisan
Shipa says many artisans were on the verge of giving up practising this art as high-end machines made them irrelevant.
Also Read: Soaking, boiling, dyeing, washing…the creation of Madhya Pradesh's Bagh print in pictures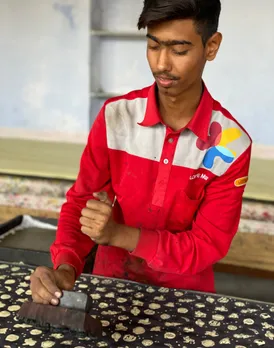 "We wanted to rejuvenate the art of block printing by giving them a quirky dimension that would be popular with buyers and create demand so we could give artisans more work," adds Hardik.
The manufacturing unit of Chhapa is located in Bagru, 30 km from Jaipur. Bagru in Rajasthan is famous for hand block printing and dyeing and several family-run units are still operating here.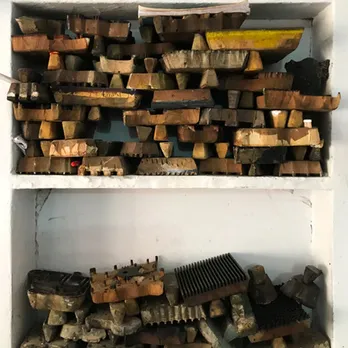 The reason for shifting to Rajasthan was to tap into the expertise of artisans in Bagru where in almost every home, one can see small printing and dyeing with Chippas or printers hard at work, dipping wooden blocks into the ink and stamping it forcefully onto the fabric that is laid out on tables.
"As we got more understanding about the craft, we wanted to use Azo-free and natural dyes only. However, the artisans in Deesa were not ready to commit to that. So, we relocated our unit to Bagru where artisans have been using natural colours for several generations," says Shipa.
Bimal says they have tied up with a family of artisans in Bagru that has been doing hand block printing for generations. Bimal says they gave a loan to the artisans to rent a space where they do the printing and dyeing. The artisans have got another 12-15 artisans whom they have trained and all are working in the unit.
Also Read: How COVID-19 and India-China tensions have changed India's 900-year-old Patan Patola weaving
For manufacturing, they use natural colours wherever possible, says Bimal. For the rest, Azo-free dyes are used which do not have any harmful chemicals.
"When we started working with the family of artisans back in 2013, they were on the verge of giving up this art as they were not receiving enough work to be able to sustain the whole family. The children of the artisans had taken up odd jobs in Jaipur to make a livelihood," recalls Bimal.
"After they started working with us, we were able to give them an adequate amount of work and the artisans had to extend their printing facility to be able to supply the demand. The children also came back and re-joined the family trade," he says.
"This is the one thing we are proud of the most. That we have been able to increase the incomes of the families so they do not have to give up their traditional vocation," she says.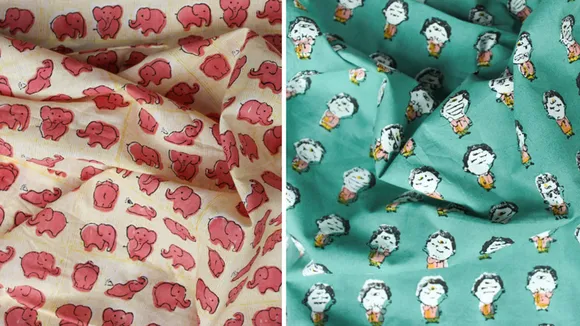 "We have educated them on how to keep their safety first when performing all the dyeing and printing. Also, we have made sure the waste management systems are well in place," says Hardik. 
The natural colours are made by the artisans and their families in Bagru using natural ingredients such as turmeric, indigo, madder, pomegranate rind, jaggery, alum and iron.
Also Read: Bhujodi: Gujarat village that turned a nomadic tribe's shawl into a global fashion statement
"We source our wood from local furniture marts and carpentry businesses and have tie-ups with small-scale farms and woodworks who ship their left-over and unusable stock to us," says Bimal. 
Expanding the footprint
Given the crowded market and the competition, Chappa has managed to hold its own. 
Chappa primarily sells through their online e-commerce store but is slowly expanding to different platforms like The Loom, Furl, Jaypore, and Indian Ethnic & Co.
Regarding expansion plans, Hardik says they are currently working on a few marketing strategies to reach a wider audience on social media. He says they are open to the franchise model to grow their retail footprint. "We plan to acquire a larger customer base to give more work to our artisans and expand our retail store footprint."
He adds that with the success of both the online and flagship retail store, the team is open to the possibility of getting funding in future.
Shipa admits that the hand block printing industry is on the wane.
Also Read: How a hobby made Patels the last custodians of Ahmedabad's Ashavali sarees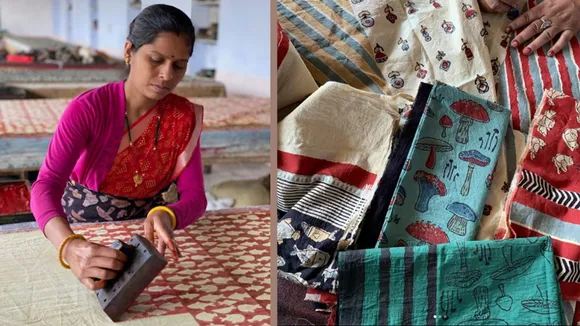 She says government intervention is needed in terms of providing grants and opening up welfare programmes to encourage more artisans to continue practising this art.
"About private intervention, if brands like us can help artisans get more work, they will pass on this beautiful technique to their younger generations. With this combined effort we should be able to preserve hand block printing," she says.
"What began as a hobby to do some creative work and experiments in the field of block printing, has become an endeavour to make my little contribution towards preserving this ancient technique, those associated with it, as well as towards Conscious Fashion," says Shipa.
(Urvashi Dev Rawal is a Jaipur-based journalist specialising in development, gender, and political reporting)
Also Read: Rajasthan: Titanwala family struggles to keep alive Bagru's hand block printing