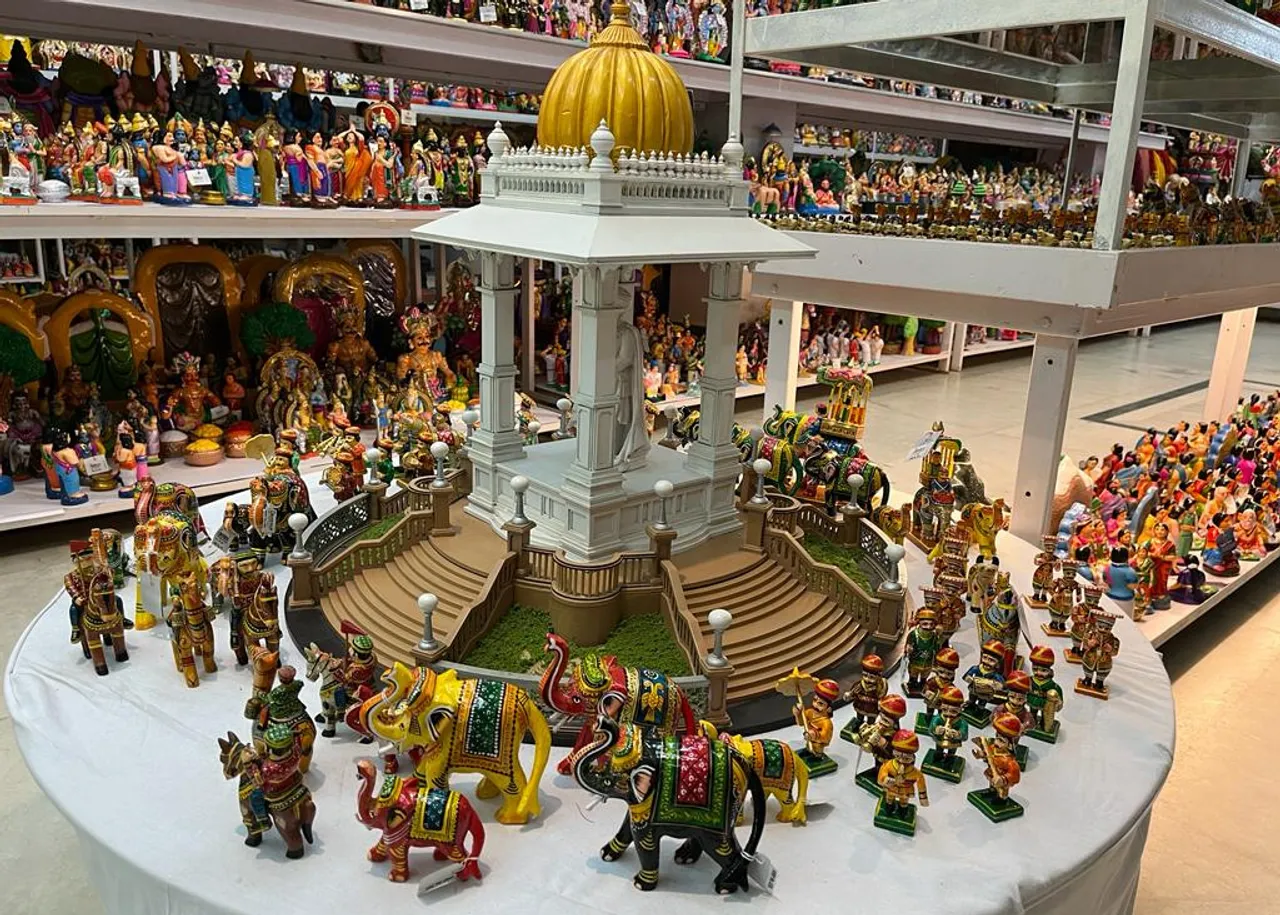 Every year, almost a month before the autumn Navratri (the nine days of worshipping Goddess Durga), thousands of dolls in Mysuru's Ramsons Bombe Mane are ready to welcome the visitors who throng the art house to admire and buy the most exquisite handmade dolls of clay, terracotta, wood, ceramic, cloth and paper mache from across India.  
Ahead of the autumn Navratri, Ramsons' annual exhibition titled Bombe Mane presents thematic displays of dolls based on Krishna Leela, events from the Ramayana, Mahabharata, Bhagvat Puran, Mysore Dussehra and Shiva Puran among others.
"My late father, Mr D Ram Singh, started his handicrafts business in 1970 and dolls were a part of it. Over time, dolls became a very significant segment of the enterprise and I branded the doll collection as Bombe Mane in 2005," says R G Singh, the owner of Ramsons Bombe Mane. He also runs another store in Mysuru which is home to handicrafts made using rosewood, teakwood and silver teak carvings, stonework and metal icons (figures of Gods and Goddesses.)
Singh's father took training in the District Industries Centre in Mysore and started his small-scale industry (now called medium and small enterprises or MSME) in 1970. "He ran the show until he passed away in 2019," says Singh.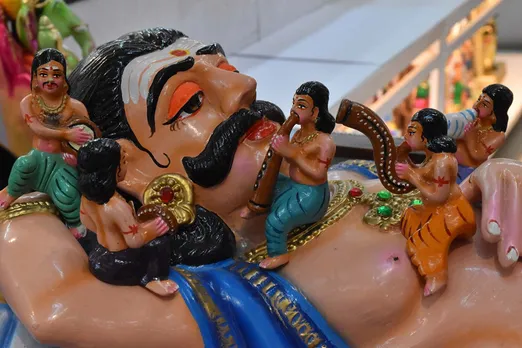 "For wood carvings, we give the designs and templates to the artisans who make it on a contract basis and the pieces are then sold in our store. The parents of these artisans were associated with my father," Singh adds.
One of the largest collections of Indian dolls 
The doll collection at Ramsons Bombe Mane would possibly be among the biggest in India and definitely the only one to bring together the varied handmade doll crafts of the country under one roof.
Singh says Karnataka has three doll manufacturing centres – Mysuru, Kinnal and Chennapatna while Andhra Pradesh has Etikoppaka and Kondapalli. Maharashtra's Sawantwadi specialises in making wooden fruits and vegetables and statues of Lord Ganesha, Panduranga and Rukmini; from Kolhapur, Ramsons sources dolls made from plaster of Paris while Pen is the hub of human figurines like that of Chhatrapati Shivaji.
Tamil Nadu has the largest cluster of doll-making units and the famous ones are Cuddalore's clay dolls, Kanchipuram's paper mache dolls, Madurai's miniature clay dolls and Mayiladuthurai's (formerly Mayavaram or Mayuram) clay dolls based on religious themes.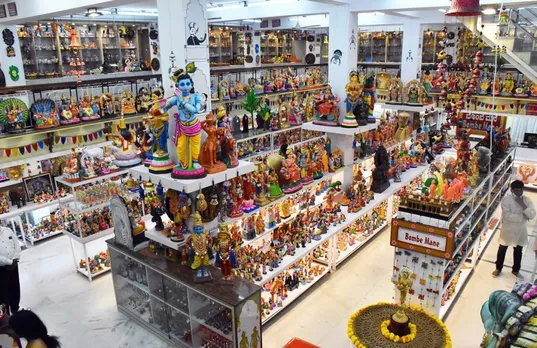 Ramsons also procures paper mache dolls from Pondicherry, which now has a Geographical Indication or GI tag for the craft. It was first introduced by French missionaries who got dolls made for the church. Artisans, over time, began making dolls on Hindu themes as well.
Odisha's Raghurajpur, West Bengal's Ghurni and Krishna Nagar, Rajasthan's Udaipur and Jaipur, Mithila in Bihar and Gujarat's Kutch are other sources of dolls. 
"We also get dolls of birds and animals from Madhya Pradesh," says Singh, whose ancestors came from Bassi in Rajasthan to Mysore in the 18th century when the then ruler, Tipu Sultan, recruited Rajputs and Marathas for war against the British East India Company.
The dolls travel from the nooks and corners of India on trucks.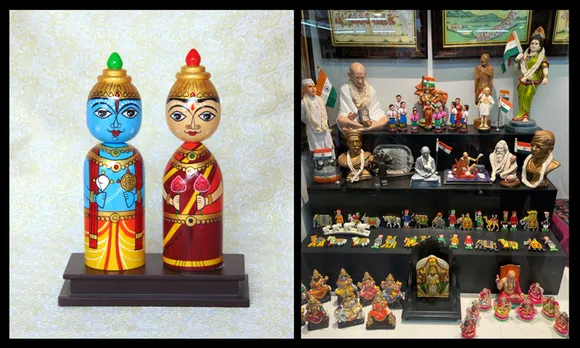 "Dolls up to 2 feet are displayed in homes while those that go up to 6 feet are put up in temples during Golu," he points out. The most popular dolls are that of Goddess Saraswati, Lakshmi, and Lord Ganesha. "People buy dolls according to their areas of interest like dolls around music or dance or village life etc," Singh says, adding that they sell only through the store and not online.
Golu: the 10-day festival when dolls come alive
Ramsons Bombe Mane's dolls have loyal patrons who have been buying them for generations.
Known by various names like Golu, Kolu, Gombe Habba, Bommai Kolu or Bommala Koluvu, the doll displays are thematic. They are mostly based on themes from the Mahabharata, Ramayana or contemporary ones like forests, biodiversity conservation, cartoons etc.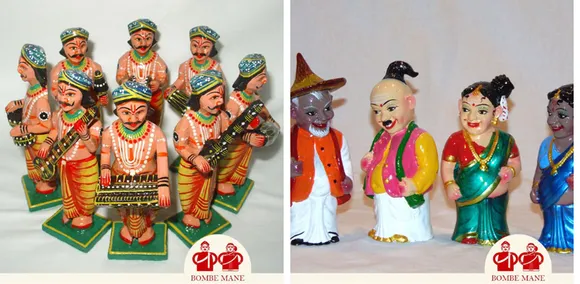 "The preparations begin at least a few weeks in advance as women take out the dolls from trunks and think of display themes. Our annual exhibition is a rich ground for giving ideas around display and theme to visitors," says Singh. This year Bombe Mane is holding its 18th exhibition. A set of fridge magnets featuring the magnificent Mysore Dussehra is the highlight this year.
Singh explains that the topmost step is occupied by the King and Queen and the dolls are famous as Raja-Rani dolls across India. At the bottommost step is placed the sacred kalash in which the Goddess Durga is invoked on the first day of Navratri. The kalash is worshipped for nine days and on the tenth day, which is Dussehra or Vijay Dashmi, the upright coconut on the kalash and the King and Queen are placed horizontally, marking the end of the festival.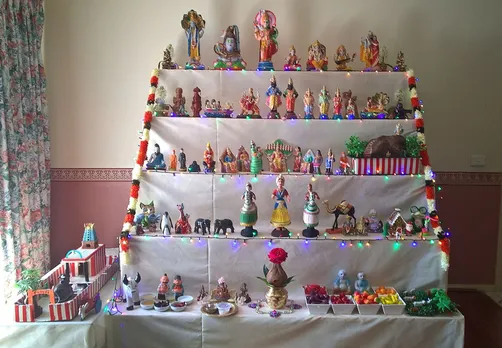 The newlyweds are gifted dolls to build their collection for Golu. "You have to add two dolls to the collection every year," he adds.
In the bygone days, these traditions generated work for local potters and painters. Today, Golu and stores like Ramsons Bombe Mane are keeping alive the centuries-old crafts of India by helping artisans think out of the box and creating new designs to cater to discerning buyers.
(Rashmi Pratap is a Mumbai-based journalist specialising in business, financial and socio-economic reporting)
Also Read: Seven wooden toy-making traditions of India