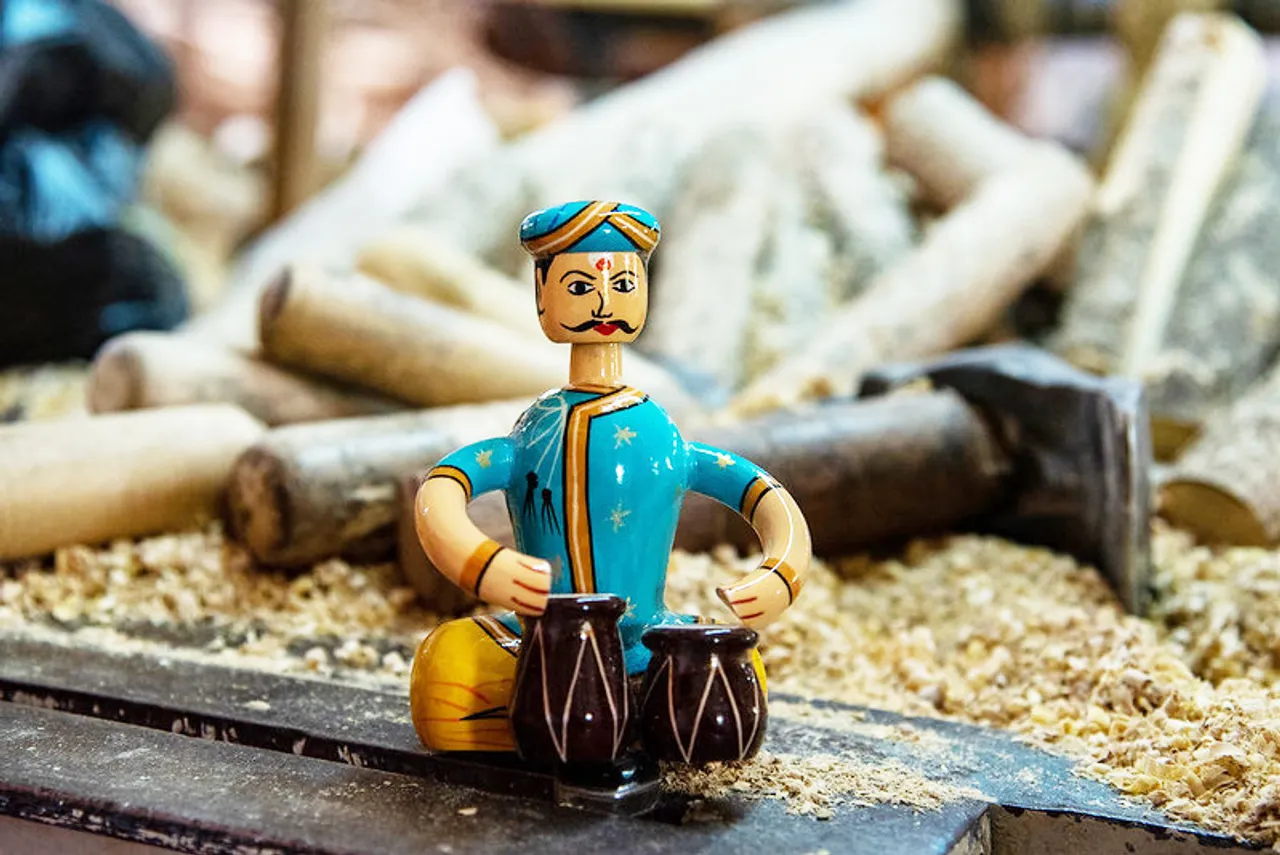 Toys are not just a source of happiness for children; they also create memories, stimulate minds and help mould personalities. Toys made of terracotta and metals have been found in the excavations of Mohenjodaro and Harappan civilisations which go back 5,000 years. Toys help in the holistic development of children.
Role-play using toys encourages imagination and creativity besides improving communication skills.
India is home to many toy-making crafts which use wood, clay, cloth, metals and other materials. Before the onslaught of plastic toys made in factories, toys were made by artisans in villages and small towns. Parents, grandparents and extended family members would buy them for children. 
Wooden toys, because of their strength, were often passed on from one generation to another. And when the kids would outgrow them, these toys would find a place as decorative items in the house. From Rajasthan to Karnataka and Uttar Pradesh to Telangana, India has a rich tradition of wooden toys. But artisans everywhere are struggling to find a market for their products amid heaps of plastic. 
Also Read: How Coimbatore's doctor Uma Deavi empowers underprivileged women through Kannamma dolls
Moreover, the government has banned the cutting of trees in most places, which has made it difficult to procure raw materials. Yet, craftsmen are continuing the centuries-old family arts in the hope of better days.  
Here are seven wooden toy crafts that have overcome challenges to stay alive:
1. Wooden toys of Bassi, Chittorgarh district, Rajasthan: Suthar and Kumawat, the carpenter-artist communities of Bassi village in the Chittorgarh district, have been making wooden toys and temples for over 400 years. The art pieces are of three types - wooden toys, temples and kavad or kawad (a portable wooden shrine with multiple folds).
Kawad priests mostly commissioned the kawad pieces and told mythological stories and folklores through paintings inside the handcrafted wooden temple. 
Also Read: Pothi Chitra: Odisha's 900-year-old palm leaf engraving finds global patrons
However, with the tree now found only in some areas of the Aravalli hills, artisans have started using wood from meetha neem (curry tree) as it is also medium soft and low in density.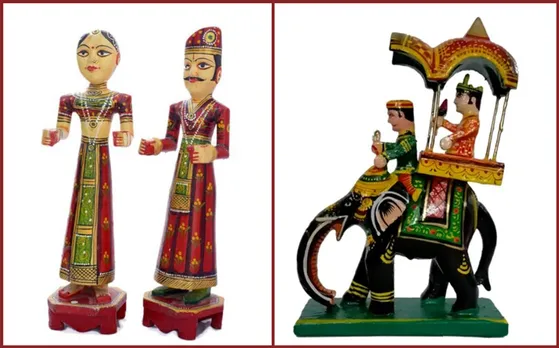 The toys were earlier painted with natural colours but have now made way for poster colours that are mixed with gum and water. A coat of transparent varnish at the end completes the toy.
2. Wooden toys of Varanasi, Uttar Pradesh: Varanasi or Kashi, on the banks of River Ganga, is said to be the oldest living city in the world. It is also home to craftsmen whose ancestors made a living through ivory carving for the Mughal emperors. When ivory was banned by the government, their descendants shifted to wood carving and began creating bright and colourful lacquered toys in the holy city.
Also Read: Cheriyal: How Telangana's centuries-old scroll art continues to educate and entertain even today
The craft received the Geographical Indication (GI) tag in 2014. For making wooden toys, logs are cut into smaller pieces as per the size of the toy, and each piece is seasoned by heating it slowly. The toys are now mostly made using lathe machines that ensure uniformity in shape and size.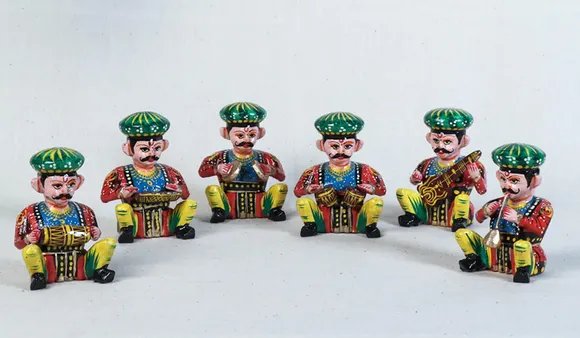 After sculpting the wood with a hammer and chisel, the toy is made smooth by using a file and then painted. Finally, lacquering is done on the lathe to give it a shiny finish.
3. Kinnal or Kinhala wooden toys of Koppal, Karnataka: The hand-painted wooden craft of Kinhala, Kinnala or Kinnal, which derives its name from the Kinhal village in the Koppal district, received the GI tag in 2012. It traces its origins to the 15th century when it was patronised by kings of the Vijayanagara Empire.
Earlier, the artisans were making 3 to 4 feet dolls. Now houses are smaller and there is a demand for smaller dolls measuring 6 to 12 inches, which artisans make.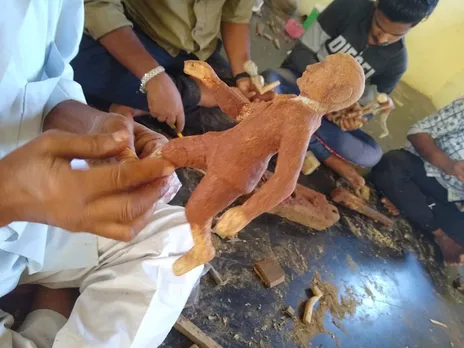 The softwoods from neem, drumstick and poniki are used for the craft. All the parts of the doll are first joined together with a paste of tamarind seeds and pebbles. Then, on the body of the doll, a paste called kitta is applied using hands. The basic process is completed with a final layer of pebble powder paste. While many artisans continue to use natural colours, others have shifted to market-made bright paints not all of which are eco-friendly. A thin layer of varnish is applied after the paint fully dries up.
Read more here: Women artisans help resurrect Karnataka's Kinnal hand-painted woodcraft
4. Nirmal wooden toys of Adilabad, Telangana: Nirmal town's Naqqash craftsmen and artisans have been making exquisite wooden toys for over 400 years.
The craftsmen's families continue to make toys using poniki softwood sourced from forests around Nirmal. The craft received the Geographical Indication Tag (GI) in 2009.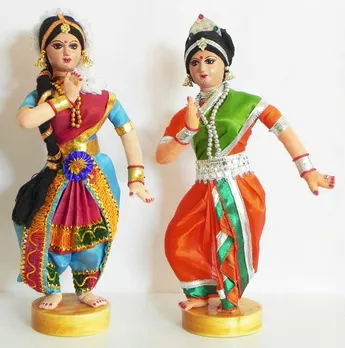 The toys are lightweight and not easily breakable. They mostly depict nature like birds, animals, fruits and vegetables and the day-to-day life of people. A bamboo stick is used to join two blocks of wood in toys. They are painted with Duco colours (natural colours were used earlier) and in enamel, which gives them a shining appearance.
5. Channapatna or Chennapatna wooden toys from Ramanagara, Karnataka: The most celebrated and well-known toys from India are probably the Channapatna wooden toys which are also protected by a Geographical Indication tag. 
The art flourished under his reign. In recent times, it is artisan Bavas Miyan who helped the local artisans with new technologies to improvise the toys that helped Channapatana receive national recognition.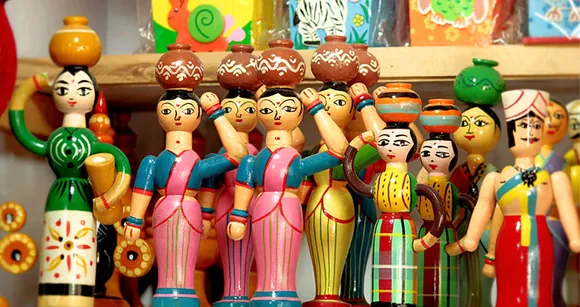 The toys were earlier made only using soft dudhi or ivory wood, which is white in colour. Today, they also use wood from rubber, sycamore, cedar, pine and teak trees.
Artisans mostly use the lathe for making the toys, which were earlier coloured with vegetable dyes. The toys are glazed by polishing with abrasive property grass. 
Also Read: MP's Jhabua scripts a success story with its traditional tribal dolls
6. Wooden toys of Natungram in Bardhman (Burdwan) district of West Bengal: Called kath putul, literally wooden dolls, these toys and figurines made in Natungram village come in a wide range of themes from the religious to the recreational. But wooden owls retain the iconic status.
The history of Bengal's wooden doll makers goes back about 250 years.
It was easier to cut and chisel and also cheaper. Artisans use two qualities of wood. Chhatim (scholar tree), ata (sand apple) and mango wood are less durable and priced lower while gamar (beech wood), mahogany and sonajhuri (black wattle), found in the dense jungles in the region are stronger and more expensive.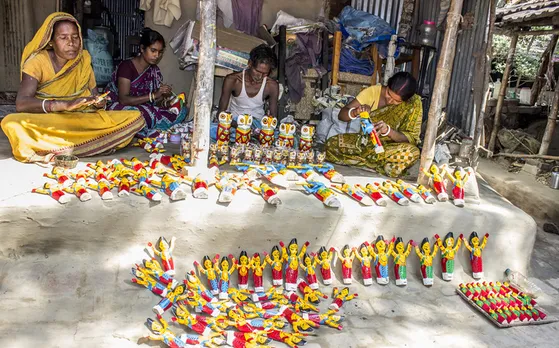 While the men are responsible for cutting, carving and chiselling the wood into shape, women paint them. The wood is dried in the sun before making the toys. Oil paints in bold colours such as red, yellow, orange, green and blue have been used for centuries. White and black colours are used for making borders. Natungram wooden toys are also exported and also have robust domestic demand.
Also Read: Bengal's Natungram: Craft village where wooden dolls come alive
7. Etikoppaka wooden toys, Vishakhapatnam district, Andhra Pradesh: This woodcraft dates back to the 18th century. Artisans who then lived in the Nakkapalli village, about 25 km from Etikoppaka, migrated to this village in the 20th century because of the abundant availability of the soft ivory wood, locally known as Ankudu Kurra, in the nearby jungles.
But once the landlords passed away so did the patronage. Today, only 160 families make Etikoppaka toys due to a lack of demand. The craft was given the Geographical Indication (GI) tag in 2017. Earlier hand-lathe machines were used to design the toys but they are being rapidly replaced by electric lathes which rotate on a 1 HP motor.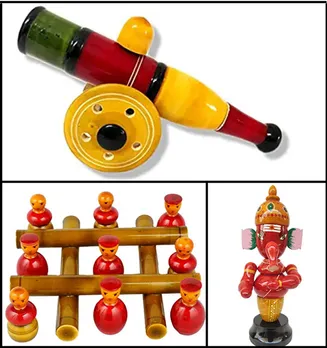 The dried wooden slab is fixed on an electric lathe using badhiti, an axe-shaped tool. It is then carved into the desired shape using a long metal chisel. Any remains of wood scrap are smoothened with emery paper. 
Also Read: Praised by PM Modi in 'Mann ki Baat', Etikoppaka GI-tagged wooden toys awaiting non-toxic certification since 2008
For painting, lacquer is mixed with different dyes to make colours, which are applied to the spinning wood slab on the lathe. The friction generated during the application melts the lacquer, ensuring a smooth application. The lacquer is then dried and polished using a fragrant leaf named Mogule Aaku and the toys are ready for sale.
More pictures of wooden toy traditions here: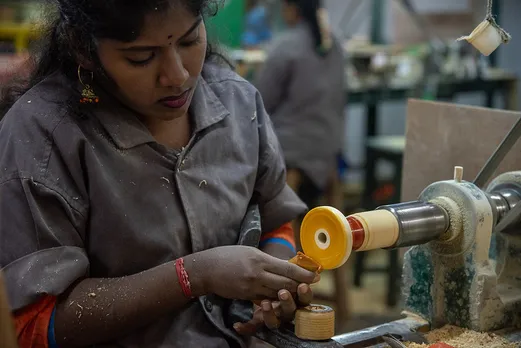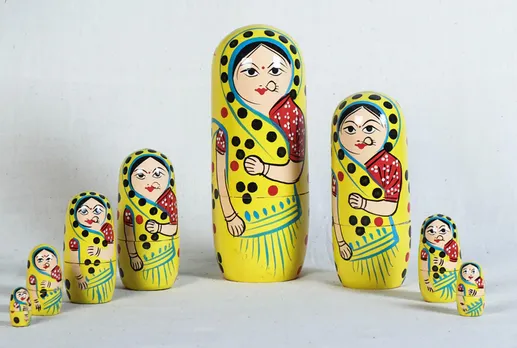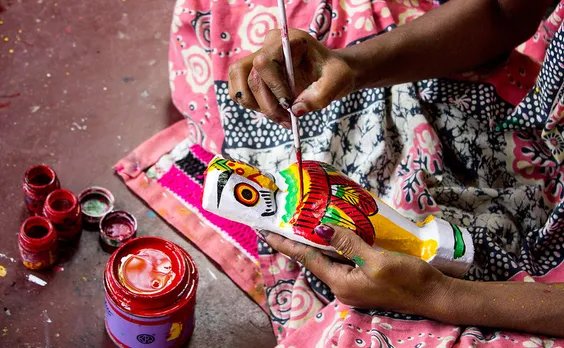 (Mona Singh is a Rajasthan-based writer and wanderer)
Also Read: Ghurni: Bengal's craft village where life-like clay dolls are bridging the rich-poor divide