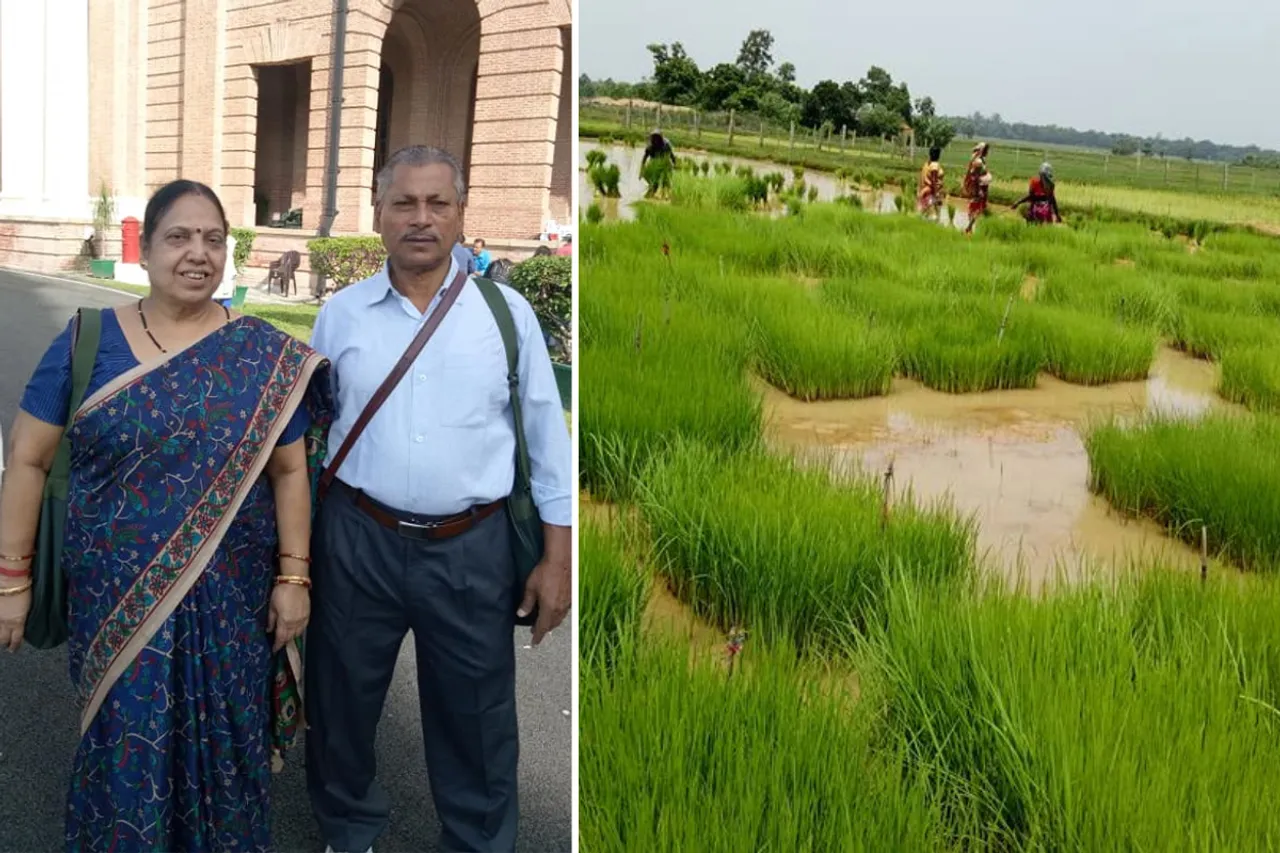 In the aftermath of Odisha's Super Cyclone in 1999, farmers along the state's coastal belt lost their standing paddy crop. They also lost their seeds because the crop was mature and was just a few days away from harvest. These farmers were now dependent on seeds provided by the government. However, those hybrid seeds could not grow due to the high salinity of the coastal areas.
In contrast, the indigenous or native seeds, being used by the local farmers for centuries, were salt-tolerant. "We collected around 100 quintals of indigenous salt-tolerant paddy seeds from farmers who were not affected by the cyclone. We distributed them for free to more than 500 farmers who had lost their crops," says Dr Ashok Kumar Panigrahi, Former Head of the Zoology department of Fakir Mohan (Autonomous) College.
Dr Panigrahi, 76, and his wife Kusum Misra Panigrahi (70) have collected and conserved 1072 indigenous varieties of paddy from the native farmers of Odisha over the last 24 years. 
Sowing the seeds of a bank
The septuagenarian couple's seed bank in Chandipur village of Balasore district is home to more than 50 salt-resistant, over 60 flood-resistant and more than 70 drought-resistant paddy varieties. It also includes therapeutic paddy varieties besides naturally-developed seeds capable of withstanding harsh and changing conditions.
"Between 1996 and 2000, we surveyed the paddy biodiversity of the Balasore district and learned that around 300 native paddy varieties were under cultivation by farmers. These included varieties that could withstand drought, floods and salinity," says Dr Panigrahi.
Also Read: How tribal women farmers are conserving native seeds & ensuring nutritional security
He engaged college students with an Honours degree in Botany for the survey, which was done on behalf of Navdanya Trust – the Delhi-based NGO founded by Dr Vandana Shiva. It works to promote the conservation of biodiversity and seeds, organic farming and the rights of farmers.
The couple set up Odisha's largest private seed bank in Chandipur in Nilagiri, Balasore, in the year 2000, beginning with 200 varieties which were among those discovered during the survey. 
The seed bank is a 20 feet x 40 feet facility on the first floor of their house. "The area where the seed bank is located is away from the coast and is upland; on the hills of East India. So it is a safe destination for storing and conserving seeds," he says. 
Over the years, the couple has met hundreds of farmers still cultivating native paddy and collected many more varieties, which are now part of the seed bank. 
Helping farmers struck by disasters 
The Panigrahis continue to provide seeds to farmers affected due to floods, cyclones and droughts in the districts of Cuttack, Puri, and Balasore and also the coastal regions of West Bengal like Nandigram and Nagapattinam in Tamil Nadu.
Whenever a disaster strikes, the couple reaches out to its network of indigenous paddy growers, pays them the market rate for seeds and distributes them for free among the affected farmers. 
Fifty percent of the seed cost is borne by the couple and the rest by Navdanya. 
"We took 100 quintals of native paddy seeds from Balasore to Nagapattinam after the 2004 Indian Ocean tsunami," he says.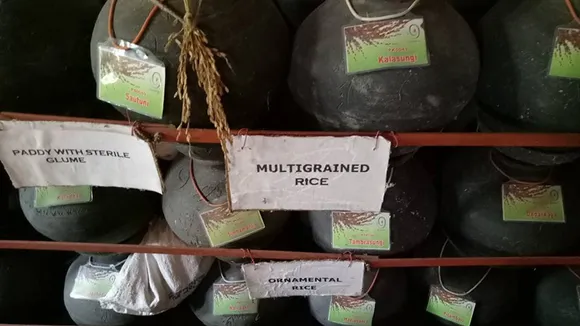 "We give the seeds for free to small farmers who own less than two acres of land. They constitute the bulk of our farming community. We don't encourage seed transfer to maintain their genetic purity. We give about 150 gm to each farmer and they produce quintals out of it," he says.
Also Read: How Tamil Nadu's aeronautical engineer-turned-farmer is creating native seed bank to promote organic farming 
A year after the 1999 Super Cyclone, the couple learned that many farmers were switching over to hybrid paddy cultivation as the seeds were being provided for free by the government. So they realised that it was important for them to conserve the seeds themselves instead of depending on farmers to multiply them.
Conservation of native paddy varieties
"In 2002, we began propagating native paddy varieties on 4.5 acres of our 10-acre ancestral farmland in Balasore. The aim was to ensure that the seeds are not lost forever," says Dr Panigrahi's wife Kusum, who maintains the seed bank where the seeds are stored in earthen pots in a moisture-free environment.
They use the germplasm method, where endangered species are cultivated in their natural environment and seeds are conserved. 
"We cultivate each variety on our farm on an area of around 8 ft x 12 ft with a 3 feet gap on all the sides to avoid cross-pollination," Dr Panigrahi explains.
Cross-pollination alters the seed's genome and hurts its quality and strength. "The pure ones are collected from the middle of the plots," he says.
Also Read: This techie quit TCS for the love of social work; has conserved over 250 varieties of native seeds
Each seed, its colour, length and other characteristics are documented and catalogued. If a variety is not cultivated during a year, it would be lost because the seeds would not germinate the next year, he adds.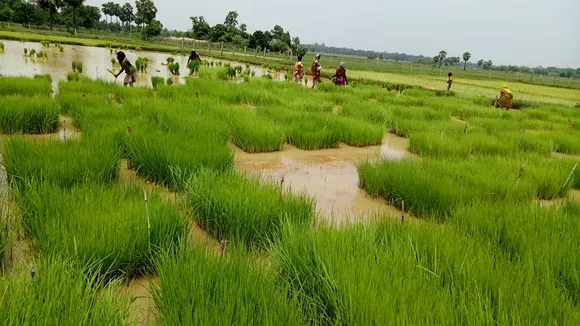 "Seeds are dried and have to be hand-pounded so that the endosperm is not affected. They are then stored in earthen pots. We don't add anything to the pots, which are kept in a moisture-free area," says Kusum.
It costs around Rs 1.5 lakh annually to grow and preserve the native seeds and the cost is largely borne by Navdanya. Some seeds also naturally crossbreed, resulting in new varieties which are more resistant to extreme climatic conditions.
So one or two new varieties are added every season and they are named after some place or river or after the farmers who have conserved indigenous paddy over the years. Two such varieties are Urmila and Gopinath, named after two people who work with them.  
Also Read: V Priya Rajnarayanan: This MBA has saved over 500 varieties of native vegetable seeds; gives them free to farmers & gardeners
The bank's seed portfolio comprises even some varieties which are now extinct from mainstream cultivation like Bhundi, Lunabakada, Lunageti, Kalambank, Valiki, Nalidhulia, Seulapuni, Shankarchil, Rabana and Dhosarakhuda. 
The costliest variety in the bank is Kalabati – black rice which is considered a superfood because of its nutrients and antioxidants. It is said to cure Alzheimer's disease besides being good for the heart, maintaining blood sugar levels and reducing allergies.
Native paddy varieties are naturally-resistant to pests and climatic changes, having evolved in the local geography over years. Grown without using chemicals and harsh fertilisers, native organic rice is rich in vitamins, antioxidants and micronutrients. They help build immunity and also provide a healthy mix of protein and fibre.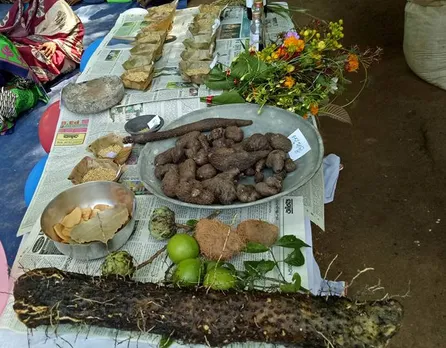 "We also give vegetable seeds to kitchen garden owners for free to ensure that native varieties are not lost. We work with seed keepers – genuine organic farmers who cultivate these vegetables for commercial purposes," he says.
The seed keepers are given the seeds and they cultivate the vegetables mostly along the river banks. "Whenever we need the vegetable seeds for distributing for free to beneficiaries, we procure from them upon payment," says Dr Panigrahi, who also guides farmers on organic farming practices. 
The couple has also written a book -- Biodiversity, Agroecology and Indigenous Knowledge in Odisha. The book promotes farming without the use of agrochemicals. "The sooner our farmers give up dependence on chemicals and hybrid seeds, the better it will be for human health and environment," he says.
(Rashmi Pratap is a Mumbai-based journalist specialising in business, financial and socio-economic reporting)
Also Read: Debal Deb: Seed warrior who has conserved 1,480 traditional rice varieties & shared them for free with over 7,600 farmers