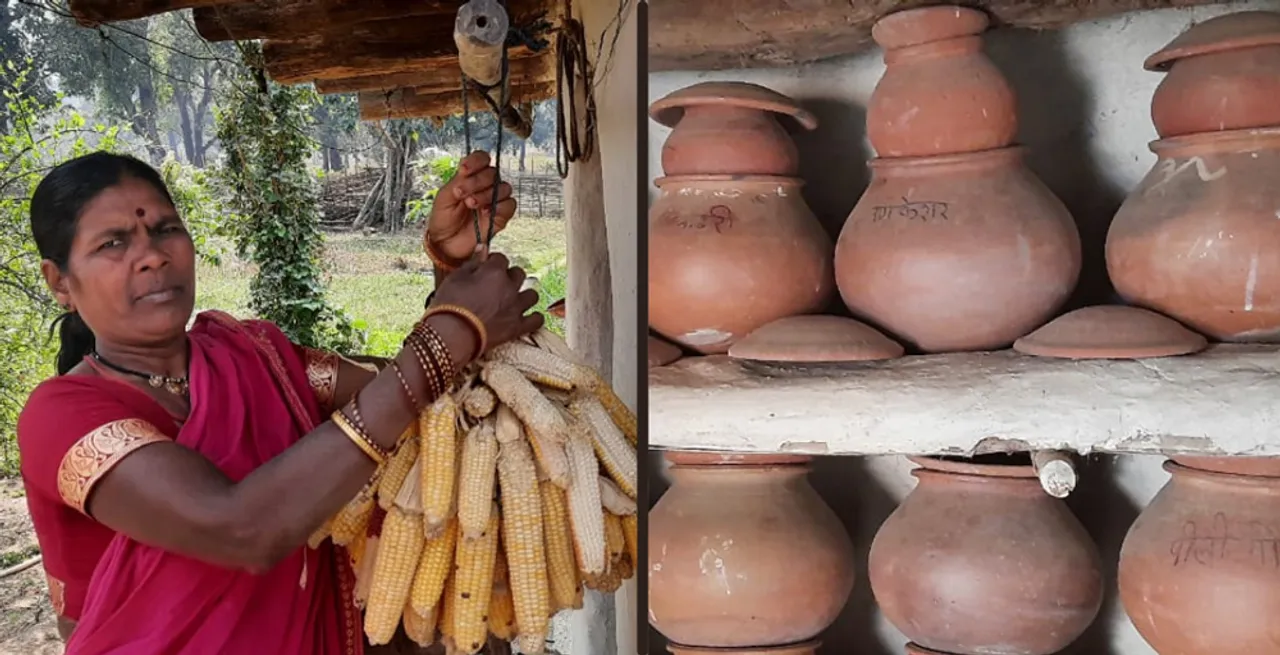 Punita Bai Uyke, a tribal farmer from village Sawarjhodi in the Balaghat district of Madhya Pradesh, remembers her grandmother collecting and preserving seeds of vegetables and various varieties of paddy for the next crop season. Her grandparents never invested a rupee in buying them from the market as they had their own little seed bank at home. The dried seeds stored in earthen pots saved money and provided them independence from the market.
But by the time Punita's parents began farming, hybrid varieties of seeds had flooded their village. So after a few years, her mother stopped preserving seeds, buying them from the market instead. Initially, the crops were good but soon, they began to develop diseases that required chemical sprays. That meant costs kept going up, impoverishing the family.
That's the legacy Punita inherited. "We pawned our jewellery to make ends meet," recalls the 38-year-old. And the story was the same across households in the village inhabited by members of the Gond tribe.
"The paddy was enough to feed us only for about six months in a year. The rest of the time, there was hardly anything to eat." 
Back to basics – native seed conservation
In 2008, Punita and others in her village received training and assistance from NGO PRADAN (Professional Assistance for Development Action) in the conservation of indigenous seed and return to organic farming.
Also Read: How Tamil Nadu's aeronautical engineer-turned-farmer is creating native seed bank to promote organic farming 
Life for her and thousands of other women farmers has taken a turn for the better as native seeds conservation has resulted in reduced input costs and also ensured nutritional security.
In Kombhalne, a small village in Maharashtra's Ahmednagar district lives Rahibai Soma Popere, popularly known as 'Beej Mata' or Seed Mother. Rahibai's campaign against hybrid seeds and conservation of around 200 native seed varieties of pulses, vegetables, rice, medicinal herbs and other crops won her the Padma Shri in 2020.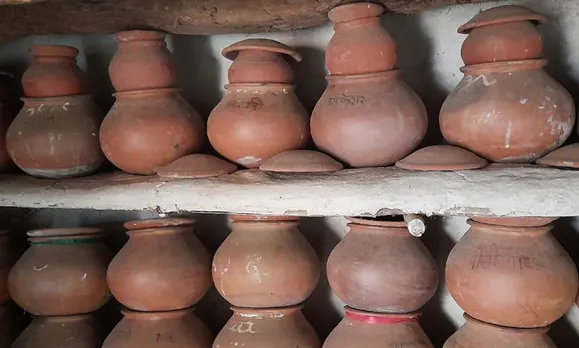 Native seeds are mostly stored in earthen pots after drying and sprinkling ash on them. Pic: PRADAN 
Rahibai travels across states and educates farmers on the importance of conserving native seed varieties, preserving the agro-biodiversity and preserving wild food resources, which she says, are vital for ensuring seed sovereignty and nutritional security.
On similar lines, NGO Vaagdhara has been carrying on a 'Beej Swaraj' or Seed Independence campaign among women farmers for the last 10 years. Vaagdhara works in the tribal-dominated districts in Rajasthan, Gujarat and Madhya Pradesh. 
PL Patel, Team Leader, Agriculture and Nutrition at Vaagdhara, says the main motive was to break the dependence of the farmers on the market, bring back agro-biodiversity and ensure nutritional security.
Also Read: Millet farming brings nutrition, financial security for women farmers in Bihar
And On the eastern coast, in Bengal's Jhargram district, thousands of tribal women farmers have revived traditional folk varieties and now grow organic black, red and brown rice. Also helped by PRADAN, the women, mostly from Sabar, Lodha and Santhal tribal communities are using native seeds, farmyard manure and natural inputs to grow the rice.
"The input cost per acre of paddy with chemical farming was Rs3,000 to Rs4,000, which is now down to only Rs 800 per acre with native seeds," says Parul Mahata from Rakhalbon village in Jhargram district.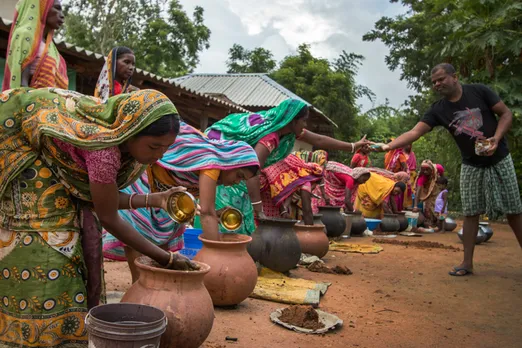 Tribal women farmers in West Bengal treating the stored native seeds before sowing. Pic: Pradan 
PRADAN also helped the women farmers form a Farmer Producer Organisation called Aamon which has about 5000 women members and helps them market their produce.
Similarly, the Pradan team that visited Punita's village Sawarjhodi in 2008 guided and encouraged the tribal women farmers to stop the use of chemicals and go back to organic farming and native seeds preservation.
Also Read: Rajasthan: Women turn entrepreneurs and earn in lakhs thanks to microcredit
Native seeds – the road to independence
Punita and Dwarka Bai Uyke were among the 12 women farmers who restarted seed conservation. "Since then, we have been using our native seeds. I conserve native seeds of about 35 vegetables and 25 varieties of paddy," Dwarka says. The seeds are bartered among women farmers on a need basis. 
Vaagdhara works in the tribal-dominated districts in Rajasthan, Gujarat & MP. Pic: Vaagdhara
Anita Damor, 42 from Amlipada village in the tribal-dominated Banswara district of Rajasthan, began preserving indigenous seeds about four years back. After becoming a member of Vaagdhara, Anita learnt about organic farming and storing seeds of native plants, many of which are on the verge of extinction.
Anita, who owns a bigha (0.625 acres) of land, was earlier practising chemical-based farming. She spent Rs16,000 on seeds, fertilisers and pesticides during the Kharif and Rabi seasons. The high cost of inputs and low income drove Anita and hundreds of other farmers like her into the arms of moneylenders and a never-ending cycle of debt.
"Most farmers in the village would take loans at 10 percent interest rate to buy the inputs. The farmers have small landholdings and meagre earnings and it was a big burden on them," says Anita.
"But now, I save Rs16,000 annually after breaking my dependence on the market," she says.
Also Read: COVID-19: From farmers, migrants to sex workers, Goonj's 'dignity for work' rebuilds life across India
One of the major benefits of native seed conservation has been the breaking of the intergenerational cycle of poverty among tribal families.
"I have four daughters. The eldest one is in the final year of graduation while the youngest one is in class ten. Their education has been possible because of our improved financial condition following seed independence," says Dwaraka.
Punita says now there is enough to feed the family, educate her children and still save money. "I sell extra seeds in the market and also exchange them with other women farmers," she says.
Seeds comprise about 15 percent of the cost of agricultural inputs if purchased from the market.
Native seeds cut this cost and don't require chemicals because they are well adapted to the local climatic conditions and are naturally resistant to pests and diseases. 
Also Read: Aamon: Tribal women in violence-hit Bengal province triple incomes with organic rice; revive traditional varieties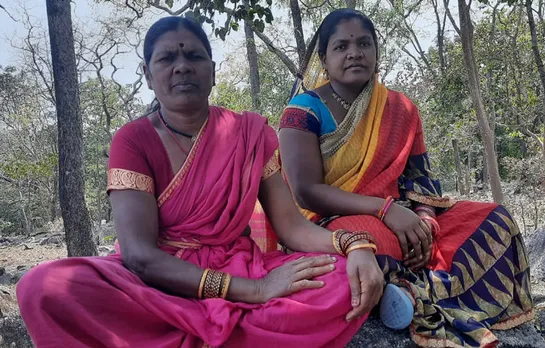 Dwarka Bai Uyke (left) and Punita Bai Uyke say they now earn enough to educate their children and feed their families. Pic: PRADAN 
Suphia Shakeel, Pradan's Team Coordinator for the Paraswada block in Balaghat district, says their main intervention point have been women. 
"Women have more knowledge of traditional farming methods and regenerative practices including indigenous seeds conservation. They know what should be cultivated where and when," she says.
Paraswada's Lotmara village has a community seed bank run by tribal women self-help groups where farmers can barter native seeds. About 75 percent of the population in Paraswada belongs to Gond and Baiga Scheduled Tribes.
Suphia says Pradan trained the women in preparing organic manure, natural pesticides and insecticides using inputs available on the farm like neem leaves, cow dung, etc. "Since indigenous seed varieties were getting lost, we met farmers in the interiors who were still cultivating native crops. We urged them to share the seeds with us which were then spread to other villages," says Suphia.
Also Read: Tribal women turn entrepreneurs with Tasar silk farming
Now about 5,000 farmers in Paraswada are conserving native seeds and practising organic farming.
Patel of Vaagdhara says the NGO has established 1,000 'Saksham Samuh' or self-help groups of women farmers across states. This has led to a chain of 20,000 women farmers who are leaders in native seed conservation.
"We tapped local farmers who were still using seeds of traditionally grown crops, distributed them among women and asked them to propagate it further among others in their villages," says Patel.
Tribal women farmers at a meeting of Saksham Samuh. Pic: Vaagdhara 
The reason behind the disappearance of the traditional varieties is the push for hybrid seeds by big companies through governments, promising that they were better in yield that got the farmer hooked. "But the seeds are neither better in productivity nor nutrition," says Patel.
The second reason was the availability of ration through the Public Distribution System. "The government gave wheat to the poor and that changed their eating habits. They stopped growing minor millets and other traditional crops and that knowledge slowly died out," says Patel.
Also Read: Udaipur's Jovaki empowers tribal women by processing wild fruits & vegetable
The native seeds that Vaagdhara has helped to conserve are minor millets such as Ragi, Kodo, Kuri and Batti, local varieties of maize like Gangda, Paheta, Sathi, Dud Mogar, besides Tuar (pigeon pea), Til (sesame), groundnut, local varieties of rice, wheat, chana (gram) and jowar.
How farmers conserve native seeds 
Dwarka explains the traditional process of seed conservation. "Vegetable seeds are stored in the dry shell of bottle gourd. The softer inner parts of the gourd are removed and it is thoroughly cleaned and sundried. The gourd is ready for use when it sounds hollow when tapped," she explains.
The dried seeds are placed inside the empty gourd and covered with ash, which is both anti-bacterial and anti-viral. They can be stored for two to three years.
For storing paddy seeds and those of lentils, women use earthen pots or other structures made using mud or clay. "Our grandmothers used to make mitti ki kothi which was stuck to a wall and where seeds were saved," Dwarka says.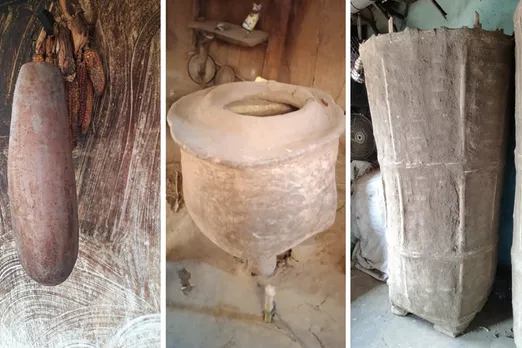 Indigenous seed storage structures. Dried bottle gourd, clay storage tank and a seed storage structure smeared with clay and cow dung. Pic: PRADAN and Vaagdhara 
These seed kothis were large clay structures, often smeared with cow dung and neem oil to keep away insects and pests. Another method was the use of baans ki pothi or bamboo structures where rice straw was spread on the base and smeared with cow dung. 
Once fully dried, it was used for the storage of seeds. "Now, we add dried neem leaves to the seeds stored in earthen pots and also sprinkle ash to ensure they stay healthy," Punita says.
Also Read: Return of the native: How Maruvan is restoring Rajasthan's desert habitat
Before using the seeds, they are treated with salt and water. The unhealthy seeds tend to float on the top and are discarded while the healthy ones sink to the bottom. "We prepare the field for sowing and use only healthy seeds to get good crops unlike earlier when seeds were just thrown in the fields randomly," she adds.
The use of indigenous seeds has benefitted the farmers on various fronts. One, the costs have gone down and two, the dependence on chemicals and pesticides has ended. The produce tastes much better and farmers have found a new sense of independence. "We will leave behind a legacy of good health and financial stability for our children," says Dwarka happily.
Through regenerative agriculture, the women's incomes have tripled and they have overcome the ill-effects of conventional chemical-based agriculture that has wreaked havoc on the ecology and human life.
(Rashmi Pratap is a Mumbai-based journalist specialising in business, financial and socio-economic reporting; Urvashi Dev Rawal is a Jaipur-based journalist specialising in development, gender, and political reporting)
Also Read: Snehakunja: Preserving biodiversity through empowerment of tribals in Western Ghats of Karnataka