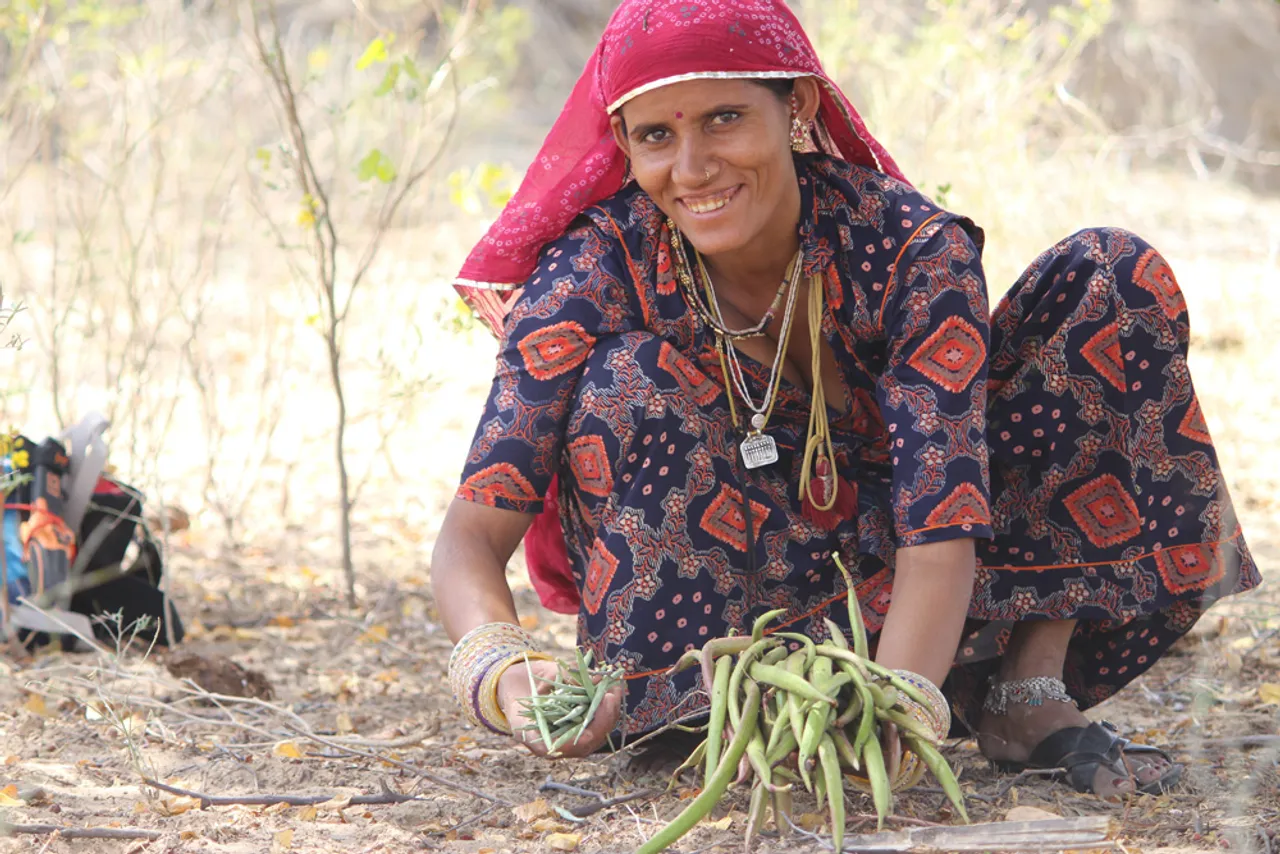 On a Tuesday morning in 1730, a party of men sent by the ruler of Jodhpur reached Khejadli village populated by the Bishnoi community. They had been ordered to cut Khejadi trees for the construction of the king's new palace. Amrita Devi opposed the royal party as the trees are considered sacred by the Bishnoi community. She and her three daughters hugged trees and were felled along with them. Eventually, 363 Bishnois sacrificed their lives to protect the trees.
That sacrifice by the Bishnoi community which is known in Rajasthan for protecting the environment went down in history as the start of the Chipko movement in India.
Almost 400 years later, another attempt at protecting the desert environment is being made in Peshawas village, barely 4 km from Khejadli.
A team of young men and women from Maruvan, a not-for-profit organisation, have undertaken a project to conserve and revive the water bodies, local species of plants and traditional architecture techniques that have been used in the desert for thousands of years.
Also Read: How a sociology professor is turning arid Rajasthan green
Return of the native
Gaurav Gurjar, director of Maruvan, says, "Our aim is to revive and restore the traditional ecosystem and native forests where people have lived for centuries in harmony with nature."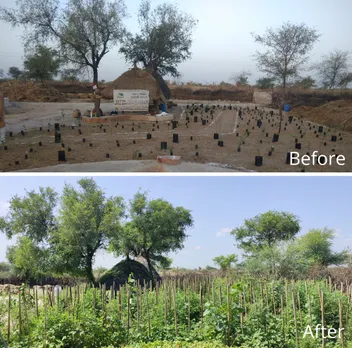 When they started work, they scouted for seeds of native species that had almost died out. 
"Now the plants have grown and are producing more seeds. It's like our forest is now a living seed bank," he says.
Gaurav says the genetic material found in a tree in the jungle and that found in a tree on the roadside are different. 
Also Read: Udaipur youths turn barren lands green; help 1200 farmers go back to traditional farming
Gaurav says many of the native species such as Dabda, Khejdi, Peelu, Kummat, Kair, Jaal which are growing in the jungles created by Maruvan are threatened and almost dying out. "We tamed nature but did not live in harmony with it so we have destroyed natural habitats and species," says the 32-year-old.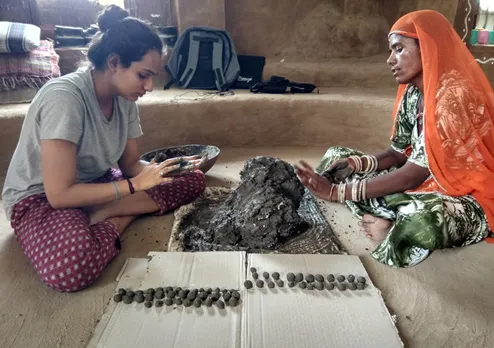 "Our aim is to make creating a forest simple so everyone can replicate it. We have kept our research and documentation open source so everyone can access this knowledge and it doesn't remain the preserve of experts."
Gaurav says the jungle has attracted native animal species too. "Initially, the ground was covered with non-native species such as Prosopis Juliflora, locally known as bawli. We cleared all the shrubs and noticed that soon the Dabda grass started growing. 
Also Read: Water conservation in rural Rajasthan increases farming incomes four times; checks migration
"A small intervention helped nature revive and restore itself," he says.
When the pond was made, it attracted ducks and birds such as kingfishers that brought fishes from other water bodies and introduced them into the pond.
"Now several species such as the Bee Eater bird, Cobras, Vipers, Hares, Fowls, Pheasants, White Footed Desert Fox, Desert Cat have returned because we provided them a safe habitat," he says.
Greening the desert
Gaurav studied engineering but did not want to take up a regular job. He travelled around the country, meeting tribals, architects, farmers and acquiring hands-on training and skills.
Also Read: Growing green lungs: How Thuvakkam is creating urban forests in Tamil Nadu
In 2016, he started work with Swechha, an organisation in Delhi that creates urban native plantations and terrace gardens. He then moved to Afforestt, which plants forests, and worked as a jungle tree expert. Coincidentally, Afforestt was starting a project on extreme research and development in the difficult terrain in Anantpur, near Bengaluru, and in the arid Peshawas, Jodhpur district. 
In 2018, Gaurav, who hails from Jodhpur, moved back to head the Maruvan project that was conceptualised and supported by Afforestt.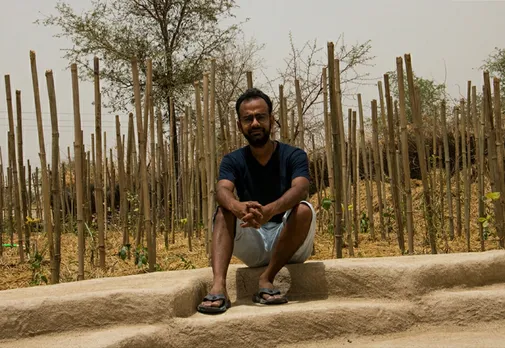 "We chose Peshawas village as it is barren and both surface and groundwater is extremely saline. We wanted a place where we could carry out experiments without worrying about failure," he says.
The team started planting small patches of local varieties of trees, experimenting with the shape of the beds, the amount of water given, the slope of land etc.
The team members also met the locals to learn about traditional species of plants and food preservation.
Also Read: How Tamil Nadu's aeronautical engineer-turned-farmer is creating native seed bank to promote organic farming 
They also studied the way of life of the people, their food and water conservation methods. "Scarcity taught them skills. Rajasthan, especially the northwestern part that is arid, is known for its water conservation systems such as tankas, baodis, and wells. The entire community understood the importance of saving water," he says.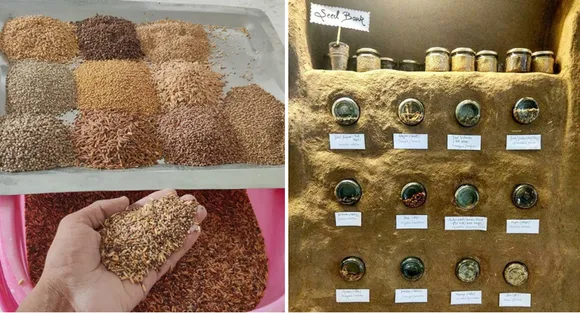 "We generally associate the desert with scarcity. But there is abundance here. People have lived in harmony with nature for thousands of years and nature has always provided for them. The small berries, millets, dairy products from goats or camels such as milk, buttermilk, curd, ghee have been part of the staple diet here."
Learning from traditional wisdom
Maruvan began work in Peshawas in 2018. "Our first challenge was to get water. We turned to traditional knowledge. Locally there is a well called 'Sahejan ka Kuan' which are shallow wells made near ponds.
Monsoon water collects in ponds and this water slowly percolates and reaches the open wells. 
Also Read: Water conservation in rural Rajasthan increases farming incomes four times; checks migration
In a deeper well the saline water will contaminate the sweet water.
The water that collects in the pond travels horizontally through the soil to the well from where it is collected and given to the plants. The sweet water has to be collected every few days else it will become saline after coming in contact with the groundwater.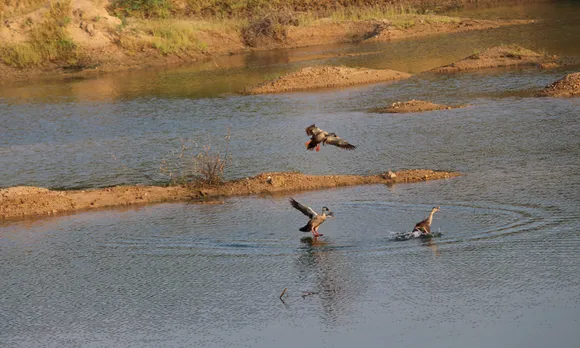 Once the team got the water mechanics right, they prepared the soil by mulching and providing organic supplements such as jeevamrit to enrich the soil. After this, they planted native species, experimenting with water and soil to see how the jungle could come up the fastest.
The trees are planted at two times, either in extreme summer so they are ready by the monsoon in August. Or they are planted in October when they are preparing to go into dormancy in the winter. By springtime in February, the plants are ready to sprout, says Gaurav.
Also Read: Daughter, water & trees: How this mantra made Piplantri a model village of India
"This self-sustaining model can be replicated in urban spaces, corporates, homes, farms and other spaces," he says.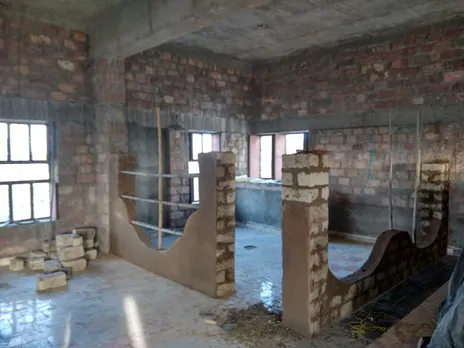 The team is now working on making houses using traditional techniques and materials. For the last year, they have tested various types of lime plaster. Lime and mud have been integral to construction in deserts since the olden days as they keep houses cool in summer and warm in winter. Lime is also antiseptic and acts as an insect repellent.
The main source of funding for Maruvan is from CSR and donations. There are networks of forest creators who have been financially helping Maruvan. On its part, Maruvn shares its knowledge and information with the interested environment groups.
Also Read: Build local: This architect creates sustainable & sturdy homes without using cement or steel
"People come to Peshawas to live and experience the jungle and habitat we have created. Once they see it, we can help them create the ecosystem," he says.
Maruvan also organises workshops for students, architects, environmentalists to disseminate its knowledge and expertise on growing forests, creating a natural ecosystem in urban spaces or homes.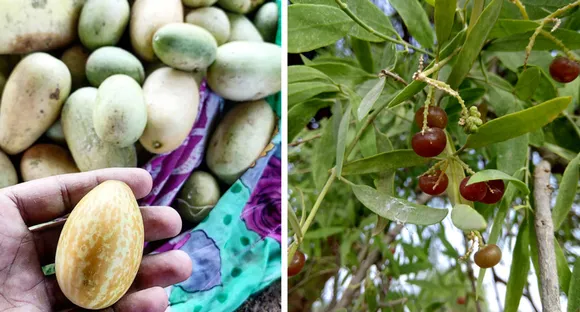 In 2018, a team of 12 forest-makers from the Netherlands visited Maruvan for training on how to create a forest. This group grew a forest in the Netherlands that got much attention. The team won a 1.85 million Euros prize as part of a competition. They got the money to plant 100 more such forests across Europe. So far, they have planted 150 forests in Europe, says Gaurav.
Also Read: Bengaluru engineer revives 11 dead lakes, targets to rejuvenate 45 water bodies by 2025
The second workshop at Maruvan was for forest-makers from the Punjab-based Eco Sikh Network. "They were interested in carrying out a large tree plantation drive to mark the 550th birth anniversary celebrations of Guru Nanak. We named the drive 'Guru Nanak Sacred Forests'."
After their training at Maruvan, Gaurav travelled to Punjab with them and undertook research on native sacred trees that would be planted under the drive.
Gaurav says working in the desert has changed his perception. "We came here with the view that we would put things right in an arid, scarcity-hit region. But now we realise that our outlook was incorrect. There is abundance here. People have coexisted in harmony with nature that has always provided for them,"
(Urvashi Dev Rawal is a Jaipur-based journalist specialising in development, gender, and political reporting)
Also Read: Sheeba Sen: Lawyer-turned-conservationist creating income-generating forests for local communities