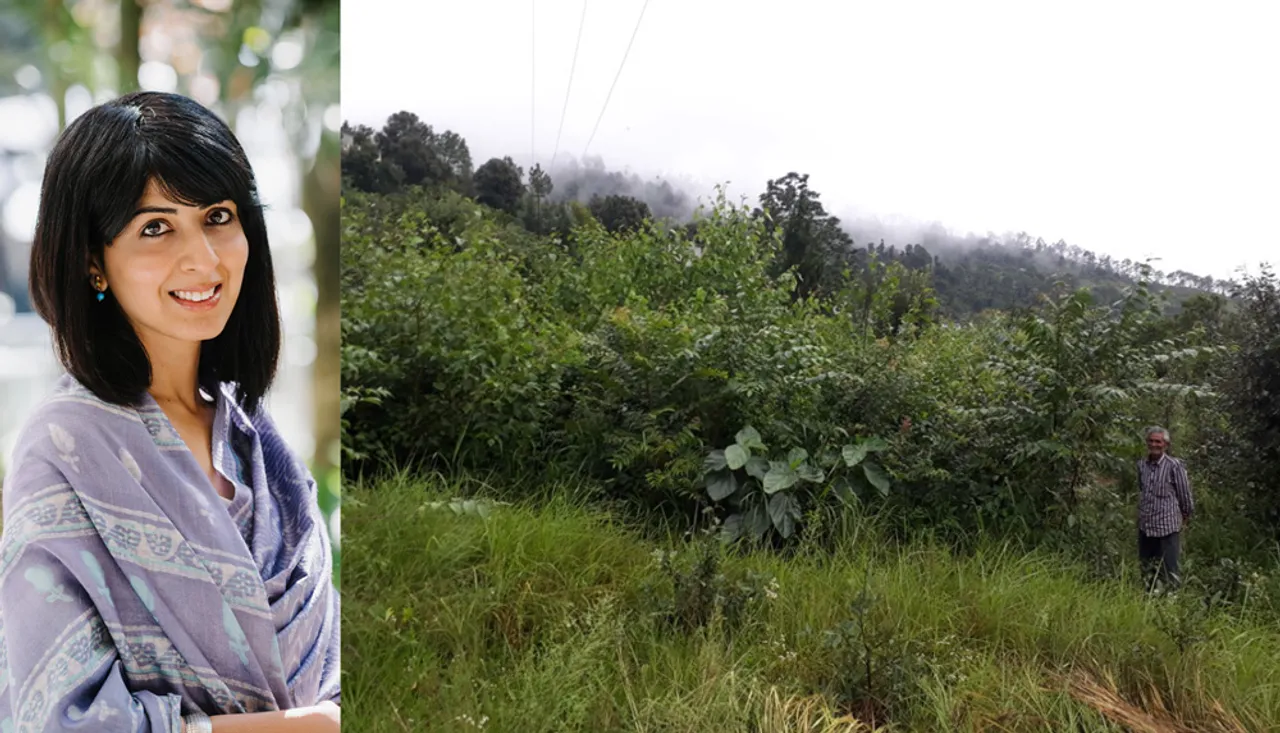 In August 2017, Sheeba Sen decided to plant native trees in the backyard of her home in Satoli village of Nainital district, Uttarakhand. She planted 600 saplings over just a 200sq metre area using tenets of the Japanese Miyawaki technique of plantation that focuses on recreating dense forests of indigenous plants.
By 2018, the highest tree in her backyard was over 20 ft, and more than 92 percent of trees had survived with minimum maintenance. Already aware of the fast-depleting forest cover and dwindling water table in central Uttarakhand, Sheeba knew what to do next. She decided to create forests of indigenous plants, which fight climate change and are also the backbone of farming.
"Forestry, climate change, farming and livelihood are all linked. We can keep designing livelihood projects, but until we restore the natural ecosystems, we cannot succeed," says Sheeba, who trained in law at the University of Oxford and practised at an international law firm in London for three years before returning to India in 2011.
Also Read: Environment: Gujarat couple quits US jobs to build own food forest; creates orchards & gardens for others

Forests - the backbone of natural ecosystem
Forests and trees not only arrest soil erosion and absorb carbon-di-oxide (CO2) but also help maintain groundwater tables, all of which are linked to farming and the overall development of a region.
According to the Global Forest Watch, from 2001 to 2020, Uttarakhand lost 16.1kha of tree cover, equivalent to a 0.83 percent decrease in tree cover that could have absorbed 8.57 metric tonnes of CO2 emissions.
"We realised that it was important to restore large tracts of land at a fast pace. Alaap then opted for 'high-density native forest creation' to ensure rapid restoration of forest cover in Uttarakhand," she says.
Also Read: Growing green lungs: How Thuvakkam is creating urban forests in Tamil Nadu
While many companies are using Miyawaki to create forests in the most toxic soils and polluted environments, Sheeba and Alaap did not face these challenges in the hills of Uttarakhand. "We made changes in terms of watering requirements of plants and soil works. But the whole idea is to create low-maintenance high-density forests of native species," says Sheeba, who worked with Uttarakhand-based rural development organisation Aarohi for over three years before launching Alaap.
Some of the trees that Alaap plants include Banjh oak, Deodar, Padam (Indian almond), Kafal (Box berry) and other local varieties. "In 2018, we planted 25,000 trees across Uttarakhand and Karnataka. We also implemented plantation projects on the lands of state and local governments in Uttarakhand. All this helped us to gather data and also understand how forests were thriving," Sheeba says.
Also Read: Udaipur youths turn barren lands green; help 1200 farmers go back to traditional farming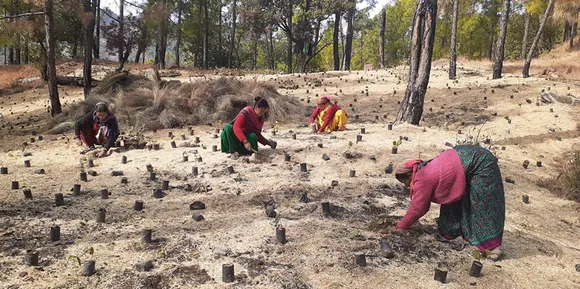 By 2019, Alaap's plantation methodology was proven with over 90 percent survival rate – the mark of a successful forest. "Reforestation of native species at a fast pace was exciting for me," she says.
However, Sheeba observed that while every village had community land, nobody had a stake in planting or maintaining trees there due to a lack of financial returns.
So as a methodology to save the environment, forests can be planted mostly only on government land, but that isn't enough to solve the problem.
Carbon Credits - income generation through forestry
The only way the forestry model works for investors right now is to plant trees for timber, cut them after 15 years and share the revenue with landowners.
"This model is based on making money by cutting trees. Moreover, the forests we plant are so dense that one can't harvest anything from there. So we wanted a model where returns could be made by leaving trees standing. So we spent the whole of 2019 working on this," Sheeba recalls.
Also Read: Daughter, water & trees: How this mantra made Piplantri a model village of India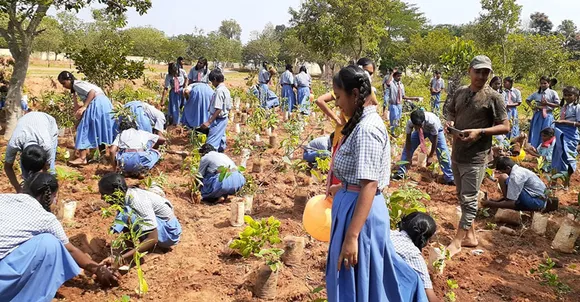 Increasingly, it is becoming tougher for high-polluting industries to emit CO2 as most countries have a target to hit net zero emissions over the next 30 to 50 years. While India does not have a market-based mechanism for carbon trading as yet, there are many schemes that put an implicit price on carbon. And some companies are also voluntarily opting for Internal Carbon Pricing to deliver corporate sustainability goals.
Currently, the most common way to scrub the CO2 from the atmosphere is through plantation – the activity Alaap is carrying on in five states right now.
Also Read: How a sociology professor is turning arid Rajasthan green
Alaap will soon be re-launching globally as Hasten Ventures SPC -- a social purpose corporation based in Palo Alto, California. "Our aim is to put in place the operating systems that create opportunities for economic growth, social cohesion, and equity, and that also heal our planet," Sheeba says.
There, are statutory requirements for many industries to offset their carbon footprint. "Even after cleaning their operations, they have carbon footprints for which they can invest money in a project and claim the credits from that project against their own carbon emission figures. This becomes a channel of revenue for forestry work," she explains.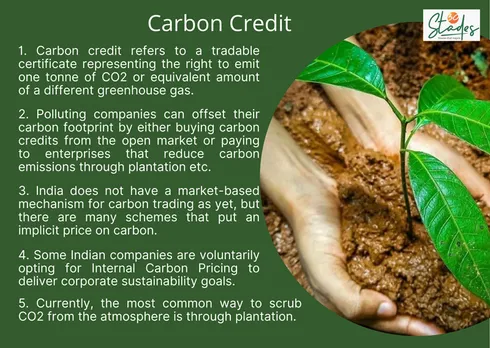 The money put into these projects pays for the creation of the forest. "Every time the carbon credits are claimed by the company, 80 percent of the money goes back to the community and 20 percent can meet costs for project developers like us," Sheeba adds.
Also Read: Assam's Samir Bordoloi glamourises zero-cost organic farming; draws Northeast youth back to agriculture
Later, the plantation projects will be undertaken in other states and even outside India.
Since Alaap's plantation technique involves dense forestation, they plant about 30,000 trees in one hectare against the average of 3,000. "The number is about a million trees in 100 acres. We have done direct plantations and now, we have evolved from being just implementers to project developers. With our partner organisations we have planted about six lakh trees so far," she says.
The work provides seasonal employment to local women who form the majority of the workforce involved in the plantation. The saplings for plantation are procured from local nurseries. "Now we plan to start a seed bank, which will also help in biodiversity conservation," Sheeba adds.
(Rashmi Pratap is a Mumbai-based journalist specialising in business, financial and socio-economic reporting)
Also Read: How Tamil Nadu's aeronautical engineer-turned-farmer is creating native seed bank to promote organic farming