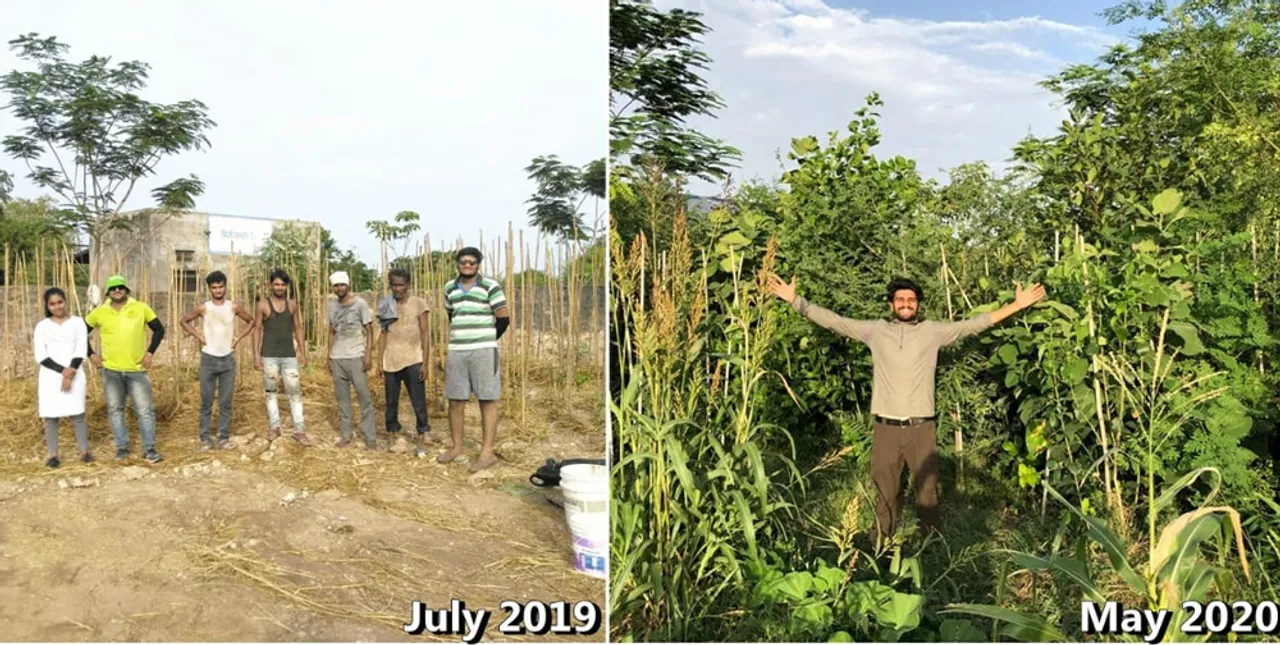 wp:html /
Growing up in Peeplond village of Bhilwara district in Rajasthan, Bhuvnesh Ojha remembers the long queues of people waiting in the sweltering summer heat for tankers that would supply water and the fights that broke out in the mad rush to fill as many buckets as possible.
"It was the norm every summer. With water being scarce, the government would supply through tankers. I would also read in newspapers about farmer suicides in different states and that disturbed me," says Bhuvnesh, now 26.
These experiences shaped his resolve to start a green campaign for the restoration of natural balance that is being destroyed by overexploitation of resources. "I talked to environmentalists and village elders who told me that there used to be a forested area on the outskirts of the village but, over time, the vegetation has been destroyed and the water table has receded," says Bhuvnesh who is now based in Udaipur.
Also Read: Assam's Samir Bordoloi glamourises zero-cost organic farming; draws Northeast youth back to agriculture
The lowdown was that the indiscriminate exploitation of natural resources such as forests and water, without any conservation efforts, had degraded the environment. As agriculture dried up, farmers gave up their land and migrated to cities in search of jobs.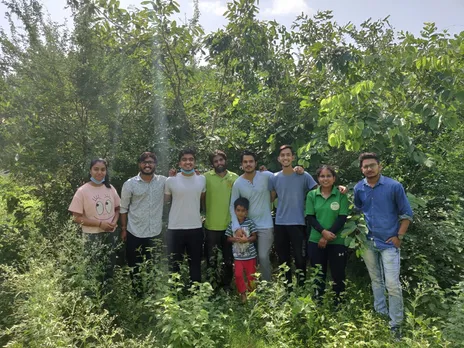 As per a Central Ground Water Board report of 2012, of the 17 blocks in Udaipur district, five were in the over-exploited exploited category, three in critical and two in semi-critical categories.
Realising the need for judicious use of natural resources, Bhuvnesh set up the Pukaar Foundation with the mission to spread awareness among people to preserve and conserve biodiversity and green the cities. So far, Pukaar has roped in over 10,000 volunteers to help in its greening effort.
Also Read: Environment: Gujarat couple quits US jobs to build own food forest; creates orchards & gardens for others
It is also working with 1,200 farmers to re-introduce them to traditional farming techniques. All these measures are aimed at the conservation of biodiversity as well as land and water resources.
Starting Young
After school, Bhuvnesh was in a dilemma about going in for a B.Tech degree or pursuing his dream of nature conservation. Eventually, he decided to stay back in Udaipur where his father, a government servant, lived and work to educate people on environment conservation.
Bhuvnesh and his friends planted the first tree in their colony in Udaipur city of Rajasthan on March 10, 2013. Soon, they began more planting trees in the colony and would upload photos on social media to showcase their work and motivate others.
Also Read: How a sociology professor is turning arid Rajasthan green
Bhuvnesh gave a more formal and concrete shape to the campaign as followers who wanted to join in the effort grew, and Pukaar Foundation was born. It was decided that every Sunday, new volunteers could join in the green mission.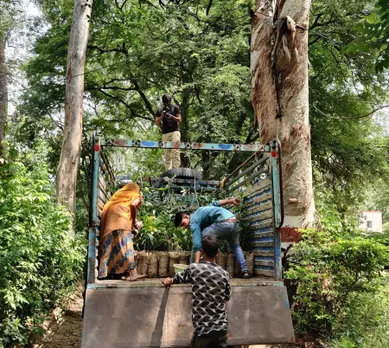 Since then, around 10,000 volunteers from all walks of life have joined in the effort to green the city by planting saplings.
From planting saplings on the roadside, the youths went on to greening parks in the colony. "We saw that the government parks were lying barren. So we cleaned them, tilled the soil and planted local varieties of trees," he says.
Also Read: Environmental sensitivity will lead to climate empowerment
Pioneered by Japanese botanist Akira Miyawaki, this method entails planting diverse native species close together which grow in two or three years.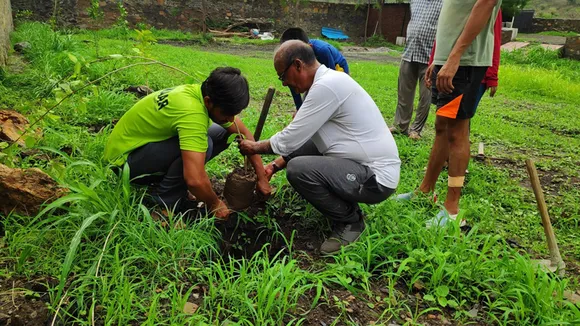 These mini forests are very suitable for urban spaces as they act as carbon sinks, reduce temperatures, lower air and noise pollution and attract birds and insects. In 2019, the Pukaar team planted 3,000 trees using 50 native species.
Appreciating Pukaar's efforts, Dr Satish Sharma, Assistant Conservator of Forests (Retired), said the team is doing commendable work. "As pollution levels and population pressure grows, we need our cities to be greener. The Miyawaki technique is apt for urban homes as well as for educational institutions, hotels and factories."
Also Read: Water conservation in rural Rajasthan increases farming incomes four times; checks migration
Tribal outreach
While the green drive had picked up in the city, Bhuvnesh wanted to expand the scope of the work to include tribals. He had done online courses on permaculture and in his discussions with experts, he learnt that the ecosystem had to be recreated.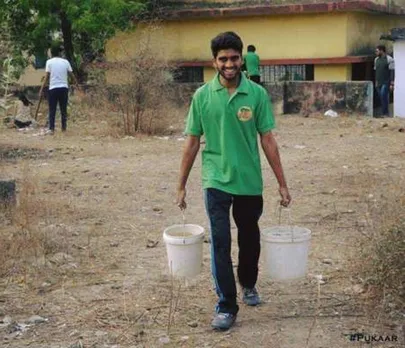 He also met some tribal farmers and learnt about traditional farming practices from them. He realized that the younger members of the tribal community were losing touch with their roots and did not have knowledge about medicinal plants and local trees that grew in the region and were beneficial for the soil as well as health.
Permaculture is a method of creating sustainable ways of living. It follows natural ecosystems where plants, animals and other organisms grow in synergy with the landscape and environment, creating a bubble of life.
Also Read: Rescuing mortgaged kids, giving tribals a voice in decision-making, how Vaagdhara is bringing change from ground up
Permaculture recreates this ecosystem by integrating land, resources, people and the environment.
Initially, they started planting trees in the Aravalli ranges around Udaipur. Then from 2019, Pukaar started working with tribal farmers and gram panchayats in Alsigarh village near Udaipur.
"With the cutting of vegetation on the hills, they have become barren. The water flows down and does not seep into the ground. Soil erosion has also taken place as the rainwater carries the soil with it. Farmers are only able to grow one maize crop during the monsoon; so they don't see any return in farming," says Bhuvnesh.
The power of natural farming
In 2019, the Pukaar team planted 15,000 custard apple plants on three hills in Alsigarh in a bid to conserve water and soil.
"We built small trenches on three hills so water would seep into the ground and recharge the groundwater. We dug around 400 water trenches and put two custard apple saplings in front of each trench," he says.
Also Read: Rajasthan: Women turn entrepreneurs and earn in lakhs thanks to microcredit
A few months back, they distributed 4,000 fruit saplings of local species like jamun, mango, gooseberry, guava, pomegranate, lemon, custard apple and bamboo to 140 farmer families for plantation on their farms.
"We are trying to sensitise farmers to conserve water and soil. Looking ahead we want to re-introduce them to their traditional techniques of farming and provide them seeds of traditional plants which used to grow here earlier," says Bhuvnesh.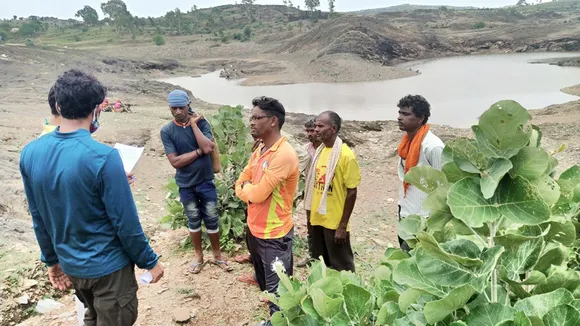 Pukaar Foundation will also help farmers to dig trenches and make small ponds on their land for water conservation. This will recharge the water table and improve the moisture content of the soil, which will be beneficial for farming.
Dr Sharma underlines the importance of growing local species.
Farmers should preserve and practice traditional natural farming, he adds.
Bhuvnesh, a science graduate, says he learnt about permaculture and traditional farming from other organisations such as Tribe Permaculture group of Gujarat, Give Me Trees Trust of Delhi and Maruvan Organisation of Jodhpur. "I have gained much knowledge about farming from these organisations and I am applying it in the work Pukaar is doing," he says.
Also Read: Marathwada: Farmer in drought-prone Beed gets 60 tonnes papaya per acre through organic farming
Since indigenous knowledge is fast disappearing, this documentation work can be a precious resource for future generations.
"Our objective is to make farming sustainable so farmers don't have to migrate to cities in search of jobs. If farmers realise a stable income from farming, then farmer suicides and other social evils such as domestic violence and alcoholism can be taken care of to some extent," he says.
(Urvashi Dev Rawal is a Jaipur-based journalist specialising in development, gender, and political reporting)
Also Read: Growing green lungs: How Thuvakkam is creating urban forests in Tamil Nadu