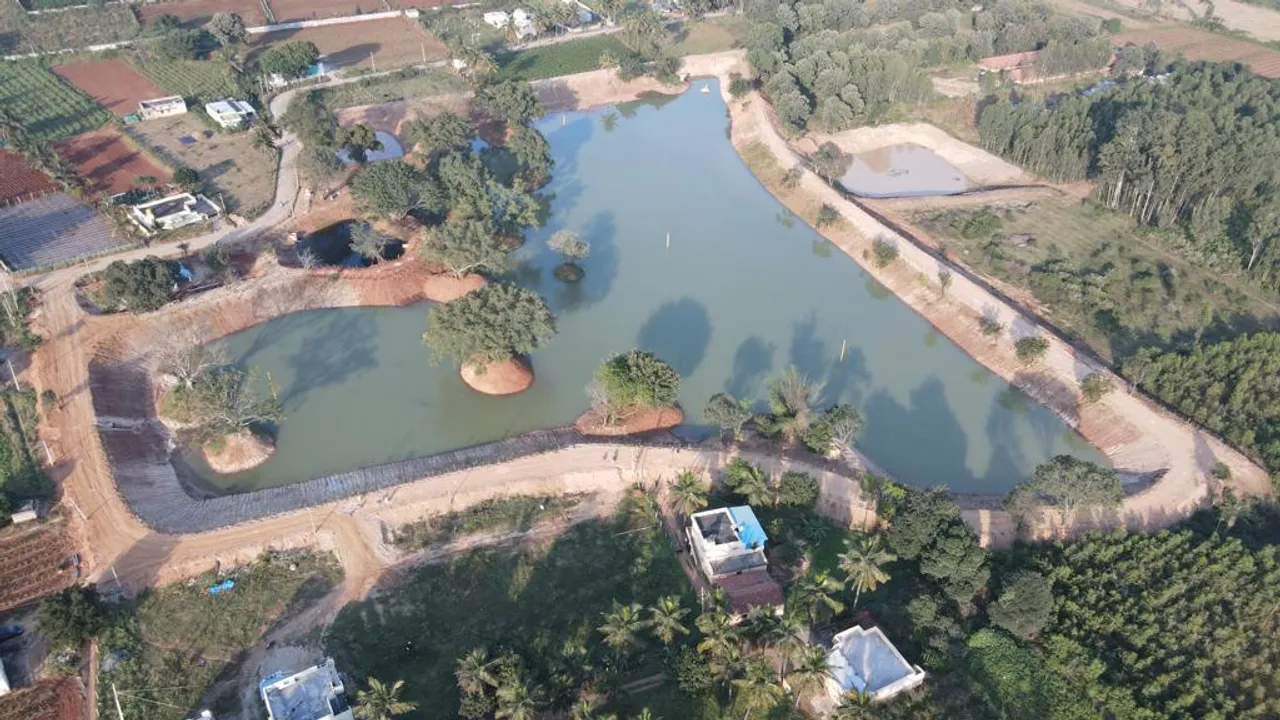 wp:html /
In a sweltering April of 2017, Anand Malligavad was hard at work, removing debris and cleaning up the lakebed of the 36-acre Kyalasanahalli Lake in Bengaluru. Six months later, Malligavad's toil bore results as he boated in the crystal-clear waters of the lake that had gone dry almost 40 years back.
"That was the happiest moment of my life. I had tears rolling down my eyes. All my hard work had come to fruition and my first lake revival project had succeeded beyond my dreams," says Malligavad, a mechanical engineer-turned-lake conservationist.
During the monsoon in 2017, Bengaluru received good rainfall and 46 crore litres of water filled in the lake. Along with volunteers, Malligavad also planted 5500 saplings along the lake perimeter.
Today, the lake is a recreational spot with benches and walking paths and a small play area for children.
"I feel very content and emotional when people share their stories. Some show me their once dry bore wells overflowing with water, others say they began driving auto-rickshaws, earning Rs300-500 per day as they had no water for agriculture. But now they are again farming and present me with the crops and vegetables they are growing in their fields," shares Malligavad happily.
Also Read: Bihar: Asia's largest oxbow lake Kanwar caught in the crossfire between farmers & fishermen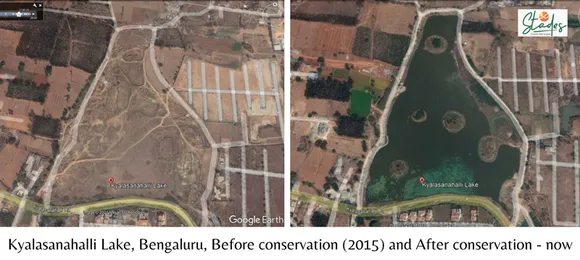 The revival of the lake has had a huge impact on the ecosystem too. Many species of birds flock to the lake, and plants are thriving. Fishes which had shrunk to half an inch have grown to four feet, he says.
His 12th lake conservation is underway near Electronic City in Bengaluru and will be unveiled on January 15, 2022, he says. The 19-acre lake was almost dead with an overgrowth of hyacinth and 1.5 metres of sludge, but Malligavad has successfully revived it.
Lakes in the DNA
Malligavad grew up in the Karamudi village of Koppal district and studied in the government school that was situated in a lake bed. He liked to spend time at the lake near his school.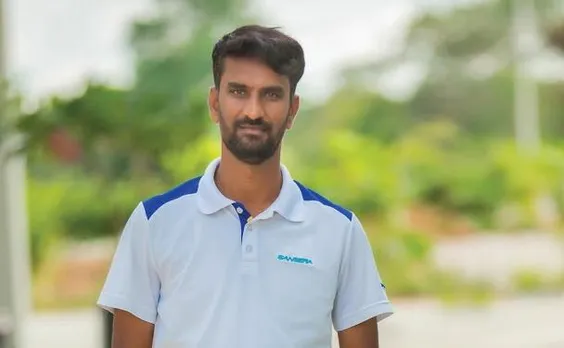 About 1.5 km outside the village was the Malligavad Lake built by his forefathers. The farmers used the water from the lake for farming and drinking. "They would eat their meals, rest, sit and chat in the shade of trees around the lake. I think my attachment to water bodies is ingrained in my DNA," he says.
After school, Malligavad shifted to Bengaluru where he studied mechanical engineering and started working in a private firm. It was an environmental report published in 2015 that opened Malligavad's eyes to the danger that was staring people in the face. The report stated that by 2025, Bengaluru would become a zero water city after Cape Town in South Africa.
Malligavad started seeking answers to questions that had been troubling him such as why all the wells in Bengaluru had dried up, why tankers were used to deliver water, why the groundwater had fallen to 700-800 feet.
Also Read: Udaipur youths turn barren lands green; help 1200 farmers go back to traditional farming
He read up, spoke to a cross-section of people and learnt that hundreds of acres of lakes had over the years been drained by various governments for construction activities.
The City of Lakes
Once upon a time, Bengaluru was known as the city of lakes. The 15h century visionary ruler Kempe Gowda, who is said to have founded Bengaluru, constructed hundreds of lakes that were all inter-connected to ensure an uninterrupted water supply for drinking and irrigation.
But over time and with rapid urbanisation, the lakes were lost to infrastructure projects and encroachments. With the lakes running dry, the flora and fauna and surrounding ecosystem also got destroyed.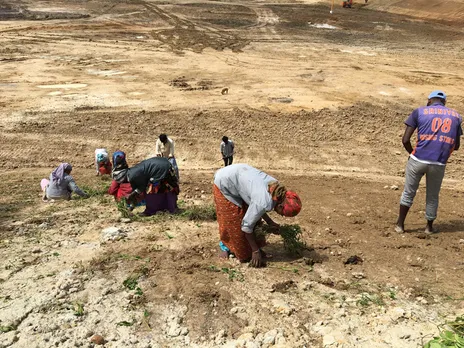 Apart from the lakes going dry, the nullahs and drains across the city were covered or encroached which did not leave any outlet channels for the water. This prevented the water from seeping into the ground and recharging the water table.
The alarming situation prodded Malligavad into action and he decided to restore lakes in Bengaluru. He met residents who resided near the lakes to understand the history of the lake, its ecology, soil, topography and politics.
"I chose to revive lakes because I felt I could do it at less cost and make it a sustainable model that could be replicated by others not only in Bengaluru or Karnataka but in other parts of India and the world," he says.
Also Read: West Bengal's Gaighata: Where arsenic toxicity in livestock is now adding to poison in human bodies
Low-cost model of lake revival
In January 2017, he went ahead with the first project.
He first approached the residents around the lake to garner their support in his work of restoring the lake. He covered some 400 households with the help of senior citizens. They went house to house and explained to people why the lake had to be revived. Once they were convinced, people joined him in the arduous work.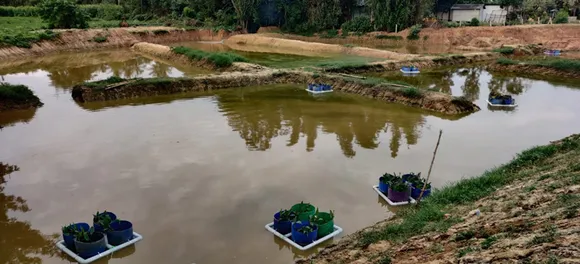 The lake was totally dry and was used as a dumping ground by the residents. With three earthmovers, some trucks and help from locals, Anand removed around 4 lakh cubic meters of mud from the lakebed.
Malligavad and his volunteers planted 18,000 saplings of fruit-bearing trees, native species and ayurvedic plants around the lake with the help of an NGO, Saytrees Environmental Trust. During the monsoon, the lake filled up with rainwater and was restored back to life.
Also Read: Environment: Gujarat couple quits US jobs to build own food forest; creates orchards & gardens for others
After the success of his first project, there was no looking back for Malligavad. In 2018, Hewlett Packard approached him through Saytrees to restore the Vaschandra lake and gave him Rs1 crore for the project. In two months, the 9-acre lake was transformed into a 15 feet deep water reservoir.
In 2019, Malligavad rejuvenated three more lakes after which he quit his job and became a full-time lake conservationist. 
While the first two lakes that Malligavad revived were dry, the third one, the 16-acre Konasandra Lake was full of effluents and sewage, thanks to the industries and pharmaceutical companies situated around it.
Eventually, one of the companies, Hikal Pharma Ltd came forward and gave Rs81 lakh to rejuvenate the lake.
"I did not use any sewage treatment plant or chemicals to clean it; I treated it using natural biological sewage treatment."
He created separate earthen bunds or partitions to hold rainwater and sewage water. The pollutants were trapped in four stages. At the first stage, the plastic and thermocol were captured and removed, silt was captured in the second level and at the third level excess nutrients in the water like nitrogen, phosphorus, potassium and sulphur were trapped through aquatic plants grown in the lake. 
At the fourth level, the treated water was let out of the earthen bunds and fishes and other species were used to aerate the water which was used for afforestation around the lake.
Also Read: How Nahargarh's 300-year-old water harvesting system beat the desert's water blues
A lake legacy for the future
During the course of his work, Malligavad has received threats and criticism but that has not deterred him.
Before each project, he Interacts with the locals, learns from them and convinces them about his work so they too join in and help in his onerous task. He has also taken criticism positively and made corrections where he has gone wrong.
"I managed to clear encroachments without any conflict by talking to and educating the residents. Of course, I did face some opposition and threats but since a majority of people supported me, I faced no harm," he says.
Malligavad says the impact of his work is there for all to witness. 
Also Read: Growing green lungs: How Thuvakkam is creating urban forests in Tamil Nadu
The funds for the projects have come either through corporates or through crowdfunding.
Malligavad recalls that he revived one of the lakes, Manae, with the help of four students. The 4.5-acre lake is today a wildlife drinking water body.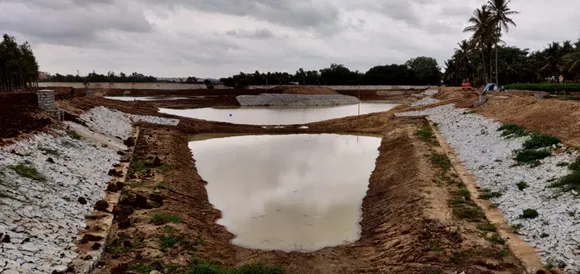 "We were in a fix about how to raise funds. The students and their parents called friends and relatives and raised Rs10 lakh in 30 days after which we cleaned and restored the lake. The success story was presented at the 2020 Word Federation UN Association and Syed Akbaruddin who was then India's Permanent Representative to the UN, as well as other delegates praised the good work done by the children who had set an example for others to follow," he recalls with pride.
He has planted four types of forests around the lakes – Miyawaki, traditional, grassland and wetland - depending on the local needs. Native species of fish have been introduced in the lakes.
Also Read: Chand Baori: India's biggest & deepest stepwell built in the 9th century for water conservation
To spread awareness about the need for conservation, he has shared his experiences with students in medical, engineering, management colleges in the city, several school and technology companies. "I tell them even if you don't become environment conservationists, just do your bits by saving water," says Malligavad, who lives in Bengaluru with his wife and daughter who now back his work though initially, they were a bit sceptical.
His work has caught the attention of several NGOs and corporates from across India who have approached Malligavad to restore lakes in their areas.
On December 19, people near Kommasandra lake, the 11th one to be rejuvenated, honoured Malligavad for reviving their lake with a surprise party. Siddu Bandi, a resident and volunteer with Malligavad, says the celebration was a show of their appreciation and thanks.
Also Read: Delhi water crisis: 5 historic forts from which India's capital can learn water harvesting & conservation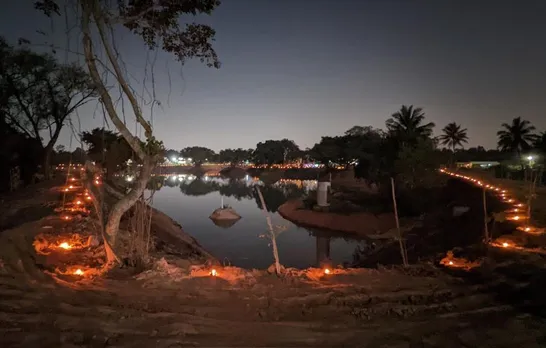 Bandi, 43, a software professional working with Wipro, has been working with Malligavad for the last 4-5 years. He says work on cleaning the Kommasandra Lake started in mid-September and was completed in about 40 days. The entire community joined in the drive. Two firms – Ratna Packaging Pvt Ltd and Micropak India Pvt Ltd gave the funding of Rs39 lakh.
"Kommasandra village did not have a water source and pipelines were laid to bring water to the village. Now with the lake revival, the groundwater has recharged. Borewells that ran only for 10-15 minutes are now running for 10-12 hours. People have water for drinking and agriculture," says Bandi.
As part of the celebration, the villagers drew rangolis and lit diyas around the lake. They had a dance performance and a puja. The villagers cooked a sumptuous meal and everyone ate under the moonlight in the ethereal setting. "People are realising it is important to protect and preserve our environment. Anand is a great motivator," says Bandi.
(Urvashi Dev Rawal is a Jaipur-based journalist specialising in development, gender, and political reporting)
Also Read: Water conservation in rural Rajasthan increases farming incomes four times; checks migration