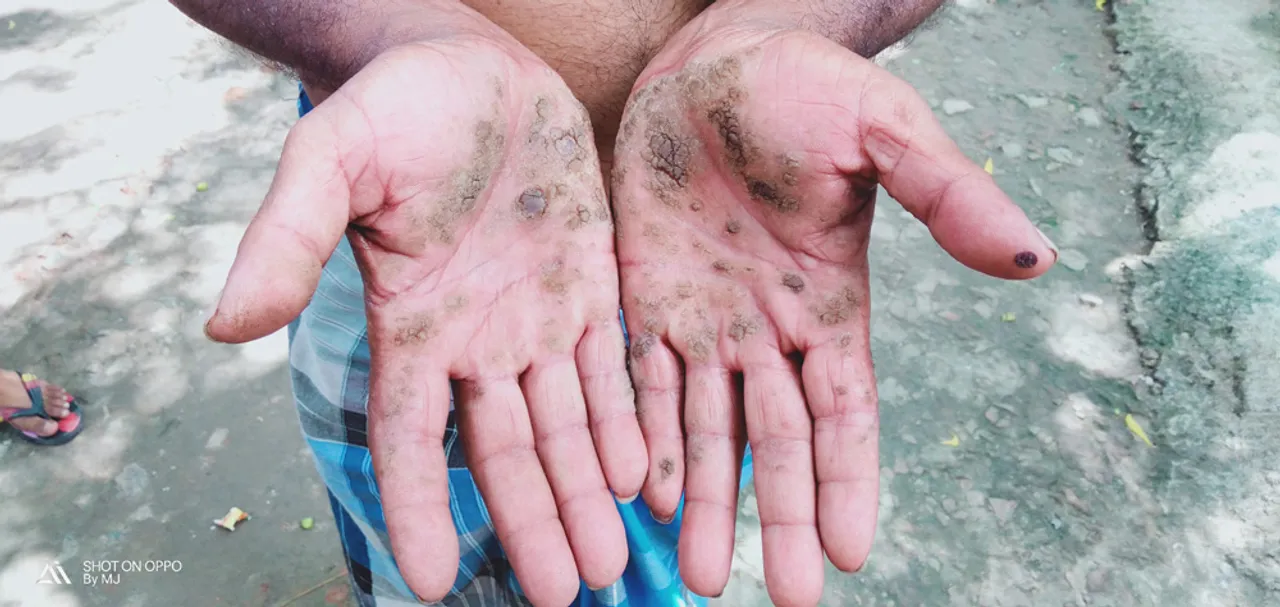 Biswajit Das, a 55-year-old farmer from Sutia (also Shutia) village in West Bengal's Gaighata block, North 24 Parganas district, has discontinued farming. No, it's not because his land has turned infertile or he is incurring losses. It is because Biswajit has developed chronic bronchitis and lost the physical vitality to even perform daily chores. 
"I have been suffering from arsenic toxicity for the last 15 years. Earlier, it was mostly due to the intake of contaminated groundwater but now even our livestock and cattle have accumulated toxins. So the intake of milk, eggs and meat are adding to the arsenic in our bodies more rapidly," he told 30Stades.
"I have lost the energy and interest in continuing farming. Being poor, I cannot afford to bring food and water from elsewhere but have to depend on whatever is available locally," Biswajit adds. 
Also Read: Water conservation in rural Rajasthan increases farming incomes four times; checks migration
The toxin leaches into the groundwater from arsenic bearing rocks below the water table. The high levels of arsenic-laced groundwater in Gaighata is leading to slow poisoning of not only humans but also livestock, says a study by the School of Environmental Studies, Jadavpur University Kolkata.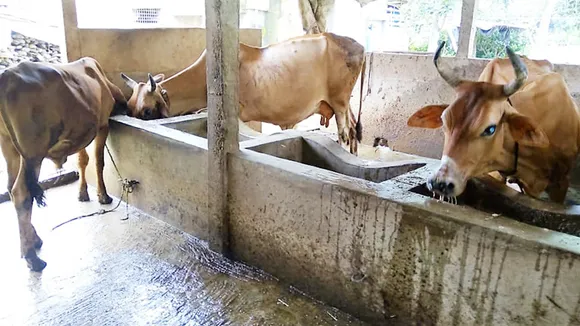 Arsenic in the food chain
As per Census 2011, Gaighata's population is 3.3 lakh. Since the arsenic-laced water is used for irrigation, the toxin has spread throughout the food chain including grains and vegetables, cattle and livestock and human beings.
Also Read: From weathering cyclones to tiger attacks, how Sundarban inhabitants forge resilient lives
Gopal Krishna Das, 60, another farmer from Sutia, says, "Due to inadequate access to arsenic-free water, the contaminated groundwater is used for irrigation purposes. It is also given to the cattle for drinking, leading to toxicity in them as well."
The researchers tested faeces and tail hair in cattle and have found arsenic toxicity in them. In animals, the arsenic is retained in blood and faeces and leads to weight loss, reduced milk yield, low immunity and other disorders. The arsenic is also passed into products such as milk, egg and meat, which are consumed by humans.
Also Read: Tendu leaves cushion tribals from economic deprivation during COVID-19
This is contributing to slow poisoning, causing severe health problems to the people. Chronic arsenic toxicity leads to several neurotoxic disorders as well as an increased risk of cancer in adults. In Gaighata, there are thousands of cases of keratosis (a growth of keratin on the skin), melanosis,(the pigment deposition results in a characteristic dark brown to black discolouration) chronic bronchitis, dorsum (a rare disorder caused by histiocytes in the lymph nodes or other parts of the body), raindrop pigmentation, conjunctivitis, and skin cancer.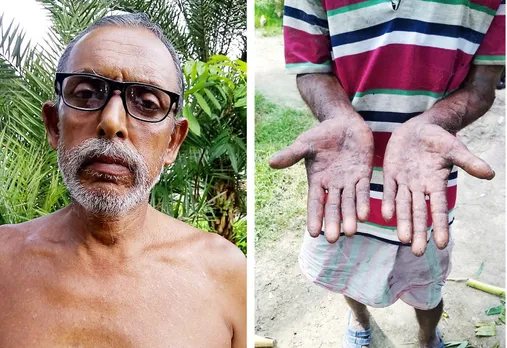 Shefali Das, another local, says her health has been deteriorating since she got married and came to this village some 37 years ago. "A few years after my marriage, I started developing black patches on arms, chest and back. When I consulted a doctor, he advised me to stop drinking water from tube wells. But what can I do about vegetables, milk, food grains and meat? They are also contaminated," she says, adding that toxicity has slowed down her working capacity.
Also Read: In shortage of vets, Pashu Sakhis support cattle & poultry farmers in Jharkhand's tribal hinterland
Arsenic in livestock adding to the woes
"The arsenic concentrations in drinking water of domestic livestock ranges between 4.8 and 604 micrograms per litre against the maximum limit of 50 micrograms per litre," says Dr Tarit Roychowdhury, Professor-Researcher at the School of Environmental Studies, Jadavpur University.
The daily diet of domestic livestock in Gaighata consists of food crops and their residues such as paddy straw, crushed rice grain, rice husk, corn husk, maize, mustard cake, wheat chaff and pea chaff with substantial arsenic accumulation.
The study shows that paddy straw itself contributes 1940 microgram/kg of arsenic (range: 433–5726 microgram/kg) in the exposed area. The total daily dietary intake of arsenic is approximately 4.56 times higher in exposed cattle as compared to the control group.
Also Read: Sundarini: the organic milk revolution by women of Sundarbans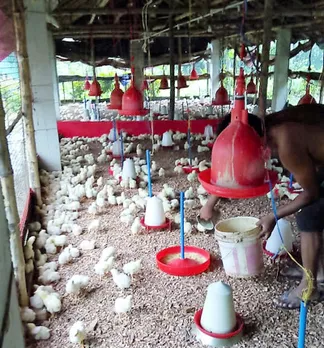 Although the animals usually don't show evidence of any significant arsenical skin manifestation, they suffer from sub-clinical toxicity.
In animals, arsenic causes weight loss, low production efficiency, reduced milk yield, low immunity, abdominal discomfort, diarrhoea and other diseases.
Basudev Ghosh, Deputy Head of Ramnagar Gram Panchayat, says around 3,600 cattle are reared in their 10 villages. Each village has 250 running poultry farms consisting of 50-100 hens or ducks.
Also Read: Udaipur's Jovaki empowers tribal women by processing wild fruits & vegetable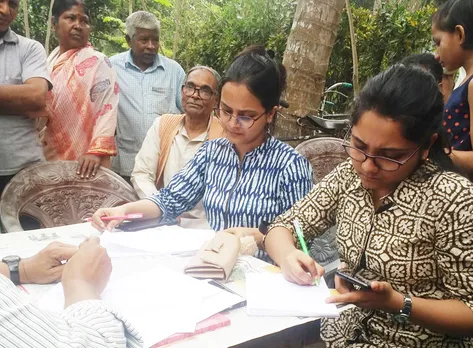 "The entire area is arsenic prone, where do the villagers find arsenic-free water? From the cattle to poultries, all drink arsenic and iron laced water. The locals consume cow milk from the same dairy and chicken or eggs from the same farms. From vegetables to fish, chicken, meat and eggs, everything has some percentage of arsenic," admits Ghosh. 
As a result, every villager is consuming poison every day, says Basudev.    
"Arsenic toxicity depends on several other factors, including a person's immunity system, nutrition levels, presences of mucormycosis deficiency and genetic susceptibility," says Dr Kunal.
Sustainable Solutions    
It is hard to find a permanent solution to eradicate the toxic pollutant from soil and aquifer systems since the arsenic contamination in groundwater is a natural hazard through piped water can reduce the problem substantially. 
Also Read: Odisha women fight malnutrition through organic nutrition gardens
According to Gopal Krishna Das, the state government has installed two or three 800-feet deep tube wells in every village. The villagers are using this water for drinking and cooking but not for other chores.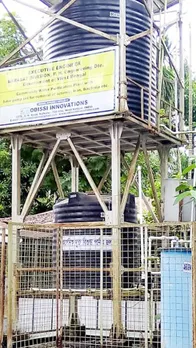 However, over time, a large amount of water sucked up through tube wells exceeds the natural replacement of the underground water. This causes arsenic to leak from rocks into the water.
"The water samples of over 100 such deep wells are regularly tested. They have been found unsafe for drinking. Therefore, we have sealed the deep tube wells and a proposal for new ones has been sent to the government," says Gobinda Das, Chairman, Gaighata Panchayat Samiti.
Also Read: COVID-19 lockdown & migrant pressure driving innovations in MGNREGA
"However, the supply of filtered and treated water of Ganga River will soon be available from Naihati," he adds.
Antara says since even crops are contaminated by arsenic, the cultivation should be practised using surface water resources and more in monsoon to suppress the effect of arsenic-contaminated groundwater. "The domestic livestock should also be given arsenic-safe water for drinking." 
Also Read: How a Jharkhand schoolgirl, once teased as 'Sulabh Shauchalaya', is leading a 'Swachhata' mission
Madhusudankati Krishak Kalyan Samiti, a local NGO in association with Sulabh International Social Service Organization, has taken an initiative to supply surface water (pond water) treated chemically and filtered through slow sand filtration technique followed by addition of disinfectant. This has proved successful. Moreover, treated surface water through pipelines is now being provided by local governments. 
Yet, there is a long way to go. With arsenic poisoning being rampant and growing rapidly, the state government and local bodies need to double their efforts to check the menace.
(Partho Burman is a Kolkata-based award-winning journalist. He writes inspiring human interest and motivational stories.)
Also Read: Bihar: Asia's largest oxbow lake Kanwar caught in the crossfire between farmers & fishermen