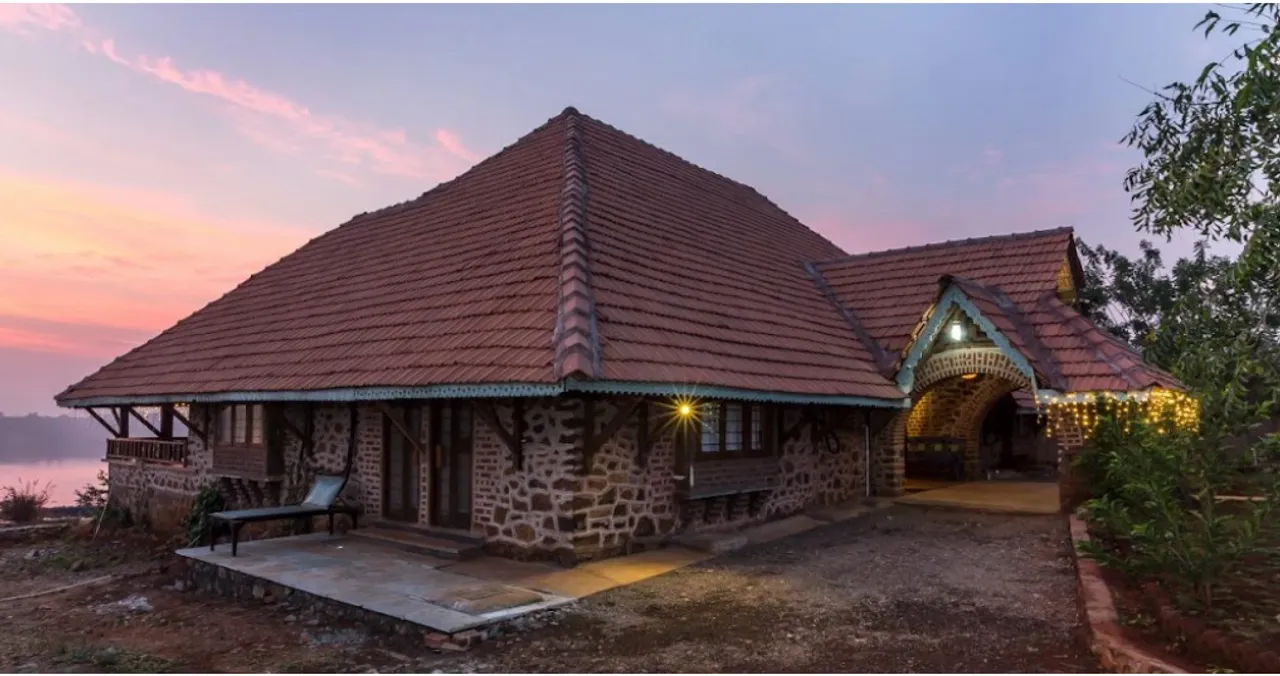 In a country obsessed with cement and steel for building construction, a Mumbai-based architect has been creating eco-friendly living spaces for over two decades using only locally-available mud, timber, limestone and bricks. While the canvas of environmental architect Malak Singh Gill's work is not limited to Maharashtra, he restricts sourcing the raw materials for his breathable structures from within a few kilometres radius of the construction site.
"In every construction, along with a monetary cost, there is also an environmental cost and that made me research on the traditional knowledge systems, which have stood the test of time," says Gill.
Buildings made using RCC or Reinforced Cement Concrete in which a mixture, of cement and coarse and fine aggregates, is reinforced with steel bars, last only 60 to 70 years. Post that, the bonding between cement and steel weakens. 
Also Read: Chettinad's masons slowly revive centuries-old lime-egg wall plaster technique
This is clearly visible in the over 200-year-old houses in India's hinterland, Gill points out.
Moreover, the production, processing and transportation of modern construction materials like cement, steel, aluminum and glass is the single biggest source of greenhouse gas emissions (GHGs) globally.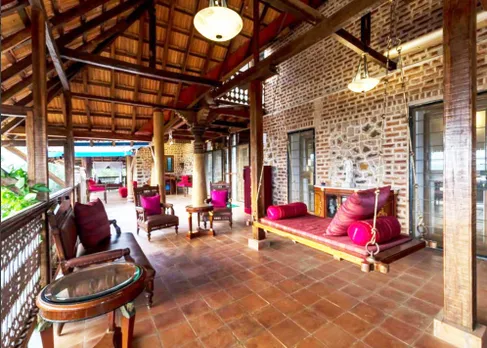 According to conservative estimates, the construction industry collectively accounts for nearly 40 per cent of the total carbon emissions while the transportation sector accounts for 14 percent, according to data from the United States Environmental Protection Agency (EPA).
But Gill's environmental architecture model differs. "Our model is based on working backwards," he says. 
Also Read: How one family has taken India's 1,000-year-old temple architecture to the world
So before starting a new project, he researches the regional architecture, interacts with locals to understand their building traditions, engages local labour and masons and figures out the availability of raw materials to reduce the carbon footprint generated by transporting them from far off places.
"I have studied village, tribal and classical architecture, which has been tested through centuries of usage. This knowledge enabled me to involve local craftspersons in all my projects. So I adapt local techniques for use depending on client's requirements," he adds.
The accidental architect
Gill started work in 2001 and is deeply influenced by British-born Indian architect Lawrence Wilfred 'Laurie' Baker who pioneered vernacular, eco-friendly architecture using mud and local materials in India.
Gill appeared for the Maharashtra BArch entrance test on his friend's insistence in 1990 after he could not clear the National Defence Academy (NDA) entrance exams as he was not keeping well at that time.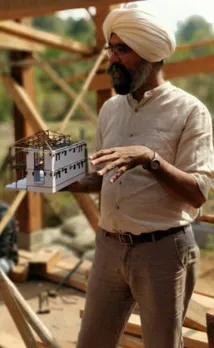 With a natural inclination for both performing and fine arts, he secured the second rank in the state, beginning his tryst with architecture. 
Also Read: Molela: Rajasthan's terracotta plaque art patronised by Bhil, Mina & Garasiya tribal communities
His family, however, stood behind him, allowing him to pursue his path. "I didn't sell my soul, did not copy famous architects and didn't buckle under pressure," he says.
After completing his studies, Gill worked for the first two years in Mumbai where he honed his skill of interior designing and then went to COSTFORD - Centre of Science and Technology for Rural Development –set up by Baker and Dr K N Raj in Kerala.
Also Read: Bhatner Fort: India's oldest & strongest fort built 1800 years ago in Rajasthan
"The two years of practical experience in Mumbai gave me a good hold over interior designing. So my designs were beautiful from inside as well as outside and that helped me at COSTFORD," he says. 
After finishing his training of four months, COSTFORD employed Gill for a year, which gave the young architect an in-depth understanding of the relevance of building local with minimal environmental impact.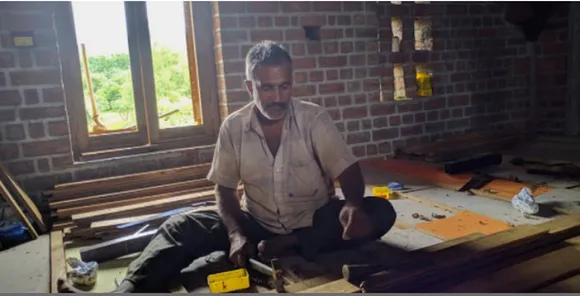 "I wanted to train as a mason and got that opportunity at COSTFORD. I got to design the organisation's first mud building and trained under a mason. By learning there, I could dissolve the barriers or layers between hierarchies of mason, helper, engineer, and architects," says Gill, who has worked on projects in Maharashtra, Gujarat, and Goa.
"This gave me a lot of confidence to explore new things and back in Mumbai, I tried my hands at it," he adds.
Also Read: Delhi water crisis: 5 historic forts from which India's capital can learn water harvesting & conservation
Ecofriendly and budget-friendly
Keeping costs affordable remains a priority, and in Gill's words, "it is obscene for us to work on projects with open-ended budgets". 
But the low cost of construction is not an aim to get more customers. It is one of the principles of construction that Gill has acquired from Baker and Mahatma Gandhi.
"Local traditions help keep costs under check. It is believed that the only way to use timber is to use teakwood in construction as the specifications and values for calculation are based on teak. But now, teak is very expensive at about Rs4,000 per cubic foot," he points out.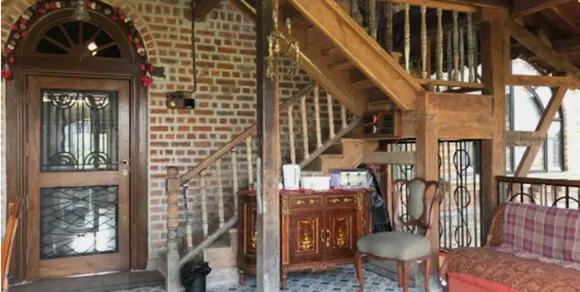 So he tried to find alternatives and realise that traditionally, people would use other timbers with properties very close to teak. Like Terminalia tomentosa or crocodile bark tree wood is easily available and is one-fifth of the cost of teak.
Also Read: Chand Baori: India's biggest & deepest stepwell built in the 9th century for water conservation
"In strength as a beam, it is 90 percent of teak. It has been in use from Gujarat to Kerala for centuries and so, I have replaced the expensive teakwood with a cheaper but equally strong and durable wood," he points out.  
Gill read up architecture books, some over a hundred years old, and also spoke to structural engineers, who verified the use of the crocodile bark tree wood for construction.
Like in his Longitude project, overlooking the Andra River and valley in Kamshet, Maharashtra, Gill gave the structure an old charm from the salvaged timber and grilles which he used for flooring, roofing, and grille works. 
Another example of how he keeps the buildings eco-friendly and costs competitive is the walling system.
He says these are all local techniques and precede cement-brick construction. They also keep the structure well insulated, doing away with the need for air conditioning in most cases.
He often plasters interior walls with lime, which is more efficient in terms of cost and user health compared to paints and cement plasters.
Also See: In pictures: Morena's Chausath Yogini temple that inspired the Indian Parliament's design
"I also engage local masons as they are familiar with the vernacular traditions and materials," Gill says.
The result is that Gill's buildings are greener than even the green-certified buildings because he uses natural, inexpensive materials not made in large factories that pollute the environment.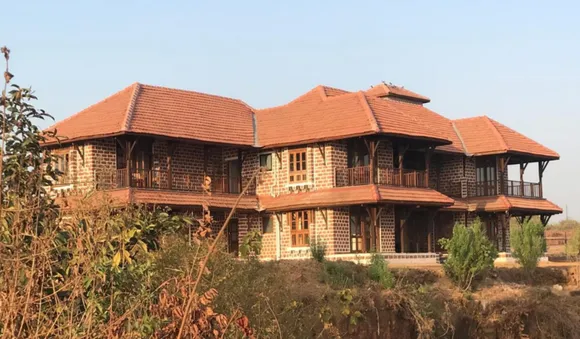 "Also the resource catchment is around the site – mud comes from the site itself, bricks and stone from nearby quarries and the wood is sourced from the nearest sawmill."
This empowers local workers as well as sellers as they feel a stake in construction and associate with the project.
Also Read: Gagron: Rajasthan's unique hill & water fort that is a UNESCO World Heritage Site
Against the conventional way of charging the fee on the overall project cost, Gill charges around Rs200 to Rs 250 per square foot to ensure transparency. This excludes charges he and his team may have to incur for travel. 
However, he takes up only projects where he believes the owners resonate with his belief in sustainable architecture. "We end up refusing projects if we feel that disconnect," he says.
Since Baker was inspired by Mahatma Gandhi, the same principles are followed by Gill as well including the fact that the building should merge with the local landscape rather than stand out. "We believe in a very gentle intervention so that there is communication and the building has symbolism for the local people. We don't like to put something drastic in that context," he adds.
(Rashmi Pratap is a Mumbai-based journalist specialising in business, financial and socio-economic reporting)
Also Read: Rahul Bhushan: The Himachal architect reviving the 1000-year-old Kath Kuni architecture