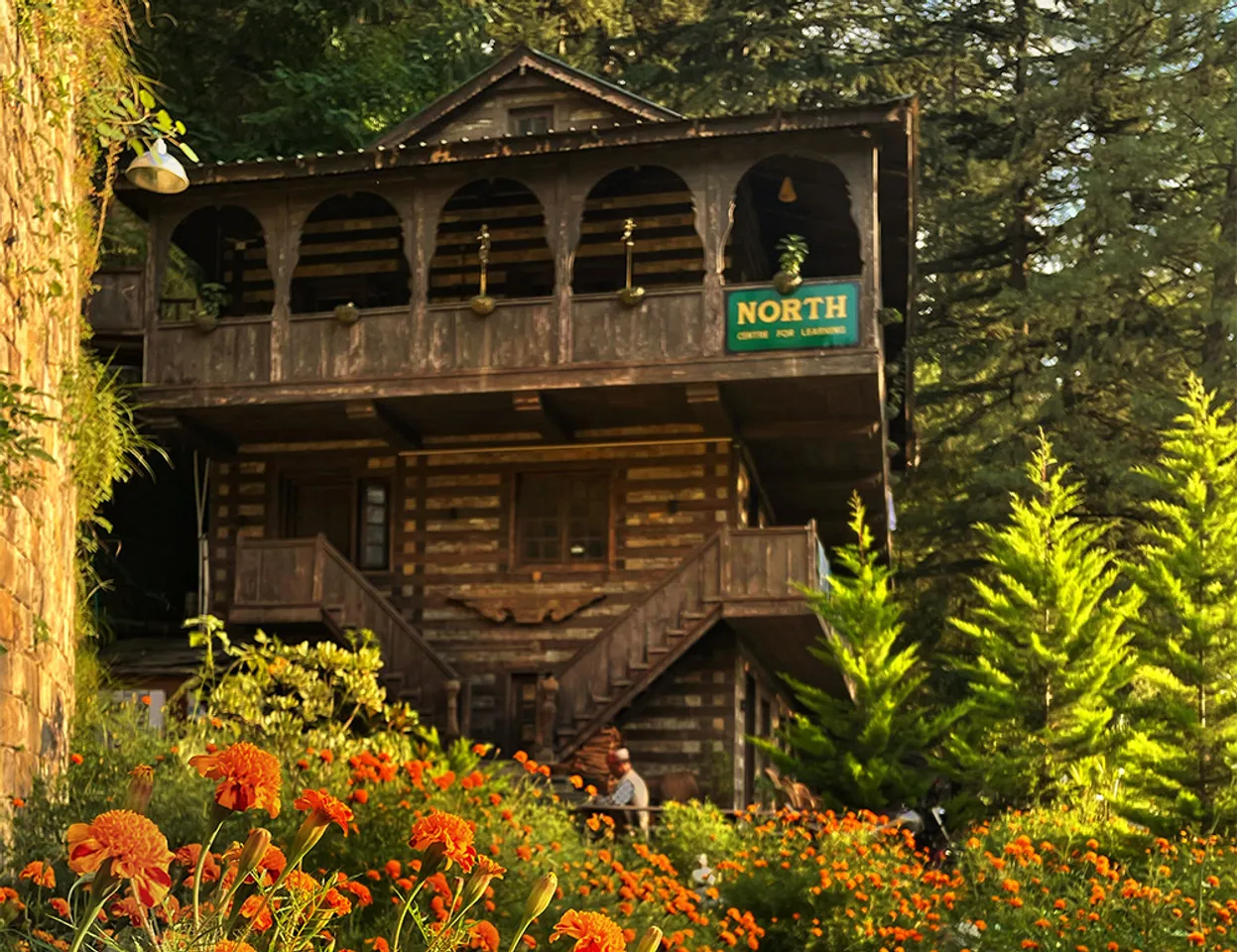 wp:html /
Growing up in Shimla, Rahul Bhushan would marvel at the beautiful ancient buildings with the stone plinth, double-skinned walls and the ornate wood carvings which had withstood the ravages of time and nature. Alongside, he was pained by the concrete buildings that were sprouting up like eyesores, defacing the beautiful hill station. So he decided to revive the ancient architecture technique that has withstood the test of time in the hills – Kath Kuni. 
"The traditional buildings and temples have been around for 500, even 1,000 years. They have stood the test of time and ravages of earthquakes and natural calamities because they were built according to the local topography and climatic conditions," says 29-year-old Rahul, founder of architecture and design firm NORTH.
He is leading the push to bring back Kath Kuni, the zero carbon footprint architecture that uses locally available wood and stone for construction. 
Also see: In pictures: Morena's Chausath Yogini temple that inspired the Indian Parliament's design
"I grew up in Shimla and saw how it was growing haphazardly. There was no planning, no aesthetics. That was a driving force for me to turn back to my roots," he says.
"This is the indigenous knowledge and genius that I want to revive and promote."
A Northward journey
Rahul graduated from the NIT in 2014 and did his masters in interior architecture and design from CEPT in Ahmedabad. He taught for a year at the university but in 2017, he decided to head back to his home in the hills.
"I wanted to apply the learning from my education to revive the traditional architecture techniques to make them more suitable for the modern context," he says.
Also Read: How one family has taken India's 1,000-year-old temple architecture to the world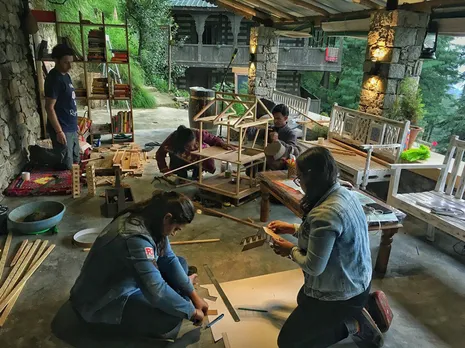 After returning to Himachal, he floated his company NORTH in Naggar town to realise his dream and set up a campus spread over 1.5 acres of land. Here, he holds workshops on the evolution and importance of local architecture techniques for interns, architecture students, professionals, designers or anyone just interested in learning about this indigenous knowledge.
The campus also offers a residency for artists who are pursuing work on the local culture and heritage of the state.
"We have made a research report giving proposals where the department can improve," he says.
Also Read: Chettinad's masons slowly revive centuries-old lime-egg wall plaster technique
Preserving and showcasing local knowledge
With the mushrooming of concrete buildings, people have lost touch with traditional architecture. "We want to educate people about the advantages of these eco-friendly techniques," says Rahul.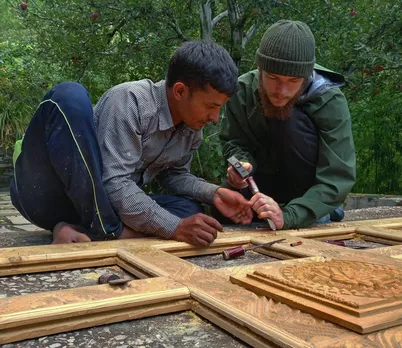 So apart from commercial projects, he also undertakes self-sponsored projects to showcase the traditional building techniques. "We use Kath Kuni and other traditional ways to restore buildings and show people their feasibility," he says.
"Instead of concrete buildings, we are making traditional ones for them which will also offer a more immersive experience for tourists."
He has also undertaken restoration work on the Naggar castle. The 15th-century castle, built in the Kath Kuni style, is now a heritage hotel.
Also Read: Molela: Rajasthan's terracotta plaque art patronised by Bhil, Mina & Garasiya tribal communities
Kath Kuni – the eco-friendly indigenous alternative
Kath means wood and Kuni means corner. As the name suggests, the buildings are made with alternate layers of wood and stone and have wooden corners.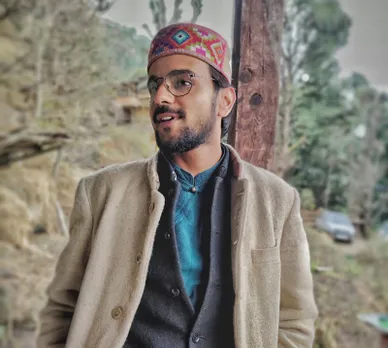 The process of building the foundation entails digging a trench after which a raised bed of stones is put. This ensures stability and prevents water seepage. The walls are made with alternate layers of wood and stone. The beams are placed horizontally which gives it tensile strength and flexibility to withstand earthquakes.
Since the thermal mass of stone and wood is high, they absorb heat and keep the building warm. They also act as a barrier against cold and provide good insulation. "Since wood and stone are natural materials and wood stores carbon, the environment impact of the building is minimal."
Also Read: Latticework: How the Persian stone craft moved from Taj Mahal to living rooms for survival
Rammed earth style is used in the Spiti area where there is no wood and stone and structures are made using tightly packed earth. In Kashmir, the Dhajji Diwar style is used where the wooden beams are placed crisscross and then filled with stones and plastered.
Contemporizing Kath Kuni
On the relevance of Kath Kuni in today's world, Rahul says, "It's an indigenous technique dating back almost 1000 years. People back then knew how to make earthquake-proof buildings. It is important to preserve this technology."
Also Read: How Nahargarh's 300-year-old water harvesting system beat the desert's water blues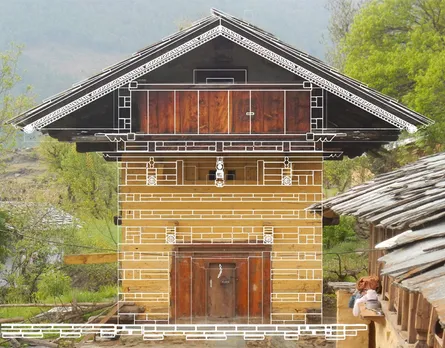 Rahul understands that the technique has to be optimised for today's conditions for it to become popular. Kath Kuni building takes more time and is more expensive than concrete reinforced cement or RCC construction.
However, in the long run, the building is long-lasting, low maintenance, energy-saving and with no carbon footprint. A Kath Kuni structure can be dismantled and the materials can be reused.
Procuring material such as wood can be time-consuming and expensive and Rahul and his team are working on lowering the use of wood to make the process less time-consuming and more cost-effective.
Also Read: Maluti: Jharkhand's 17th-century terracotta temples built by royal women to outdo each other
Traditionally, Deodar wood was used for its durability but its use is strictly regulated now. Rahul says several options from the pine family such as Rai, Tosh and Kayal are available and are being used. There are also relatively cheaper options of engineered wood and imported wood.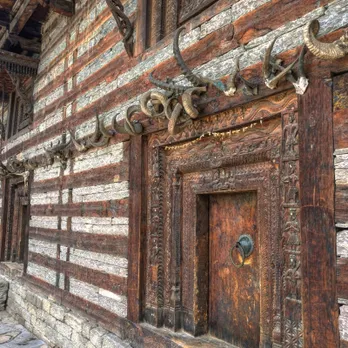 At his campus, Rahul also organizes training sessions by artisans skilled in the ancient techniques before it is lost forever. "There are craftspeople in villages but since they don't get work, many have turned to other jobs. 
Also Read: Delhi water crisis: 5 historic forts from which India's capital can learn water harvesting & conservation
Rahul and his team are also doing the valuable task of recording and documenting the knowledge of the artisans and craftspeople and creating a database for future generations to dip into. He also employs the artisans on his projects so they can earn a living and pass on their knowledge to a larger audience.
Looking back over the last four years, Rahul feels he is fortunate to have accomplished so much. "It has been a very satisfying journey for me so far. In the course of my work, I have met wonderful people and put together a strong team who are motivated by the desire to make a positive contribution. We are not running after money but want to create something meaningful for Himachal Pradesh," he says.
(Urvashi Dev Rawal is a Jaipur-based journalist specialising in development, gender, and political reporting)
Also Read: Bhunga: The 200-year-old earthquake-resistant mud houses of Kutch