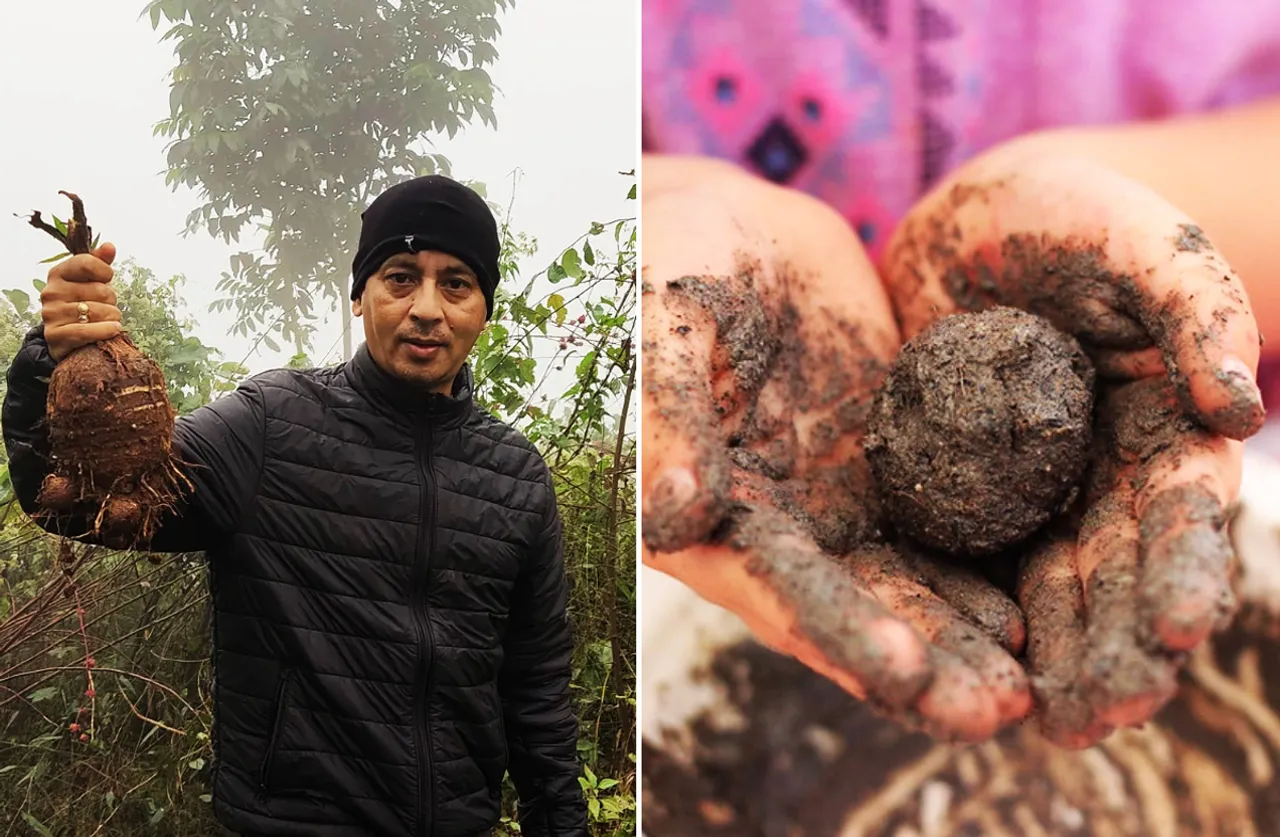 Making seed bombs or seed balls is a technique of natural farming where native seeds are disbursed for germination. It is an ancient technique of propagating plants without digging up the soil. 
Just as forests grow without anyone digging the soil, the seed bombs also turn into plants without using the plough. While they are used in many countries across the world, the practice was prominent in Japan where it is called Tsuchi Dango, which means 'Earth Dumpling' because of its round shape.
Seed bombing was reintroduced to the world by Japanese natural farmer Masanobu Fukuoka, who believed that tilling the land is laborious, harmful to soil health, and it is a waste of time and energy. 
Samir Bordoloi, a farmer from Assam, uses this technique in his zero-cost natural farming. In natural farming, the idea is to let the natural biodiversity of the area thrive along with crops. This takes care of soil fertility as well as pests.
Samir has trained many young people and these Green Commandos are now teaching others about this farming methodology. 
Benefits of seed bombs for farmers 
1.   Save time and money as no tilling is required
2.   Do not hurt the soil 
3.   Help to recreate natural habitats with native plants
4.   Encourage pollinators like birds and bees to return to the land
5.   Restore damaged lands
6.   The technique is simple and can be used by anyone
How to make seed bombs at home
1.   Take some clay or soil and ensure that it has no stones or other fibrous material which may harm the seed. You can add some water to the soil if it is too dry to ensure the formation of balls.
2.   Add some cow dung to it and mix (cow dung can be half the amount of soil or even slightly lesser than that)
3.   Add some compost or organic manure – the more natural the manure, the easier the germination 
4.   Take a portion of the mixture and hand roll it to make small balls 
5.   Gently insert native seeds – one seed in each ball
6.   Cover the seed with the outer cover mix and slightly roll once again
7.   Throw them in your kitchen garden or farm and let Mother Nature take its course
8.   If you want to use them later, then make them on a sunny day and dry fully before storing
Also Read: How this teacher-turned-farmer created a profitable food forest in Shamli