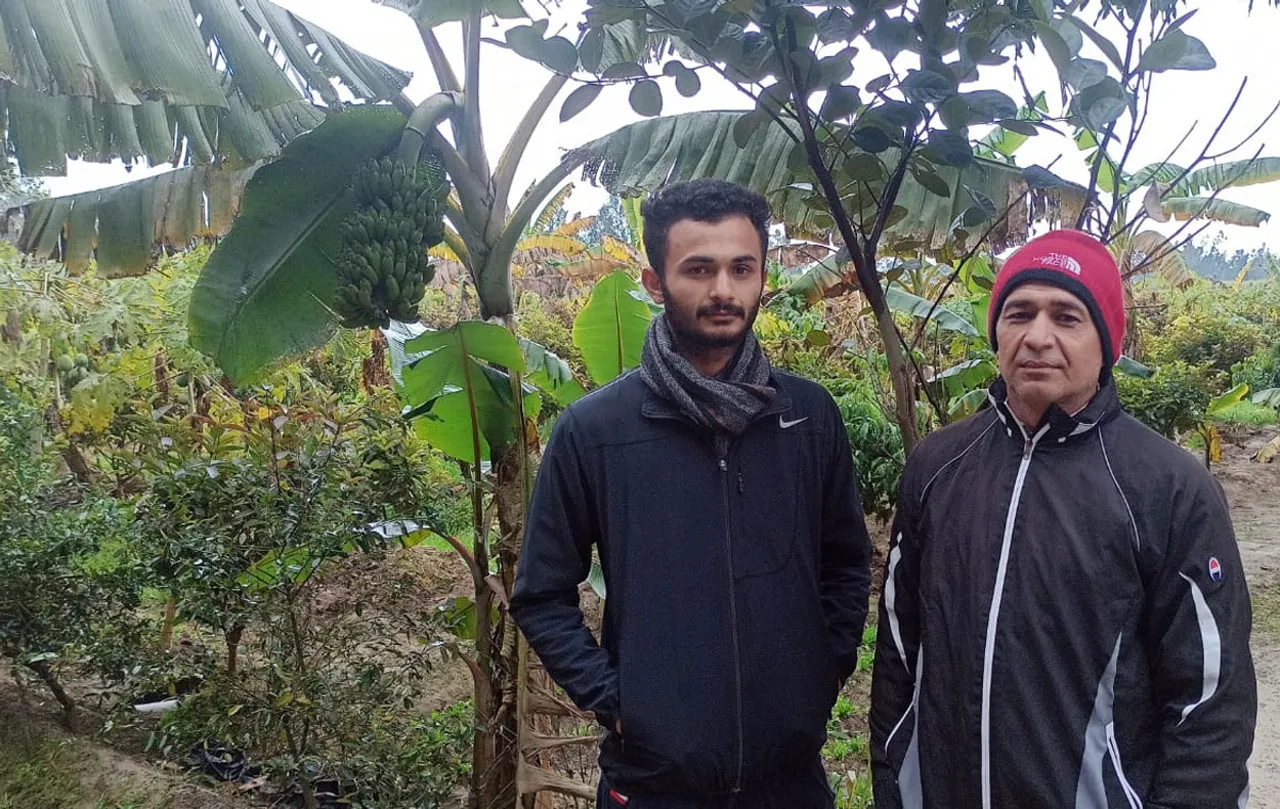 When Shyam Singh Rod was growing up in the Nagal Rodan village of Uttar Pradesh's Shamli district, he would see his father spending hours tending to his farm. The agrarian family cultivated rice, wheat and sugarcane over their 20-acre landholding. 
It was the 1980s and chemical fertilisers and hybrid seeds had swept India's farming landscape. Shyam's family was no exception. His father too used chemicals for his monoculture farming (growing one crop at a time). In 1991, when Shyam was just 20 years old, his father passed away due to cancer. 
The family was shaken up by the tragedy but the young man continued to focus on his studies and went on to complete his BEd in Fine Arts. He took up a teaching job and life moved ahead. But Shyam's heart was in farming and after teaching for five years in the school he quit to look after the fields. 
He continued his family tradition of chemical-based farming but was not satisfied with the dwindling yields and rising input costs.
"There was another death in our family due to cancer. My aunt (paternal uncle's wife) passed away due to cancer and it jolted me. I felt the roots of cancer lay in the chemicals we were using in the farms," says Shyam.
"While I had grown up hearing that earthworms were friends of farmers, there were none to be seen on the farm due to the impact of chemicals," he recollects.
Also Read: Bengaluru techie-turned-farmer creates profitable ecospace with 350 forgotten foods and herbs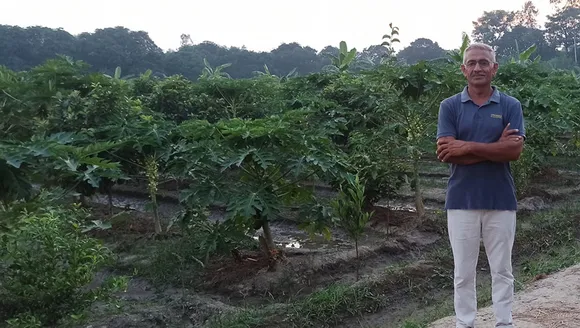 He then began to look for alternatives to chemical farming, and natural farming was one of them. Shyam heard about a workshop being conducted in Lucknow by Subash Palekar, Maharashtra's agricultural scientist and Padma Shri awardee. "I attended that five-day training in Lucknow and learned about natural farming," he says.
Switching from chemical to natural farming
In the mid-1990s, Palekar developed zero-budget natural farming (ZBNF) as an alternative to the Green Revolution's chemical-based farming.
In natural farming, the idea is to let the natural biodiversity of the area thrive along with crops. This takes care of soil fertility as well as pests. It also lays emphasis on the use of desi or indigenous Indian cow breed because its dung and urine, which have a high concentration of microorganisms, are beneficial for soil and plants.
In 2016, Shyam began natural farming on two out of the 10 acres of land he had inherited after the family's property division. He expanded the area over the years and brought the whole of 10 acres under natural farming. With a love for the arts and painting, Shyam decided to use the land as a canvas and plant trees of various varieties. 
"I designed a food forest that would be self-sufficient and not require external inputs. We named it Bhoomi Natural Farms," he says.
Today, this food forest has over 40 varieties of fruits, vegetables, medicinal plants, wheat, paddy and legumes grown without the use of any chemicals or other external inputs.
"I first planted litchi and guava over that 2-acre land parcel," he says. This was followed by adding banana, papaya and pomegranate trees between those trees. He planted jackfruit, lemon and pear along the boundary, sourcing saplings from across India.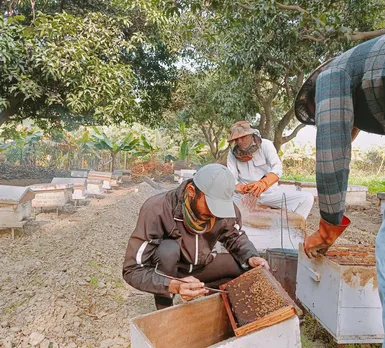 Unlike other farms, where trees are placed at a wide gap from each other, Shyam planted around 2,500 trees over two acres. 
"Plants of the same variety are planted away from each other but other plants are put between them. Like there is a distance of 30 feet between two litchi plants and 15 feet between guava trees but other varieties like papaya and banana are placed between them," he points out.
Also Read: From 4 acres to 18 acres: How profitable organic fruit farming helped Rajasthan's Rajnish Lambha expand rapidly
"They don't interfere with each other's growth as the width and height of various types of fruits and other plants are different. In fact, they nurture each other. When you do natural and mixed farming, plants support each other," he adds.
Shyam's son Abhay Rod, who completed his graduation from Delhi University and is now pursuing his LLB, also works with him on the farm. 
He explains that in their food forest, plants are grown in multiple layers, maximizing the use of every square foot area and sunlight with minimum water requirements.
Bhoomi Natural's boundary has tall plants which also act as windbreakers and they include jackfruit, pear, lemon (acts as a fence) etc. The next layer comprises mango, litchi, guava, pomegranate, keenu, lime, gooseberry and sapodilla (chiku). This layer is followed by banana and papaya trees. Alongside, they plant pulses like toor dal and urad dal, which is the fourth layer and make nitrogen available to the nearby plants due to the presence of rhizobium in their roots. 
Also Read: Krishna McKenzie: Auroville's British musician-farmer with a food forest & organic café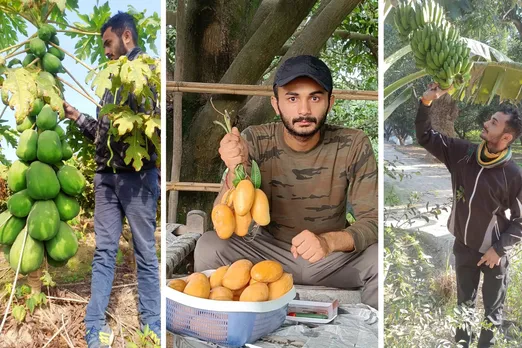 Medicinal plants like lemon grass, tulsi and moringa (drumstick) are also cultivated at the farm apart from ginger and turmeric, which grow inside the ground.
"Unlike mono-cropping, where harvesting is done once in six months, a food forest gives you a regular income. Some fruit, vegetables, grains or medicinal plants are ready for harvest each day," he adds.
In the last season, the family sold four tonnes of mangoes from its 45 mango trees. 
Since the food forest replicates a natural ecosystem, there are plenty of insects, bees and other organisms which help in pollination. The family also practices beekeeping given the abundance of trees.
However, any shift from chemical to natural farming takes time to give returns. "There was no income in the early days as most plants start fruiting after four to five years. But some fruits like papaya start yielding income in six months. Today, the operations are profitable," Abhay says.
Also Read: How this management graduate made organic lemon farming profitable in Raebareli
The family uses only cow dung, cow urine, jeevamrit (made using cow dung, cow urine, jaggery and other farm inputs) and neemamrit (a natural pesticide made using neem leaves) for the plants. 
How food forests are created
First, the outline of the area on which the plantation has to be done is drawn on paper and tree layers are decided. The land is cleared of all vegetation and markings are made about the plantation to be done. 
Shyam says once the pits are dug, they are filled with neemamrit and jeevamrit and then the saplings are planted.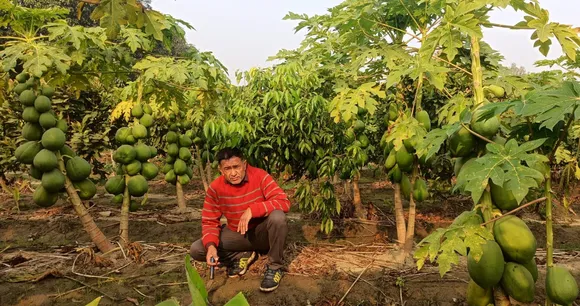 In creating food forests through natural farming, there is a strong focus on mulching as it provides the soil with carbon and nutrients through the decomposition of organic matter. Mulch is any material spread over the soil surface and used for a covering. 
All plant waste at Bhoomi Natural forms a cover on the soil surface and turns into manure over a period of time. 
Shyam explains that mulching helps to improve soil moisture content by reducing evaporation. This cuts down the expenditure on water. Earthworms and other microorganisms work under the mulch where sunlight does not reach, improving soil fertility. It also avoids the growth of weeds and the plant waste turns into compost over a period of time. So there is no need for external manure.
"No waste goes out of our farm. We don't burn even paddy parali (rice straw left after harvest) and sugarcane leaves. We use them also for mulching," he says.
The plants are placed on raised beds above the existing soil level as it reduces the growth of weeds and the soil is not compacted because one does not walk on the raised beds. "Creating raised beds is a one-time investment but gives returns over a long period of time," he says.
Also Read: How this Punjab farmer makes a profit of Rs 5 lakh per acre from strawberry farming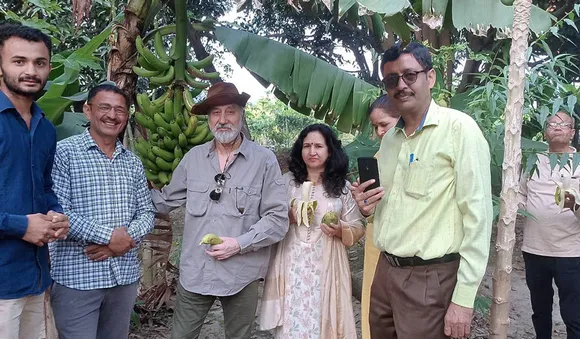 In line with natural farming best practices, Shyam and Abhay use only native or desi seeds of fruits, lentils and other crops. 
"We grow desi varieties and the advantage is that they need very little manure and pesticide. They take longer to grow and so, their resistance power is higher compared to hybrid varieties," says Shyam.
The family conserves native seeds for use in the next season. "We exchange indigenous seeds with other farmers as well," he adds. Bhoomi Natural has also set up a nursery to sell plants to others interested in natural farming.
Farming to food processing 
Bhoomi Natural is now a well-known name and people place orders for fruits, vegetables and other produce well in advance. Everything is sold from the farm itself. "We get orders through WhatsApp, Facebook and Instagram and send the products by courier. Many housing societies purchase in bulk from us and sell further to the residents. We also sell to organic resellers in Mumbai, Lucknow, Kanpur, Chandigarh and Dehradun," Abhay says.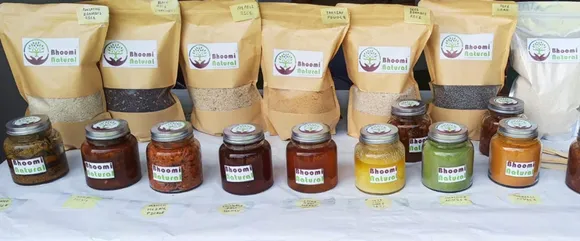 Shamli district of Uttar Pradesh is now part of the National Capital Region (NCR) and a lot of the orders are from this area. "Visitors to our farm often end up becoming our customers and there is a strong word-of-mouth publicity because our food is natural and healthy," Abhay says.
Extending the Bhoomi Natural brand, they process some of the produce on the farm. 
"We make lemon and mango pickles, rice flour from paddy, honey, turmeric powder, and moringa (drumstick) powder on the farm. They are sold under the Bhoomi Natural brand," Abhay says. 
All the work, like the milling of pulses, is done manually to ensure that nutritional value is maintained. "We will increase our focus on processing in the future," he adds.
Shyam and Abhay have not restricted their knowledge to Bhoomi Natural. They are helping hundreds of farmers by sharing their knowledge. "We give training to others free of cost. We are also involved in developing food forests in Garh Mukteshwar, Meerut, Baghpat (all in Uttar Pradesh) and Barot (Himachal Pradesh)," Abhay says.
(Rashmi Pratap is a Mumbai-based journalist specialising in business, financial and socio-economic reporting)
Also Read: How this Rajasthan farmer went from zero to millions with organic farming using his own manures & sprays