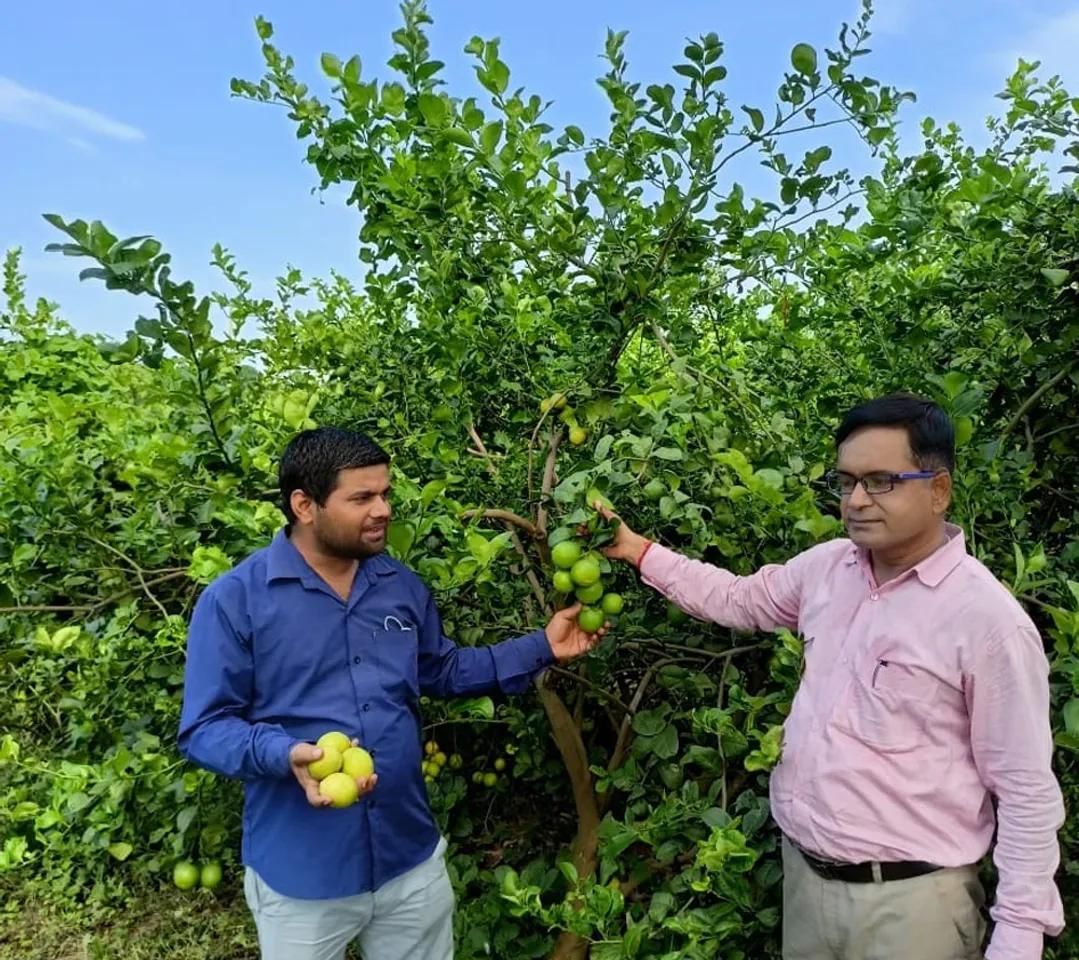 At the Lemon Man's farm in the Kachnawan village, Raebareli district, Uttar Pradesh, fruit and vegetable traders can be seen harvesting the produce themselves. The lemons grown there are organic, juicy and bigger than regular lemons. The traders collect the produce, weigh it on the farm and transport it in their vehicles. 
Retail companies like Reliance Retail also come with their teams for harvesting and buying the lemons, which are sold in markets across Uttar Pradesh and Delhi-NCR region. The farm's owner, Anand Mishra, who is now popularly known as the Lemon Man of Raebareli, does not have to spend any money on harvesting or transportation, thanks to the good quality of his produce.
With a BBA degree from Meerut University, Mishra has combined his management knowledge with a study of India's horticulture landscape to create a profitable model of organic fruit farming. 
But he was not always a farmer. Though belonging to a farming family, Mishra worked for 13 years with the world's largest moulded furniture company, Nilkamal, in Noida. He would visit home in Raebareli during holidays and often think of tending to his family farm where paddy, wheat and gram were grown. 
Also Read: How this Punjab farmer makes a profit of Rs 5 lakh per acre from strawberry farming
"I was always drawn towards farming. Finally, in 2017, I quit my job to fulfil my dream," says Mishra. Though the villagers were sceptical about a management graduate's ability to toil in the fields, Mishra decided to pursue his passion.
"In the first year, I too went for the cultivation of wheat, paddy and mustard and continued with chemical-based agriculture. I used urea and potash. But my profit was only Rs 50,000 that year," he says.
The economics of organic fruit farming
Both wheat and paddy have a crop cycle of around 150 days. "About 80 percent of farmers in India are involved in the cultivation of these two crops. While money comes once after 150 days post-harvest, cash flow is required every day, affecting the financial independence of farmers," he says.
Moreover, if the crop is destroyed due to untimely rain or lack of rainfall, it's a total loss for the growers. "They fall into a debt trap," he says. 
"In contrast, bad weather can hurt only fruits but trees remain intact, making horticulture a relatively less-risky farming option," Mishra says.
Having worked in the manufacturing sector, he draws a parallel between an industrial plant and farming to make a case for cultivating fruit trees. "An industrialist puts a manufacturing plant once, incurring capital expenses. Then, he has only annual maintenance costs and in about 10 years, the investment is recovered," he says.
Also Read: Gujarat: Dentist-turned-farmer reaps rich harvest with organic farming of dates
"Similarly, in the case of horticulture, you plant a tree once and harvest the fruits for the next 25 to 30 years with just annual maintenance costs after initial plantation," he says.
So in 2018, he decided to foray into organic farming of lemon and guava. India produces around 17 percent of the world's lemons. "While mango, banana, guava and other fruits are cultivated in Raebareli, nobody was growing lemons here," he says.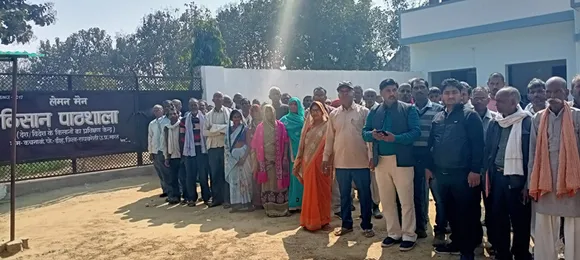 Uttar Pradesh does not figure in the top lemon-producing states of India. As per the National Horticulture Board (NHB), Andhra Pradesh was the highest lemon-producing state in 2021-22, followed by Gujarat, Maharashtra, Karnataka, Madhya Pradesh, Odisha, Assam, Telangana, Bihar and West Bengal. 
Mishra took a risk by opting for the cultivation of lemon, which requires soil with good drainage, irrigation and sunlight. 
He adopted the high-density approach to growing lemons, planting around 400 trees over two acres and placing some mosambi (sweet lime) plants between them.
He also cultivated guava on half an acre of land. "Both lemon and guava trees are planted at a gap of 10 feet from each other while the line-to-line gap is 15 to 20 feet depending on soil fertility," he says. The more fertile the soil, the more space is required as trees grow at a faster pace. 
Also Read: Gujarat: This school dropout farmer became a millionaire with organic farming of mango
The fruiting in lemon starts in the fourth year and the per-plant profit in the first year post-fruiting is Rs 1,000. "This per-plant profit increase each year for the next 30 years as lemon, guava, mango and most other fruit plants give better yields with time," he says.
Currently, Mishra earns an annual profit of Rs 6 lakh from two acres of lemon plantation and the amount is likely to reach Rs 9 to 10 lakh next year. His other major source of income is his plant nursery and consulting services.
Low-cost fruit farming
Mishra attributes high profit at this early stage to the lower annual costs incurred in horticulture. "If you are growing traditional crops like wheat and paddy using chemicals, you have to spend annually on buying seeds from the market. They require ploughing at least four times, which is labour-intensive and the requirement of water is high," Mishra says. 
He points out that it takes a 2-acre farm about 16 hours to get fully irrigated using flood irrigation (also called surface irrigation), which lowers the water table and increases electricity costs. In surface irrigation, water is applied and distributed over the soil surface by gravity.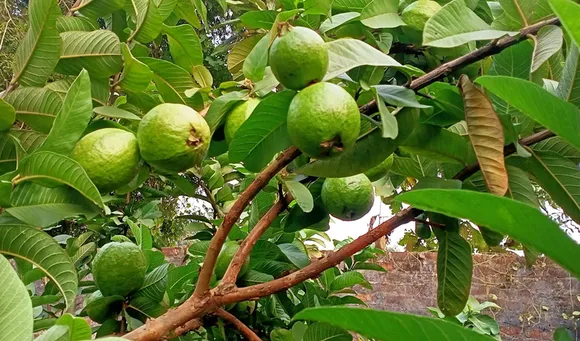 But in drip irrigation, water is carried through pipes and delivered directly to the root zone of the plant. 
"I use drip irrigation, where one plant can receive 32 litres of water in two hours. It is a huge saving on both water and electricity costs," he says.
Annual lemon production in India is over 37 lakh tonnes, which is consumed domestically and not exported. Lemon has three flowering seasons -- Ambe, Mrig and Hasta. During Ambe, flowering starts in January-February and fruits are ready in April. During Mrig, orchards bloom in June-July and harvesting is done in October. Hasta involves flowering in September-October while harvesting is done around March. 
Also Read: Gujarat's MBA farmer Chintan Shah turns infertile land into organic farm of turmeric, ginger & wheat
Since the seasons overlap, the farmers can market lemons throughout the year although the maximum production is done between April and July. 
"So lemon farming ensures continuous inflow of money in the hands of the farmers unlike traditional crops, where one has to wait for many months," Mishra says. 
Organic farming using on-farm inputs 
Market prices of lemon crops fluctuate depending on the time of the year and availability. "A single piece can sell for Rs 10 at times and sometimes, the rate can be just Rs 10 per kg," he points out.
Though chemicals were used in Mishra's family farm earlier, he has completely shifted to organic farming and uses only natural inputs. Organic manure has improved soil softness and its carbon content, which helps improve water-retention capacity, structure, and fertility.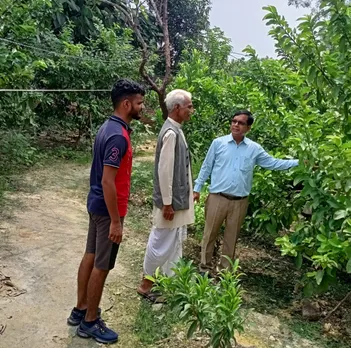 "I make most of the inputs on the farm. I use jeevamrit (also jeevamrutham) made with cow dung, cow urine and other organic inputs. I also make a cow dung input, which I call Anandam. It improves soil quality by increasing the micronutrients," says Mishra, who has received the Chaudhary Charan Singh Kisan Samman for highest productivity in the Rae Bareli district.
Cow dung has good amounts of gibberellic acid, which stimulates plant growth and improves yield, he adds.
 "I employ only two women farm workers for regular maintenance. Harvesting is done by the buyers themselves. I make most of the inputs myself. All these help keep costs under check," Mishra says.
Also Read: From 4 acres to 18 acres: How profitable organic fruit farming helped Rajasthan's Rajnish Lambha expand rapidly
Apart from lemon and guava, he has also planted 17 types of fruits including litchi, banana, catechu (kaitha), jackfruit and Spondias (ambada). A bigger source of income for Mishra, however, is his nursery and horticulture consulting services. 
He sells lemon and guava saplings at around Rs 150 per piece. 
"People place orders and pre-book for saplings. I encourage and help other farmers to opt for progressive fruit farming and develop their own plantations," he says.
Farmers from Uttar Pradesh, Madhya Pradesh, Rajasthan, Uttarakhand, Haryana and Chhattisgarh seek his nursery and consulting services. "If farmers come to my home, then I give consultation and training free of cost," he says.
As of now, Mishra's hands are full. The Lemon Man's only mission now is to help farmers earn more by introducing them to organic fruit farming.
(Rashmi Pratap is a Mumbai-based journalist specialising in business, financial and socio-economic reporting)
Also Read: How this Rajasthan farmer went from zero to millions with organic farming using his own manures & sprays