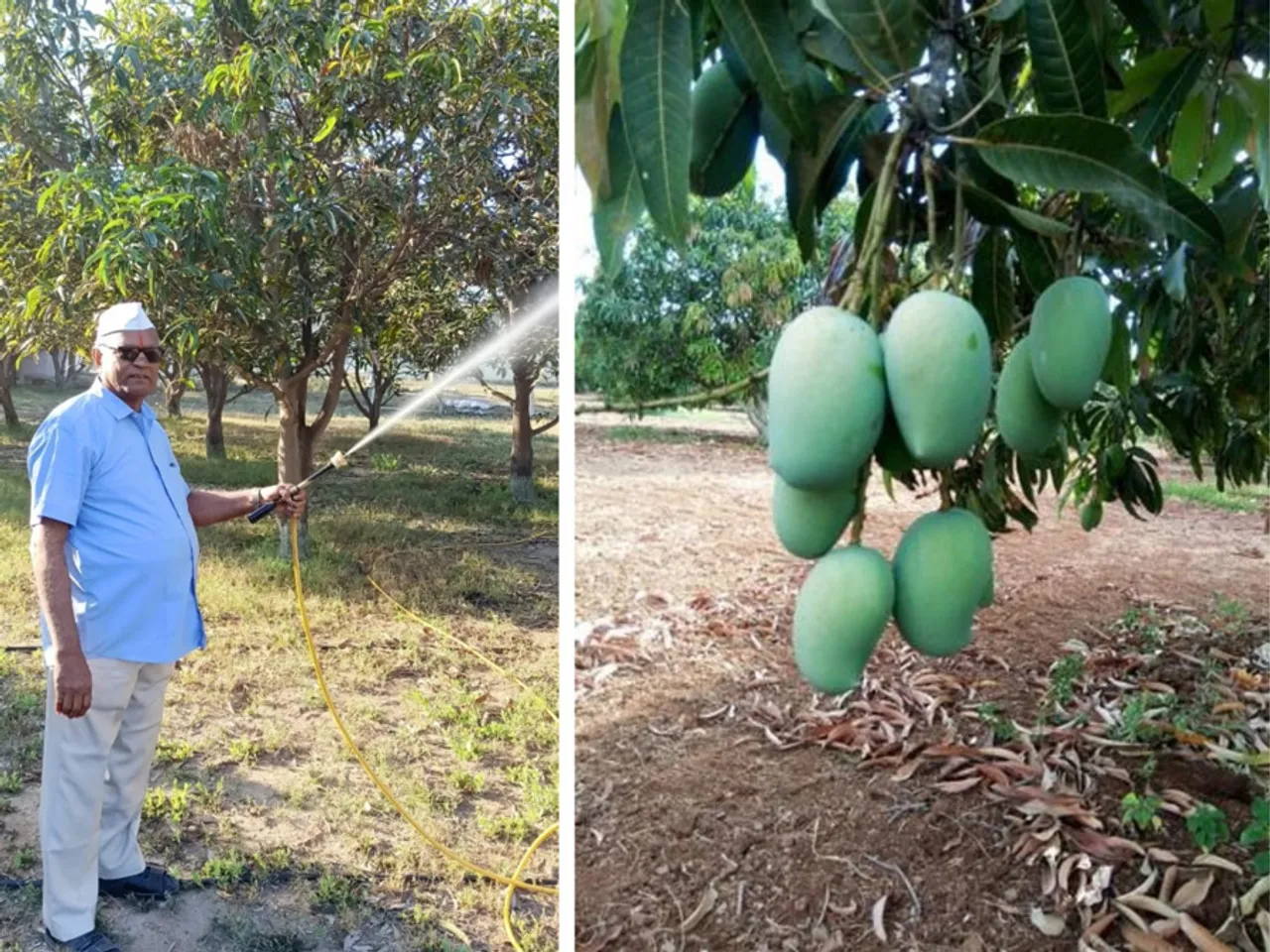 When Veljibhai Bhudia was 13 years old, he was forced to leave school to help his father on their 12-acre farm in Madhapur village in the Kutch district of Gujarat. His father Kurji Bhudia cultivated sugarcane, made jaggery, and went from one village to another on a bullock cart to sell the product. The year was 1967 and the income from sale of jaggery at 75 paise per kg was just about enough to make ends meet in the Bhudia family where Veljibhai was the only brother to four sisters.
Over the next five decades, a determined Veljibhai overcame many challenges to become a pioneer in organic farming in his village, encouraging many farmers to quit chemical-based agriculture.
Starting from sugarcane farming that earned him Rs3600 per year to organic cultivation of mangoes and earning Rs70 lakh annually, this progressive farmer has come a long way.
His sharp mind and enterprising spirit helped him take risks that bore good results.
Also Read: How Tamil Nadu farmer increased profits & cut costs by 30% through organic farming
"I am not highly educated nor do I have any training in latest agriculture techniques. But I have the will to work hard and an enterprising spirit which I apply to new ideas," says the 71-year-old.
"My father and I used to take the jaggery on our bullock cart to sell in nearby villages. The wholesale rate was 0.75 paise per kg and it could be retailed for Re1 per kilogram," he recalls.
Sugarcane to vegetable farming – an idea that changed life
After three years, however, Veljibhai decided to opt for vegetable farming. "Sugarcane farming was not remunerative. We toiled the whole year and got one crop. It was difficult to run the family," Veljibhai recollects.
From 1971, he started growing tomatoes, ladyfinger, brinjal, coriander and chillies and sold them in the Bhuj mandi. "I used to grow 25 to 35 kg of vegetables per month that would sell for Rs20 per kg. My monthly earning was earned about Rs10,000-12,000."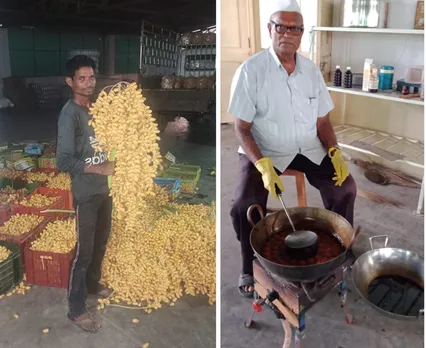 Veljibhai (Right) preparing liquid jaggery from dates produced at his farm (left). At 71, Veljibhai keeps up his enterprising spirit. Pic: Kesar Farm 
With some money saved up, Veljibhai bought 10 acres of land adjacent to his farm. In 1987, Veljibhai changed course and started growing cotton, castor and groundnut, maize and mustard in his 22-acre land.
The crop did well and he sold the output locally in Bhuj, earning around Rs5 lakh per year. He also bought another 50 acres of land in 1990. "After years of toil, my life was good. My crops were doing well and I was making good money. But something bothered me," he says, adding that when he had started farming, water was available at 50 feet but now it has gone down to 500 feet.
Also Read: Gujarat's MBA farmer Chintan Shah turns infertile land into organic farm of turmeric, ginger & wheat
"I remembered that my father used three sacks of chemicals on 12 acres. I had gone up to 800 sacks on 72 acres. It worried me."
In the early 1990s, Veljibhai heard more and more about organic farming. Then in 1995, he met Dr Ashok Shah, an agricultural scientist, at a farmer workshop in Rajkot.
Touch of guilt
Dr Shah apprised the farmers about the dangers of conventional farming that was ruining the soil and human health. He urged farmers to switch to organic farming that would help them save costs on expensive inputs and improve soil fertility.
His words made an impression on Veljibhai.
"For some time, I had been feeling guilty that we were using so many chemicals to grow food. I would tell my sons that we are committing a sin by feeding this poison to people," he recalls.
But it took some years for Veljibhai to act on Dr Shah's words. In the meantime, he attended many more meetings and learnt about organic farming.
Agriculture is the main source of subsistence in the Kutch district on the northwest tip of Gujarat. As per the 2011 census, almost 38 percent of the working population of the district is engaged in agriculture.
Also Read: Gujarat: Dentist-turned-farmer reaps rich harvest with organic farming of dates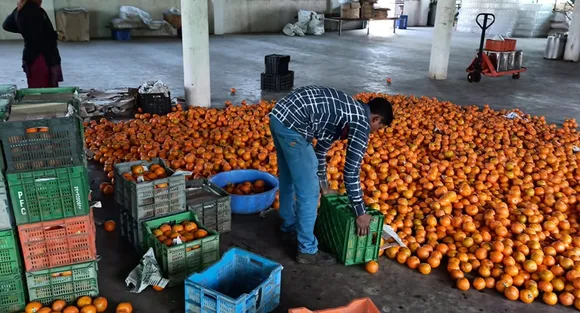 Veljibhai shifted to organic cultivation in one go, growing vegetables for three years. Pic: Kesar Farm 
Traditionally, Kutch, the largest district in India, has been an arid landscape with the desert in the north and the Arabian Sea in the south. However, over the years, the state government has improved irrigation facilities by laying a network of irrigation pipelines to supply water from the Sardar Sarovar Dam on the Narmada River, digging borewells and pumping groundwater.
This resulted in Kutch emerging as a horticulture belt for cultivation of dates, mango, pomegranate, chikoo, banana, guava, coconut, lemon and dragon fruit.
A report of the Gujarat horticulture department showed that in 2019-20, fruits were cultivated on 56,761 hectares of land and the estimated production was 9,49,115 metric tonnes.
The process of organic farming of mangoes
Finally, in 2001, Veljibhai made the switch. "I realised that I would have to go in for horticulture if I shifted to organic farming because growing conventional crops organically would take a lot of effort and bring fewer returns."
So, he planted 10,000 Kesar mango saplings on his 75-acre land. Veljibhai says he did not use organic inputs such as jeevamrit, beejamrit, and brahmastra for his crops.
Also Read: Andhra farmer gets triple the market rates for mango & paddy with zero-cost natural farming
"I just mixed cow dung and cow urine in water and gave it to the plants and I got a good yield," he says.
Veljibhai also prepared a spray by mixing jaggery and cow milk, which he claims works like magic on crops. "Farmers from not only Gujarat but also Africa have tried the spray and will vouch for its efficacy," he says.
It keeps insects and diseases at bay and the crops grow healthy. The spray can be made by mixing 100 litres of water, two litres of fresh cow milk and one kg of desi jaggery. For his mango trees, he uses 500 litres of water, 10 litres of cow milk and 5 kg jaggery for one acre. Researchers from agriculture universities are testing the effectiveness of the spray, he adds.  
"I would often tell my sons that we had wasted so many years on chemical-based farming when the crop could have grown so well with just a simple intervention."
Veljibhai converted his entire land to organic at one go. During the transition period of three years to rid the land of toxicity, he grew only vegetables to meet expenses.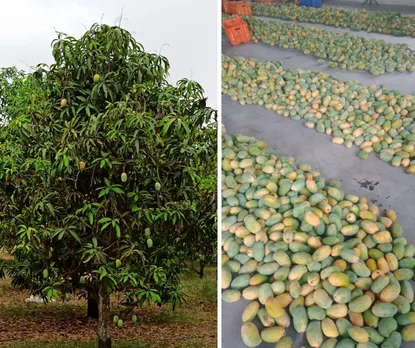 Organic mango from Veljibhai's farm. He uses only cow dung and cow urine mixed with water. Pic: Kesar Farm 
He says shifting to organic farming made the land soft and porous as the microbes returned to the soil. He also saved a hefty chunk of money that went into buying inputs.
Also Read: Organic farming of dragon fruit and lemon triples Punjab farmer's income
"I would use chemicals worth Rs10,000-12,000 on one acre of land. The entire cost of chemicals was Rs6-7 lakh annually that I saved in organic farming," he says.
Apart from money, he saved majorly on water. "With chemicals, you need a lot more water as the land becomes hard and water doesn't seep inside but slides off. I started using drip irrigation and saved 60 percent water," he says.
In the first year, Veljibhai got a yield of 5 kg from one plant, in the second year it increased to 10 kg and from the fifth year, it rose to about 30 kg per tree. The mango is ready for harvesting in June.
Veljibhai sold the produce locally and sent four tonnes of mangoes for sale in the Azadpur mandi in Delhi. "Locally, he got Rs7 per kg while in Delhi the price was Rs15 per kg. I made Rs6-7 lakh profit each season," he says.
Processing crops for value addition
But the market for mangoes was limited and, as the yield grew, Veljibhai thought of new marketing avenues.
By 2006, his production was around 100 tonnes per season and his earnings were Rs60-70 lakh annually.
In 2006, he took a loan of Rs25 lakh and put up two cold storage units of 15-tonne capacity which would preserve the mango pulp at minus 25 degrees Celsius. He also set up a processing unit with 100-tonne capacity to make mango juice from the pulp.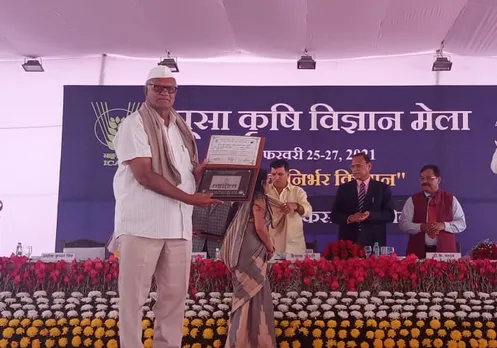 Veljibhai Bhudia receiving Navomeshi Krishak award by the Indian Institute of Agriculture Research (Pusa Institute) in 2021. Pic: Veljibhai Bhudia 
He had a harvest of seven tonnes of mangoes that year of which he sold three tonnes and preserved the rest as pulp in the cold storage.
Also Read: How this Rajasthan farmer went from zero to millions with organic farming using his own manures & sprays
At the same time, he opened a restaurant on his farm. "My farm is near the highway. I started a restaurant where I started giving mango juice free. My sons were dejected but I did not lose hope," he says.
From the next year, Veljibhai started packaging the mango juice to sell it at Rs80 per kg.
He also started procuring other fruits such as strawberries, grapes, custard apple, chikoo, oranges dates and others. He and his family would clean and cut the fruits and store the pulp in the cold storage to make juices and shakes which were packaged and sold under the Bhudia brand. He put up five more cold storage rooms in 2015.
Seeing his success, farmers in Madhapar and nearby villages started taking advice from Veljibhai. His success spread and soon government officials, experts and NGO activists were visiting him to see his successful model of organic farming.
In 2021, Veljibhai was presented the Navomeshi Krishak award by the Indian Institute of Agriculture Research. He has received awards from the Navsari Agriculture University, Sardar Krushinagar University, the chamber of commerce and industry Kutch among others.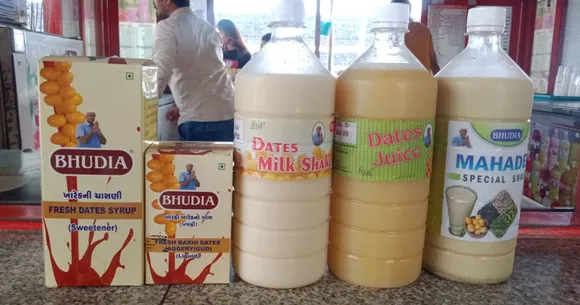 Fruit juices and shakes are sold under the Bhudia brand. Pic: Kesar Farm 
Now his children and grandchildren are taking forward the enterprise he has built.
Also Read: Baba Ramdev, Sri Sri Ravi Shankar and film stars swear by this millionaire organic farmer's sugarcane jaggery
Veljibhai spends most of his time training and teaching other farmers who want to shift to organic farming.
He holds meetings with farmers in person and also addresses meetings online.
He says the 1998 cyclone and the 2001 earthquake affected him deeply. "There was so much destruction. I joined in the rescue and relief operations. In 2001, I lost one granddaughter in the earthquake. But I also saw the grit of the people who have rebuilt their lives," he says.
"I have tried to repent for my sin of chemical farming by doing organic farming and providing healthy food to people," he says.
One of his granddaughters, Prabha, says Veljibhai is an inspiration for the whole family. "He has worked so hard and succeeded. We have learnt so much from him," she says.
Prabha, 24, has a diploma in computer engineering but she wanted to join her family business. "I did a course in ice-cream making and now I making different flavours of ice-creams without any preservatives or essence."
(Urvashi Dev Rawal is a Jaipur-based journalist specialising in development, gender, and political reporting)
Also Read: Hukumchand Patidar: Rajasthan's millionaire organic farmer who exports to Germany, Japan & Switzerland