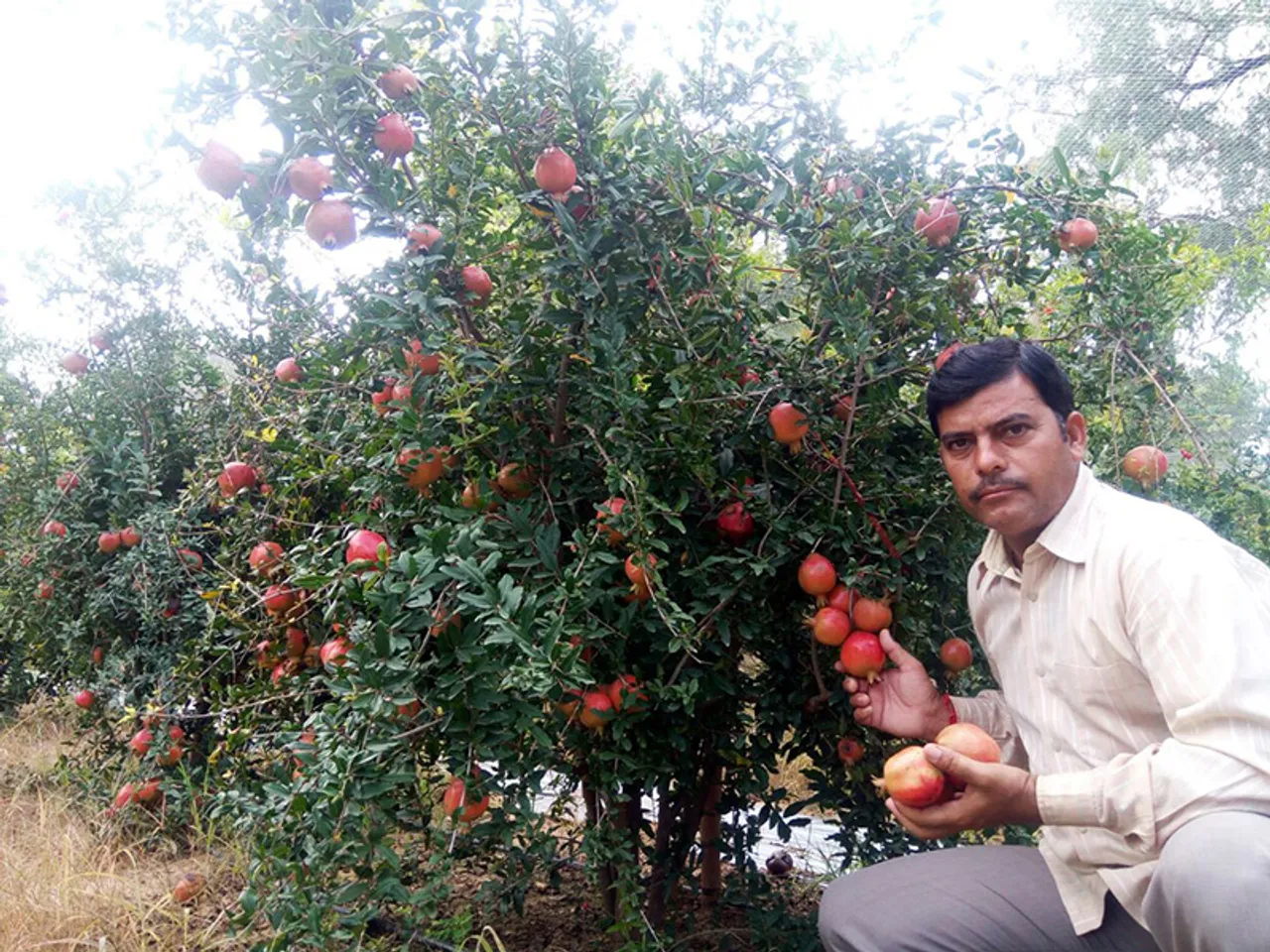 In 2002, when Rajnish Lambha joined his grandfather's four-acre farm at Chelasi village of Jhunjhunu district, Rajasthan, after completing double MA (in Hindi and then History), his family members were surprised. They expected him to take up a government job like his father, but Rajnish had other plans.
"I had grown up seeing my grandfather (Hardev Singh Lambha) cultivating wheat, gram, bajra (pearl millet), mustard and other crops. As a kid, I often helped him on the farm. So I was naturally inclined towards farming," says Rajnish, who cultivates pomegranates, kinnow (also kinu or kinoo), lemon, mosambi (sweet lime) and other fruits using organic practices.
Also Read: This MBA quit Wipro for organic kiwi farming in Himachal; turns barren land into profitable orchard 
Tasting success through organic fruits
His organic fruits are bought by India's top grocery players, which pay up to 20 percent more than the market rates for the chemical-free produce.
But it isn't luck that has made Rajnish a successful fruit farmer (horticulturist) in the drought-prone state of Rajasthan.
He spent years toiling in the fields and learning about organic farming before he began to earn about Rs4 lakh per acre with minimum investment.
He also earns about Rs10 lakh annually from the nursery business through which he sells over 50,000 saplings of pomegranate, kinnow, lemon, bael (wood apple) and other plants.
Rajnish remains inspired by his grandfather who was pursuing organic farming for many years before the wave of chemical agriculture hit Chelasi village sometime in the late 1980s. "We put up a tube well and began using chemical fertilisers. Their use increased the output but the expenses were also high. This was eating into profits. Then we also learned about the harmful effects of using chemicals and decided to go back to organic farming," he says.
Also Read: Gujarat: This school dropout farmer became a millionaire with organic farming of mango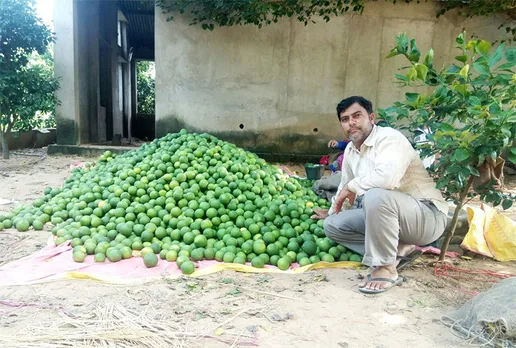 Rajnish gets about 20% higher than market rates for his organic fruits. Pic: Hardev Bag Nursery & Udyan 
When Rajnish joined the farm after completing studies in 2002, he decided to opt for horticulture instead of cultivating cereals and legumes.
"I realised that in fruit cultivation, the yields were higher and market rates were better," he says.
In 2004, he planted 600 plants of bael, which is a hardy tree and can thrive well even under hot and semi-arid ecosystems. In 2005, he planted 150 trees each of kinnow and mosambi. Both the plants start yielding fruits from the fourth year and Rajnish earned a good profit from sales in 2008. He later planted 600 trees of pomegranate of the sinduri variety and 250 trees of lemon.
Today, his orchard has 3,000 trees of pomegranate, kinnow, mosambi, lemon and bael. He has named his farm Hardev Bag Nursery & Udyan after his grandfather.
Also Read: Punjab: MBA farmer turns millionaire with profit of Rs6 lakh per acre from guava farming
Expansion and success through organic farming
Rajnish's income has been increasing each year due to three factors: one, the market price for organic produce is higher; costs are low as most of the agriculture inputs are made on the farm and three, the yield per tree is higher in organic farming due to improved soil fertility.
"The yield per tree for kinnow on my farm is between 1 and 1.5 quintals (100kg to 150 kg)," he says. At the upper end, this is almost double the national average of 70 kg kinnow per tree annually.
Similarly, for mosambi, one can get 60 kg per plant and after the 5th year, the yield increases to 100 kg per plant. But at Rajnish's farm, the yield is 125kg to 150 kg per plant.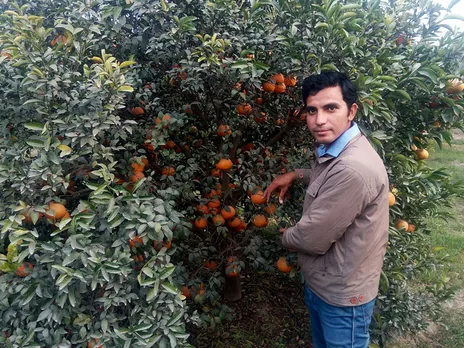 Kinnow yield per tree at Rajnish's farm is 100kg to 150 kg annually. Pic: Hardev Bag Nursery & Udyan 
"Our pomegranates weigh between 400 and 800 grams per piece (against other pomegranates which have an average weight of about 350gm). We get 25 percent more than the market rate," he adds.
Earlier, he was selling the produce in the local mandi (large open air market). But in the last three years, online grocery players like Big Basket and Organic Kitchen have set up collection centres in Navalgarh, about 6km from his farm. "We send the produce there," Rajnish says.
Also Read: Engineer leaves TCS for organic farming in Jharkhand; builds successful farm-to-table startup Brook N Bees
In 2017, Rajnish took a 4-acre plot on lease and planted 1,000 saplings of mosambi, 2,000 of lemon and they started fruiting last year. The income from this land is about Rs 8 lakh annually and is set to go up as the yield increase from the fifth year.
Enthused by the success of organic farming, he has now expanded to a third farm. "It is spread over 4 hectares (about 10 acres) where we have planted 2,000 saplings of mosambi and 4,000 of lemon. They have just started fruiting," he says.
How organic farming cut costs & increased profits
Apart from his late grandfather's blessings and guidance, Rajnish credits his success to the use of organic fertilisers, manure and other herbal sprays. The farm has four cows to provide materials for manures and fertilisers.
Hardev Bag Nursery and Udhyan sells over 50,000 fruit saplings every year. Pic Hardev Bag Nursery and Udhyan 
"I mostly use vermicompost and cow dung manure. Cow urine is used for spraying purposes."
Organic farming naturally reduces the incidents of pests and diseases as crops are grown in sync with nature.
Rajnish's father Hari Singh Lambha and his brother Vikrant Singh Lambha also work with him. "We prepare jeevamrit (a natural liquid fertilizer), vermicompost and other fertilisers ourselves," he says. Another additive is prepared by fermenting cow urine, cow dung, neems leaves and dhatura (Angel's trumpet; not eaten by any animal).
Also Read: Banker during the week, farmer over the weekend: How Prateek Sharma built Bhopal's Green & Grains organic grocery start-up
To conserve water and electricity, Rajnish has opted for drip irrigation on all his farms.
Drip irrigation delivers water directly to the root zone of the crop, reducing the requirement to just 25 percent of what's needed in conventional flooding and furrow methods.
"While pomegranate and lemon are planted 10 feet apart, the distance between mosambi plants as well as bael plants is 20 feet. So laying drip pipes is the best option for irrigation. It also cuts electricity costs as less water is required," he says.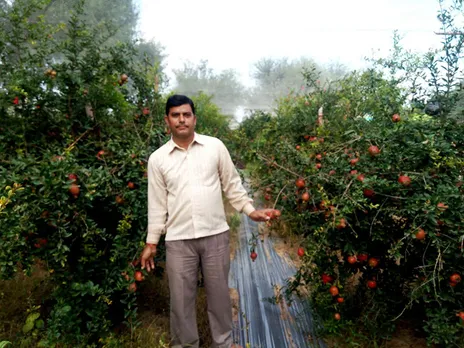 Rajnish uses drip irrigation, which reduces water requirement by 75%. Pic: Hardev Bag Nursery & Udyan 
Rajnish has also invested in two solar pumps – one is of 3HP while the other is of 5HP. "Apart from the initial investment of Rs 85,000 and Rs 2.5 lakh in 2012 and 2016 respectively, I have not spent a rupee on them. The return on investment in solar pumps is good. Most importantly, they reduce carbon footprint and are non-polluting," he says.
About the nursery business, he says the highest demand is for mosambi saplings.
Also Read: Engineer leaves high paying job at Microsoft for Gerbera farming; creates jobs in his village
"We sell about 35,000 mosambi plants annually as their demand is very high in nearby areas. This is followed by pomegranate, lemon and other plants," says Rajnish.
Despite being busy with his farms, he takes out time to train farmers about shifting to organic cultivation and marketing their products. All the training is provided free of cost.
He is now looking forward to planting more trees and training more farmers so that they can shift to the low-cost organic farming methods and produce healthier food.
(Rashmi Pratap is a Mumbai-based journalist specialising in business, financial and socio-economic reporting)
Also Read: How organic fruit farming made Rajasthan's Santosh Devi a millionaire